The Japanese retail giant will be increasing its prices by 7% in light of the rising GST costs. We also tell you the things you shouldn't get at Daiso and alternate recommendations.
Almost anything you need, from household products to storage space to stationery and food, Daiso has it. Every time we go there, we always emerge with tonnes of stuff that we never planned on buying.
Boasting over 70,000 unique products and counting, it truly tempts us to deviate from our shopping list, because what is an extra S$2?
However, this will no longer be the case as Daiso outlets in Singapore will be charging an extra 7% GST on their products from 1 May 2022 onwards.
The news came to light when an upset shopper had posted the price increase notice from Daiso on Daiso & Lobang Lovers SG Facebook group.
In case you haven't seen it, here's the notice: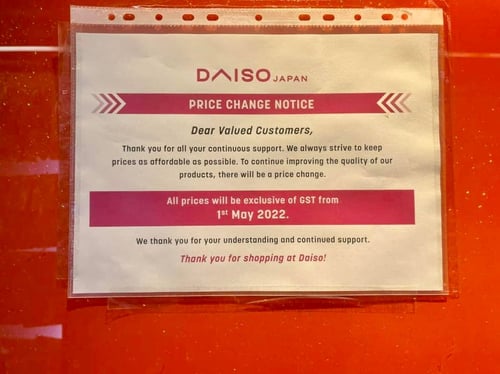 The sign reads:
Price change notice
Dear valued customers,
Thank you for all your continuous support. We always strive to keep prices as affordable as possible. To continue improving the quality of our products, there will be a price change.

All prices will be exclusive of GST from 1 May 2022.
With the gradual GST hike over the coming years from 7% to 9%, the poster also did some predictions of possible future prices:
1 May 2022, each item = S$2.14
1 Jan 2023, each item = S$2.16
1 Jan 2024, each item = S$2.18
If you're a huge Daiso fan, you'd probably want to start heading down to your nearest Daiso outlet to grab your favourite items before the hike.
For those who have no idea what to buy, here are 10 things from Daiso that are absolutely worth your S$2, and 10 not-so-worth-it products as well as their alternative recommendations.
Last updated on 14 April 2022. Availability of Daiso products subject to change without prior notice.
---
10 Daiso best buys that are worth your money
By the way, if you're planning to shop up a storm at Daiso, do check out these credit cards! You'll get extra cashback/miles on your spending!
Make-up brush cleaner
Tried and tested. Wash your make-up brushes and sponges in this formula and they will all come out squeaky clean in just a few minutes.
Egg timer
Always can't seem to get the timing right to get the perfect egg? This egg timer will have your eggs cooked just the way you want them, every time. We personally use it, so we can vouch for how accurate and easy to use this egg timer is.
Simply set the egg and timer together in the same pot and let the egg boil. Once the timer's indicator changes from pink to white, you can turn off the heat.
Mould remover spray
According to many shoppers, this mould remover spray is very effective in removing mould. Here are some before and after pictures posted by a Daiso fan:
Letter board
A highly popular item that gets sold out quickly, this letter board can be used to elevate your home and add some pizzazz to your romantic stay-home date.
Metal board
Aesthetic and can be used to hang multiple things in your room.
Shoe tree
Stop crunching up newspapers and stuffing them in your shoes. For only S$2, this shoe tree will keep your kicks in shape for a long time. In fact, this product is so amazing that one Facebook user even commented that he would "buy them all whenever I see a restock".
Storage boxes
We can never rave enough about storage boxes from Daiso. They're cheap and can contain almost anything you like! This Daiso shopper even used one of these boxes to grow her plants - a creative touch.
Ceramic kitchen set
Three items - chopping board, knife and peeler - for only S$2? Say no more. It saves space, is small yet useful, and absolutely great for office pantry use.
Miso soup
Tried and tested. For only S$2, you'll get eight packets of delicious instant miso soup. Simply add hot water and enjoy!
Paper coffee filter
Coffee can be an expensive hobby, so why not make it cheaper with products from Daiso? These paper coffee filters are recommended for beginners who want to make themselves a good cuppa but don't want to spend too much money. Besides the filter papers, Daiso also sells dripper sets with a scoop.
10 things you shouldn't get from Daiso and where to get them instead
Milk frother
Cotton bud
Daiso: S$2 for 100
Shopee: S$0.69 for 100
Ankle socks
Daiso: S$2 for one pair
Shopee: S$0.80 for one pair

Pro tip: Look out for Shopee's 10 cent sale where you can get these socks for only 10 cents.
Double-sided tape
Daiso: S$2
Shopee: S$0.45 to S$1.50
Floor wipes
Daiso: S$2 for 30 pieces
Valudollar: As low as S$0.50 for one packet
Tian Ma: S$0.85 for 20 pieces
Wet tissue
Daiso: S$2 for 70 sheets
Tian Ma: S$1 for 80 sheets
Hair ties
Daiso: S$2 for eight hair ties
Shopee: S$1.98 for 100 hair ties
Disposable chopsticks
Daiso: S$2 for 50 pairs
Coffee shop: Free, just take more whenever you buy take-away meals
Make-up
We personally wouldn't put a S$2 make-up product on our face. Good make-up (that doesn't have to be expensive) is something to invest in, so we would rather get something more reputable from Watsons or Guardian instead.
Charcoal dehumidifier
Daiso: S$2 for one 800ml tub
Ezbuy: S$3.50 for four 850ml tubs
Facebook groups to join for Daiso fans
If you shop regularly at Daiso, here are a few Facebook groups you can consider joining. Avid Daiso fans regularly update the group with products they find, show other creative ways to use Daiso products, as well as seek help to find certain Daiso products.
Read these next:
Cost Comparison (Make-up Edition): Watsons vs Guardian
9 Cheap, Easy And Funny Halloween DIY Costume Ideas That Every Singaporean Can Relate To
13 Best Discount Stores In Singapore 2021 — From 10 Cent Items To S$2 Shops That Aren't Daiso
The Ultimate Guide To Cheapest Parking In Orchard and Dhoby Ghaut (All-Day Free Parking Included)
Money Confessions: I'm A Bargain Hunter And I Never Pay Full Price For Anything