Are exorbitant wedding dresses and elaborate flower arrangements worth it just for one day? We've collated a list of things that Singaporean couples regret spending on their wedding day, as well as the one thing they don't.
As most hopeless romantics would agree, a wedding is everything bride(zillas) look forward to. Since it's a once in a lifetime event, it's understandable why couples wouldn't mind splurging a little more to make sure that the day is extra special and memorable.
It is a commonly known fact that holding a wedding in Singapore can be expensive. Intimate wedding affairs can set a couple back by about S$20,000, while extravagant and over-the-top nuptials can go up to S$100,000.
But this begets the question — just how much is too much? We've asked Singaporean couples to share with us which areas they regret splurging on their big day, so that you don't make the same mistakes. We'll also let you in on the top thing that couples advise not skimping on.
#1 Wedding gown
Let's be honest, you're probably never going to wear your wedding gown again, no matter how much you try to convince yourself — so there's really no point in purchasing one for your wedding. Purchasing a gown can cost you a few thousand dollars while renting one can definitely slash half of the price.
Many brides said that they bought their wedding gown as a memento that they can look back fondly on, but after tallying up their total wedding costs, they've realised that their dress took up a significant portion of the costs. "I spent close to S$4,000 on my wedding gown, and it's been sitting in my wardrobe untouched for years. I should have saved the few thousand dollars or spent it on my honeymoon instead," a regretful bride laments.
So keep it wallet-friendly. If you're insistent on keeping the gown, you can always get it online or from stores like ASOS, Zalora and Shein.
When I talk to brides about their wedding and their fondest memories, hardly any of them (if any) ever mentions the dress!
Need a wedding loan to help with your wedding expenses? Find and compare the best personal loans in Singapore now.
#2 Elaborate flower arrangements
Aside from diamonds, flowers come second as a woman's best friend. However, it is no secret that fresh flowers don't come cheap. A Valentine's Day bouquet can already set you back by S$60 to S$80, so imagine having to adorn your entire wedding venue and guest tables with florals — that is an amount you'll definitely want to save on if possible.
When couples were asked, many of them regretted spending a bomb on flowers. "A single floral arch cost me S$1,000 for my 30-minute solemnisation," a bride shared. Another one also mentioned that flowers serve no other purpose aside from beautifying the place. "I spent a couple of thousand dollars on fresh flowers only to have them be thrown away after the wedding," she said.
We're not saying that you shouldn't have any flowers at all. Of course, they add a certain elegance to the place, but you can always replace fresh flowers with fake ones at specific areas where the guests won't really mingle around much to save cost.
#3 Videographer
Having pictures and videos to look back fondly on your wedding day can help to capture these cherished moments forever.
However, many couples admitted that they wished they had saved on a professional videographer and made do with a photographer. "I didn't really look back on the professional video very often, as I found myself scrolling through the videos that my guests took of me more frequently instead," a bride said. "They were able to get more footage from different angles and they are free of charge!"
Need help to decide which credit cards give you the best rewards for wedding expenses? This guide might help. Or view the best credit card deals now.
#4 Wedding planner
Wedding planners are truly a godsend for some. Not only are they able to help with most of your wedding needs, they are also experienced in ensuring that all aspects — big or small — are accounted for.
However, such a service comes at a pretty steep price, typically ranging from S$3,000 to S$5,000. When couples were asked if they wished they hadn't engaged a wedding planner, a few of them voiced out their regrets.
"Though it was extremely smooth-sailing with a wedding planner, we wished that we had saved the money and did it ourselves. At that time we were strapped for cash, so saving that extra few thousand dollars helped," a couple mentioned. Another bride added, "I feel like my husband and I would have done a decent job at planning our wedding, so looking back, we should have saved the money."
If you're team DIY, make sure that there's a lot of communication between you and your partner. Planning for a wedding together can be stressful and time-consuming, so you can always engage the help of your bridal party if you need some helping hands.
#5 Reception decor and props
Everyone wants to make a good first impression by setting up an elaborate reception complete with photographs, decor and props. However, as unassuming as it all looks, the extra cost of these additional items can add up, depending on how over-the-top you want to be.
Many couples regret spending a bomb on it, and some even admitted to leaving it to the last minute where international wholesale items at a discounted price were no longer an option. "I left the reception decor to the last two weeks and I ended up having to buy from local sellers online or off the shelves, which was much pricier than buying online international shops," a couple shared.
Another couple also said, "Guests will only take one look at it before they head into the main venue, so we wish we didn't spend that much money on the reception decor." Sometimes, less is indeed more.
Want a short-term investment to grow your money, while allowing you withdraw your funds when necessary? Start investing in a savings account now.
#6 Destination wedding venue
Unless you're rolling in money, destination weddings are usually not that common because of the hefty price tags. However, we spoke to one couple who went for a destination wedding.
"We initially thought it was a good idea to have one because we wanted our wedding to be a shared experience for our family and friends. But we soon realised that it wasn't worth it at all. Not only did we have to pay for the flight and tickets for all our guests, but the wedding venue was extremely expensive as well," they said.
#1 thing that couples shouldn't skimp on — photography
While couples have shared that a videographer might not be necessary, ask any of them and they'll advise you to invest in a skilful photographer.
Immortalising the moment is extremely important to almost all brides and grooms. You won't remember the immaculate decor, the stunning wedding gowns or the lavish wedding cake — but you'll definitely remember the butterflies you get when you walk down the aisle and the pure happiness you feel at seeing all your loved ones gathered together in one room.
A good wedding photographer will know the right angles and moments to capture, and also help to edit your photos to perfection. These photos will last a lifetime, and you may regret it if you decide to hire an amateur photographer who's unable to deliver quality images.
Saving cost for your wedding
All in all, every couple's needs and priorities are different. Just because most couples advise saving on flowers or on your wedding dress doesn't mean you have to. The most important thing is to discuss with your partner regarding your needs and wants. That way, you can allocate more budget to areas that are more important, and save in areas that are less important.
Remember to maximise on credit card rewards when you're paying for your wedding. With careful planning, you might even be able to score yourself a free honeymoon with miles or cashback!
---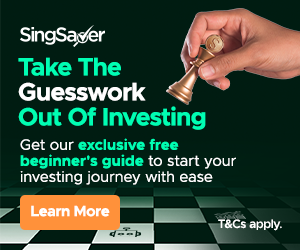 Start managing and saving money like a pro with SingSaver's weekly financial roundups! We dole out easy-to-follow money-saving tips, the latest financial trends and the hottest promotions every week, right into your inbox. This is one mailer you don't want to miss.
Sign up today to receive our exclusive free investing guide for beginners!
---
Read these next:
Cost Guide to Weddings in Singapore 2022
Best Credit Cards To Use For Wedding Expenses
Ang Bao Rates for Singapore Weddings 2022
How Much Does Wedding Photography Cost in Singapore?
Wedding Loans: How Do They Work And Should You Get It