From S$6 movie tickets to set lunches at Marina Bay Sands under S$50, our list of cheap date ideas in Singapore will help you save thousands of dollars. The best thing is, your partner/date won't even know you're a romantic cheapskate trying to save money.
The rising cost of living in Singapore isn't doing your social life a favour. Feeding yourself is already a problem, and then you'll have to worry about spending money going on dates (because no one wants to stay single forever).
If you're one of those singletons who find dating harder these days thanks to your not-so-inflated salary and increased prices, we've got some hacks to help shave off some of the cost associated with dating without coming across as a cheapskate.
1. Search online sites for cheap date ideas in Singapore
You are already doing that, that's why you're reading this article. Besides this, we have written about places and activities you can do with your partner for free/cheap before, which you can check out:
2. Date on weekdays
Don't underestimate the amount you'll save going on dates on weekdays. Take a day off and bring your partner out. Many things are cheaper on weekday afternoons, such as karaoke, admission passes, movie tickets and set meals. Also, visiting Science Centre Singapore is free on weekdays during the school term.
💡 Pro tip: Keep your student card to unlock more and better discounts. When you flash your student card, cinema tickets can cost as low as S$6 on weekdays.
Our favourite weekday lunch set deals (below S$15) include:
Pepper Lunch lunch deal
Student: main and drinks from S$7.50
Adults: mains, soup and drinks from S$11.90
Eighteen Chefs lunch deal
From S$12.80 for mains, soup and ice lemon tea
Big Fish Small Fish lunch deal
From S$5 for the Student Catch which includes one half-portion dory/chicken, drinks, and one choice of side
For peeps with a bigger budget (but less than S$50), you can consider:
Lavo
Two-course set lunch at S$38++
Three-course set lunch at S$48++
Yardbird
Lunch Break Set which includes sandwich or salad with protein, one side and one drink for S$36++
Executive Lunch Set including appetizer, sandwich or salad with protein, one side and one drink for S$46++
Not lunch but still a good deal -
Morton's, The Steakhouse @Mandarin Oriental
For seven nights a week from 5 to 7pm, the restaurant bar and Atrium Bar offers a selection of signature MORtinis and complimentary Filet Mignon Sandwiches.
For more affordable noms:
1-For-1 Lunch Deals In CBD & Orchard Road You Don't Want To Miss
1-for-1 Buffet Dining Promotions In Singapore
Dim Sum Promotions And Deals
High Tea Promotions In Singapore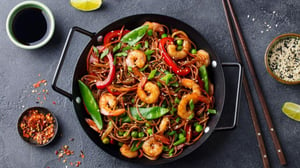 3. Plan your meals by using food discount apps such as Chope and Eatigo
If you want to save more money on food, picking out the restaurant in advance does the trick.
Check apps such as Eatigo, Chope and Burpple, as well as the Facebook pages of restaurants for the latest promotions.
I personally love Eatigo because there are discounts of up to 60%, which makes your total bill really affordable — under S$10 per person if you eat at selected restaurants at selected timings.
Deals on these apps always change, so make sure to check in (usually on the day of your outing) before you go. It's okay if you make changes to your plans because you can cancel up to one minute before your reservation.
Some restaurants also give you return vouchers when you pay with certain credit cards on top of your discount, so that's double the win!
💡 Pro tip: Going out on a date? Charge everything to your credit card for miles/rewards/cashback.
4. Look out for last-minute offers on activities on Carousell
Many Singaporeans tend to list staycations, attraction tickets, gold class movie tickets and even flights on Carousell when they can't make it at the last minute. Make it a habit to scroll through the "Tickets & Vouchers" sections on Carousell every now and then and snag these great deals.
Case in point: I have gotten gold class tickets at S$25, staycations under S$100, and Universal Studios Tickets for S$30 per person from Carousell. There is room for some bargaining, but please, don't be a low-baller.
P.S/ If you drive, save money on parking fees with my Ultimate Guide To Cheapest Parking In Orchard and Dhoby Ghaut (All-Day Free Parking Included).
5. Take advantage of credit card deals
Paying for your meal and activities using a credit card will help you attain miles/cashback/rewards on your spending.
There are several cards which give you bigger rebates on dining, such as the Citi Cashback Card and the POSB Everyday Card, or entertainment, like the HSBC Revolution Card.
Some credit cards also make you eligible for 1-for-1 buffet dining promotions, such as buffets at the Atrium Restaurant at Holiday Inn Singapore, or special rates for exclusive dining events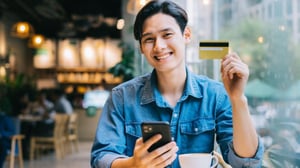 6. Pack a picnic instead of dining out
You'll make your partner think that you're thoughtful and romantic with this cheap date idea.
Grab some bite-size snacks such as sushi and sandwiches, lay a mat down at Marina Barrage (free), and watch the sunset with your date. You can also buy affordable takeaway bento boxes from Don Don Donki or Umi Sushi, and buy 1.5l drinks from the supermarket.
💡 Pro-tip: How about a stargazing date night? Most supermarket chains and some eateries offer slashed price items such as sushi (again) and bentos.
7. Make it a group date
Double or even triple dating means more people to share expenses with. You can organise a hotpot sesh, do activities or visit attractions together where tickets are cheaper when you buy in bulk such as credits for Sentosa's Fun Pass.
8. Exercise together
Did you know that all Singaporeans and PRs are eligible for the $100 ActiveSG credits? If you have yet to verify your ActiveSG membership account, now's the best time.
With the credits, you can go swimming, hit the gym, book badminton courts and more. All for the price of close to zero.
Have a bike? Go on a cycling date. Have a pair of shoes? Go for a run together or even take up the challenge of walking across the entire perimeter of Singapore.
By exercising, you get to clock your steps in the Healthy 365 app where you can exchange for rewards such as NTUC vouchers, public transport vouchers and more.
This way, you can give off the impression that you're fit and sporty when you actually just don't want to spend money.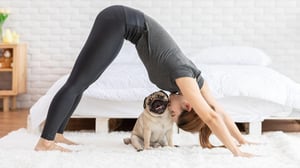 9. Go to Johor Bahru and do everything you want to do in Singapore there
My favourite hack of all time. Impress your date by bringing them to cute cafes and food truck parks in JB, followed by a luxurious (yet cheap) Thai massage after an entire day of fun. They'll think you're organised, thoughtful, and even generous when you offer to pay for all their expenses in JB.
Here's what to do in Johor Bahru and things to take note of if you're driving in:
14 Things That Are Cheaper in JB, Besides Food, Groceries and Petrol
Singapore-Malaysia Land Border Reopening
💡 Pro tip: Link your Mastercard to Instarem and get the best exchange rate on your overseas spending with no extra fees. You'll get an additional 0.5 per cent cashback on top of the miles/cashback/rewards you get with your Mastercard.