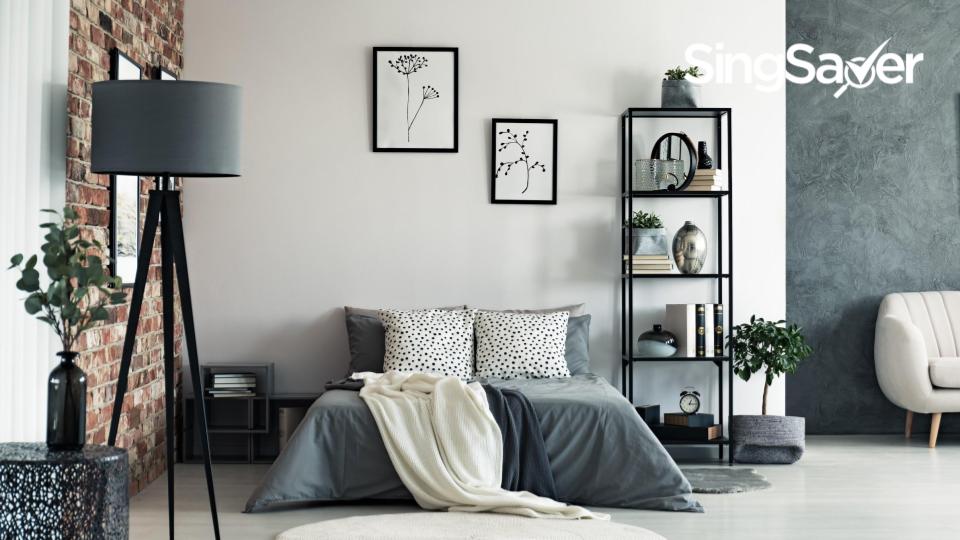 If you're someone who's successfully managed to get your BTO — even an affordable one — you would've probably dropped thousands of dollars between downpayment, option fees, renovation and other surprising costs just to get your own place.
Needless to say, there's not a lot of leftover cash for furniture and fancy decor. But that doesn't mean you need to live like this, or furnish your bedroom with the same IKEA dresser that everyone has.
While the Swedish furniture retailer can be a valuable resource for Singaporeans to procure inexpensive household items, it isn't the only affordable option out there.
Enter the world of second-hand furniture and online marketplaces, where you can get furnishings for dirt cheap, or even free. There's one downside though — you do not get to touch, see and feel the item for yourself before your purchase. However, you can always do your due diligence by reading reviews and asking sellers about the product before committing to it.
Table of contents
Things to take note before buying your furniture
How much space do you have?
Should you get a queen-sized bed or a super single bed? Can your room accommodate a long study desk or should you settle for a shorter one? When it comes to sprucing up your place, the measuring tape is your new best friend.
Before you make any plans, measure your space. It may not be the most glamorous part of decorating your home, but it is essential that you do this first, else you might end up with a costly piece of furniture that doesn't fit through your doorway.
Here are some things you should take note of:
Measure entries and passageways of your entire house for smooth moving.
Measure the door that you will be using to bring the furniture into the room.
Take note of diagonal measurements and tight corners, especially if you're bringing in a large piece such as a mattress.
Measure the length, width and height of your room. The floor-to-ceiling measurement will come in handy when you want to bring in taller pieces such as book shelves.
Take a note of any light fixtures, railings or any architectural obstructions along the way.
Make a Plan
Now it's time to take all those measurements and make a room plan.This will give you a guide on ensuring that your new furniture is able to fit your room.
List down everything you need to buy, and estimate how long/high/wide each item can be. And then size it up slightly. The last thing you want is filling your whole room with items and then realising that there is no space left for you to walk!
Draw up a budget
And stick to it! Be aware of how much you are spending and if one item is more expensive, another item has got to go. Scroll on for a ballpark amount on how much you should be spending on each furniture.
Where to get affordable furniture
Once you've got your list settled, go ahead and get your furniture. Because you are all about the cost saving (if not, why are you reading this), we will skip all those commercial stores like IKEA and Scanteak and go straight to the best deals where you can get furniture for cheap (and sometimes even free).
Carousell and Facebook Marketplace are the sites where people who are moving out would list their items for cheap. As they want to get rid of their bulky furniture ASAP, they would usually be open to some bargaining.
Whether it is a solid chest of drawers or cheap plastic ones, it all depends on your luck. If you see something you like at an attractive price, be sure to quickly slide into their DMs because such items get snapped up real fast.
But if you delay and it gets sold, don't worry. Check in frequently and wait for the next deal — there will always be people moving out.
Shopee/Taobao/Ezbuy is definitely cheaper because it comes directly from the supplier. This, however, might be troublesome for some as you will need to fix the item by yourself. If you are unlucky, some parts might be missing, broken, or get scratched during the delivery process.
On the other hand, FortyTwo and BedandBasics may be slightly more expensive, but what you get is quality (and peace of mind)If there's anything wrong with the product, you can always hit them up for a refund or exchange.
FortyTwo has 100-day free returns, lowest price matching, warranty and free delivery when you purchase more than $300 worth of items. BedandBasics has free delivery on all orders of $150 or more, lowest price guarantee and 100-day free returns.
Tips on how to choose your furnishing
Basic essentials checklist:
Bed
Nightstand
Study table
Sofa
Bed
Budget: Less than $1,000
Don't skimp on this. Investing in a good mattress is important, as your entire life literally depends on it — your mattress can affect your overall health and well-being. You don't want to constantly wake up with a bad back and neck because of a cheap mattress, do you? Besides, spending this amount is worth it, considering that you'll be sleeping on your mattress for up to 10 years.
There are many fantastic options out there at affordable prices, and here is our favourite.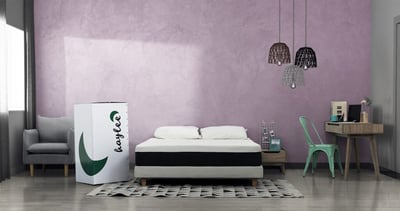 Our recommendation: Haylee mattress
Perks:
100-night sleep trial
Free shipping
10-year warranty
2 hour delivery
| | |
| --- | --- |
| Type of bed | Price |
| Single | $399 |
| Super Single | $479 |
| Queen | $599 |
| King | $749 |
Haylee is a local mattress startup, also available for purchase on FortyTwo. Here, they specialise in only one product — the Haylee mattress — that's available in four sizes and at very attractive prices.
If you're in a rush to get a bed, you'd be glad to know that it can be delivered to your doorstep within two hours. For this, you don't have to worry about dragging a heavy mattress into your room because it comes compacted in a box! Unbox it, and watch the magic unfold.
For more information about the materials involved, click here. One downside to it is that there is no showroom, so you can't physically test out the bed. However, we do not think it's much of an issue as Haylee provides a 100-day free trial.
Nightstand
Budget: Less than $20
You'll need a night stand to put small things like your phone while you sleep. You don't need to splash too much money on this, as long as it serves its purpose. A simple minimalistic wooden, white or black nightstand that matches the colour scheme of your room will do. For nightstands, get them from online platforms such as Ezbuy, Lazada and Shopee. Believe it or not, you can get a super chic one for less than $20.
Our recommendation: Ezbuy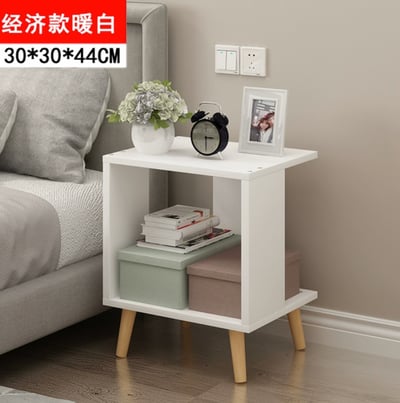 The cheapest nightstand (above) in this listing costs only $7.60, and honestly, we think it looks pretty good. White probably matches most themes and this item has two levels to store more things like your books. With the store's 4.8 star rating and rave reviews, we wouldn't hesitate to purchase this.
The shipping costs $11.90, but if you're not willing to pay, you can always ask someone with an Ezbuy Prime account to buy it for you at a flat shipping rate of $2.99.
Study table
Budget: Less than $80
A simple desk like this one only cost $24.74 on Ezbuy. But it all depends on your needs and how many things you want to put on your desk. Do you have a big gaming PC or just a small laptop? The longer the desk and the more compartments it comes with, the pricier it is.
Our recommendation: Ezbuy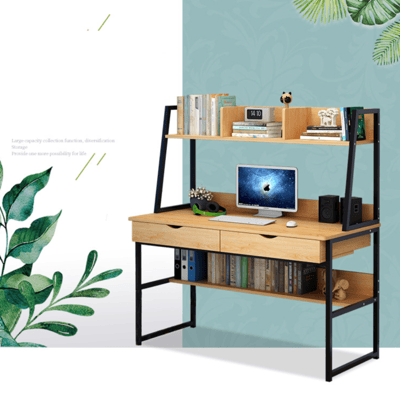 Choose between 100cm and 120cm in length, available in sakura maplewood and yellow pear wood. These colours are very safe, and should match most rooms.
By the look of these desks, we feel that there are enough compartments to store your stuff (it all ultimately depends on what you think is enough).
The shipping ranges from $24.40 to $32.20, but again, just find a friend who has Ezbuy Prime, or subscribe for $8.25 a month if you're regularly shipping stuff.
Sofa
Budget: Less than $500
Like a mattress, buying a sofa is one of the most important investments you're likely to make for your home. It's a piece of furniture where we lounge, read, eat and drink, entertain guests and sometimes even sleep. So it makes sense that we buy a good one that's going to last for years to come.
Before you pick a sofa, it's important to consider how you like to lounge. If you prefer to lie down, make sure that it's long enough for you to stretch out. Perhaps you can consider getting a recliner sofa, a sofa bed or an L-shaped one.
There are so many different types of sofa and this article would be a never-ending one if we were to go in-depth and explain every one. But here's our go-to site for low-cost sofas in Singapore:
Our recommendation: FortyTwo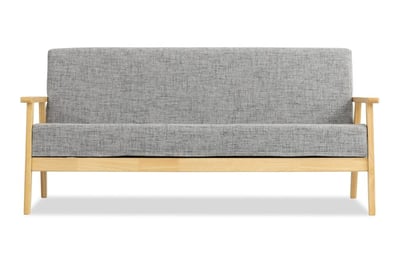 Check out this Hans 3 Seater Sofa (Granite) for only $219.90 a pop. It comes with a three-year warranty and has raving reviews from customers. According to them, this sofa is "value for money" as well as "good looking and fits into a small space".
As it is available online, you just have to take the plunge and trust the reviews. But if you're not too pleased with your purchase, you can always return this item within 100 days of delivery and get your money back with no questions asked.
Other things to consider
Before you happily purchase your item online, remember to always look for hidden conditions such as delivery cost, warranty, return policy, and shipping duration. Factor in some lead time for the items to arrive, especially if you are buying from overseas. Last but not least, read reviews from past customers so that you can judge for yourself if the item is of good quality!
---
Planning to make a huge purchase? Use these credit cards and earn miles/rewards/cashback!
Read these next:
6 Essentials You'll Regret Not Buying Before Moving into Your New HDB Flat
How Much Should You Pay For A Home Renovation In Singapore?
HDB BTO Launches In 2021
How Much Do You Need To Buy Your First Home In Singapore?
How To Buy A House In Singapore: A Complete Guide (2021)