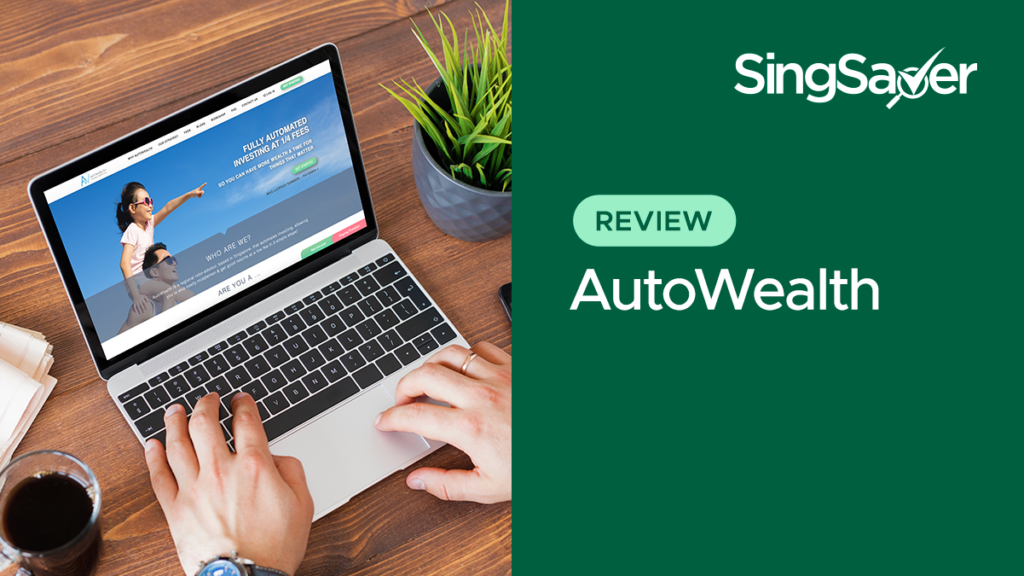 With a starting minimum investment of $3,000, AutoWealth sets a low bar for ready investors. Look no further if you like straightforward fee structures to go with your diversified portfolio.
What is AutoWealth?
One of the early entrants to the robo-advisory scene in Singapore, AutoWealth accepted their first batch of users in May 2016. AutoWealth invests using index-tracking Exchange Traded Funds (ETFs) that are cost-efficient and well diversified.
All AutoWealth clients are subject to the same fee structure of 0.5% per annum (p.a) + USD$18 platform fee, regardless of your portfolio size.
Here's what you'll find in this review of AutoWealth:
Overview of AutoWealth
Product summary:
What you are investing in: ETFs
Minimum investment amount: $3,000
Management fee: 0.5% + USD$18 platform fee
Mode of investment: Cash
Here are the pros and cons of using AutoWealth for your investment needs.
| | |
| --- | --- |
| Pros of using AutoWealth | Cons of using AutoWealth |
| Low fees regardless of investment amount | Cannot use SRS or CPF funds to invest |
| Set up a recurring investment | $3,000 minimum investment amount required |
| Get an assigned wealth manager | Relatively higher fees for smaller investment portfolios due to USD$18 platform fee |
| Safety of having your assets held in a separate account | |
How does investing with AutoWealth work?
AutoWealth's investment portfolios include a mix of equity and fixed income ETFs that are listed on the NYSE and NASDAQ. The investment portfolios are diversified both geographically and across major industries such as technology, healthcare, oil and gas, telecommunications and more, to ensure that your portfolio is less susceptible to market volatility.
Selecting ETFs: AutoWealth screens more than 6,000 ETFs listed globally, ultimately selecting based on factors including expense ratio, ETF fund size, liquidity, diversification, reputation of the ETF provider and more. The exact composition of your portfolio depends on the investment portfolio selected. Naturally, your investment returns would also differ based on the portfolio type.
AutoWealth's approach: AutoWealth adopts a passive, market-returns approach to investing and your investment portfolio will automatically rebalance, at no additional cost. Rebalancing happens when there are significant movements in the market that cause your portfolio to deviate from the original allocation. It also happens when you deposit funds into your portfolio and there is a need to allocate the additional cash into various assets.
Dividends: Similarly, the dividends that you receive from your investments, such as stock ETFs and bond coupons from your bond ETFs, will automatically be reinvested. While your dividends are subject to a 30% US withholding tax, AutoWealth works with Saxo Markets to get partial reimbursement of the withholding taxes from the US Internal Revenue Service where applicable.
Recurring investments: If you are looking to make monthly investments, you are encouraged to do so with AutoWealth. AutoWealth recommends the date of transfer for your recurring funds to be made on the 1st or 12th of each month. Your new funds will be invested by AutoWealth on the next available market day, or as soon as is practical.
Reasons to choose AutoWealth as your Robo-Advisor
#1 Low fees regardless of investment amount
Many robo-advisors offer tiered management fees, where a larger investment amount would enjoy lower fees. With AutoWealth, you enjoy the same fee structure regardless of your portfolio size — 0.5% p.a. + a flat platform fee of USD$18. There is little pressure on you to start investing with a large amount just so you can enjoy lower fees.
However, this could also be a con for those with a small investment amount, particularly because of the USD$18 platform fee that all portfolios incur. As you grow your portfolio to a sizable amount, this fixed USD$18 would become a very low fee for a large investment amount.
#2 Set up a recurring investment
You can easily make monthly, quarterly or even weekly investments with AutoWealth, with no additional charges. This allows you to employ a dollar-cost-averaging strategy to grow your investment portfolio.
Don't worry about any additional fees because AutoWealth's 0.5% p.a. + USD$18 fee includes the costs of depositing additional funds and rebalancing your portfolio. To make recurring investments, you can do so by setting up a recurring standing instruction with your bank account to transfer the funds to your AutoWealth investment account.
#3 Get an assigned wealth manager
A robo-advisor doesn't automatically mean it's completely devoid of human touch. When you open an account with AutoWealth, you will be assigned a wealth manager that is just one WhatsApp message away — a nice touch, especially for those that feel more assured knowing the people behind the scenes. AutoWealth's team of wealth managers have more than 30 years of financial experience collectively under their belt.
While AutoWealth has their own FAQ page, you can always direct your burning questions to your assigned wealth manager.
#4 Safety of having your assets held in a separate account
All AutoWealth clients have their assets held in a legally segregated account with Saxo Markets, AutoWealth's partnering custodian. This gives you peace of mind knowing that should there be an unfortunate bankruptcy, you will still be in possession of the assets in your portfolio.
For whom is AutoWealth best for?
Got at least $3,000 at hand and are looking for a robo-advisor to dollar-cost-average recurring investments? AutoWealth might be worth a shot. Those with misgivings over technology handling money can also rest easier knowing there's still a human touch behind the scenes.
However, if you are looking to invest with your Supplementary Retirement Scheme (SRS) account or your CPF, AutoWealth does not provide such options just yet. Also, if you have no intention to grow your portfolio beyond the initial $3,000, the USD$18 in AutoWealth's fee structure could seem relatively expensive.
What charges or fees does AutoWealth charge?
AutoWealth charges 0.5% p.a on the assets under advice and a USD$18 platform fee, regardless of portfolio size. This USD$18 fee is fixed regardless of your portfolio size.
What does this fee include? This fee includes all transactions carried out on AutoWealth, such as rebalancing, withdrawals and top ups. This means that your monthly investment top ups to the account will not incur any additional charge — another reason to start dollar-cost-averaging with AutoWealth.
How is this fee charged? These fees are pro-rated and deducted from your investment account quarterly. This is automatic and there is no action required from users.
To help you get a better idea of what these fees would look like based on your portfolio size:
| | | | | |
| --- | --- | --- | --- | --- |
| Investment amount | 0.5% p.a. | Flat platform fee of USD$18 | Total fees paid (in SGD) | Total fees as a percentage of investment amount |
| $3,000 | $15 | USD$18 (About SGD$25) | $40 | 1.3% p.a. |
| $10,000 | $50 | USD$18 (About SGD$25) | $75 | 0.75% p.a. |
| $30,000 | $150 | USD$18 (About SGD$25) | $175 | 0.58% p.a. |
| $80,000 | $400 | USD$18 (About SGD$25) | $425 | 0.53% p.a. |
From the table above, it's evident that the fees you pay relative to your investment amount decrease as your investment portfolio increases in size.
AutoWealth
Endowus
StashAway
Syfe
Underlying asset
ETFs
Mutual funds
ETFs
ETFs
Management fees (per annum)
0.5% + USD$18 platform fee
0.60% for first $200,000
0.40% flat fee for any amount for CPF or SRS money
0.8% for the first $25,000
0.65% for sum invested of less than $20,000
Minimum investment amount
$3,000
$10,000
No minimum amount ($10,000 minimum required for Income portfolio)
No minimum amount
Cash, CPF or SRS?
Cash
Cash, CPF and SRS
Cash and SRS
Cash and SRS
AutoWealth eligibility criteria
AutoWealth accepts all Singaporeans, PRs and foreign clients — regardless of whether you are residing in Singapore or overseas — with the exception of US citizens and residents. There is just one main criteria to start investing with them: investing a minimum of $3,000.
If you're working in a financial institution that requires compliance pre-clearance for your personal investments, AutoWealth can provide you with a Compliance Certification letter.
How to set up an AutoWealth account?
To get started, you'll first need to follow the steps:
Step 1: Share your investment goal.
Step 2: Fill in your personal information, investment information and risk assessment. You have the option to input your initial investment amount and recurring monthly investment amount — though this can be changed once your account is set up.
Step 3: You'll see your recommended portfolio (part 1). This will include the allocation towards bonds and equities, as well as the projected annual returns.
Step 4: You'll then see your recommended portfolio (part 2). This shows your projected portfolio value. AutoWealth also shows you two different options: one with higher initial lump sum investment and no monthly investment vs a lower initial lump sum investment and monthly investment amount.
Step 5: Choose how you would like to open the account. You can choose to
Open an account online
Book a financial consultation and then open an account
Request for a financial consultation
Step 6: If you are opening the account online, there are two pages to the form you would have to fill in. This includes details such as your address, employment details and financial information. If you have a referrer code (the full name of your referrer), you will need to include it on the second page.
Step 7: Click 'Submit' and your application would have been submitted.
Step 8: Fund your AutoWealth account once it's created — either with SGD or USD. There are a few ways you can deposit your funds:
Bank transfer
FAST transfer
Telegraphic transfer (subjected to your designated bank charges, if any)
Cheque
If you are looking to deposit funds in AUD, GBP, EUR, HKD, JPY or CHF, you would need to contact clientservices@autowealth.sg.
To dollar-cost-average by starting a regular investment plan, you can refer to AutoWealth's step-by-step instructions for DBS, OCBC or UOB accounts.
Sign-up promotions for AutoWealth
While AutoWealth does not have any special promotions running, they do have a friends and family referrer programme in place. If you sign up using a referrer — the full name of your family member or friend — you both enjoy a $20 top-up into your AutoWealth account. You will get this $20 when the account is funded within two weeks of the application. Do note that this $20 could be clawed back if the participating accounts are closed in less than three months.
So if you know of someone that uses AutoWealth, be sure to get their full name before you submit your application form! For those that already have an AutoWealth account, you'll be glad to know that the number of accounts you can refer is unlimited.
Read these next:
Endowus Review: Investing Your Cash, CPF And SRS Money At Low Fees
StashAway Review: Goal-Getting Investments Through ETFs
Investing In Exchange Traded Funds (ETFs): A Newbie's Guide To Getting Started
Regular Savings Plan (RSP): What They Are And The Best Ones To Invest In
Dollar-Cost-Averaging vs Lump Sum Investing In Singapore: Which Should You Choose?