Do you wake up in the morning with a stiff neck or tense shoulders? Here are 6 comfortable ergonomic pillows in Singapore that should provide adequate support to your neck and back, while improving your quality of sleep.
With increasingly hectic work schedules, rising stress and poor sleeping habits, Singaporeans are getting less sleep than ever before. In fact, Singapore is amongst the most sleep-deprived nations in the world, ranking 3rd out of 43 cities that are profiled in a recent report.
Sleep is an essential function, so why not maximise your well-deserved rest with the perfect pillow? Instead of facing restless nights plagued with toss and turns, consider getting an ergonomic pillow to better support your neck and shoulders.
To get you started, here are six ergonomic pillows in Singapore, each with its own unique qualities and benefits. If price is a factor, don't fret, as we have found a suitable ergonomic pillow for every budget.
What is an ergonomic pillow?
The term "ergonomic" actually refers to a design philosophy that emphasises maximised efficiency and comfort that revolves around the user. Essentially, ergonomics focuses on the needs of the user, building the product around the user rather than the other way round.
Given how crucial sleep is in ensuring one remains active and well-rested, an ergonomic pillow is especially fitting since it is specifically developed to ensure you get the best sleep possible.
Why does it matter?
Ergonomic pillows aren't exactly the normal pillows we are accustomed to. They are tailored to enrich your sleeping experience by cushioning typical pain points such as your neck, shoulders, head and spine.
With unique dimensions and varied elevations, the pillow is also intended to alleviate the tension placed on your body especially when it is stationary for long periods, whether it is from sleeping, or sitting (did you know that we spend an approximate 7 hours glued to our chairs in just a day?).
These may be loaded claims, but there has been substantial research done demonstrating the health benefits that an ergonomic pillow will bring, including better sleeping quality, reduced body aches and higher user satisfaction, as opposed to a normal pillow.
The 6 best ergonomic pillows you can find in Singapore (2022)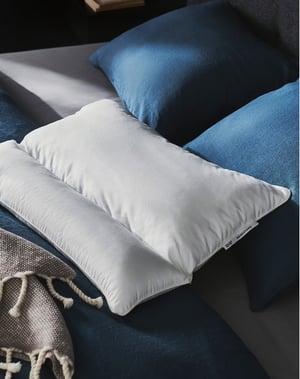 The simplistic beauty of ergonomics is best encapsulated in this pillow, designed to fit a multitude of sleeping positions with a crease that allows you to fold the pillow in any way you see fit. There is also a noticeable boost in elevation and height that complements well with your spine and neck.
Although it may lack the complex depth that the other options on our list possess, this is the perfect pillow for users looking to try ergonomic pillows for the first time. It is also incredibly affordable and age-friendly, making it an extraordinary choice if you're looking to buy pillows for the entire family!
As a bonus, this pillow uses recycled polyester, an environmentally-friendly material, that reduces carbon footprints and harmful emissions.
Pros: Very affordable and age-friendly. Environmentally-friendly choice.
Cons: Lacks depth and niche.
Price: S$9.90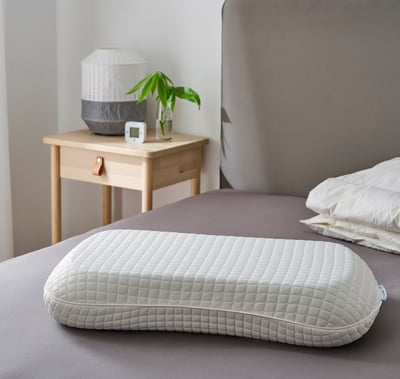 If anything, KLUBBSPORRE is a more sophisticated and extensive option as opposed to its NÄBBSTARR counterpart. It is topped with a memory cushioning foam and a gel layer that reinforces the pillow with some buoyancy and elasticity. Designed with a smooth material finish and a cooling gel, it provides some inherent coolness that helps alleviate discomforts during humid seasons. Its core design structure also comes with tiny openings that pair well with its memory foam, reducing pressure and weight on your neck and spine when you sink your head into it.
Pros: Buoyant, heat-resistant and elastic - a well all-rounded option. A great bargain given its benefits.
Cons: Not tailored to a specific sleeping position.
Price: S$59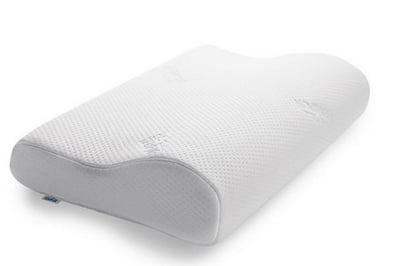 You cannot describe products by TEMPUR without acknowledging its core point of differentiation - the TEMPUR material. Described to contain an innumerable volume of visco-elastic open cells, this material apparently redistributes weight, heat and pressure, resulting in a more wholesome and relaxing experience for the user. Interestingly enough, it also affirms this through clinical trials done on its pillows, having proven that TEMPUR pillows categorically reduce tossing and turning during the night.
Its distinct shape aligns with the natural curve of the body, with special support for your head, spine and neck. Because of its unique structure, it is also best suited for back and side sleepers.
Pillows, like any product, come with wear and tear after repeated use. Thankfully, this pillow comes with a three years warranty that ensures the authenticity and quality of your pillow over time.
Pros: Unique shape tailored for maximum comfort, heat-resistant and adaptive. Protected with a three years warranty.
Cons: Exorbitant price point. Not ideal for stomach sleepers.
Price: S$339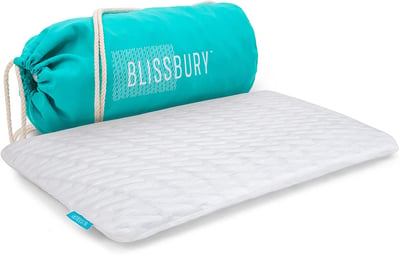 This pillow is not your average pillow. Designed specifically for stomach and back sleepers, this inventive flat pillow is reinforced with moldable memory foam that provides much-needed stability for your head and neck. True to its ergonomic design approach, the pillow is also infused with ventilation holes that help redistribute weight and regulate temperature to ensure a cooling sleep.
That's not all, this pillow comes with a carry bag, allowing you to conveniently carry your pillow around. Perfect for those who are constantly on the go!
Pros: Portable comfort, a great choice for stomach sleepers. Reasonable price point
Cons: It might be a tad thin for those accustomed to fluffed pillows
Price: S$61++

The most customisable option on this list, this pillow is the proverbial baby of an ergonomic designer and a chiropractor. Understanding the unique diversity of body shapes and sizes, this company seeks to exemplify ergonomics to its fullest by creating a pillow that is for you and only you. Before placing an order, you are required to provide comprehensive measurements of your body to personalize your pillow's dimensions and structure.
It is also important to note that this particular pillow is extremely firm, an attribute that will help keep your head and neck aligned with your spine, alleviating any common neck pains when you wake up. It also secures a structural sleeping position with a firm, moulded foam.
Pros: Great option for those looking for a firmer pillow. Customisable as well.
Cons: Loses its firmness over time after repeated use.
Price: S$228++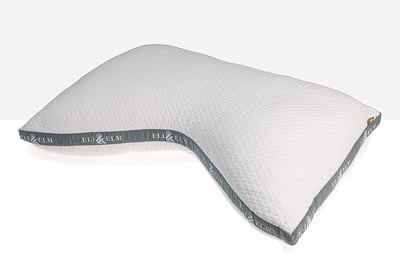 Side sleepers can finally rejoice! Eli and Elm has the ultimate pillow designed especially for side sleepers, with a U-shaped design that positions incredibly well with the head and neck. Unlike conventional pillows which do not offer much support to the spine and head of side sleepers, Eli and Elm envelopes its pillow with latex and polyester filling that provides much-needed lift in buoyancy and elevation.
Pros: Perfect for side sleepers
Cons: Niche choice. Does not go well with back and stomach sleepers. High price point
Price: S$210++
All your pillow-related questions answered!
1. Are ergonomic pillows good for your neck?
Neck pains are a common ailment for many sleepers, largely attributed to poor sleeping conditions, stress, or simply, a poor pillow. Essentially, you will want a pillow that aligns well with your neck, providing adequate weight and coverage that retains its natural position while sleeping.
Most experts recommend an ergonomic pillow with adequate height and buoyancy. Ideally, it should be made of memory foam. Other factors you should consider include the firmness of your pillow (you do not want a pillow that is too stiff) and your sleeping position (are you a side sleeper? A stomach sleeper? Or a back sleeper?)
An ergonomic pillow typically considers such ailments in its design approach, structuring the pillow so that it alleviates common pain points.
2. What kind of pillow is best for neck pain?
Most experts laud memory foam pillows for their ability to contour to the head, allowing it to remain in a stable and comfortable position while sleeping.
Ergonomic pillows such as the KLUBBSPORRE by IKEA and ORIGINAL PILLOW by TEMPUR are good choices to consider as they offer a balance of support and pressure relief.
3. Which type of pillow is best for sleeping?
The answer may not be as simple, given that all of us have our own unique sleeping position and preferences. Sleeping positions are typically categorized into three segments - Back sleepers, stomach sleepers and side sleepers. There are also specific inclinations, such as the depth of the pillow (a thin one as opposed to a thick one), its density (a firm one as opposed to a fluffy one) and shape.
Firm Orthopedic Support Pillow by Therapeutica is a great option for those looking to customise their pillow to suit their sleeping habits! Side sleepers should also consider the Ultimate Side Sleeper Pillow by Eli and Elm!
If you're looking to try out an ergonomic pillow, you can find an inexpensive one to test out. We highly recommend NÄBBSTARR by IKEA for its absolute quality and accessible price point.
4. What is the difference between a memory foam pillow and a latex pillow?
The two most prevalent materials used in pillows, memory foam and latex share many similarities and values that enrich your sleep. Memory form is amazingly adaptable, with a firm hold that softens when laid down on. Latex is a more natural alternative which provides a soft, smooth and bouncy touch.
Their biggest difference lies in its texture - memory foam pillows are typically firmer than latex, which isn't necessarily a bad thing if you enjoy a more sturdy pillow. Regardless of this, both materials are incredibly durable and are known to provide better support for your neck, back and head!
Do not neglect the importance of sleep!
Regardless of your choice of pillows, you mustn't neglect the importance of sleep and its quality. You will want to maintain the most comfortable and conducive sleeping arrangement that lets you reap the most amount of rest within a limited amount of time. Make sure you pick an ergonomic pillow that complements well with your unique sleeping inclinations and style.
The significance of an ergonomic pillow, however, cannot be adequately described in words, for it is a personalised experience. Invest in yourself and get one today!
Read these next:
How To Buy The Best Mattress In Singapore (2022)
6 Best Gaming Chairs Under $400 In Singapore
10 Best Affordable Sofa Beds Under S$1,000
Money Confessions: What having S$1 in my bank account taught me
8 Best (and Budget-friendly) Self-care Routines for Working Mothers