If you're in the market for an ergonomic chair, you'll be happy to know that there are plenty of affordable options.
Sitting comfortably doesn't have to cost you an arm and a leg. There are ergonomic chairs available for all budgets.
If you're looking for an ergonomic chair but don't want to spend a lot of money, this article will help narrow down your search and find the best ergonomic chair within your budget!
What to look for in an ergonomic chair?
Here are the key features you'll want to consider when purchasing an ergonomic chair:
Material
Office chairs come in a variety of materials, so it is crucial to choose the one that will be the most comfortable for you. Mesh material is often considered more breathable, while some enjoy the coolness of leather.
Adjustable height
This is a key ergonomic feature, as it allows you to adjust the height of the chair so that it perfectly fits your body size. A seat height that ranges from about 41cm to 56cm off the floor should work for most people. This means that you will not have to strain your back or hunch over when sitting in the chair.
Lumbar support
Lumbar support is essential for people experiencing back pain, as it helps keep their backs straight and in alignment.
Headrests and armrests
Many ergonomic chairs come with other features, such as headrests and armrests, which can make sitting in the chair even more comfortable.
---
Related to this topic:
6 Best Gaming Chairs Under $400 In Singapore
7 Work-From-Home Essentials For All Budgets
Gamer Deals Under $2,500: Gaming Laptop
Best Gaming Laptops in Singapore For Every Budget
Ergonomic chairs available in Singapore
1. UMD Ergonomic Mesh Office Chair with Aluminium Leg and Enhanced Lumbar Support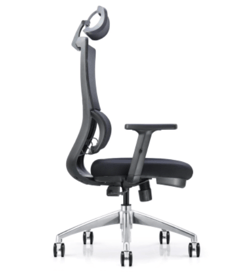 The comfortable, breathable mesh back of this ergonomic office chair will keep you cool and relaxed all day long!
The pneumatic seat-height adjustment ensures comfort no matter what position you're in or how many hours have passed since you last got up, while the padded seats are wide enough to accommodate all body types.
If you start to feel sore from extended use, these tilting chairs also come equipped with adjustable armrests and lumbar support. They can be adjusted to three different levels --- giving every user an opportunity for personalised comfort!
Price: Starts at S$29.90
2. Adjustable Office Chair Ergonomic Gaming Chair without/with footrest
Looking for a gaming chair that's different from the usual? This stylish chair will transform any room in your house into the ideal environment for immersive gameplay.
With an adjustable height and reclining capabilities, and the option to include a footrest, this gaming seat will keep you comfortable while you play your favourite game on a PC or console! Choose from five colours: red, blue, gold, white or black.
Get yours today before they run out because these chairs sell fast; they're popular with gamers looking for the right support for gaming or relaxing.
Price: Starts at S$84.90
3. ErgoTune Classic
Investing in a high-quality office chair is essential if you want to be productive at work.
The ErgoTune Classic: an ergonomic and durable model from one of Singapore's best brands, will give your sitting plenty of relief with its 4D armrests that allow you to adjust their height, width and angle.
The lumbar support lessens any lower back pain and the adjustable height ensures users can get work done without straining themselves. Plus, wear and tear won't happen too quickly since it has strong, breathable Duraweave mesh seats!
Although a more expensive entrant on our list, many attest that the chair's superior quality justifies its hefty price point.
Price: Starts at S$399
4. Sihoo M57 Mesh Ergonomic Office Chair
This lightweight yet durable and supportive seat is great for long sitting periods. With a 5cm-adjustable height and 3cm-adjustable width for its lumbar support, you can easily customise it based on your personal preference.
Not only does this high-quality adjustable chair have a 3D adjustable armrest, it also features a W-shaped curved seat pan so every element fits together perfectly without making you feel cramped. The seat also has an adjustable back tilt function with a three-position lock at 110, 120 and 130 degrees.
Price: Starts at S$66
---
Related to this topic:
The Real Cost: Working From Home (WFH) May Surprise You
The Real Cost: Your Coffee Habit
5. Executive Ergonomic Racing Office Chair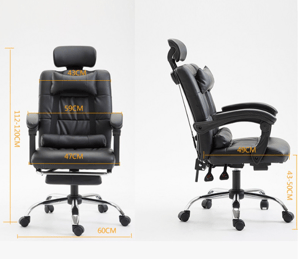 The frame of this sporty chair is stable and durable, with breathable mesh for your back. A contoured headrest will keep you in the correct posture to protect against neck and waist injuries during long hours at work!
The Tilt Lock Mechanism with a tilt tension knob and pneumatic seat height adjustment allows users of all heights to sit comfortably.
It features a heavy-duty base, and smooth-rolling PU casters so movement isn't disruptive when you need to get around.
Price: Starts at S$74.88
6. Office Chair With Adjustable Armrest and Headrest
This is suitable as an office chair for people who work at their desks for long hours. The mesh back and breathable fabric make this a great choice, as does the high-quality steel base, which can support up to 80kg!
It features an adjustable seat height that's perfect if you have colleagues of different heights who will be using the chair. Introduce more comfort through adjustments to aspects such as the tilt tension, lumbar support and headrest.
Price: Starts at S$89.90
7. Homez Mesh High Back Office Chair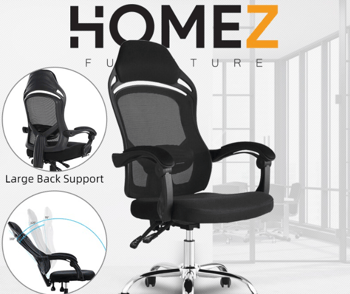 This office chair is easily assembled with the included instructions. Besides adjustable height settings, it also comes with a breathable mesh back and ergonomic design with built-in lumbar support so it's very comfortable to sit on no matter the duration.
There are high density cushioning elements like a sturdy nylon armrest, as well as castor wheels and 360-degree swivel rotation which allow easy movement.
Price: Starts at S$89.90
8. OFFICEHUB Ergonomic Office Chair MELVIA PRO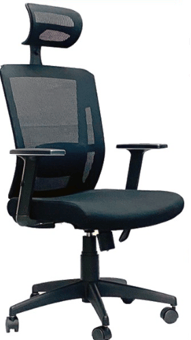 MELVIA PRO is a spacious and comfortable ergonomic chair that provides quality at a budget price. It offers the best of features, such as an adjustable headrest angle with an ergonomic design that allows you to sit in it comfortably all day long! You have the option of highback or midback – if you prefer not to have a headrest. It has thick breathable foam for its seat, and lumbar support that can be adjusted up and down, front and back.
Price: Starts at S$139
9. JOSEPH&CASEY 2022 Ergonomic Office Chair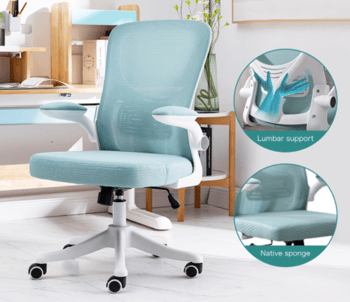 This ergonomic chair is a great choice for those who need to sit at their desk all day.
The chair is designed to be adjustable, comfortable and sturdy. The backrests can fully support your spine for an easy-sitting experience that provides maximum stability! It only takes a few simple steps (with detailed instructions included) to set up this chair for your home office.
Its seat can rotate 360 degrees, and the casters move freely in any direction. The seat cushion is made of sponge, while the backrest provides airiness through the mesh material.
Price: Starts at S$88
---
Whether you're working from home or in the office, these affordable options can help you sit in comfort. Save further when buying your chair by using one of these best shopping credit cards.