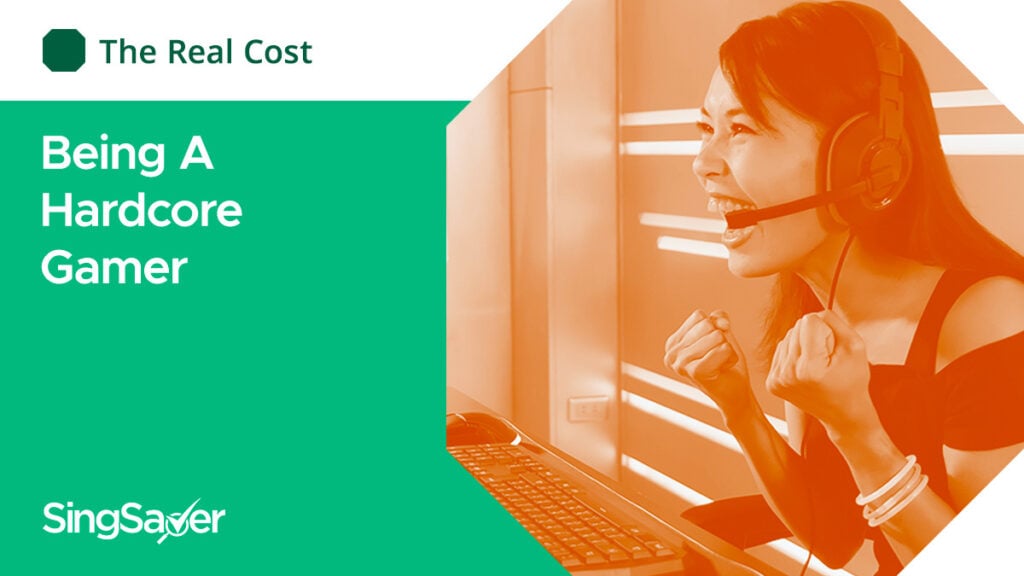 ---
There may be hidden costs on every dollar you spend. The Real Cost, a SingSaver Series, uncovers all the unexpected expenses you're incurring.
---
If the constant refrain 'the enemy has been slain' has been what's keeping you up into the wee hours of the night, then maybe you'd like to turn your casual hobby into something a little more serious to improve your stats. Here is the real cost of being a true gamer in Singapore.
The onset of the pandemic has brought about a major boost in the global e-sports industry, which is projected to see more than US$1 billion in revenue in 2021, a 14% increase from last year. With more time on our hands due to the COVID-19 restrictions and WFH arrangements, many are turning to gaming as a newfound hobby (at the risk of many unhappy partners).
So if you've been spending your free time vying to reach the coveted rank of Challenger in League of Legends (LoL) or to get a Winner Winner Chicken Dinner in PlayerUnknown's Battleground (PUBG), then maybe it's time to bring your pastime to a whole new level. Here is a breakdown of what you'll need and the costs behind being an avid (computer) gamer in Singapore.
Are you game for it? Here's what you can expect:
Typical costs of being a gamer
Here are some of the costs involved in mandatory gaming equipment that most gamers need, including an RBG gaming mouse, a headset with stellar audio quality and a backlit mechanical keyboard.
| | |
| --- | --- |
| Item | Cost |
| PC games | S$0-S$150 per game |
| Gaming laptop/desktop | S$1,200-S$6,000 |
| Monitor | S$150-S$700 |
| Mouse | S$20-S$300 |
| Mechanical keyboard | S$20-S$600 |
| Headphones | S$20-S$200 |
| Gaming chair | S$400-S$2,000 |
| Wifi router | S$20-S$300 |
PC games: S$0 - S$150
First things first, you can't be a gamer if you don't even own a PC game. In the world of gaming, Steam, an online gaming platform, is every gamer's best friend. It boasts about 30,000 games that are either free or payable, and can cost up to S$150.
Some of those are classics like The Sims, which ranges between S$12.90 and S$49.90 based on each edition, and cost more for bundles and expansion packs. There's also the popular PlayerUnknown's battleground (PUBG) available on Steam at S$34.99.
If you're on a budget, there is also a wide variety of free games on Steam or their individual sites that you can download or play directly on their browsers, such as League of Legends (LoL), MapleStory, Runescape, Fortnight, Valorant, DOTA and CounterStrike Global Offensive.
Gaming laptop/desktop: S$1,200 - S$6,000
If you're really set on committing to improving your overall gaming experience, then investing in a gaming laptop or desktop is necessary. This can set you back by about S$1,200 if you go for a cheaper option, or can cost up to S$6,000 for a high-end alternative.
Since both desktops and laptops have similar price ranges, choosing the right one for you depends on your priorities. While gaming laptops are more portable and easier to lug around, gaming laptops have overall better performance due to their faster graphic cards and being more customisable in terms of components and features.
Some important features you should look out for when purchasing a gaming laptop or desktop are the processor/CPU, video graphics and cooling system - you'll want a device that isn't laggy, produces clear graphics, and can cool easily so it doesn't overheat. You can consider some of the more popular brands like Asus, Aftershock, Razer and Lenovo.
Monitor: S$150 - S$700
While a gaming monitor isn't absolutely necessary, especially if you already own a gaming desktop, monitors definitely elevate your gaming experience and might even increase your chances of winning. Not only do they have a lower input lag and higher refresh rates, they also have faster response times so you have an advantage over your opponents who do not own monitors.
They typically cost between S$150 to S$700, but of course differ based on brand, resolution (Full HD, Quad HD, 4K Ultra HD) and size. There has recently been all the hype around the PRISM+ series which is usually quite pricey, while there are also more affordable options like Asus and Dell that will not disappoint either.
Mouse: S$20 - S$300
Owning a mouse that is either too small or one that lacks an optimal grip will not only affect your performance when you game but can cause discomfort when you're excessively clicking for long hours on end. Aside from that, a mouse that always disconnects or lags is also the bane of every gamer's existence.
As such, a gaming mouse is another additional accessory to every gamer's set-up. Though there are cheap ones that can go as low as S$20, a decent mouse optimal for gaming should cost S$50 to S$300.
Depending on how exactly you hold your mouse, you can choose from the different types of mice that offer different grips: palm, claw or fingertip. You can also choose between an optical or laser mouse: optical mice generally have better accuracy while laser mice are more versatile since they work on more surface types. Wireless or wired mice have to be considered too - while wireless mice have a limited battery life (especially Red Blue Green (RPB) mice), those that come with Bluetooth connectivity can be switched among multiple devices.
If you're at a loss as to which mouse you should choose, some well-known brands you can consider include Razer, Logitech and Corsair, which offer high-quality gaming equipment.
Mechanical keyboard: S$20 - S$600
Regardless of whether the ASMR "clack-clack" sound is music to your ears or it is just downright annoying, gamers would most likely agree that mechanical keyboards are more optimal for a better gameplay experience than normal keyboards. This is because there are switches underneath the keyboards to make them faster, more durable and more tactile.
Mechanical keyboards fall within a large range as well, from S$20 to S$600 depending on the size and features. Not all keyboards are made the same - they may have different layouts such as full-sized boards, tenkeyless (TKL, also known as 80 percent keyboards), and other variations like 65, 60 and 40 percent keyboards.
Most mechanical keyboards use the same Cherry MX switches, though you can opt for others too. Aside from the noise level that you'll have to consider lest you wake up your entire family when you game at night, there are also additional add-ons like macros to store key-command combinations, backlit keys and onboard memory to store macros and keyboard profiles that will fetch higher price points.
Keyboards under Razer, Logitech, Tecware and Corsair are durable and highly sought after.
Headphones: S$20 - S$200
Regular earphones are great, but have you ever tried a surround-sound noise cancellation headset? When you're in the (gaming) zone, the audio can make or break your gaming experience, so investing in a set of quality headphones is necessary if you want to be able to hear your enemies' footsteps just around the corner. Noise cancellation is also a nifty feature to have to block out distracting noises (like your mum nagging in the background).
Premium headphones like those from Razer, Logitech, Corsair and SteelSeries can set you back by about S$100 to S$200, while there are always cheaper options that go as low as S$20 if you're on a tight budget. One tip is to get a headset that has a microphone attached to it for easy communication with your teammates for co-op games.
You should also head down to the physical store to try it on and make sure it fits snugly to prevent any discomfort and even pain.
Gaming chair: S$400 - S$2,000
If you think ergonomic office chairs are comfortable, then gaming chairs take the crown in terms of comfort. Though gaming chairs are made to be easy on your back, they are definitely not easy on the wallet, costing you anywhere from S$400 up to S$2,000, especially if they're from big industry brands like Secretlab, Royale, ErgoEdge, Ergotune and Razer.
For those who don't mind splurging on a gaming chair that can provide ultimate comfort, you can also consider those equipped with a massage function to relieve back pains from all that sitting around gunfighting and battlefield action. Otherwise, you can take advantage of Citibank's exclusive promotion available on SingSaver.
Wifi router: S$20 - S$300
A gaming chair or large monitor may help to increase your overall gaming experience, but what's most essential that is often overlooked is a trusty wifi router that typically costs you S$20 to S$300. Nothing beats the sheer frustration of lagging behind midgame and then dying as a result of poor connection.
Improve your home wifi by investing in a reliable wifi router. Not only does it improve the connection and increase internet speed, but it also keeps your computer system and information safe from cyber-attacks that many might not be aware of. Some brands you can consider include ASUS, Google and TPLink, which you are likely no stranger to.
Additional costs of gaming
Aside from the more essential accessories, these are some extra costs that you may need for your game set-up or to improve your gameplay experience:
| | |
| --- | --- |
| Item | Cost |
| Webcam | S$20-S$300 |
| Speaker | S$40-S$2,500 |
| Microphone | S$15-S$200 |
| In-game purchases | S$10-S$200 |
| Joysticks and racing wheels | S$100-S$500 |
| Blue light glasses | S$15-S$300 |
| Esports tournament tickets | S$10-S$400 |
Webcam: S$20 - S$300
Webcams are not a must, since you would mainly require a microphone to communicate with your teammates in co-op games. Else, your built-in camera will suffice. However, if you're planning on actualising your gaming hobby into a full-fledged hustle and income stream, streaming your gameplay as a professional gamer (if you're really good) on popular platforms such as Twitch or YouTube may be an option.
In these cases, a good quality webcam is needed and will cost you anywhere from S$20 to S$300, depending on model and specs. Look for one with a good resolution for clear visual output, and low-light camera for night-time streaming under dim light. Some big players in the market include Razer, Logitech, Anker and Dell.
Speaker: S$40 - S$2,500
A regular headset is usually enough to offer excellent audio quality, and it's the only solution to late-night gaming sessions without waking your entire family up. But if you're staying alone or gaming in a fully soundproof room, you can always elevate your gaming set-up with a set of speakers to get you fully immersed.
You can find decent speakers from as low as S$40 but if you take your sound quality very seriously and want to invest in a high-end one, you might fork up to about S$2,500 for add-ons like a subwoofer, bass driver and amplifier. Razer, Logitech, RedDragon, Bose and Creative are some reliable names you can look to for top-notch speakers.
Microphone: S$15 - S$200
Another essential for the up-and-coming professional streamers is a legitimate microphone to capture your voice and commentary. Though the microphones built into your headset can be used as well, you'll want a separate microphone for stellar audio clarity as well as the ability to move around when you're streaming.
Razer and HyperX do sell some top-of-the-line microphones, especially for gamers, while Elgato and Blue Yeti also offer some strong contenders, all well under the budget of S$200. If you're cash-strapped, there are some decent microphones below S$80 that you can consider too.
In-game purchases: S$10 - S$200
As a gamer, you've probably caved in and spent real money before on in-game purchases such as skins, weapons, in-game credits and EXP boosts. While others may think that there is no real need to spend money on games, these in-game purchases are sometimes necessary to gain an advantage over your opponents by making your character more formidable.
Depending on what you buy, these in-game purchases usually fall between S$10 to S$200. Take it from me, who used to splurge her entire allowance on in-game pets in MapleStory back in secondary school: it's advisable to manage your expenses and spend within your means.
Joysticks and racing wheels: S$100 - S$500
Compared to old video games back in our parents' generation, game developers have taken gameplay up a notch by offering game accessories like joysticks and racing wheels to make the experience more realistic and enjoyable. If you're into racing, fighting or flight simulation games, you might want to consider getting accessories to improve your performance.
Joysticks and racing wheels usually set you back by about S$200 on average, with prices starting from S$100 all the way up to S$500. Not only do they give you more control but it also makes the experience feel akin to real-life: some racing wheels even come with accelerator and brake pedals to simulate driving. Check out Logitech or Thrustmaster as they offer a wide range of accessories for you to choose from.
If you're thinking of getting an Xbox or PlayStation, you can check out credit cards for gamers so you can chalk up discounts and get the best deals.
Blue-light glasses: S$15 - S$500
Just like Korean drama fanatics, gamers alike can relate to spending hours on end focused on your game without realising. These prolonged hours spent staring at your screen can cause strain and damage to your eyes. Blue-light glasses are the key to protecting your eyes from the blue light emitted by screens.
Depending on your degree and the frame you choose, blue-light glasses can be as cheap as S$15 and go up to S$500. Most spectacle shops offer the option of changing your lens to a blue-light lens with an additional top-up of $50 to S$100, while some shops offer blue-light glasses by themselves with no prescription, making them a lot cheaper.
Esports tournament tickets: S$10 - S$500
If you're a gaming enthusiast, then you've probably wanted to attend an Esports tournament more than anything. With so many Esports tournaments happening all around the world, you can stay on top of the news just in case one international tournament graces our shores.
The last event in Singapore was the One ESports DOTA 2 World Pro Invitationals that was held in December 2019 at Singapore Indoor Stadium, and tickets were priced from S$8 to S$378. Tickets are priced differently at each event, but you can expect to spend anywhere between S$10 to S$500.
The real cost of gaming in Singapore
The cost of gaming isn't the same for everyone as it highly depends on your budget, the extent of your game set-up and the type of games you play. If you're a professional gamer, you most likely require more gaming equipment than the average gamer as this is your livelihood.
| | |
| --- | --- |
| Item | Cost |
| Entire gaming set-up | S$1,830-S$10,100 |
| Additional accessories | S$210-S$4,400 |
| PC games | S$0-S$200 |
| Total | S$2,040-S$14,700 |
If the total cost of setting up your own gaming nook is scaring you a little, you can check out some of the cashback credit cards that you can apply for to ease your costs a little. Some of them also do offer rebates and discounts to help you stretch your dollar.
Read these next:
6 Best Gaming Chairs Under $400 In Singapore
7 Best Credit Cards for Gamers Singapore 2021
7 Best Desktop Gaming PCs For Work Under $3000
8 Best Free PC Games in 2021 (And Where to Download Them)
The Real Cost of Playing Golf In Singapore