Football fanatics, should you be putting your money where your heart is? Here are some of the football clubs listed on stock exchanges around the world, and whether they can help you to reach your investment goals.
It's been a strange year for football. Because of COVID-19, football teams went from playing in front of thousands of roaring fans, to an empty stadium where each shout (profanity or not) by a player would easily be picked up by the pitch-side cameras.
Despite the lack of a physical audience, football leagues continued, with fans cheering their team on from their couches.
In the end, this season, Chelsea won the Champions League, Manchester City won the English Premier League, Atletico Madrid won the La Liga, Bayern Munich won the Bundesliga, Inter Milan won the Serie A and Lille won the Ligue 1 title.
With the league football season concluded, all attention now turn towards the UEFA European Football Championship (Euro 2020).
In this article, we take a look at a handful of the few listed football clubs and whether they are a worthwhile addition to your investment portfolio.
Why invest in football clubs
Just like other companies you can find on the stock exchange, football clubs are also businesses. They make money via:
Commercial (sponsorship, retail, merchandising, apparel, product licensing, new media and mobile)
Broadcasting (distribution and broadcast of live football content, both directly and indirectly)
Matchday (all match day activities, including ticket sales)
As an investor, you can invest in football clubs for two purposes: capital growth or dividends. Capital growth refers to the increase in the capital that you put in, which is dependent on the share price increasing substantially over the years. You can also be rewarded with dividends, which are payouts given by the company for being a shareholder.
You can even buy the stock just to support the club you love, though this can be done in other ways as well, such as purchasing jerseys or simply watching the live matches.
Which publicly listed football clubs can you invest in?
Interestingly, the winning clubs mentioned above aren't listed on any stock exchange. Here are five clubs that are listed, with shares that can be purchased.
Manchester United (NYSE: MANU)
Manchester United fans would have had their hopes of raising their first trophy in four years dashed during the Europa League finals against Villareal, losing out on penalties 11-10.
The largest football club trading on the stock market, Manchester United was listed on the NYSE in August 2012 at US$14 a share.
Fast forward nine years later, it is currently trading at about US$15.60 a share on 1 June 2021 — an increase of 11% over the years.
During its best year in 2018, the share price reached US$26.20, but also dipped to its lowest of US$13.29 in March 2020.
Market cap: US$2.55 billion
Dividend yield: Manchester United rewards its shareholders with annual dividends of US$0.18 per share, This translates to a dividend yield of 1.15%.
If you're a Red Devil who's convinced Manchester United can close the gap to their competitors and win more games, you can also consider applying for the Maybank Manchester United Platinum Visa Card that gives you 3% cashback and 5X TREATS Points (2 miles) when Manchester United win a Premier League match. This card also earns 1% unlimited cashback and 1X TREATS Points (0.4 miles) on all transactions, with no minimum spend required and no cashback cap.
Maybank Credit Card Welcome Gift: Receive a Samsonite Harts 68/25 Spinner (worth S$500) when you apply for both a credit card & a CreditAble account and make a min. spend of S$300 per month for 2 consecutive months. Valid for the first 4,500 applicants. The remaining applicants will score S$100 cashback instead. T&Cs apply.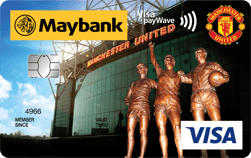 Borussia Dortmund (ETR: BVB)
One of the top three clubs in Germany, Borussia Dortmund (BVB) has some of the brightest potential in their line-up, including Erling Haaland and Jude Bellingham. This season, they lost out on the Bundesliga title to Bayern Munich, also finishing behind RB Leipzig.
BVB debuted on the Frankfurt Stock Exchange at an opening price of EUR$11 in 2000. That was also the highest price the stock has been, although it came closest in November 2018 at EUR$9.99. July 2009 saw the stock trading at its lowest of EUR$0.84. Today, BVB's share price is just above EUR$6.
Like many other stocks, BVB has seen its fair share of highs and lows. As an investor, your investment returns would depend when you purchase the BVB stock. For example, in the best case scenario that you purchased it at the low of EUR$0.84, you'd be sitting on nearly 600% gains. However, if we look at 2000 till today, the share price has dropped 45% over the past 20 years.
Market cap: EUR$552.92 million
Dividend yield: Although BVB has given out dividends in the past years (EUR$0.06 was given in years 2015 to 2019 — hovering around a 1% yield), it is currently not paying a regular dividend.
Juventus (BIT: JUVE)
The current football club of the one and only Cristiano Ronaldo, Juventus haven't had the greatest of years.
A club with other big names such as Paulo Dybala and Juan Cuadrado, they managed to finish only 4th in the Serie A, securing a spot in the Champions League for next season. Manager (and Juventus midfield legend) Andrea Pirlo has also recently been sacked and will be replaced by Massimiliano Allegri.
Juventus has been listed on the Borsa Italiana, the Italian stock exchange, since December 2001 where it closed at EUR$1.19. Since 2001, the stock price saw a downward trend, reaching a low of EUR$0.14 in 2012.
The stock price bucked the trend in 2017, rising to its highest of EUR$1.54 in April 2019. Today, Juventus shares are trading at EUR$0.76 — a 36% drop over the past 19 odd years.
Market cap: EUR$1 billion
Dividend yield: Juventus does not payout dividends to shareholders.
AS Roma (BIT: ASR)
The biggest news surrounding AS Roma of late is that 'The Special One' Jose Mourinho will be their new manager for next season, following his sacking from Tottenham. AS Roma finished 7th in Serie A this year, missing out on a Europa League spot but ensuring participation in the new UEFA Europa Conference League.
Also listed on the Borsa Italiana, AS Roma opened at EUR$2.91 in May 2000, reaching a high of EUR$3.82 in May 2001. Since then, the stock price has only gone downwards, staying put below EUR$1 since 2003. It also reached its lowest of EUR$0.14 in October 2020.
Today, AS Roma's share price is EUR$0.46 — a drop of nearly 85% in 21 years.
Market cap: EUR$287.18 million
Dividend yield: AS Roma does not payout dividends to shareholders.
Ajax (AMS: AJAX)
Ajax is arguably the most successful Dutch football club, clinching their 35th Dutch league title this year. The club has also conducted some good business by producing some of the top football talents in the world, including Frankie de Jong, Matthijs de Ligt, Hakim Ziyech and Donny van de Beek, who have all left for big-name clubs.
Despite being in a lesser-watched league compared to the four clubs above, Ajax stocks are trading at a far higher price. Ajax was listed in 1998, opening at EUR$11.48 and dipping all the way to EUR$3.25 in 2003.
Since 2003, the stock price has been trending upwards, reaching highs of EUR$23.8 and EUR$22.5 in 2019. Today, Ajax shares are trading at EUR$15.25 — a 33% increase since 1998.
Market cap: EUR$279.58 million
Dividend yield: Ajax has, in the past, given out dividends, with payouts of EUR$0.25 per share in 2019, EUR$0.24 per share in 2017 and EUR$0.08 per share in 2015. However, it currently does not pay a dividend.
Are football clubs good investments?
Perhaps it is telling that many of the winning clubs are not listed on the stock exchange — success on the pitch doesn't necessarily translate to gains in the financial markets, or have relation to being a listed stock.
If we look at the capital growth (or decline) over the years, it pales in comparison to investing in the likes of Apple, Facebook, Amazon, Tesla and more.
The dividend yield is also far from spectacular, giving about 1% dividend yield (if any at all) — this is not impressive considering there are other better investment options. For example, cash management accounts, savings accounts and Singapore Savings Bonds (SSBs) which offer more than 1% returns with lower volatility.
If you're still set on purchasing the shares of a football club, your best bet might be Ajax.
To purchase the shares, you will require a brokerage account. Do check if the brokerage account offers access to the exchanges that the clubs are traded on.
Opening a brokerage account can also serve other investment purposes, including buying the stocks of other companies in markets such as Singapore, Hong Kong and the US.
Read these next:
4 Reasons Why You Need Personal Accident Insurance If You're Into Sports
How To Actually Start Investing In Stocks: A Step-By-Step Guide
A Keen Investor's Guide To Cryptocurrency (2021)
Best Brokerage Accounts To Start Your Investment Journey In Singapore
Best Robo Advisors To Auto-Pilot Your Investments In Singapore