Still using spreadsheets to track your finances? It's about time you level up your financial planning with SGFinDex.
The wave of Open Banking that started in Europe has now swept across the globe to include the shores of Singapore.
The philosophy behind Open Banking is to democratise data across banks and give consumers more control over how financial information is being used. Recently, the Monetary Authority of Singapore (MAS) announced that it will be launching the SGFinDex in a step towards Open Banking in Singapore.
SGFindex: What you need to know about this gamechanger
What Is SGFinDex?
Singapore Financial Data Exchange (SGFinDex) is a newly introduced digital infrastructure by the MAS and the Smart Nation and Digital Government Group (SNDGG).
SGFinDex is the world's first public digital infrastructure that lets you combine all your personal finance information on a single platform. It taps onto the national digital identity system (A.K.A SingPass) to create a centrally managed online consent system that accesses your personal financial information from different government agencies and financial institutions.
What kind of data can you pull from SGFinDex?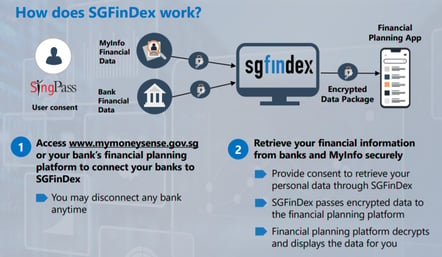 SGFinDex allows you to retrieve your personal financial data from the following sources:
Government agencies
Latest CPF balance
Tax bill for the previous year
Outstanding HDB loan balance
Monthly instalment for your HDB loan
Financial institutions
Saving account balance
Credit card statement
Outstanding loan statement
Fixed deposit statement
If you are an existing customer of the following banks, you can retrieve your data into SGFinDex:
Citibank
DBS/POSB
HSBC
OCBC
Maybank
Standard Chartered Bank
United Overseas Bank (UOB)
SingSaver x MoneyOwl Exclusive
Looking to start your finances on a clean slate? With MoneyOwl's Comprehensive Financial Planning service, the 1-1 consultation is non-obligatory and chargeable at S$49 for a limited time with the promo code SAV422 The 1st 100 readers to sign up will also receive a S$10 Grab voucher. Valid till 31 Jan 2023.
How can SGFinDex benefit your personal finance?
Greater convenience and security
With SGFinDex, gone are the days where you have to create your own spreadsheet to keep track of the dollars and cents going in and out of the different bank accounts you own. SGFinDex lets you view all your personal finance information on a single platform from any of your preferred banking app.
In addition, you don't have to worry about any data leakage. Unlike your own spreadsheet, there are stringent security measures in place to safeguard all your personal data when you access them from SGFinDex.
Less hassle, more credit card benefits
Every credit card comes with its own set of perks and benefits. Sometimes, you wish you can have one (or more) credit card from each bank so that you can enjoy the credit card perks whenever you need it.
But the troublesome part is managing and keeping track of the credit card bills. Having 5 credit cards from different banks means logging in to five different apps to track your spending.
With the introduction of SGFinDex, you get to enjoy the credit card benefits without the hassle. That's because you can view all your credit cards under one platform. You no longer have to worry about having too many credit cards to manage.
Power up your personal finance game with financial planning tools
Beyond just aggregating your personal data, SGFinDex goes one step further to let you power up your personal finance game. You can link your personal finance data into the financial planning tools from the bank that you bank with to supercharge your financial planning.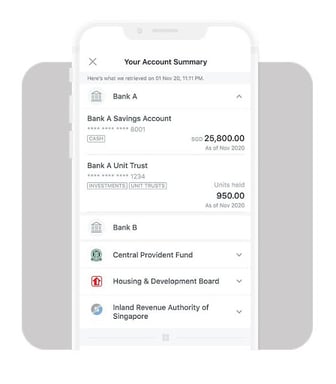 DBS users will be familiar with the DBS NAV Planner tool that comes with your DBS Digibank app. It helps you track, protect and grow your money in a way that works for you. With the addition of SGFinDex, you can plan your finances across multiple banks, not just your savings account with DBS Bank.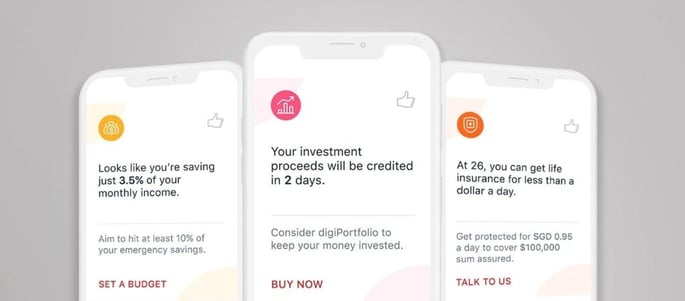 Beyond just aggregating data, DBS NAV Planner also provides personalised insights to help you cultivate money habits that work for you.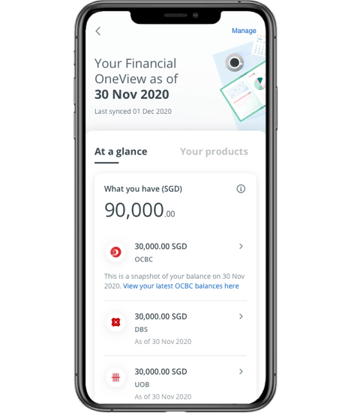 OCBC has its own digital financial planning tool known as OCBC Financial OneView. It provides tools and nudges to help you make your money work harder to make better financial planning decisions.
With OCBC OCBC Financial OneView, you can say goodbye to a fragmented, complex and time-consuming way to financial planning.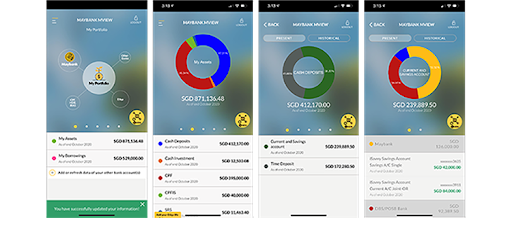 From Maybank app, you will find the Maybank MView function for an aggregated view of your cash, investment, CPF and SRS. It provides a visual cue of your personal finance and how much you have allocated to each segment, though the UI design has more room for improvement compared to the rest on the list.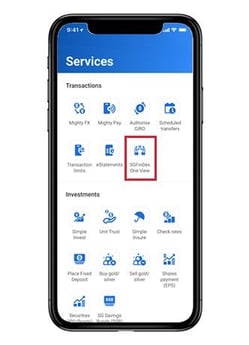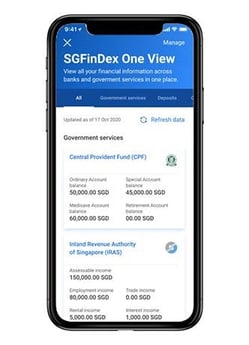 For UOB, you can view all your personal financial data through the SGFinDex One View on your UOB Mighty app. But don't expect to find personalised insights on your money habits like DBS or OCBC.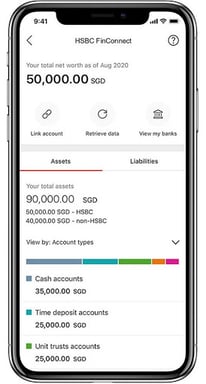 HSBC FinConnect is its SGFinDex tool that helps you consolidate your personal financial data across different banks. The clean and simple UI makes it easy for you to view where your assets and liabilities lie.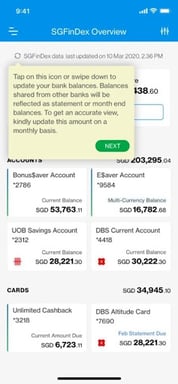 Standard Chartered brings the plain vanilla function of consolidating your data in its SGFinDex Overview tool. One thing we like about Standard Chartered's tool is that you can see your card spending as well. And if your statement is due soon, it even has a gentle visual reminder for you.
Citibank (To Be Announced)
So far, Citibank hasn't yet to announce its SGFinDex tool in its banking app. But you can still link your Citibank saving account, credit card and loan data to other banking apps.
As part of the SGFinDex rollout, the government is also pushing its own financial planning tool: MyMoneySense. This is part of the government's plan to help Singaporeans better understand their own financial situation and make better financial decisions moving forward.
With MyMoneySense, you can also plan and learn more about financial planning, apart from having an overview of your finances.
The only downside is that it doesn't have its own mobile app. Or maybe not yet.
For those with more than one banking account, you can leverage on financial planning tools from multiple apps. There's no restriction that limits you to only use the financial planning tool from a single app.
We personally find the MyMoneySense, DBS NAV Planner and OCBC OneView to be the best combination, thanks to the financial planning functionality that all three tools offer.
Read these next:
Top Credit Card Promotions And Deals On SingSaver (December 2020)
Home Insurance Promotions And Discounts To Protect Your Home
Best Cancer Insurance Plans In Singapore (2020)
Best Critical Illness Insurance Plans In Singapore (2020)
Got $50? Here Are 3 Easy Investments To Start Growing Your Money (And 1 To Avoid)