HSBC has revolutionised its, well, Revolution credit card with an improved miles rate and abolishment of annual fees. Here's everything worth knowing about.
For a while, it looked like it might be game over for the venerable HSBC Revolution. It wasn't a bad card as such, with a decent 2 miles per dollar (mpd) on online purchases, local dining and entertainment. But there were several others offering 4 mpd for similar categories, and with HSBC excluding insurance, education and utilities payments, there was precious little reason to hold on to it.

Soon after, HSBC pulled what millennials call a 'pro-gamer' move, and unveiled a refresh that gives the Revolution a complete, new lease of life.
HSBC's new Revolution card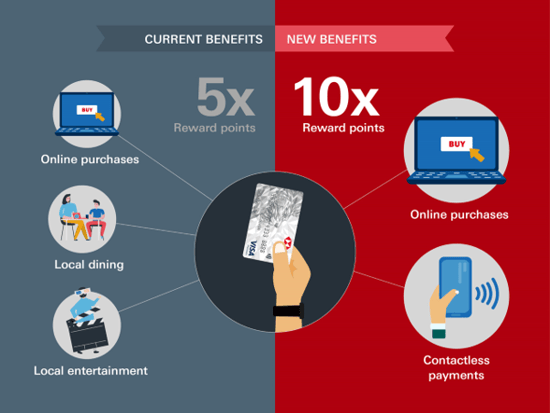 From 1 August 2020, the HSBC Revolution has changed as follows:
Changes
Until 31 July 2020
From 1 August 2020
Annual Fee
$160.50
None
Online Purchases
2 mpd
4 mpd
Contactless Payments
0.4 mpd
4 mpd
Local Dining
2 mpd
4 mpd
(for contactless payments)
Local Entertainment
2 mpd
0.4 mpd
HSBC has removed the $160.50 annual fee, making the Revolution a free-to-hold card. It has also replaced the old bonus categories with some exciting new ones.
HSBC Revolution cardholders will now earn 4 mpd on selected online purchases and contactless payments. The 4 mpd will be awarded in the form of 10X HSBC rewards points per $1 spent, split into:
1 base point for every $1 of eligible transactions
9 bonus points for every $1 of eligible transactions
This is capped at $1,000 per calendar month, with bonus points credited by the end of the following calendar month from the date of transaction. Any spending in excess of the cap will earn 1 base point, or 0.4 mpd.
Needless to say, this is a fantastic change, as it opens up a wider scope of qualifying bonus categories for the card.
Which transactions are eligible to earn 4 mpd?
HSBC classifies the following transactions as eligible categories for 4 mpd:
| | |
| --- | --- |
| Category | Merchant Category Codes (MCCs) |
| Travel related categories such as Airlines, Car Rental, Lodging, Cruise Lines and Travel Agencies | 3000 to 3350, 3351 to 3500, 3501 to 3999, 4411, 4511, 4722 |
| Department Stores and Retail Stores | 4816, 5045, 5262, 5309, 5310, 5311, 5331, 5399, 5611, 5621, 5631, 5641, 5651, 5655, 5661, 5691, 5699, 5732 to 5735, 5912, 5942, 5944 to 5949, 5964 to 5970, 5992, 5999 |
| Supermarkets, Dining and Food Delivery | 5411, 5441, 5462, 5499, 5811, 5812, 5813, 5814 |
| Others such as Transportation and Membership Clubs | 4121, 7997 |
This means you can now earn bonus points on:,
Airfare and hotel bookings (provided they're fully paid for online — remember there's a difference between providing your credit card to guarantee your reservation, and paying for your reservation online)
Online shopping with websites like Amazon, Ezbuy, Lazada, Qoo10, Shopee, Taobao
Food delivery through platforms like Deliveroo, foodpanda, GrabFood, oodle and WhyQ
Ridesharing apps like Grab, gojek, RYDE
Supermarket shopping at Cold Storage, NTUC, Sheng Siong
Taxi transactions with Comfort, Prime Taxi and SMRT Taxi
Do remember that all transactions must be done online or via contactless payments. You won't earn any bonus points if, for instance, you use the usual 'chip and sign' payment method at a restaurant.
With regards to contactless payments, do note that you'll either have to tap the physical card on the card reader or pay via Apple Pay. HSBC cards are currently not supported by Garmin Pay, Google Pay, Fitbit Pay, or Samsung Pay.
Is there a catch?
Not particularly. The maximum bonus you can earn each month is capped at $1,000, but that's well on par with other credit cards in the market that offer online spending bonuses, like the Citi Rewards and UOB Lady's Card.
It's also a shame that HSBC has gone for a 'whitelist' rather than 'blacklist' approach. With a whitelist approach, only transactions that fall into the specified MCCs earn a bonus. With a blacklist approach, all transactions earn a bonus unless otherwise stated. An example of the blacklist approach is the DBS Woman's World Card, which earns 4 mpd on all online transactions, except those explicitly excluded like insurance or charitable donations.
Whenever you add a new credit card to your collection, it's important to evaluate the risk of 'orphan points'. HSBC has a minimum transfer block of 25,000 points (10,000 miles), so you'll need to spend at least $2,500 on your Revolution card to be able to transfer anything out. HSBC points are valid for 37 months, but if you don't think you'll spend at least that much within the period, this may not be the best option.
All things considered, though, the HSBC Revolution card will be very useful to have in your wallet. I'll personally be using it to supplement my Citi Rewards and DBS Woman's World Card, that will help me earn 4 mpd for the vast majority of my spending.
Welcome gifts for new-to-bank customers
HSBC Credit Card Welcome Gift:
For HSBC TravelOne Card Only: Receive 20,000 miles (equal to a round trip to Bali) when you make a min. spend of S$1,000 within the qualifying spend period, pay the annual fee (S$194.40 incl. GST) and provide marketing consent when you apply. Valid till 31 December 2023. T&Cs apply.

For Other HSBC Credit Cards: Receive a Samsonite ZELTUS 69cm Spinner Exp with built-in scale (worth S$680) or S$150 cashback when you make a min. spend of S$1,000 by the end of the following calendar month from the card account opening date and provide marketing consent. Valid till 31 December 2023. T&Cs apply.
HSBC defines new-to-bank customers as those who do not currently hold a principal HSBC credit card, and have not in the past 12 months.
Read these next:
Credit Card Welcome Offer: A Comparison of The Best Gifts
OCBC FRANK Revamp: 5 Reasons To Sign Up For This Newly Relaunched Card
Credit Cards With The Best Dining Perks
Credit Card Benefits You Can Use From Phase 2
All The DBS/POSB Credit Card Deals You Need To Know About Now
---
---