MAS has issued a S$10 commemorative coin (LKY100) to pay tribute to Mr Lee's contributions to Singapore. Find out everything you need to know about the limited edition coin, from how to get it to the significance of it.
If you ask anyone to name a person who was the most pivotal in Singapore's history, chances are our late Mr Lee Kuan Yew would be named quite a fair bit in these conversations.
Undoubtedly, our founding father, Mr Lee, has helped shape Singapore into what it is today. He was born on September 16 1923 and served as the first Prime Minister of Singapore from 1959 to 1990. His visionary leadership and governance principles laid the foundation for Singapore's rapid economic growth, social stability, and multicultural harmony.
In honour of his 100th birth anniversary, the Monetary Association of Singapore (MAS) is issuing a commemorative S$10 coin (LKY100 coin) to pay tribute to his forward-thinking mindset, daringness and unwavering determination that successfully transformed Singapore from a tiny city-state into a prosperous global hub, centred on manufacturing, business and finance.
Read on to find out the significance of this coin, how to get it and why it is a must-have for every Singaporean.


Table of contents:
Read these next:
11 Mind-Blowing Facts About The Singapore Dollar You Didn't Know
A Guide To Old Singapore Notes
How to invest in Gold in Singapore?
---
---
HSBC TravelOne Welcome Gift: Receive 20,000 miles (equal to a round trip to Bali) when you make a min. spend of S$1,000 within the qualifying spend period, pay the annual fee (S$194.40 incl. GST) and provide marketing consent when you apply. Valid till 31 December 2023. T&Cs apply.
---
LKY100 coin design and purpose
The gold-coloured LKY100 coin is minted in aluminium bronze and designed by local artist Mr Weng Ziyan. It has a diameter of 30mm, which makes it larger than the current Third Series coins we have today.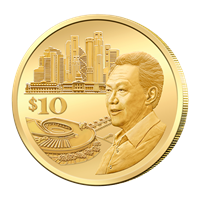 Source: MAS
The reverse side of the coin features Mr Lee's portrait, along with iconic Singapore sights like the Marina Barrage and the skyline of Raffles Place. The addition of Marina Barrage in the foreground aims to represent his vision to construct a freshwater reservoir in the city, which has made Singapore develop water supply resilience.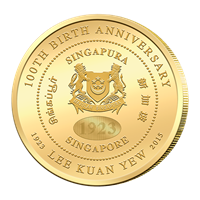 Source: MAS
On the other hand, the skyline in the background strategically highlights two historical buildings which have undergone massive changes and significant milestones in Singapore's history — Fullerton Hotel, which was previously widely known as Fullerton Building/General Post Office, and National Gallery Singapore, formerly the Supreme Court and City Hall.
On the front side, you'll see the Singapore Coat of Arms and a dual latent image depicting Mr Lee's birth year '1923' that can be viewed from one angle, as well as his 100th birth anniversary year '2023' viewed from another angle.
The LKY100 coin not only represents an integral milestone in Singapore's history, but it also serves as a limited-edition collectible item to show your appreciation for his contributions to Singapore.
See also: 14 Best Fixed Deposit Rates in Singapore to Lock in Your Savings
---
Citigold Welcome Gift: Boost your savings with up to 7.51% p.a. interest when you open a Wealth First account. On top of that, enjoy up to S$16,855 worth of welcome rewards when you start a Citigold relationship today. T&Cs apply.
---
How to apply and collect the LKY100 coin
Application
You can apply online here anytime from 15 May 2023 to 9 June 2023, though note that it is only open to Singapore Citizens and Permanent Residents of Singapore.
To apply, you'll need to fill in your NRIC, mobile number and preferred bank branch to collect the coins from DBS/POSB, OCBC, UOB, BOC, Citibank, ICBC, Maybank and Standard Chartered Bank. Here's a list of the bank branches and their locations. If you have successfully applied for it, you will receive an SMS notification to your phone for confirmation.
The good news is that each individual can apply for up to five coins, but whether or not you get the number you've requested is based on the demand. But don't worry, you'll be guaranteed to be allocated at least one coin.


Collection
The collection will commence from September 2023, but you'll receive a SMS notification from mid-August 2023, prior to the collection period. The SMS will contain information on the quantity of coins allocation, the collection period and the bank branch for collection.
Payment will be done at the bank itself at the point of collection, so beware of any text messages that inform you otherwise, contain any clickable link or request for payment upfront, as it is most likely a scam. The coins are at their face value of S$10 each.
If you require any assistance with the application, do head down to your nearest Community Club/ Centre or ServiceSG Centre, as there will be staff who can help.
UOB Lady's Card Welcome Gift: Get S$350 cash credit if you are the first 200 new-to-UOB credit cardmember and make a min. spend of S$1,000 per month for 2 consecutive months from card approval date. Valid till 30 September 2023. T&Cs apply.
---
Frequently Asked Questions (FAQs)
Will my chances of being allocated a coin increase if I apply more than one coin?
No, the number of coins you request does not affect your chances of getting a coin. If there is sufficient coins, you will get the number of coins you requested for. However, be assured that as long as you successfully apply for it, you'll get at least one coin. The final allocation will be determined by electronic allocation.


I received an SMS with a link requesting for me to make payment for the coins I ordered. Is this legitimate?
MAS will never send an SMS containing any clickable links or request for you to pay upfront, so there's a high chance that the SMS is not legitimate. Do not click the link or reply to the SMS. Payments will all be made at the bank when you collect your coin, at S$10 per coin.
On top of that, any official SMS by MAS sent to Singapore mobile numbers will be identifiable by the "MAS" sender ID, which is registered with the Singapore SMS Sender ID Registry.
If you do receive any suspicious SMS, please call 62255577 (Mon - Fri, 9am - 7pm, excluding PH) or write to MAS. You can also submit a police report or call 1800 255 0000.


Is the QR code/URL links on the publicity ads trustworthy?
When you scan the QR code or click on the link, it should lead you to a webpage with a link that starts with "go.gov.sg" or contains "form.gov.sg".
If you don't want to click on any links or scan any QR codes, you can access teh order form by typing the URL (https://go.gov.sg/lky100coin-order) in your browser, or visit the LKY100 page on the MAS website (​​https://go.gov.sg/lky100coin)
See also:
A Scam-Proof Guide To Avoid Scams
Scams in Singapore: 6 Top Financial Scams & How To Avoid


What can I do if I change my mind or want to make changes after submitting the application?
You can submit a new application form, provided it's within the application period, from 15 May 2023 to 9 June 2023, as the newest application form will supersede all earlier submissions.


If I use my mobile number to apply for someone else, does the application supersede my own application?
No, it won't. Though a mobile number is required for MAS to acknowledge your application and notify you of the details, it is not the unique identifier used in the electronic allocation process. This means that you can use the same mobile number to submit multiple applications as long as you use different NRICs.


I did not receive an OTP SMS after keying my mobile number, what do I do?
All applications should receive an OTP SMS. If you didn't, you might have entered the wrong mobile number. If you didn't receive it, key in your mobile number again. But if you still do not receive the TP SMS, please call MAS at 6225577 (Mon - Fri, 9am - 7pm. Excluding PH) or write to them for assistance.


Can I sell back the coins?
MAS does not participate in secondary market transactions of the commemorative coins. All coins issued by MAS, which have not been illegally dealt with, are legal tender up to their face value. You can approach any retail bank if you wish to sell your coins back.
The details of retail (commercial) banks can be found here.


Can I use the coins to pay for purchases?
Yes, you can, they are worth S$10 and can be used to pay for goods and services in Singapore.


---
UOB KrisFlyer Card Welcome Gift: Get up to 31,000 miles plus a first-year annual fee waiver of S$194.40 for new-to-UOB credit cardmembers who apply and make a min. spend of S$2,000 within 2 months from card approval date. Valid till 30 September 2023. T&Cs apply.
---
Can someone else help to collect the coins for me on my behalf?
Yes, they can. You can find more information on the collection in August/September 2023.


Will coins be accepted by CAMs/vending machines?
No, they will not be. As these are special one-off commemorative coins, banks and vendors will not be calibrating their machines to accept them as it is not cost-effective, and most will be kept as keepsakes. They can, however, be paid as cash for goods and services in Singapore.
For a more comprehensive list of FAQs, please refer to the MAS website.


Read these next:
A Singaporean's Money-Saving Guide To Stop Overspending
22 Ways to Succeed in Your Money Goals in 2023
5 Credit Cards That Will Save You The Most Money In 2023