---
Choices are never easy. That's why, we do the math, so you don't have to. Compare This, a SingSaver series, is here to help make decisions a little easier for you.
---
Should you go to a beauty salon or buy an IPL device for your hair removal needs? Read this cost comparison guide before taking the plunge.
There are many ways to remove unwanted body hair — waxing, plucking and good ol' shaving. Unfortunately, these are only temporary solutions and you'll have to deal with hair again as soon as a few days later.
If you're looking for more permanent results, it's time to consider IPL treatment, also known as Intense Pulsed Light.
What is IPL and how does it work?
IPL works by using light energy to permanently reduce hair growth.
An IPL device emits pulses of light onto the skin, which is absorbed by the hair follicles. The light transforms into heat energy, causing the hair to fall off and slowing down regrowth significantly for a period of time.
IPL is more effective compared to waxing or shaving, because it addresses the root cause of hair growth and destroys the follicles to the point where they can no longer produce hair.
After a series of treatments, you'll be left with permanently smooth skin and you won't have to wax/pluck/shave for the rest of your life.
IPL is suitable for all areas of your body, including:
Arms
Brazillian
Bikini line
Face
Chin
Upper lip
Underarms
Legs
How long does it take for IPL to work?
It varies, depending on your hair and how often you go for treatment. As your hair grows in cycles, it will take multiple treatments to target each and every hair follicle.
According to Japan IPL Express, it is recommended that you go for monthly sessions over a period of six to eight months, followed by yearly touch ups for optimised results. Do note that this is just an estimate, as the length of treatment varies from person to person depending on their own hair growth cycle.
How many shots do you need?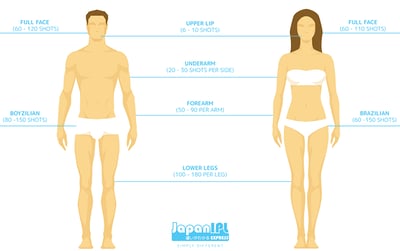 Now, there are two ways you can get IPL treatment: By having a beautician do it for you, or buying a handheld device to zap away hair yourself.
The differences between at-home IPL machines and getting it done at a salon
Right off the bat, the main differences between the two are the size and power of the IPL machine, the person who carries out the treatment, and of course, the cost. IPL packages in salons can cost thousands of dollars (more on that later) whereas you can get a small device for around $200 to $500.
Professional treatment
Pros: Powerful machines with the latest technology and a skilled beautician to help you
When you choose to get professional treatments at a salon, you're getting the latest technology and bigger machines. You'll also have a trained beautician who can help you safely zap away all your unwanted hair.
Cons: Cost and time
As mentioned, the process doesn't come cheap. IPL treatments can cost up to a few hundred dollars each session, and it might take around 10 to 12 sessions to see long-lasting results.
You could rack up some thousands of dollars in pursuit of a hairless body, depending on how many parts of your body you want hairless.
Besides the treatment, you'll have to factor in taking out time from your schedule for your appointment and also travelling costs, especially if your clinic is not within walking distance of your home.
Estimated cost of IPL treatments in salon in Singapore
Salon
Hair Removal Areas
Price
Japan IPL Express
Upper lip
Jaw line
Chin
Chest
Underarms
Bikini line
Stomach line
Fingers/toes
Brazilian/Boyzilian
Upper/Lower arms
Upper/Lower legs
$1.98 per shot
$70 for 100 shots for students
50% off for 200 shots and above ($198)

Musee Platinum Tokyo
Underarms
Bikini line
$20 for six sessions
Regina
Underarms
$168 for lifetime underarm IPL (new customers only)
Strip Singapore
Bikini
Face
Body
From $600 for 10 sessions
According to the chart by Japan IPL Express above, you'll need around 570 shots per session, assuming you want a completely hairless body. That's almost $600 per session, and around $7,200 for 12 sessions.
At-home IPL Devices
It's basically a scaled-down, small handheld device that works the same way as those machines at the salon. It's got simple features and buttons so it's pretty idiot-proof and can be safely operated by just about anyone.
Pros: Way cheaper compared to getting IPL treatments at the salon
You can order an at-home hair removal device online for a couple of hundred bucks. It is a much more affordable option in the long run as you can use it for a lifetime.
Even though you can get the results that you want quicker with a salon, there's still a chance of dormant hair follicles activating months or even years afterwards. This is when a home device comes in handy whenever you need to zap those new hairs.
At-home IPL devices can be generally used on most of your body, like the stomach, arms, legs and underarms. However, do not use them near your eyes (it's like a laser after all), over tattoos (as they might fade) or on the inner parts of the bikini area (bikini line is fine).
Estimated cost of a hand-held IPL device in Singapore
| | |
| --- | --- |
| Device | Cost |
| Philips Lumea Advanced IPL Hair Removal Device BRI921/00 | $445 on Amazon |
| SmoothSkin Pure IPL Hair Removal Device | $417 on Lazada |
| Silk'n Infinity 400,000 | $342 on Current Body SG |
At around $400 per device and the fact that it can last a lifetime, an at-home IPL machine wins hands-down in terms of price and convenience because you can do it at home whenever you like.
Cons: Less powerful, might not be able to reach some areas on your own, requires more sessions to get results
As these devices are small, they are less powerful and therefore less effective compared to IPL machines at salons. This means you'll need more sessions to get the results you want. Yes, they will definitely reduce the amount of hair you have, but these devices may not be strong enough for you to be completely hair-free.
It can also be difficult to zap inaccessible parts of your body like your back. You'll have to struggle to do it yourself or enlist the help of a friend/partner/sibling to reach those areas.
Should you choose to DIY or go to a salon?
| | |
| --- | --- |
| Beauty salon | DIY |
| ✓ More powerful machine with latest technology | X Less powerful device |
| ✓ Fewer sessions | X Need more sessions |
| X Takes time to schedule appointment | ✓ Can do anytime |
| X Cost | ✓ A lot cheaper |
| ✓ Skilled person to help you | X Might need someone to help you target hard-to-reach areas |
If you don't mind taking a longer time to see results and have a loved one on standby who doesn't mind gawking at your body hair, a mini device might be more practical for you in terms of cost. But if you don't trust yourself to do a clean zap or want to get rid of hair from inner genital areas, and you have the budget, go to a professional.
Whether you choose to purchase a device or package, you'll be spending at least a few hundred dollars. Check out some of the best credit cards that can help you gather rewards so that you don't spend money without getting something in return?
Read these next:
5 Habits of Super Frugal People You Should Follow If You Want To Save Money
Best Make-Up And Where To Get Them Cheap in Singapore
Best Massage Places In Singapore for Low, Mid And High Budgets
Beauty Deals: Facials Under $100 In Singapore
Cheap Hair Salons In Singapore For A Guilt-Free Makeover Starting At $3