MSIG CancerCare Plus has useful features, but is limited by a low maximum sum assured.
MSIG CancerCare Plus is best thought of as a fuss-free cancer insurance plan with a useful hook.
It comes with features like auto renewal, high enrolment age up to 65, and accelerated benefits that provide convenience and peace of mind, allowing policyholders to focus on fighting the disease.
In particular, the accelerated benefit feature – it pays 50% of the sum assured upon early cancer diagnosis – is welcomed for its role in facilitating early treatment.
Despite that, the plan's usefulness is somewhat curtailed by its low sum assured, which maxes out at S$100,000. In contrast, other cancer care plans offer up to S$300,000 in benefits.
Is this the right cancer insurance plan for you? Let's dive in for a closer look.
---
Pros and cons of MSIG CancerCare Plus
| | |
| --- | --- |
| Pros | Cons |
| 50% partial payout upon early stage cancer | Total cover capped at S$100,000 |
| Latest enrolment age of 64 years old | Premiums increase every 5 years, from age 40 onwards |
| No medical checkup necessary | |
| Automatic renewal even after partial payout | |
---
Key features of MSIG CancerCare Plus

#1: Accelerated benefit for early stage cancer
MSIG CancerCare Plus offers an accelerated benefit should you be diagnosed with early stage cancer, equivalent to 50% of the sum assured of S$100,000.
Hence, you will receive a lump sum payout of S$50,000 in case of early cancer, helping you start treating the disease before it advances any further.
Note, however, that this accelerated benefit is a one-time deal. You won't be able to claim another S$50,000 payout, even should you recover and encounter a new case of early stage cancer later on.
The remaining $50,000 of your benefits will only be paid out should your disease progress to major cancer.
Alternatively, if, upon first detection, your cancer is serious enough to warrant a major cancer diagnosis, you will receive 100% of your sum assured at once.
#2: Enrolment up to age 65, no medical checkups necessary
This plan is a little more forgiving in terms of enrolment. You can enrol as long as you're under the age of 65, whereas some other cancer care plans restrict enrolments to those under 55 years old.
There is no medical check-up necessary to sign up for this plan. Instead, all you have to do is to make three health declarations, which you can conveniently perform online during sign-up.
#3: Automatic policy renewal, even after accelerated benefit payout
CancerCare Plus is a year-long plan that has an auto-renewal feature. Upon signing up, you will be covered for a period of one year.
Your coverage renews itself every anniversary, and continues to do so as long as you continue paying the premiums, or you reach 85 years of age.
This auto-renewal feature persists even if you have triggered the early cancer payout, so you don't have to worry about your policy lapsing just because you've received part of your benefits.
Did you know? For every new policy purchased, MSIG will donate S$10 to the Singapore Cancer Society to support needy cancer patients.
---
Important exclusions to note
If you're thinking of signing up for MSIG CancerCare Plus, do note the following important exclusions.
For a complete list of exclusions, be sure to read the policy document.
Maximum age of qualification is 65 (age next birthday). Individuals aged 65 or older at the time of application may be rejected.
Must not have two or more immediate family members who have/had been diagnosed with cancer.
Waiting period of 90 days from either

i) Policy Issue date
ii) Date of Reinstatement of Policy applies; no benefits will be paid out for claims made within the waiting period

No benefits will be paid out for any cancers at any stage caused directly or indirectly by

Related pre-existing conditions
Ionising radiation or radioactivity contamination
Alcohol or drug abuse
---
For whom is MSIG CancerCare Plus best suited?
The main limitation about CancerCare Plus is its relatively low sum assured of S$100,000, which some may find insufficient.
Although the accelerated benefit for early-stage cancer helps patients start treatment as soon as possible, it is ultimately hampered by the low sum assured of S$50,000.
Hence, MSIG CancerCare Plus works best as part of a more robust healthcare insurance plan, especially for those with heavy dependent needs.
---
Plan tiers, premiums and promotions
Below, we've summarised MSIG CancerCare Plus for quick and easy reference.
This cancer care plan pays out under two scenarios:
Diagnosis of early-stage cancer and/or
Diagnosis of major cancer
Early-stage cancer will trigger a 50% partial payout, whereas major cancer will trigger a 100% payout, or the remaining 50%, whichever is applicable.
Do note that you can only make one claim for early-stage cancer; the remaining 50% of your benefit can only be claimed upon major cancer diagnosis.
| | |
| --- | --- |
| Item covered | Sum assured |
| Confirmed medical diagnosis of cancer, early stage | S$50,000 (50% of total benefit of S$100,000) |
| Confirmed medical diagnosis of major cancer | S$100,000, or remaining S$50,000 |
---
How much does MSIG CancerCare Plus cost?
MSIG CancerCare Plus offers a flat S$100,000 benefit specifically for cancer, so premiums are pretty low, especially if you belong to the younger (and therefore lower risk) age groups.
However, premiums start to increase with age, rising sharply towards old age.
Here's the full premium table according to age group:
Annual premiums per insured person (inclusive of GST)
| | | |
| --- | --- | --- |
| Age band | Male | Female |
| 20 - 29 | S$54.00 | S$109.45 |
| 30 - 39 | S$95.04 | S$285.12 |
| 40 - 44 | S$195.85 | S$472.47 |
| 45 - 49 | S$328.32 | S$820.09 |
| 50 - 54 | S$538.55 | S$1,189.45 |
| 55 - 59 | S$907.20 | S$1,422.73 |
| 60 - 64 | S$1,215.37 | S$1,722.23 |
| 65 - 69* | S$1,895.03 | S$1,867.69 |
| 70 - 74* | S$2,773.44 | S$2,013.12 |
| 75 - 79* | S$3,510.65 | S$2,436.48 |
| 80 - 84* | S$3,706.56 | S$2,905.91 |
*Note: For renewals only
What promotions are there for MSIG CancerCare Plus?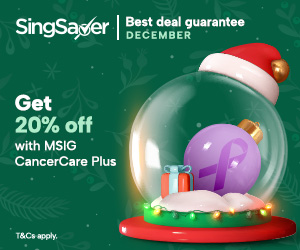 MSIG Cancer Insurance Promotion: Get 20% off with MSIG CancerCare Plus when you purchase NOW! Valid till 17 December 2023. T&Cs apply.
---
How to claim
To submit a claim under this plan, follow these steps:
Notify MSIG of your diagnosis. You may do so via your financial adviser, or telephone: +65 6827 7660.
Go to this page to submit your claims online, along with supporting documents and relevant details.
For more information or assistance, you may contact MSIG via:
Enquiry form: https://www.msig.com.sg/help-support#productenquiry
Read these next:
Best Cancer Insurance Plans In Singapore (2021)
Employee's Insurance Benefits: What Should Your Company Be Giving You?
Critical Illness vs Cancer Insurance Plans: A Critical Comparison
Dependants' Protection Scheme (DPS): 6 Things To Know About Your National Term-Life Insurance
Everything You Need To Know About Breast Cancer: Screening, Treatment Costs & Insurance