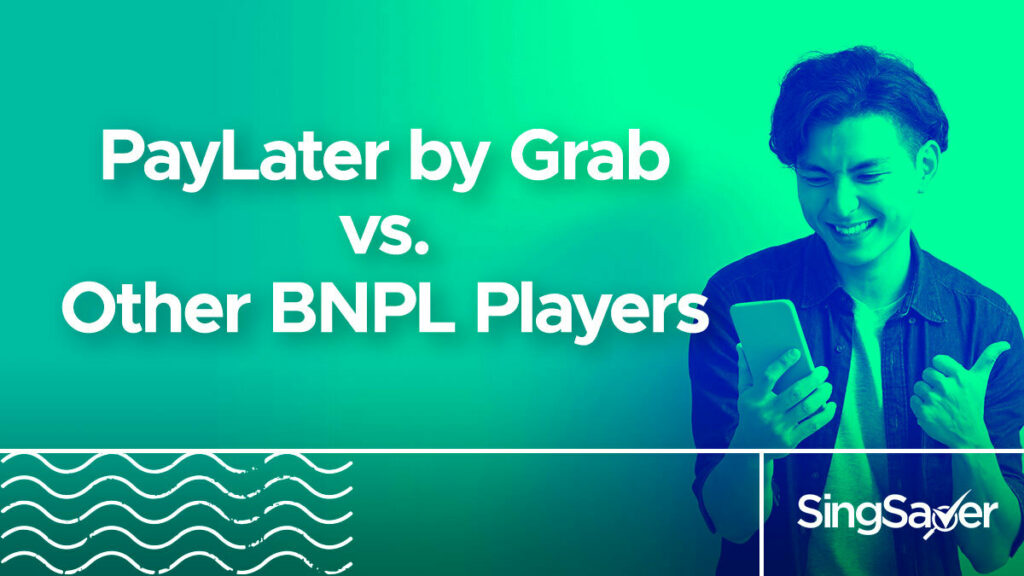 Food delivery, micro-insurance, GrabPay wallet and now… a Buy Now, Pay Later service? We pit PayLater by Grab against the rest of the competition to see how they fare.
The name Grab has almost become synonymous with ride-hailing or food delivery. Just think of the number of times you've told someone, "I'll Grab there" or "I'll order GrabFood".
However, beyond ride-hailing services, Grab has permeated into our daily lives in more ways than one. Here, we'll skip the widely known services, and dive straight into their digital financial offering: PayLater by Grab.
Buy Now, Pay Later (BNPL): What's the deal?
Why pay S$1,499 upfront for your Sonos smart soundbar on TC Acoustics when you can split it into four smaller payments of S$374.75 at no additional cost?
With BNPL, you purchase an item today and pay for it in smaller instalments over the next few months. Being able to buy now and pay later could work well for those who:
Prefer to split up their payments into smaller sums to hit credit card minimum monthly spends, stick to monthly budgets, or simply due to personal preference
Prefer to avoid using a credit card, in order to avoid the high interest rates when you miss your payments
Would rather have more liquid cash on hand to grow wealth, be it through investing or earning interest on savings
Want or need to purchase an item immediately (e.g. an item on a flash sale) but do not have the funds on hand to fund the purchase
A savvy spender would also ensure that the purchase is something you can afford, because you'd ultimately have to pay the monthly instalments for the next few months.
It's easy to see the draw of BNPL offerings. You can purchase pricier items while feeling a smaller pinch to your pocket each time you pay, even though the total price remains the same. You can also continue to earn your usual credit card rewards with each payment.
In case you think that this proposition sounds too good to be true, there is also something in it for the providers: the commissions they receive from retailers for extending this service to Grab's massive user base.
Introducing PayLater by Grab, a flexible way to pay
Grabbing the many different market segments from ride-hailing to delivery services and finance, Grab is leaving no stones unturned with their latest foray into the BNPL space.
PayLater offers users two ways to pay:
1. Pay in four monthly instalments: At checkout today, you'll pay just a quarter of the bill. The remainder will be paid in monthly instalments.
2. Pay the next month (postpaid): Not payday yet? You can use PayLater to pay for your purchase next month, in a single bill. You can use PayLater postpaid for multiple different Grab services, including rides, food delivery and spending made on partner sites. This allows you to consolidate all your Grab spending into a single bill to be paid the next month. You'll also earn GrabReward points on these postpaid transactions.
To pay for your PayLater purchase, you'll be prompted to link a credit or debit card to your account when setting up PayLater. By linking your bank card, payment is made automatically, ensuring that you don't miss a scheduled payment. Alternatively, you can also use your GrabPay balance to make the payment.
The best part about using PayLater is that there are no hidden fees. As long as you repay on time, you'll incur 0% interest, zero upfront costs and zero fees.
However, if you miss your scheduled payment, you'll incur a flat S$10 admin fee to reactivate your suspended PayLater account. Grab suspends your account in order to protect you from spending money you can't afford, at least until you repay the fee.
To put the icing on the cake, you can also earn Grab Rewards points on your postpaid transactions.
(Note: Keep a lookout for exciting improvements to reward points on PayLater Instalment transactions in the second half of 2021!)
So, what can you use PayLater to purchase? You can utilise PayLater for your purchases from brands such as Secretlab, Scanteak, Hipvan, Beyond The Vines and more!
PayLater by Grab vs. heavy-weight BNPL competitors
As the adoption for BNPL services continues to grow, the increasing number of providers is leaving consumers spoilt for choice. So, which BNPL provider should you go for?


Payment tenure offered
Special features and perks
Late payment fee
PayLater by Grab
Either pay 1/4 of the total bill upfront and remaining in 3 monthly instalments (PayLater Instalment), or pay in full the next month (PayLater Postpaid).

(Psst, a split of four payments means smaller payment amounts each time!)
Earn GrabReward points for every PayLater postpaid transaction. PayLater instalments won't earn GrabReward points just yet.

Exclusive offers with partnering retailers.

Use the same Grab app for PayLater functions
For PayLater Postpaid, a flat S$10 admin fee is charged to reactivate your suspended PayLater account.

For PayLater Instalments, S$10 will be charged per missed instalment, capped at S$30 (if you miss all 3 monthly instalments).
Atome
3 months: Pay 1/3 of the total bill upfront, with the next 2 payments spread 30 days apart
Offered by more than 2,000 retailers online or in-store
S$20 administrative fee upon the non-repayment of each deferred payment

Additional S$10 charged if outstanding amount and S$20 administrative fee are unpaid within 7 days

Administrative fee is capped at S$60
Hoolah
3 months: Pay 1/3 of the total bill upfront
Tiered late payment fee, where smaller orders incur lower late payment fees
S$5 for order value S$99.99 or less

S$15 for order value between S$100 and S$999.99

S$30 for order value of S$1,000 and more
Pace
3 months: Pay 1/3 of the total bill upfront
-
S$10 initial late payment fee charged with an extra S$1 charged per day if payment remains unpaid after due date

Purchases below S$40: Additional late fee capped at S$10 per instalment payment

Purchases S$40 and above: Additional late fee capped at S$60 or 25% of the original order value, whichever is lower, per instalment payment
Rely
3 interest-free monthly instalments, or 4 interest-free payments due every two weeks, both with first payment charged upon approval
Choose between a 3- or 4-month payment tenure
S$1 to S$40, depending on order value
While providing you with the flexibility to pay, Grab also encourages healthy spending habits, with features that prevent you from overspending, such as the suspension of your account when you fail to make payment.
With PayLater, you also get to enjoy special offers from Grab's partnering brands.
For example, instead of paying the full price of S$599 for a Scanteak coffee table on their site upfront, you can split it into four smaller payments of S$139.75 – this totals S$559, a S$40 discount that's only available when you pay with PayLater.
Pay now or pay later — your choice
If you're ready to hop on the PayLater train, here's a sneak peak into what this will look like in your Grab app!
While PayLater can be activated for most existing Grab users, there are criterias to meet.
PayLater by Grab eligibility
Be at least 21 years old
Be a Platinum, Gold or Silver GrabRewards tier member
Have used either a credit or debit card for at least three Grab transactions in the recent month.
If you already have the Grab app in your phone, you won't need to introduce yet another new app to the mix. You will be able to activate PayLater in-app, or you can find it under Payments > Enjoy Now > Explore GrabPay > Pay Later.
---
Despite all the hype over BNPL services, if you're still in camp 'No' to BNPL services, you can always count on GrabPay to make payment for your purchases. This can range from big ticket items, online purchases, all the way to your S$0.80 coffee at the hawker centre.
If you're a frequent GrabPay user, you can also apply for a physical GrabPay Card that allows you to pay with GrabPay even at places without the GrabPay QR code! For example, you can whip out your GrabPay Card to tap and pay for your MRT rides. Using the GrabPay Card will also allow you to rack up GrabReward points.
From 22 March 2021, Grab has made it more rewarding to spend via GrabPay, awarding up to 6 points per S$1 spent, depending on your membership tier.
These points can be used to redeem a variety of rewards, such as online shopping vouchers, food & beverage vouchers, tech products, KrisFlyer miles and more. You can even use your points to do good by converting your points to donations to the Community Chest or WWF.
This article is written in partnership with Grab.
Read these next:
Buy Now, Pay Later vs Credit Cards: Which One's More Dangerous?
3 Tips For Using 'Buy Now, Pay Later' Facilities Like A Real Shopping Pro
What Really Happens If You Skip Credit Card Bills, Loan & BNPL Payments
GrabPay Wallet Update: You Can Now Make Transfers To Your Bank Account. Here's Everything To Know.
How Does GrabPay Mastercard Compare To Other Credit And Debit Cards?