After months of beta testing, Grab finally took the wraps off the GrabPay Mastercard, a virtual and physical card which dramatically enhances the liquidity of GrabPay credits.
The GrabPay Mastercard allows you to spend your GrabPay balance anywhere Mastercard is accepted. This effectively increases the acceptance of GrabPay from 15,000 merchants in Singapore to 53 million merchants worldwide. You still can't cash out your GrabPay balance to a bank account, but this is at least a step towards making GrabPay credits "as good as cash."
The GrabPay Mastercard works just like a prepaid debit card, drawing funds from your GrabPay balance. It can be used online and offline (if you get the physical version, which is being rolled out in batches), in Singapore and overseas.
But how does the GrabPay Mastercard measure up to "traditional" payment solutions like credit and debit cards? Let's find out.
GrabPay Mastercard vs credit cards
The biggest lure of credit cards by far is their rewards, and despite being a debit card, the GrabPay Mastercard still fits in here.

Depending on your GrabRewards status, you'll earn 3-6 GrabPay points per S$1 spent on the GrabPay Mastercard (from 22 March 2021 onwards). These points can be converted into KrisFlyer miles at the following ratio:
10 GrabRewards points = 1 KrisFlyer mile
This means your effective miles per dollar rate is 0.3-0.5. That's unimpressive, considering the average miles card would earn you 1.2-1.4 mpd on local spending. Moreover, its 2% FCY fee is lower than any bank, but its low miles earning rate means you're still paying over the odds to earn miles via overseas transactions.
| | | | | |
| --- | --- | --- | --- | --- |
| | Local Spending | FCY Spending | FCY Fee | Cents/Mile for FCY |
| OCBC 90N | 1.2 | 4.0 (until 29 Feb 2020) | 3.25% | 0.81 |
| BOC Elite Miles | 1.5 | 3.0 | 3% | 1.0 |
| SCB Visa Infinite | 1.4 (with at least $2K spend per statement period) | 3.0 (with at least $2K spend per statement period) | 3.5% | 1.17 |
| AMEX KrisFlyer Ascend | 1.2 | 2.0 (June/Dec only) | 2.5% | 1.25 |
| UOB PRVI Miles | 1.4 | 2.4 | 3.25% | 1.35 |
| Citi PremierMiles Visa | 1.2 | 2.0 | 3.25% | 1.63 |
| GrabPay Mastercard | 0.3-0.5 | 0.3-0.5 | 2% | 4 |
But we're forgetting something here. Using the GrabPay card or a credit card is not an either/or proposition. You can top up your GrabPay balance with a credit card and earn cashback or rewards points in the process*. Whatever points you earn by spending on the GrabPay Mastercard are then just the icing on the cake.
It remains to be seen how long this will be possible, as some (but not all) banks have already excluded GrabPay top-ups from earning rewards.
One major advantage the GrabPay Mastercard has over traditional credit cards is that GrabRewards points can be earned on a wide range of transactions – some of which banks don't issue rewards for. This includes:
Insurance payments
Payments for government services
Education fees
Utilities
Hospital bills
In other words, even though the GrabPay Mastercard may earn only 0.3-0.5 mpd when paying a hospital bill, it's still better than earning nothing by using a credit card, which excludes such transactions from rewards.
In terms of card benefits, the GrabPay Mastercard offers complimentary mobile phone insurance when you use your card to pay the phone bill. As far as I know, this is the only card in Singapore to offer such a feature. Your phone is an expensive investment, and it may make sense to get a policy protecting it from damage.
The card also offers lounge access as part of the Mastercard Flight Delay Pass program. Note that unlike the regular lounge access offered by credit cards, this program only allows access if your flight is delayed by 120 minutes or more (you'll need to register your flight details before traveling).
This means the GrabPay Mastercard isn't as good as a regular credit card in this respect, but then again it's not an either/or proposition. There's nothing stopping you from using this alongside your regular credit cards.
GrabPay Mastercard vs prepaid multi-currency cards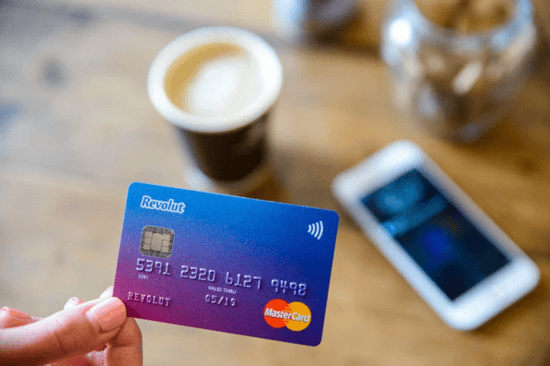 Grab calls the GrabPay Mastercard "the perfect travel companion", citing how it lets you top up your GrabPay balance in your home currency and spend overseas, and its lower FX fees compared to banks.
The natural question then, is how it compares to prepaid multi-currency cards like YouTrip and Revolut. There are few factors to consider:
Exchange rates: Does the card use the interbank rate (a.k.a Google rate- what you see when you google 1 USD in SGD) or the Mastercard/Visa rate (slightly less favorable)
FCY Fee: Does the card charge a further mark up to the converted amount in return for the "service" of converting currencies?
ATM Fee: How much does the card charge if you want to withdraw funds from an ATM overseas?
| | | | |
| --- | --- | --- | --- |
| | FCY Fee | ATM Fee | Exchange Rates |
| GrabPay Mastercard | 2% | S$5 per withdrawal | Mastercard |
| Revolut | 0% | None, up to S$350 per month | Interbank (0.5-2% markup applies on weekends) |
| YouTrip | 0% | S$5 per withdrawal | Interbank rates for 10 currencies, Mastercard rates for the rest |
| Transferwise | 0.35-1% | None, up to S$350 per month | Interbank |
As the table above shows, the GrabPay Mastercard is nowhere as good as dedicated multi-currency cards. Its FCY fee, while lower than banks, is still significantly above the multi-currency cards. It doesn't offer free overseas ATM withdrawals, and uses Mastercard's exchange rates instead of the more favorable interbank ones.
The only advantage the GrabPay Mastercard has over the multi-currency debit cards is it earns rewards. Therefore, if your only concern was minimizing the cost of overseas transactions, you wouldn't be using the GrabPay Mastercard.
Conclusion
The GrabPay Mastercard has the potential to be a very useful tool, even if you already have other credit cards in your wallet. So long as banks continue to offer rewards on GrabPay top ups, the opportunity to double dip on transactions (earning bank rewards + GrabRewards points) exists.
Even if this stops one day, it'll still be worthwhile using the GrabPay Mastercard on transactions that banks exclude from earning points/cashback. However, if your concern is simply to save on overseas transactions, you're still better off using one of the multi-currency prepaid cards on the market.
It's currently free to get both a digital and physical GrabPay card- the latter until 2 March 2020, after which a small fee may apply. Applications can be done via the Grab app, so be sure to check it out if you're interested.
Read these next:
Ultimate Guide To Digital Multi-Currency Accounts
Should I Use A Credit Card Or Multi-Currency Card For Overseas Spending?
Mobile Wallets in Singapore: Complete 2021 Guide
EZ-Link vs EZ-Reload vs SimplyGo: Best Option to Pay for Public Transport
What Is YouTrip Card And How Does It Work?
---
---