#1 is a grey area hack, use it at your own risk.
Unless you've been living under a rock, you would've probably heard of and shopped at Don Don Donki, a Japanese discount chain store.
Don Don Donki, also known as Don Quijote, is highly popular among Singaporeans due to its huge range of affordable Japanese products. You can pretty much find most things there, including food, cosmetics, electronics, household items and more.
Besides, Donki tends to keep very late hours (24 hours for Orchard Central branch, 11pm/12pm for other branches), making it extremely convenient for customers. Along with its iconic penguin mascot and catchy theme song, Donki has captured the hearts of many Singaporeans.
Although it's called a discount store, I, a self-professed bargain hunter and penny-pinching Singaporean, personally do not feel that things are exactly cheap at Donki, nor are they exorbitantly overpriced.
Here are some hacks I use on my trips to Donki to save more money, as well as the top 10 products I personally feel give you the most bang for your buck.
Last updated on 25 October 2021. Prices and availability of products are subject to change without prior notice.
Four Don Don Donki hacks you wished you knew earlier
#1 Get S$5 off with no minimum spend for new sign-ups
Okay, let me first warn you that this is kind of exploiting a loophole in the system.
All you've got to do is sign up as a new member with your email and phone number (which will be verified). Members get a free S$5 voucher with no minimum spend on their birthday month.
Grey-area hack: Sign up with different phone numbers and input your date of birth in the same month of your visit to Don Don Donki. Save S$5 on every visit. Rinse and repeat for stores with such membership promos.
#2 Late-night deals
Donki offers discounts in their nosh towards the end of the day (9pm or so), where ready-to-eat food items can go up to 60% off. I've personally snagged sushi, sashimi platters and tonkatsu bowls at that discount, but it varies daily and at the outlets you visit.
The only downside? There may not be as many options to choose from as the less popular items typically get left behind. Also, if you go too late, there might not be any food left. My tip is to hang out at the food section from around 8.45pm onwards, when the staff are changing the tags.
#3 Keep a lookout for the sale section
With so many signs in a dizzying array of fluorescent colours, it's easy to get distracted by all the items in the store. The location of sale sections at Donki can vary, and it feels like they shift them around periodically.
Depending on the outlet, the sale section can be one big section or broken up into mini sections.
Based on personal experience, the sale section at Clarke Quay is located just in front of the cashier, while the sale section at Orchard Central pops up randomly, one of it being located in a nondescript corner near the service lift landing. At the Downtown East branch, the sale section is a single small basket right smack in the middle of the store.
Here are a couple of examples of what their sale section looks like (Clarke Quay branch):
As you can see, products that usually cost S$20 can be slashed to S$2, which is a very good deal, in my opinion.
Other deals I've come across include drinks at 50 cents, furikake (Japanese rice toppings) at S$1, and two lip balms for S$7. Of course, I bought them all.
#4 Free ice packs
At the exit after the cashiers, there are free, unlimited ice packs you can take home when you purchase frozen items. Unlike Sheng Siong, these ice packs aren't simply crushed ice that melt away — they are the good quality, gel ice packs that you can reuse next time.
Special mention: Plastic bags at Don Don Donki are charged at 10 cents per transaction from 1 November 2021 onwards, so remember to bring your own bag!
Top 10 Don Don Donki products that are worth your money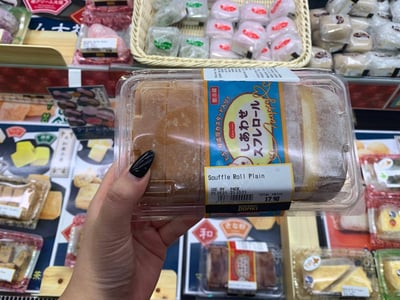 Souffle roll, S$7.90
This often sells out very quickly. Perfect for two people, the souffle roll is light, fluffy and not too sweet. If you manage to chance upon one in Don Don Donki, snap it up — we promise you that it will be a delightful treat, especially if you love generous dollops of cream in your dessert.
Kracie Popin' Cookin', S$2.40 to S$4.50
These DIY candy kits are affordable and provide a good activity if you are stuck at home with nothing to do for an hour or so. Having bought several boxes myself, I would say that the experience is pretty magical — all you need to do is add water and the powder mix (some may require the usage of a microwave). With these kawaii kits, you can create all kinds of cute desserts and food including sushi, ramen, donuts, fries, hamburgers and more.
Beef, chicken and pork shabu shabu, S$10
Take your home hotpot game to the next level with these cuts from Donki for only S$10. There's a wide variety for you to choose from, including Australian angus beef and Hokkaido snow white pork. There is also an ongoing promotion at the Clarke Quay outlet, with the chicken shabu going for as low as S$5.90. Now that's a steal.
Daifuku, S$7.20 for three pieces
These bouncy and colourful daifukus are a perfect after-meal snack. The flavours featured here (from left) are matcha, strawberry and red bean.

Umaibo (Umaibar), S$5.80 for 30 pieces
These party packs are great for sharing. They come in a variety of flavours, including mentaiko, cheese, tonkatsu, chocolate, vegetable salad, salami and more. Currently, the Clarke Quay branch is having a sale on selected flavours – it only costs S$4 for a pack for the selection in the picture below.
Sweet potato and other ready-to-eat food
If you haven't tried out Donki's famous sweet potato and their other ready-to-eat food, you're missing out. Not only are they delicious, they're also very affordable, at an average price of S$5 to S$7 per bowl. There's so much variety that it's impossible to list them all, but trust us, take a trip there and check out what's on sale. It'll be worth it, especially when you go there later at night.
ITO EN Kaorikaoru Mugicha (Barley tea), S$5.90 for 54 tea bags
Hot brew, cold brew, it's all up to you. If you do the calculations, you'll find that each bag costs only around 10 cents. And each tea bag can make up to 1L of tea. Worth it? Heck yeah. Besides, it's delicious, healthy and smells great. What's not to love?
Calbee Frugra Low Carb Granola — 25% Less Sugar, S$7.50
A must-buy from Donki's Clarke Quay outlet. NTUC fairprice sells the exact same thing at S$13.90. If it were up to me, I would grab the entire carton. Unfortunately, I'm not much of a health nut.
Nose wax for men, S$12.90
Try it on your partner while they're sleeping – makes for a great TikTok video. Joke aside, this pack contains enough applicators for up to 10 pulls (20 sticks but you have a pair of nostrils). If there is remaining wax, you can use it to pull hairs from your knuckles too.
Hadaomoi Suhada, S$6.90 for 30 face masks
Beauty addicts will know that face masks don't come cheap. But for S$6.90 for 30 face masks? BUY.
This Japanese Hadaomoi Suhada stem cell mask pack contains tonnes of natural ingredients extracted from the placenta. These stem cells (placenta) are said to help regenerate new cells, repair damaged cells, and work on even the most sensitive skin.
---
Special tip: Despite being coined a discount store, not everything is cheaper at Donki. There are products sold at Donki that are also available at Daiso, such as the mould remover spray (S$4.90 at Donki, S$2 at Daiso).
Read these next:
13 Best Discount Stores In Singapore 2021 — From 10 Cent Items To S$2 Shops That Aren't Daiso
Not Ju$t You: An S$11 Menstrual Cup Changed My Life, And Here's Why You Should Get One ASAP (+ All Misconceptions Debunked)
20 Things You Should Get From Daiso (And Things You Shouldn't + Alternate Recommendations)
Money Confessions: I'm A Bargain Hunter And I Never Pay Full Price For Anything
Money-Saving Food Hacks For The 'Scrooge' In You