It allowed users to pay rental and education bills with their Citi credit cards and earn rewards for a small fee. This effectively let users buy miles at a very competitive rate.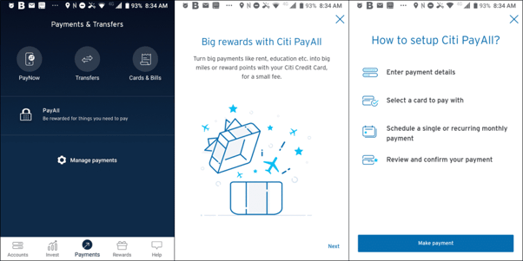 Citi PayAll was later expanded and fully rolled out in February 2019. By all accounts, the response has been very good. So good, in fact, that other banks are attempting their own similar solutions.

June saw Standard Chartered beta testing 'EasyBill', its own version of PayAll. Mechanics wise, this would-be competitor works exactly the same as PayAll. Simply enter the recipient's bank account details, choose a card, pay the admin fee and earn rewards points or cashback as you please.

With two very similar platforms now available, the question then is: which one is more suitable for you?
Comparing Citi PayAll and SC EasyBill
Supported payment types
Although there's a lot of overlap in terms of the payments you can make through Citi PayAll and SC EasyBill, there are some key differences. SC EasyBill does not support condo management fees or electricity bill payments, while Citi PayAll does not support insurance premiums.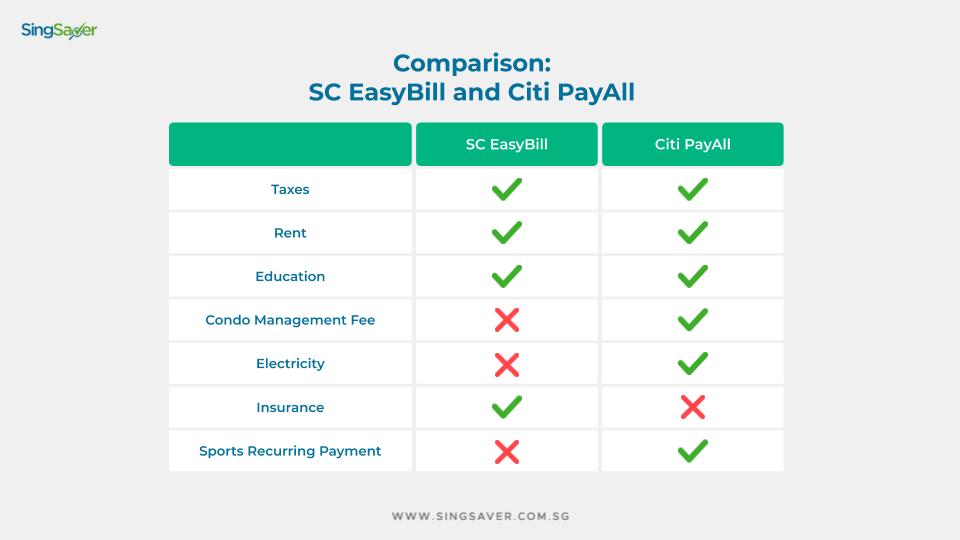 Another minor annoyance is that SC EasyBill does not support recurring payments, so you'll have to schedule each one individually.
Fees & Cost Per Mile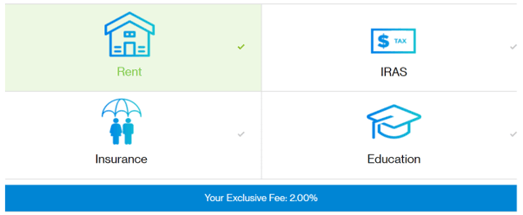 Both SC EasyBill and Citi PayAll offer a flat 2% admin fee for the service. That doesn't mean your cost per mile is 2 cents, however, as cards used on these platforms will earn miles according to their regular earn rates.

Here's a summary of how the cost per mile measures up:
| | | | | |
| --- | --- | --- | --- | --- |
| Cards | Required Income | Platform | Earn Rate | Cost Per Mile @ 2% Fee |
| Citi ULTIMA | $500K | PayAll | 1.6 mpd | 1.25 |
| SCB Visa Infinite | $150K | EasyBill | 1.4 mpd (on $2K spend, otherwise 1.0 mpd) | 1.43 |
| Citi Prestige | $120K | PayAll | 1.3 mpd | 1.54 |
| Citi PremierMiles AMEX | $80K | PayAll | 1.3 mpd | 1.54 |
| SCB X Card | $80K | EasyBill | 1.2 mpd | 1.67 |
| Citi PremierMiles Visa | $30K | PayAll | 1.2 mpd | 1.67 |
| SCB Priority Banking Visa Infinite | Min $200K AUM | EasyBill | 1.0 mpd | 2.0 |
| SCB Prudential Signature | $30K | EasyBill | 0.435 mpd | 4.6 |
| SCB Rewards+ | $30K | EasyBill | 0.29 mpd | 6.9 |
Although the lowest absolute cost per mile is available through the PayAll platform (1.25 cents), it's worth noting that only holders of the ultra exclusive Citi ULTIMA card can achieve this. Unless you're earning $500K or more a year, an ULTIMA card is off limits.

In that sense, the cheapest and "most accessible" option is to use the Citi PremierMiles Visa card ($30K income requirement) with Citi PayAll. SCB does have $30K credit cards of its own, but their earn rates are so poor that the cost per mile is simply uneconomical. To illustrate this, I've shown the SCB Prudential Signature and the SCB Rewards+ in the table above – note the very high cents per mile figures!

It's for that reason alone that I feel Citi PayAll has the edge over SC EasyBill – not because the platform is easier to use or has a lower admin fee, but because Citi simply has a mass market miles card and SCB does not.

However, if you already hold an SCB Visa Infinite card and are confident of spending more than $2,000 each month, you should by all means use EasyBill because it allows you to buy miles at a relatively low 1.43 cents each.
Should I consider using a cashback card?

Strangely enough, SCB advertises the fact that one can even earn cashback through EasyBill. I mean, you could, but there must be something fundamentally wrong with your maths if you do. SCB's best cashback card offers 1.5% cashback, and you're paying a 2% fee to use EasyBill. I hope you see the problem here!
How do these platforms compare to other alternatives?
Citi PayAll and SC EasyBill are not the only ways of buying miles on the market. If you have bills to pay, CardUp and RentHero can also offer lower cost ways of buying miles. Many banks even offer special tax payment facilities, which allow you to earn miles when paying your IRAS bill with your credit card.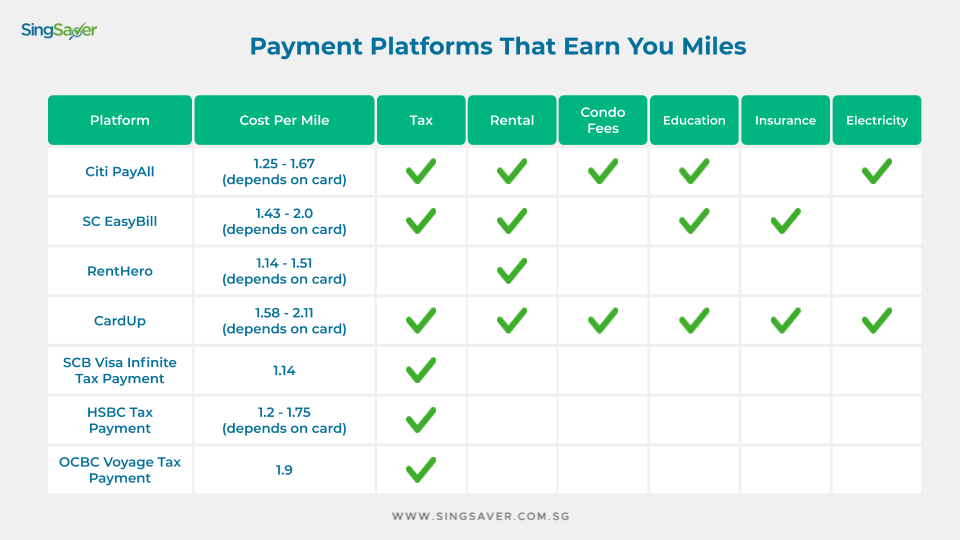 All these facilities require documentary support, so you can't actually use them unless you have a bona fide payment to make. That said, there are some 'no questions asked' facilities like UOB PRVI Pay, which allow you to buy as many miles as you want at 2.1 cents each (cut to 2 cents until 30 Sept).
Summing it up
Although SC EasyBill is as straightforward to use as Citi PayAll, SCB's lack of a true mass market miles card means that most people will find superior value in using the CitiPremierMiles Visa with Citi PayAll.

We may well see more competitors emerge in the near future, so stay tuned for further developments!
Read these next:
Best Credit Cards for Paying Utility Bills in Singapore 2019
Singapore Startup Disrupting How You Pay Rent, Taxes and Insurance Premiums
Unpaid Credit Card Bills? Here's How A Balance Transfer Can Help
---
---