Could paying your regular monthly rent earn you a business class trip to Tokyo?
The answer is yes, thanks to CardUp, a Singapore startup re-imagining how you pay regular monthly bills like rent, taxes and insurance premiums.
Rent - along with insurance premiums, income tax and education course fees - often form the bulk of monthly expenses, with rent alone often accounting for a third of monthly income.
But most of these recurring payments cannot be paid via credit cards, and are usually settled through bank transfers and cheque. These payments therefore do not allow you to earn air miles, cashback or rewards points via your credit card.
But through CardUp, now you can.
This is how it works:
Consumers have a monthly bill they need to pay to landlords, insurance firms and tax bodies

Consumer signs up to the CardUp payment platform and sets up a payment. CardUp will charge consumer's credit card for the payment amount plus a 2.25% processing fee. The funds will then be transferred to the recipient via a bank transfer.

Consumers then have up to 55 days before their credit card bill is due. This feature, in particular, allows SMEs and entrepreneurs to better manage cash flow around their business.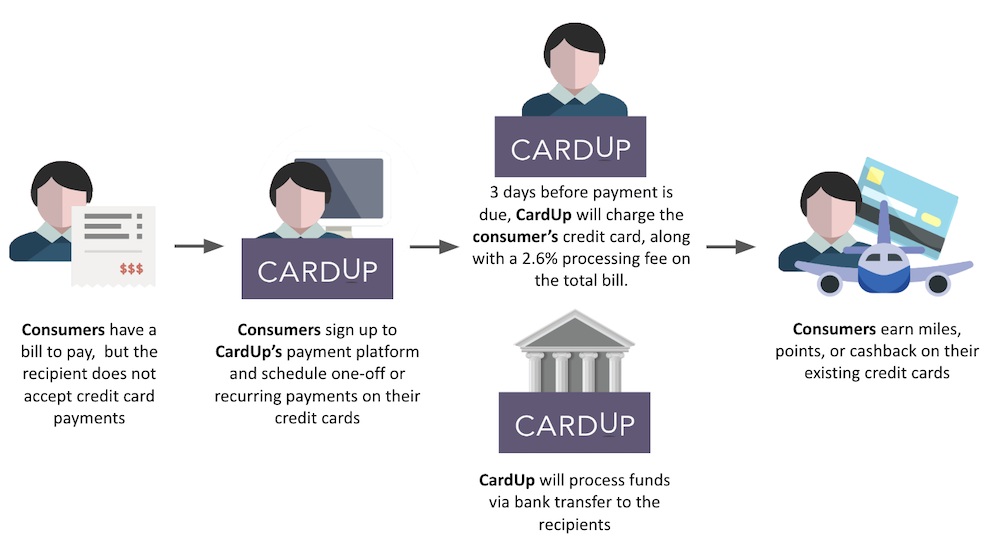 "Landlords don't accept credit card payments," said Nicki Ramsay, founder and CEO of CardUp. "This got me thinking – what if we use technology to create a platform where all of these payments can be made, and that platform does the dispersing like a middleman?
Maximising your credit card spend
Ramsay started CardUp in 2016 after a seven-year tenure at American Express. During her time in the company, she was tasked to increase credit card spend. This led her to realise that there were many types of spending that couldn't be charged to a card.
As a result, a lot of that spend is not fully optimised.
One example is the chance to earn air miles by paying through certain credit cards. For example, an Amex KrisFlyer Ascend user who pays $3,500 for rent every month could earn over 50,000 Krisflyer miles in a year -- enough to redeem a one-way business class ticket to Tokyo.
"A trillion dollars is still spent by cheque or bank transfer in Singapore alone, that's 30 times that of the credit card industry," said Ramsay in our one-hour interview at One North.
What CardUp is trying to solve is timely, as Singapore moves towards a cashless future. The government aims to make the country cheque-free by 2025. An ambitious move, since cash and cheque still made up six in 10 transactions in 2017.
Intense competition grows the pie
However, CardUp plays in a highly competitive space. iPaymy, one of CardUp's direct competitors, launched within two weeks of CardUp and has many of the same features.
Banks like Citibank and UOB are also rolling out their payment platforms which allow for credit cards to pay for big-ticket items. However, Citi Pay All is invite-only and the fees are determined based on each user's relationship to the bank.
CARDUP vs THE COMPETITION
CardUp
iPayMy
Citi Pay All
UOB PRVI Pay
Transaction fees (in S'pore)

2.25%

(For payments of $130 or less, a fee of $3.40)

2.25%

(American Express: 3.3%)

Tiered pricing determined by user's bank relationship

Admin fee of 2% (one-time payment)

OR

2.2% for 3-month plan

Transaction fees (Overseas)

3.3%

(For payments < $1,000, min fee of $33)

3.3%

(Internationally issued Visa or Mastercard)

(American Express: 3.3%)

Only for UOB card holders in Singapore

Payment scheduling?

Yes

Yes

Yes

No

Accepted Cards

All Visa, AMEX and Mastercard.

All Visa, AMEX, Mastercard.

All Citi cards but by-invite only

All UOB cards
Ramsay is undeterred and welcomes the competition.
"We feel like our business model has a lot of potential. Having a competitor helps to educate the market so consumers understand the position as it is a relatively new business," says Ramsay.
To stay one step ahead of their competition, CardUp is constantly innovating. They've launched next day payments for all users, a vast improvement from the five business day settlement they started with. They've also expanded their B2B services, and are planning for CardUp to be fully integrated with businesses' cash flow management payroll companies and accounting platforms.
"Today's technology rarely has a unique IP. So we make sure that we innovate as much as we can," says Ramsay.
Taking the start-up plunge
[caption id="attachment_28326" align="alignnone" width="1000"]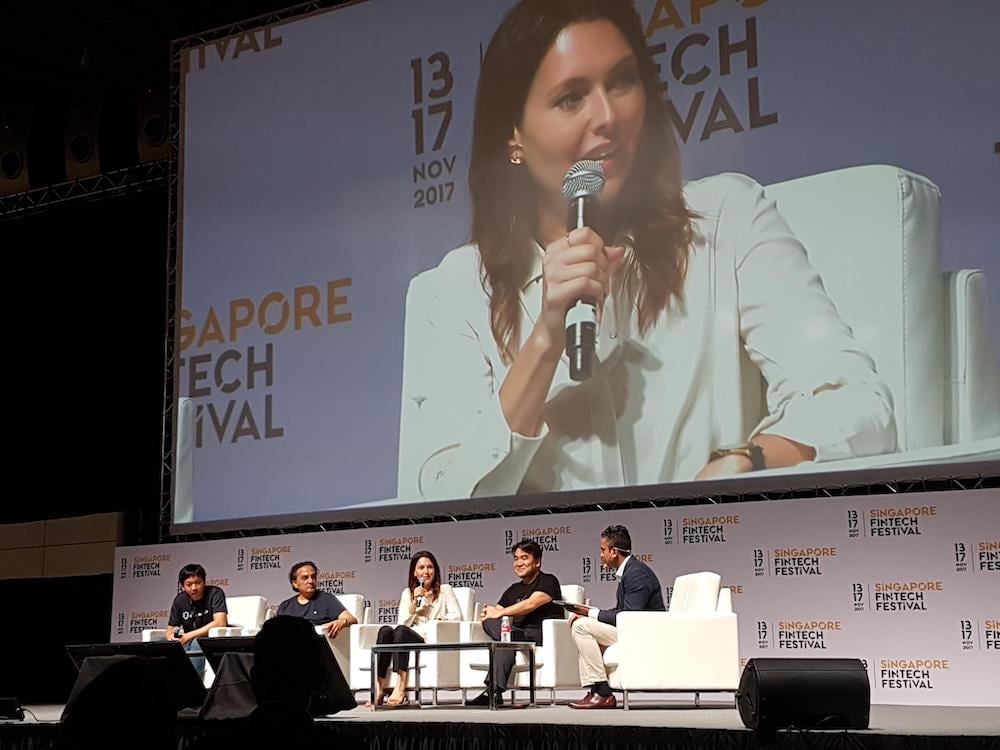 Nicki Ramsay speaking at the Singapore Fintech Festival in 2017. Photo credit: CardUp's Facebook page.[/caption]

Two years into her start-up journey, Ramsay now runs a 24-person team out of their One North office. The company also handled over S$100 million in payments over two years.

Any regrets leaving a stable role at a major bank for the fast-paced life of a start-up, I asked her.

"I got to the point where the more senior you get, the more removed from day-to-day you are. It's harder to be able to drive results directly," said Ramsay, whose last role was director of international business development in the Asia-Pacific region.

"I wanted to do something more hands-on and more rewarding in terms of the output."

Before coming up with the idea of CardUp, Ramsay spent five years dabbling in different ideas, from retail to travel. Leaving behind her steady pay cheque for years of uncertainty was tough, but she was determined to turn her vision into reality.

Initially, the going was tough. Detractors repeatedly told her the CardUp concept would not work. Banks and regulators were also slow to get on board. She had to dip into her own savings to keep the business going.

But last year, CardUp raised S$2.2 million in seed funding from early-stage angel investors Sequoia India and SeedPlus. CardUp has since established partnerships with most major banks in Singapore.

In an essay published on High Net Worth, Ramsay mulls over the courage it took to become an entrepreneur.

"I came to realise that courage doesn't need to be a monumental act—in fact, we all display moments of courage on a daily basis, be it finding the strength to overcome a work challenge or taking on a new hobby or interest."

And that's sometimes all it takes -- the strength and conviction that something can be done better -- before an idea takes shape and becomes reality.

Related articles:

JianHao Tan: Singapore's Top Influencer Is Stepping Up And Growing Up

Hoolah, The Startup Solving The Gig Economy's Cash Flow Problem

CPF Has No Equal As Investment Vehicle: Singapore's Mr. CPF

The Best Miles Cards… May Be Rewards Cards

Best Credit Cards for Paying Utility Bills in Singapore 2019
---

By Jo-Ann Huang
Singapore-based writer and corporate dropout who chose the freelance life. Indulges a little too much in traveling and always hungry for deals that stretch her spend.

By Annie Teh
Annie believes that the best stories come from real people. She is obsessed about optimizing her life through tech, talking to Grab drivers, and collecting little conditioner bottles from hotels.
---