Kenneth Lou is on an important mission.
A mission of redefining what personal finance means for young millennials.
"Millennials are not a frivolous bunch who splurge on avocado toast and online shopping, instead of saving for important purchases, like their first home," said Lou, co-founder of local personal finance start-up Seedly.
The young Singaporean was referring to concerns that millennials of today may not be able to afford their own house in future because of extravagant splurges on lattes and avocado toast, a meme that went viral in 2017.
Rather, the 26-year-old says what's really changed is how millennials think about and engage with banks and financial products.
Millennial approach
"On the contrary, they are just as concerned about their finances as anyone else. But they research financial tips or products online on their own: they don't go to a bank or speak to a relationship manager anymore."
Lou and his co-founder Tee Ming Chew started Seedly in 2016 as an app to help its target audience of undergraduates and first-jobbers track their spending and savings across bank accounts and credit cards.
(Millennials) are just as concerned about their finances as anyone else. But they would rather research financial tips or products online: they don't go to a bank or ask to speak to a relationship manager anymore.
Last year, it began adding new features such as community-based reviews of products ranging from credit cards and savings accounts to mobile plans and investment courses.
Another recent new feature is "Ask a Question", a Quora-style community forum where anyone can ask or get help from the community about finance-related topics like investments, insurance, property and career.
Some examples of questions include, "Would you rather make S$30,000 a year doing a job you enjoy or making S$100,000 doing a job that you don't like?" and "What is the cheapest way to invest in ETF outside of Singapore?"
Community approach
Questions are shared and answered by subject experts or anyone in the community willing to share their own experience. So instead of a hard-sell from the bank, Seedly's audience get honest, unvarnished answers and opinions, Lou said.
"We view personal finance quite differently from other finance comparison sites... they view personal finance as something that needs to be sold. For us, personal finance needs to be built from the ground up and from the community," said Lou.
The community approach seems to be working.
After two years, the site has over 8,000 active community members. Its expenses tracking app, which helps users to track their expenses. has over 60,000 downloads.
Shopback buyout
In May earlier this year, another local start-up Shopback acquired Seedly for an undisclosed sum. The cashback and coupons e-commerce site itself closed a US$25 million funding round last November to help it expand across Southeast Asia and Australia.
Under the terms of the buyout, Seedly continues to run independently from Shopback. But Lou said the buyout was validation that he and his team are on the right track. Shopback's backing means he can execute on plans to reach and impact even more millennials.
Day to day, Lou said his routine hasn't changed much. He continues to run daily operations and his staff of 12 at The Launchpad at Ayer Rajah Crescent. He jokes he still gets rejected when soliciting sponsorships for Seedly's offline events.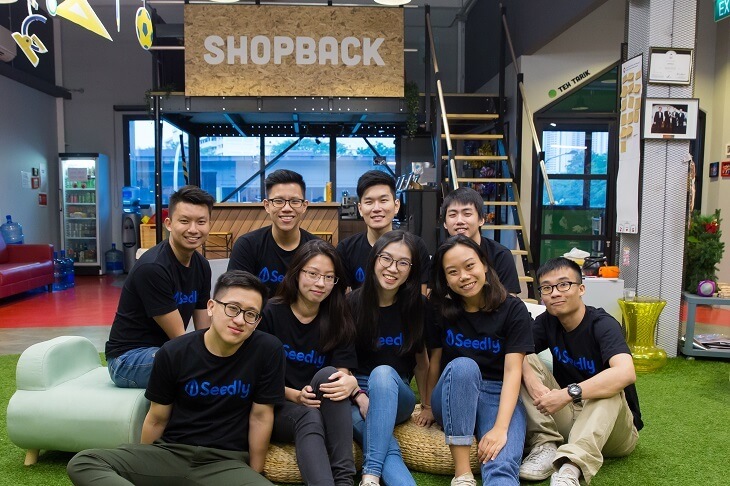 "Everyday is a learning experience, and we always need to think outside the box. Things can be done in 10 different ways, so you need to be humble enough to admit you're wrong," said Lou.
Lou credits his late father for imbuing in him an entrepreneurial spirit and steely drive in him to succeed.
His late father, a successful paper trader and businessman in his own right, died this year after a four-year battle with cancer. He was 54. One of the biggest lessons he learned from his dad's disease: life is short and you need to make an impact while you can.
Football with Carousell co-founder
Lou attributes his fledgling success to mentors within the startup and entrepreneurship community. He counts Philip Yeo, the former chairman of the Economic Development Board, as one of his role models. He was one of 13 students chosen by the Philip Yeo Innovation Fellowship Programme, which provides startups with funding, mentorship, incubation services and networking opportunities, along with a S$20,000 seed grant.
Lou is also good friends with Marcus Tan, who co-founded mobile classifieds app Carousell, currently valued at S$500 million. The two catch up over football every weekend and he says there's much to learn from his former NUS batchmate.
"When I talk to Marcus and his two co-founders, they are just a bunch of regular guys. But what stands out is they are very determined, they want to see things through," said Lou.
It's something his late father also taught him. Describing his late dad as the"strong and silent" Asian parent, he said his dad's battle with cancer taught him that life is incredibly short.
"If you want to do something, do it well".
Other stories by Jo-Ann:
Epic Trip Inspires Singapore Blogger to Share Travel Hacking Secrets
Travel Hacking Blog Teaches Anyone How to Experience Business, First Class Flights
---

By Jo-Ann Huang
Singapore-based writer and corporate dropout who chose the freelance life. Indulges a little too much in traveling and always hungry for deals that stretch her spend.
---