---
Pros and cons of Singlife Home Insurance
| | |
| --- | --- |
| Pros | Cons |
| Basic plan is extremely budget-friendly, while extended protection and higher coverage for those with a larger budget are also available | Does not cover damage to building; hence must be used with adequate fire protection insurance |
| Separate claims limit for renovations and home contents | Claim limits for renovation, home contents and personal liability are comparatively lower vs other home insurance plans |
| Includes alternative accommodation benefit | |
| Available for both homeowners and renters | |
| Has 24/7 emergency home assistance hotline | |
---
Key features of Singlife Home Insurance

#1: Provides basic home insurance cover at wallet-friendly rates
The Singlife Home Insurance plan may not have the most exciting claims limit, but it will appeal to homeowners or tenants with affordability in mind.
The basic plan, Home Lite, is among the cheapest home insurance plans on the market, covering most common household needs for just a few dollars a month.
In exchange for such low premiums, the claims limits are correspondingly lower. However, the amounts covered are not stingy either, and could very well meet the needs of simple lifestyles or modest homes.
#2: Add-ons and higher tier plans for flexible choices
A good home insurance plan is designed to be flexible, allowing homeowners to meet changing needs. The Singlife Home Insurance plan starts off with basic protections, which you can grow or extend simply by changing tiers or including add-ons.
This makes the plan a good choice for homeowners who seek flexibility in their home insurance plans.
#3 Receive claims via PayNow
If you ever need to make a claim on your home insurance plan, Singlife offers disbursement of your benefits via PayNow. This could potentially be a speedier and more convenient option over other insurers that may choose a bank transfer or to cut a check instead.
---
Important exclusions to note
One very important thing to note about this plan: It does not cover damage to buildings. What this means is that in scenarios such as fire, where soot can blacken the corridor and other common areas, your policy will not cover the costs of repairs and cleaning up.
Hence, it is thoroughly recommended that this plan be used together with a fire insurance plan, such as the one HDB requires all homeowners to sign up for.
Besides that, Singlife Home Insurance comes with its own set of exclusions, some of which could be unexpected to those not familiar with insurance products.
We have highlighted some of the more noteworthy ones, under which any claims will be rejected. For a full list of exclusions, be sure to refer to the policy documents.
Deliberate, malicious acts, negligence or failure to avoid or minimise injury or damage by you or your household members
If your house had been vacant for more than 14 days
In case of burst water pipes and such, the policy will not cover the first S$250. It will also not cover the cost of repairs to these items (only damage occurring from water flooding will be covered)
Loss or damage caused by domestic animals
---
Who is Singlife Home Insurance best for?
With premiums among the lowest in the market, Singlife Home Insurance is targeted at homeowners and renters who wish to have some basic protection for their residences and belongings - without paying too much for it.
Of course, low premiums mean lower protection levels, which is why this plan may be more suitable for first-time homeowners without expensive furnishings, or renters unlikely to accumulate expensive personal belongings.
However, homeowners with specific needs should look into the higher tier plans or add-ons for extra peace of mind.
---
Plan tiers, premiums and latest promotions
Below, we've summarised Singlife Home Insurance plan tiers into one table for quick and easy reference. The full details are available here.
Do note that benefits for homeowners, landlords and tenants are identical.
Item covered
Claim amount
Loss or damage to home contents
S$35,000 to $100,000
Renovations, fixtures and fittings
S$75,000 to S$100,000
Alternative accommodation expenses (capped at S$1,000 per week)
Up to S$12,000
Personal legal liability
S$250,000
Home Standard and Home Plus only
- Accidental glass breakage
- Loss of personal money or credit card

S$500 to S$1,000
S$500 to S$1,000
Home Plus Only
- Loss of personal papers (including replacement costs
- Accidental death of your domestic pet

S$500
|S$500
---
How much does Singlife Home Insurance cost?
From the website, Singlife Home Insurance starts from S$70.03 a year (note that price is before discount, and we assume this is for the basic Home Lite plan with no add-ons).
---
What promotions are there for Singlife Home Insurance?
If you're going to sign up for a plan, don't miss the following promotions. Do note that relevant terms and conditions will apply: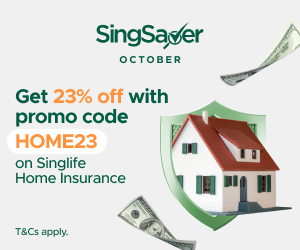 Singlife Home Insurance Promotion: Get 23% off with promo code HOME23 on Singlife Home Insurance (for new businesses only). Valid till 31 Oct 2023. T&Cs apply.
---
How to claim
Should you need to make a claim under your policy, you may do so via Singlife's website following a simple 3-step process. Just download the form, fill it up and return it with the relevant documents via email (GI_claims@singlife.com). Singlife will then contact you with your claim.
Alternatively, you may contact Singlife via:
Email: GI_claims@singlife.com
24/7 Home Emergency: +65 6460 9391
Customer Service: +65 6827 9966
---
Protected up to specified limits by SDIC.
Note: This is only product information provided. You may wish to seek advice from a qualified adviser before buying the product. If you choose not to seek advice from a qualified adviser, you should consider whether the product is suitable for you. Buying an insurance product that is not suitable for you may impact your ability to finance your future healthcare needs.
If you decide that the policy is not suitable after purchasing the policy, you may terminate the policy in accordance with the free-look provision, if any, and the insurer may recover from you any expense incurred by the insurer in underwriting the policy.
---
Read these next:
Find Out More About Travel Insurance Providers Here: