Earn points fast with the Standard Chartered Rewards+ credit on e-commerce, online groceries and dining.
Rewards points remain a popular perk among credit card users, and we can certainly see the appeal. Compared to cashback and air miles, points provide the widest flexibility, as they can be redeemed for a number of different rewards.
You can use points to redeem vouchers and gift cards at your favourite stores, trade them in for travel perks via air miles, or exchange them for cash credit to offset your spending.
If you're looking for a new rewards card to add to your collection, and have been spending more on online services, look no further than the Standard Chartered Rewards+ credit card, recently refreshed to make working-from-home more rewarding than ever.
Looking for the best credit cards to complement your spending patterns and expenditure in 2023? Check out our Ultimate Credit Card Guide that covers all things credit cards in Singapore – from choosing between a cashback, miles, or rewards credit card to planning your credit card strategy.
What the Standard Chartered Rewards+ credit card can do for you
Product summary
Bonus rewards points: 10X points on e-commerce, 10X points on overseas dining, retail and travel spends, 5X points on local dining
Bonus points cap: Maximum 20,000 bonus points per 12 months (can continue earning 1 point per $1 after cap)
Minimum spend: None required
Income requirement: Singaporeans and PR - $30,000/annum, Foreigners - $60,000/annum
Annual fee: $192.60 (first 2 years waived)
| | |
| --- | --- |
| Pros | Cons |
| 10 points per $1 spent on online shopping and groceries, foreign currency spends on overseas retail, dining and travel. | Bonus points capped at 20,000 points per 12 months |
| 5 points per $1 spent on local in-restaurant dining | Heavily skewed towards e-commerce and dining spends |
| No minimum spend required to earn points | Enhanced rewards for travel and overseas spends not as useful at the moment |
| Popular rewards, including gift cards and vouchers from leading brands, KrisFlyer miles | |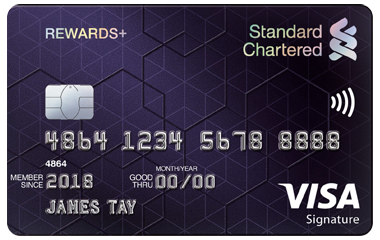 Why should you choose the Standard Chartered Rewards+ credit card?
#1: Made for work-from-home lifestyles
With the continued WFH trend, it is likely that you're relying more on e-commerce and online services to meet your daily needs.
The Standard Chartered Rewards+ credit card can help you optimise your spending on online shopping and online groceries, with up to 10 bonus points on these transactions. Meanwhile, local dining transactions will let you earn up to 5 bonus points.
These accelerated earn rates make the Standard Chartered Rewards+ credit card a great card to use when paying for food delivery, groceries, household essentials and other items at your favourite e-commerce platforms, as well as for in-restaurant meals (even if the earn rate for the latter is not as high).
#2: No minimum spend required to earn rewards points
The Standard Chartered Rewards+ credit card is as fuss-free and easy-going as they come. There's no minimum spend required to enjoy your benefits; simply charge your transaction to the card and you'll start earning points from the first dollar spent.
While the card is geared towards e-commerce, dining and overseas spends, providing bonus points for these transactions, you'll still earn points for all other transactions at the rate of 1 point per $1 spent.
This makes the Standard Chartered Rewards+ card a convenient and flexible card for all-round use, while providing enhanced benefits for those who spend primarily on online and dining transactions.
#3: No annual fees for first two years
The Standard Chartered Rewards+ credit card comes with a complimentary two-year annual fee waiver, allowing you to save a couple hundred bucks from the get-go.
Depending on how much you use your card, there's a good chance that you can rack up enough points during the fee-free period to redeem sufficient cash credit, which you can then put towards paying the annual fees from the third year onwards.
#4: Popular rewards available
The whole point of a rewards credit card is to earn, well, rewards that you like.
In this area, the Standard Chartered Rewards+ card does well, offering a range of gift cards and vouchers across popular stores and brands such as Dairy Farm, Watsons, Frasers Malls, TANGS, CapitaLand, Harvey Norman and more.
If you'd rather use your rewards points for airline tickets because you believe leisure travel will resume soon (us too!), know that you can also exchange your points for KrisFlyer miles to get free flights, upgrades and other travel perks.
And for the more pragmatic-minded, exchanging your points for cash credit to offset your bill may be the most appealing option. 32,000 points will get you a cool $100 credit to your card.
#5: Manage large transactions with smaller installments
The Standard Chartered Rewards+ credit card can also help you manage big-ticket purchases by splitting them up into smaller instalments.
For transactions above $500, you can choose a repayment plan spanning 6, 12 or 24 months. This makes it easier to pay for expensive items while avoiding credit card interest charges.
What sign-up promotions are available for the Standard Chartered Rewards+ credit card?
What charges or fees should you look out for?
Annual fee: $192.60 (waived for first 2 years)
Interest on purchases: 26.9% per annum
Interest on cash advance: 0.77% per day on the amount withdrawn, from the date of transaction until date of full payment
Late payment charge: $100, if minimum payment due is not received by due date
Minimum monthly payment: Greater of either $50 or 1% of principal plus interest, interest fees and charges; plus any overlimit amount and any past due amount
Overlimit fee: $40 (applicable if current balance exceeds card's credit limit)
Eligibility criteria
Aged 21 - 65 years old
Minimum annual income for Singapore citizens and PRs: $30,000
Minimum annual income for foreigners: $60,000
How to apply?
Click on the 'Apply Now' button on this page to apply for the Standard Chartered Rewards+ credit card. You will be brought to an application form on SingSaver. Follow the on-screen prompts to complete and submit your application.
Take note that you may need to have the following documents on hand:
Front and back of NRIC/Passport/Employment Pass
Salaried employees: Latest computerised payslip or latest 6 months' CPF Contribution History Statement
Commission earners: Any one of the following -

Latest 3 months payslip + Latest income tax notice of assessment
Latest 6 months CPF contribution history statement
Latest 3 months payslip
Copy of 2 year income tax notice of assessment

Self-employed: Copy of 2 year income tax notice of assessment (must be in business for a minimum of 2 years)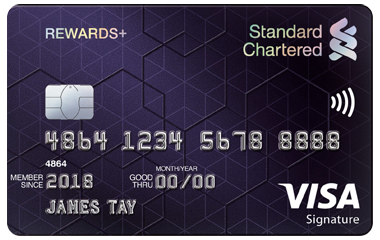 Read these next:
Standard Chartered Unlimited Card Review: Fuss-Free Cashback Card
Standard Chartered Credit Card Promotions and Deals
Best Standard Chartered Credit Cards in Singapore
Best Rewards Credit Cards In Singapore (2021)
Top Credit Card Promotions And Deals On SingSaver (March 2021)