Here's a roundup of the top 2022 financial trends in Singapore you need to know, some of which you aren't going to like.
Wondering if you should start monitoring your expenses more closely or seriously rethink that investment property purchase? Here are the top five financial trends for Singapore in 2022 you need to know in order to make better decisions for your money moving forward.
Read on to find out what these are (psst, your money goals for this year might require some tweaking!).
#1 ​​Goods and services to become more expensive
The dreaded two percentage point hike in Goods and Services Tax (GST) just got more real thanks to Prime Minister Lee Hsien Loong's New Year message to Singaporeans on 31 December 2021.
According to PM Lee, the Government "will have to start moving on the planned [GST] hike" in Budget 2022 as our economy emerges from COVID-19.
The GST hike from 7% to 9% is necessary as the Government requires reliable and sufficient revenues to fund social programmes, expand the healthcare system as well as support schemes for ageing and/or older Singaporeans.
While nobody knows exactly when the GST hike would take effect, it would be wise for everyone to start keeping an eye on their purse strings. It was previously announced that the GST increase would be implemented "sooner rather than later", between 2022 and 2025.
As the GST is a broad-based tax, everyone in society, regardless of their income, will be affected. For lower- and middle-income households who require more financial support, definitely keep your eyes peeled for the permanent GST Voucher scheme. The scheme will be enhanced when the new 9% GST kicks in.
#2 Mortgage interest rates set to climb
The United States Federal Reserve revealed that three or more Fed rate hikes are in the cards in 2022. This is a necessary step to take to slow down the pace of inflation in the United States. If all goes according to plan, the Fed expects to raise the Fed rate by 0.75-1.00 percentage points before 2022 comes to a close.
Why should homeowners and potential homeowners be concerned? Well, this essentially spells the end of the attractive, low interest rate environment that's played a huge part in fuelling the property-buying frenzy on our sunny island.
Hard truth: mortgage interest rates are poised to increase in 2022/2023. The higher cost of borrowing simply translates to more expensive home loans!
For the uninitiated, many home loan packages in Singapore have interest rates pegged to the Singapore Interbank Offered Rate (SIBOR) and the Singapore Overnight Rate Average (SORA), which are linked to interbank exchange rates.
Singapore's mortgage interest rates are highly correlated to the benchmark Fed rate. When the Fed rate is slashed, Singapore's mortgage interest rates will move in tandem with the slashed Fed rate. When the Fed rate is raised, our mortgage interest rates will also go up.
#3 BNPL market continues booming
Like it or not, Buy Now, Pay Later (BNPL) is here to stay. In fact, this booming fintech segment is only going to grow bigger.
According to this fintech report, BNPL providers have witnessed significant traction and growth. It's unsurprising that many are looking for opportunities to scale up. For instance, Hoolah, one of the biggest BNPL players in Singapore, recorded more than 1,500% growth in transactions and over 800% increase in sales value despite the pandemic. ShopBack even moved to acquire Hoolah.
Singapore-based BNPL provider Pace recently closed a huge US$40 million Series A funding round. Although Pace is a very young company, it is already looking at ways to further expand beyond Singapore's shores — Japan, South Korea and Taiwan, to be exact.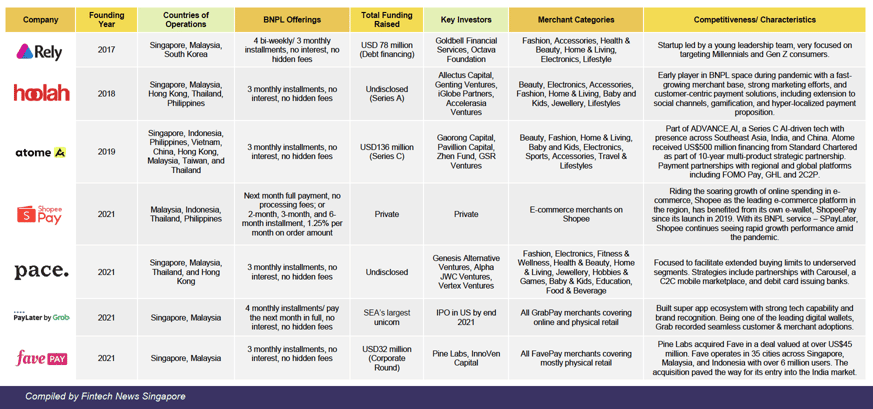 The draw of BNPL facilities is real. Consumers get to purchase items they want without paying everything upfront. They get to split the purchase amount equally over several payments spaced months apart. The best part? The service is free and there are no interest charges for footing the bill in instalments.
BNPL's enabling nature is also what makes it concerning for consumers when it comes to spending unnecessarily or beyond their means.
If you're keen to jump on the BNPL bandwagon, we highly recommend you read up on these tips for using BNPL to your advantage!
#4 Crypto regulations to tighten
Looking to make your pots of gold through crypto? Expect more regulations to kick in.
The Singapore Parliament recently passed a Bill to tighten regulations on virtual payment service providers that deal with cryptocurrency.
Thanks to the enhancements to the Payment Services Act, entities that facilitate the transmission, exchange or storage of digital payment tokens (DPT) - otherwise known as cryptocurrencies - will have to be licensed and subject to expanded rules and regulations set by the Monetary Authority of Singapore (MAS).
Apart from mitigating money laundering and terrorism financing risks, changes to the law in the Lion City will also allow MAS to impose measures on crypto service providers to offer better consumer protection, a call that's growing louder by the day.
#5 More moving towards sustainable investing
Sustainable investing, also known as ESG investing, is fast gaining traction amongst retail investors in Singapore.
According to this news report, a recent poll by Swiss bank UBS showed that approximately 90% of respondents in Singapore "want to have investments that align with their values, be it for social or sustainable causes". That's not all. Close to 70% also indicated they're more interested in investing sustainably now than before the pandemic.
The results were similar to UOB's consumer study. UOB learned that 90% of Singaporeans were interested to learn more about ESG investing. Amongst those surveyed, 13% had already made such investments.
Local bank DBS already registered a steady increase in investments into its two sustainability-themed funds, with fund purchases nearly three times higher at the end of September 2021 compared with January 2021. Unsurprisingly, the bank has plans to offer more sustainability-themed investment products for customers in 2022 due to strong demand.
While ESG investing may have all the bells and whistles associated with feel-good, socially responsible notions, it doesn't mean it is risk-free; traditional financial analysis still has a role to play.
Apart from learning more about ESG investing before sinking your hard-earned money in it, definitely spend time reading the sustainability reports issued by companies you would like to invest in.
Other tips? Have a read about the types of ethical investments you can make. Know what your options are. Think about the values and causes that resonate with your heart. Also, have a clear idea of what your investment horizons and goals are.
Read these next:
Take This Before You Go: A Must-Read Guide For Budding Investors
Comparing The Returns & Fees Of The Top Robo-Advisors In Singapore (2022)
7 Best Cryptocurrency Exchanges To Use In Singapore (2022)
Best Cashback Credit Cards In Singapore (2022)
Top Credit Card Promotions And Deals On SingSaver (2022)