Do you find your favourite bag of potato chips containing more air than actual chips? What about a can of Coke? Is the size of the can shrinking, yet you're paying the same price? That my friend is shrinkflation.
Inflation doesn't seem to be slowing down anytime soon — just look at Singapore's rising cost of petrol, food, electricity and GST.
In fact, according to Channel News Asia, "Singapore's core inflation rate, which measures the average change in prices for things like food, electricity and gas, rose 2.4% year-on-year in January – the highest increase in more than nine years. For food alone, the inflation rate that month was 2.6%."
That being said, inflation is unavoidable. Prices of everything have been steadily rising and it will carry on indefinitely, whether you like it or not.
Why is inflation necessary and what causes it?
According to downtoearth,org, a moderate amount of inflation is generally considered to be a sign of a healthy economy.
As the economy grows, demand for things increases. This surge in demand pushes prices a little higher as suppliers try to meet the demands of customers.
But how can companies deal with increasing prices without incurring the wrath (just look at Daiso) of supermarket aunties?
The answer: shrinkflation.
What is shrinkflation?
Shrinkflation, or downsizing, is the "sneaky" practise of reducing the weight or quantity of a product while still charging the same price.
It is a hidden form of inflation, and most shoppers may not notice right away that they're getting a little less from everyday products such as cereal or toilet paper.
Shrinkflation, according to Investopedia, occurs "mainly in the food and beverage industries" and supermarkets to "stealthily boost profit margins or maintain them in the face of rising input costs". It has been around for decades, but people are starting to take notice that their cans of coke are just not the same anymore.
Examples of shrinkflation
Doritos
The change: from 9.75 ounces to 9.25 ounces in 2021.
This means: you get five fewer chips. According to World Economic Forum, Frito-Lay confirmed that "Doritos shrunk their bags due to pandemic pressures". A quote from a representative stated that they just took "a little bit out of the bag so [they] can give you the same price and you can keep enjoying your chips".
Family-sized Cadbury Dairy Milk Chocolate Bar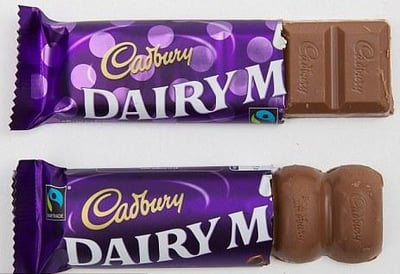 The change: from 250g in 2009 to 180g in 2022.
This means: you get 28 per cent less chocolate.
According to research done by Channel News Asia's Talking Point, a "standard Cadbury Dairy Milk bar that was 49g now weighs 45 g — a difference of 8 per cent". Companies may also choose to downsize a bar of chocolate by rounding its edges.
Pringles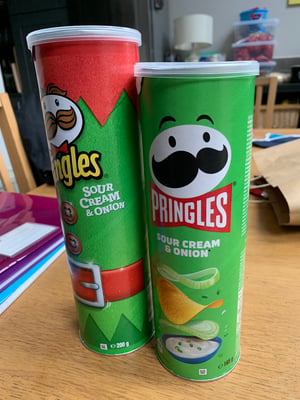 The change: from 200g to 165g in 2022.
This means: you get 35g less chips.
A can of Coca-Cola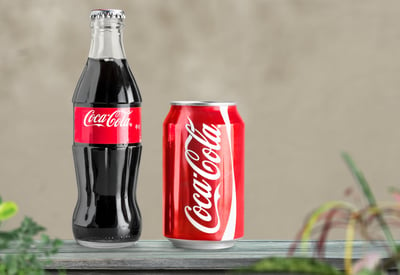 The change: from 330ml to 320ml since 2017.
This means: you get 3 per cent less coke.
Breyers ice cream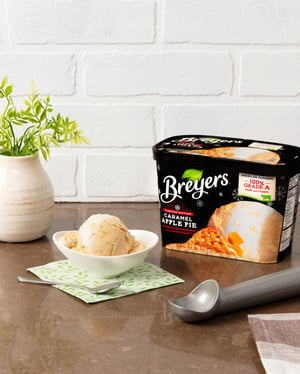 The change: from 64 ounces to 56 ounces to 48 ounces over 20 years.
This means: you lose out on almost two cups of ice cream.
How to save money on groceries in times of shrinkflation
1. Avoid brand name products, go for house brands instead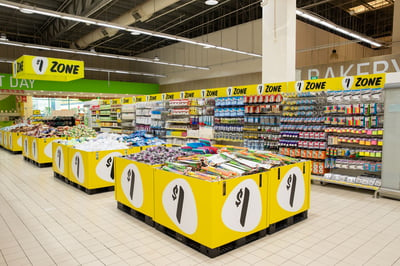 They tend to be cheaper because supermarket chains can cut out the middleman and save advertising costs.
Our favourite choices for supermarket house brands are:
Meadows (Cold Storage, Giant)
Happy Family (Sheng Shiong)
Tried and tested, house brands are actually pretty good quality and will help you save money in the long run. We'd recommend Meadow's truffle chips (S$1), Meadow's 1.5L distilled water (S$0.60), Happy Family's instant noodles (S$2.40 for a pack of 10) as well as Happy Family's Premium Short Grain Rice (S$8.50 for 5kg).
We also find that Giant is pretty dedicated to providing the best value for their shoppers.
Giant Promotions to look out for include:
These value-for-money aisles (which we love, by the way), sell household necessities, bottled drinks, Korean cup noodles, snacks, disposable cutlery and so much more. As they change up their products quite often, we recommend that you pop by every now and then to see what's on offer.
Giant's Lower Prices That Last (LPTL)
LPTL reinforces Giant's commitment to helping customers weather the rising cost of living and beat inflation by keeping prices of essential items low. Furthermore, seniors above 60 can enjoy an additional 3% storewide discount on weekdays.
Launched in 2020 to support Singaporeans through the pandemic, products under the LTPL campaign — which includes almost 700 fresh food items, personal care, household essentials and more — have been kept stable despite inflation and fluctuations in the supply chain.
Some items you can expect to get for cheap at Giant include:
Vannamei prawns at S$1 per kg
Fuji apples at five for S$2.50
Giant 2L vegetable cooking oil at S$3.90 (price dropped from S$5.75)
Colgate Plax Mouthwash 1L at S$7.60 (price dropped from S$9.90)
Milo Gao Kosong Tin 450g at S$5.65 (price dropped from S$6.15)
2. Prepare a shopping list and don't go grocery shopping hungry
Speaking from personal experience, you're more likely to waste money buying all sorts of junk food when you're hungry and aimlessly step into the supermarket.
3. Use the Price Kaki app to check prices
Created by the Consumers Association of Singapore, this free app allows you to compare prices of groceries, household items, and hawker food in your vicinity.
You can use Price Kaki to:
View and compare in-store prices and promotions
Filter and sort listings by price, distance, supermarket, etc
Get updates on price changes
Discover new hawker centres and supermarket deals
4. Always calculate the unit price of the product you're buying
When a product, let's say cereal or a bottle of soap, comes in two sizes, buying the bigger pack doesn't always mean you get a better price. You should divide the price by the quantity and see how much you're paying per ml or gram or piece.
5. Check out budget shops such as Tian Ma, Value Dollar or Japan Home
These budget stores offer soft drinks, wet tissues, chocolates and hand sanitisers at prices way cheaper compared to major supermarkets because of something called grey market retailing.
According to AsiaOne, when "wholesale distributors have extra stocks, they might reach out to grey market dealers and offer to sell these purchases at heavily discounted prices. Hence, grey market dealers manage to get hold of and sell the same products that other authorised retailers sell."
6. Buy vouchers from shopping apps such as Shopee or Fave or Qoo10
Before you buy something, do a quick search on Shopee or Fave to see if they have partner vouchers. We once paid one cent (free, if you offset Shopee coins) for a S$1.50 Tian Ma voucher with no minimum spend. Sadly, this voucher is not available on Shopee anymore.
Using credit cards such as the BOC Sheng Siong Card gives you up to 12% cash rebate at Sheng Siong and an additional 6% cash rebate on your Sheng Siong purchases when you spend S$600 elsewhere.
For people who regularly shop at Dairy Farm Group merchants (Cold Storage, Giant, Guardian, 7-Eleven), we would recommend you to use the UOB One Card as it will give you up to 10% cash rebate.