Nowadays, you can get anything and everything online — even groceries. If you have yet to start buying groceries online, here are a couple of reasons why you should, and our favourite websites to buy them from.
When COVID-19 first plunged the world into chaos, many flocked to supermarkets to panic buy stock up on daily essentials while others were busy typing away on their keyboards. An explosion in demand for online groceries surged back then, with local supermarkets rushing to ramp up manpower and open more delivery slot.
Big fan of online shopping
Ever since the Circuit Breaker in 2020, we Singaporeans have been addicted to the convenience that online shopping brings.
In fact, I can unabashedly admit that I shop so much online that I am on a first-name basis with my Shopee courier, and we even have a chain of WhatsApp messages going on.
From clothes to body care products, I buy everything online. I do not do my shopping at physical stores anymore, and I have no idea why someone would bother venturing out when they can buy things at lower prices AND stay in bed for the process.
However, online grocery shopping is not as popular in Singapore as it should be
We may buy most of our things online, but I noticed that my family still prefers going to the supermarket to get our groceries.
When I asked my parents my they preferred traditional supermarkets, they remarked that shopping at brick-and-mortar stores is cheaper than buying our groceries online.
But if you were to ask me, I would say that it depends on what you want to buy. Yes, you may get cheap deals online, but you can also access a different type of discount (especially the clearance section) when you go down to the supermarket.
In case you need convincing why you should buy your groceries online, here are some valid reasons to do so.
1. Convenient and efficient
One of the biggest advantages of online shopping is convenience. All you've got to do is sit at home, tap a few buttons and your groceries will appear at your doorstep.
Everything happens very quickly — once you've made an order, it can show up at your place within a few hours or the next day. We think this is great for busy people who think that time = money.
Besides, going down to supermarkets can be a hassle, especially if you have to drag home multiple, heavy plastic bags (worse if you rely on public transport).
However, convenience comes at a price. You usually have to pay around S$3 to S$7 for delivery, but it's free if you can hit the minimum spending (usually S$50 and above).
Related stories:
Guide To Online Groceries And Deliveries In Singapore
Which Online Grocery In Singapore Delivers The Biggest Savings?
2. You can get huge savings and perks
Contrary to popular belief, getting groceries online may actually be cheaper than physically going down to the supermarket. The only catch? You have to be tech-savvy and know how to use the right credit cards and promo codes.
For those who want to try out online grocery shopping, there are actually tons of hacks and promo codes to make your first order super cheap. The promotions for first-timers are especially amazing.
You can get 50% off (Shopee Supermarket), free deliveries as well as S$0.50 beer (Amazon Fresh) and many others. We'll tell you more about those later.
3. Grocery shopping online keeps you and your family safe
Even though Singapore is opening up, COVID-19 is still around. Buying your daily essentials online allows you to skip the crowds, thus protecting you and your family from unnecessary exposure to the virus.
4. Credit card rebates
Ah, this is our favourite part. Make payments online using our credit cards and gain miles/cashback/rewards. You can stack credit card rewards with Shopback and GrabPay on top of in-app discounts, and save a whole ton.
Related story:
Best Grocery Credit Cards In Singapore 2022
Our favourite websites to buy the cheapest groceries online in Singapore 2022
Of course, the websites that you visit play a major role in how much you spend and save when buying groceries online. We once wrote about where to get the cheapest online grocery in Singapore before, but here are my personal favourites:
Shopee Supermarket (most value-for-money overall)
Amazon Fresh (free, two-hour delivery)
FairPrice Online (same/similar price as in-store)
Giant Online (same/similar price as in-store)
While other delivery platforms such as pandamart, Deliveroo, Grabmart and RedMart are popular, I personally feel that their products retail at a higher price compared to supermarket chains.
Shopee Supermarket (my favourite!)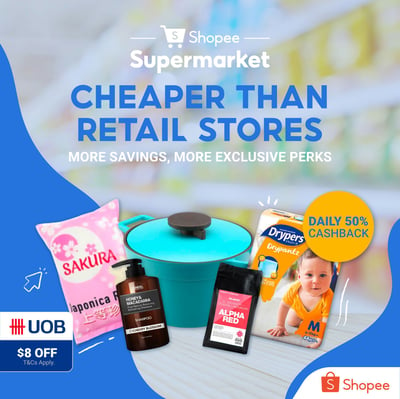 What we love:
Random deals making items super affordable
Stackable coupons and cashback in form of Shopee points
First-time users get 50% off
Free delivery using promo codes
Fast delivery
Okay before I go any further, let me clarify that this is NOT a sponsored post. I personally use Shopee Supermarket and the deals that first-time users get are astronomical. We once bought 16 items for a total of… S$5.83. This is inclusive of shipping (which was free) as well.
There are flash deals available every day, and depending on your luck, you can buy products such as 1.5L drinks, two cups of yoghurt, six-pack 250ml drinks for S$0.99 each and more. Sometimes, there are also $0.10 deals.
Attached is a screenshot of what I bought and the discounts applied. I mainly bought junk food, but you get the drift.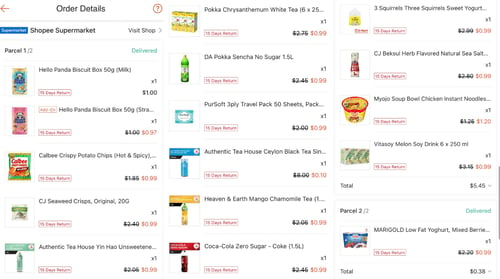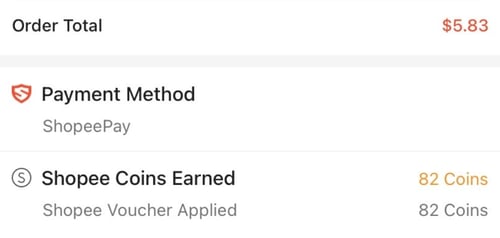 Save more money at Shopee Supermarket
Check-in daily for coins, offset these coins on your purchases, and stack vouchers (scroll Shopee's main page and collect)
Top up ShopeePay using UOB's Absolute Cashback
Link Shopee to Shopback for more cashback
Collect vouchers including a daily 20% cashback voucher, and free shipping vouchers
Promo codes for Shopee Supermarket
Use the code MART1 to enjoy 50% cashback on your first order
Use the codes MART2 and MART3 on your second and third-order respectively for 25% cashback
Sign up for Shopee Supermarket Membership (free) to enjoy exclusive perks & savings
Amazon Fresh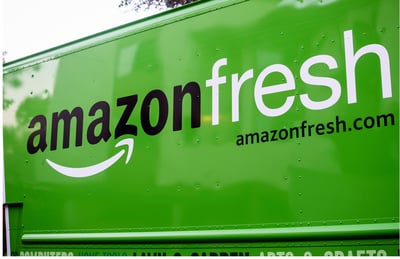 What we love:
Free two-hour delivery with min. spend of S$60
S$15 off with min. spend of S$60 on your first Amazon Fresh Order
Free one-day delivery with Amazon Prime (one-month free trial, S$2.99 per month after)
S$8 cashback in form of a gift card with S$120 spent
S$0.50 beer and other flash deals
If you've been on Amazon Fresh, you should be aware of their random flash deals, similar to Shopee. For example, you can get a can of beer for only S$0.50.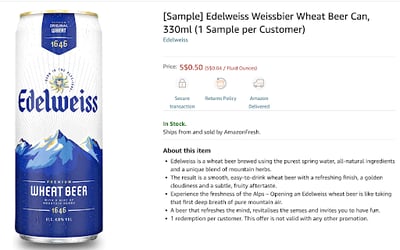 Keep a lookout for their general sales page for great discounts such as fresh chicken, dairy, eggs, tofu and other products you'd expect to find at a supermarket.
They have various promotions including:
Up to 20% off for all Magiclean, household and personal care essentials
Buy any three and get extra 25% off MamyPoko, Dove, Moony, BREEZE, SOFY, TRESemmé and more
Get S$12 off S$60 spend on Huggies, Aveeno Baby, Kleenex, Listerine, Scott, Neutrogena and more
Up to 25% off, buy three get an extra 10% off beer, wines and spirits
Up to 20% off on premium food and drinks — spend S$40 and get extra S$4 off
For just S$2.99 a month, Amazon Prime members can enjoy access to tens of thousands of items available for free two-hour delivery on Amazon Fresh on orders over S$60.
Prime membership also includes free one-day delivery on domestic Prime eligible selection on Amazon.sg, unlimited access to Prime Video, Prime Gaming, Prime Day, and more.
Save more money at Amazon Fresh
FairPrice Online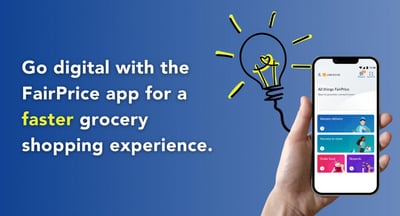 What we love:
An effort to keep same/similar price to in-store
Offers discounts on cooking oil products amid rising prices
Free delivery with min. S$79 spent
Supermarket chain FairPrice is offering a 10% discount on four cooking oil products till 1 June 2022, to address concerns over increased edible oil prices due to the prolonged pandemic and ongoing war in Ukraine.
The four cooking oil products are:
Knife Brand cooking oil (2L) at S$7.20 (RSP S$8.05)
Rice Field 100% rice bran cooking oil (2L) at S$8.30 (RSP S$9.25)
Duck Brand vegetable cooking oil (2L) S$6.00 (RSP S$6.70)
Cock Brand pure groundnut oil (2L) S$13.15 (RSP S$14.65)
The offer will be available across all FairPrice supermarket retail formats, including FairPrice Online. Each customer may purchase up to two bottles (regardless of brand) during the promotional period.
Save more money at FairPrice Online
Get up to 10% cashback when you activate Shopback
Become a Link member for free and accumulate Linkpoints with no minimum spend. Linkpoints can be used to pay for your next grocery trip
Use OCBC NTUC Plus! Credit Card to enjoy up to 8% rebates at NTUC FairPrice Online
Giant Singapore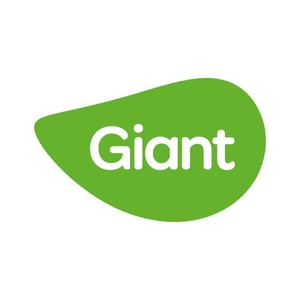 What we love:
Similar low prices similar to what's available in-store
Free delivery with S$59 spent
Giant house brand Meadows
I love Giant for its effort to keep prices low and groceries accessible to all despite the global inflation. They also often run promotions in-store and online, and I absolutely love their house brand, Meadows.
I have raved about Meadows, as well as Giant's Lower Prices That Last (LPTL) products.
You can read more about it here.
Related stories:
What Is Shrinkflation and How Can You Save Money While Shopping for Groceries?
Save more money at Giant Singapore
UOB One credit card and debit card
Up to 10% rebate on your daily essentials at Dairy Farm Singapore outlets (Cold Storage, Giant, Guardian, 7-Eleven, Market Place, Jasons and Jason's Deli)
For every S$1 spent at Dairy Farm Singapore outlets (Cold Storage, Giant, Guardian, Market Place, Jasons), you will be awarded 1 TapForMore point
TapForMore points can be exchanged for discounts, gifts and miles
No minimum spend required
Silver PAssion card