The Metaverse is the latest buzzword, and brings its own plethora of investing options. We break down what it's all about.
The Metaverse, as a simulated digital world, has its own currency in the form of Metaverse tokens. Just as in the real world, this currency can be used for investment and trading. This article takes a look at what exactly these tokens are and how you can get started in acquiring and using them.
What are Metaverse tokens?
The Metaverse comprises decentralised software platforms that offer users digital identities, digital assets, an e-commerce marketplace, and more. In order to engage in Metaverse experiences, you need to buy cryptocurrency that is accepted in the respective metaverse platforms, aka Metaverse tokens.
In the Metaverse, you can use this digital currency to buy digital items such as houses, cars, and aeroplanes, purchase physical goods, and trade assets through personal Metaverse wallets.
Related to this topic: How to buy virtual land in the Metaverse
How to buy Metaverse tokens in 2022?
If you are interested in buying Metaverse tokens, we would recommend buying them from a reliable company dealing with blockchain technology companies only. You may opt to store them in a crypto wallet for safety reasons.
If you're buying from exchanges, follow the steps given below:
Create an account on an exchange, such as Crypto.com or Gemini, if you do not have one already.
Deposit some Bitcoins or Ether to that account, which you'll use to trade for Metaverse tokens.
Search for the Metaverse token and click on it to redirect you to the Metaverse dashboard.
Enter the number of tokens you want to purchase in the field located at the top left corner and click the buy button.
You will send your tokens to your crypto wallet address.
You may now trade your tokens with other cryptos or use them on the platform.
Related to this topic: Guide to Play-To-Earn Crypto
Metaverse coins and tokens to watch out for in 2022
The Metaverse is a virtual world that is powered by blockchain technology. If you believe the pundits, it will be the next big thing. And if it's the next big thing, some of these tokens will see an incredible amount of growth.
But which ones? We take a look at Metaverse tokens gearing up for big things in 2022.
Decentraland (MANA)
Decentraland is a relatively new platform that allows users to create, experience, and monetise content and applications. It can be thought of as the VR version of Ethereum, allowing users to buy land within their VR world. As a platform, Decentraland also offers digital identity and claims.
The MANA token serves as a medium of exchange on the Decentraland platform. MANA tokens are used to purchase land parcels in the virtual world, as well as claim your rightful ownership of in-world content.
Axie Infinity (AXS)
AXI is a new project focused on creating a decentralised game ecosystem. The AXI Token serves as the foundation of their platform and is used to pay for in-game upgrades, battle items, and much more.
The AXI Token is different from other crypto projects because you can use it in everyday life. This platform will appeal to people who love gaming but don't necessarily know how to code or identify with blockchain technology.
The Sandbox (SAND)
Sandbox's SAND is a token focused on the blockchain space. This coin aims to support the development of innovative, useful, and feasible projects. Sandbox will enable users to buy products, services, and tools from these projects and purchase SAND tokens to help fund them.
It is an excellent utility for SAND because it can be used in all Sandbox partners' apps, incentivising users to hold onto SAND tokens. Users will also use their tokens like cash, buying products and services.
Theta Network (THETA)
Theta is a decentralised video delivery network for the next generation of video services. It fuels a decentralised peer-to-peer network that can allow users to stream videos at faster speeds and lower costs across the globe.
Theta's team is hard at work building a blockchain-based protocol layer on top of an existing content delivery system, meaning they have no impact on what you are viewing, just the way it gets to you. Theta will be used with new or existing CDN platforms such as YouTube, Netflix, Hulu, Twitch, and others.
Alien Worlds (TLM)
In the future of cryptocurrency, the value of a coin is often determined by its utility. TLM is decentralised, meaning it will always be in high demand and, therefore, likely to increase value over time. You can use it on any platform that supports ERC20 tokens, which leaves plenty of room for growth.
You will not sell the TLM token at an ICO. Instead, it will be rewarded to those who provide high-quality content on the TLM network. As more people join the network and begin earning TLM tokens through content creation, they will vest interest.
Alien Worlds TLM Token is available to the public so that you can use it in any of the following ways:
Trade it on exchanges
Buy games and in-game content
Buy other products and services
Get discounts through the loyalty programme
EPIK Prime (EPIK)
EPIK tokens are utility tokens built on the Ethereum blockchain. The EPIK token is an integral part of the EPIK ecosystem and will be used for transactions to purchase services, access content, and exchange for other currencies. EPIK token holders can use their tokens to buy products and services across the EPIK ecosystem.
EPIK tokens will be used to pay for recruiting costs, training expenses, relocation fees, and job search services on the site. EPIK tokens will also be accepted as payment for job posting services by recruitment companies.
Other parties may also use EPIK. You will utilise EPIK tokens in the future to get access to premium services on the platform, such as legal, financial, and healthcare assistance.
---
While Metaverse tokens may be the investment of choice in the Metaverse, you can also secure your financial future through savings and investments. Compare and apply for the best foreign exchange investment accounts.
---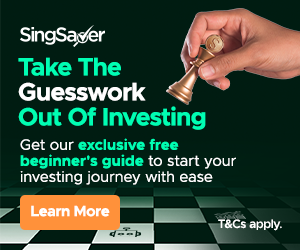 Start managing and saving money like a pro with SingSaver's weekly financial roundups! We dole out easy-to-follow money-saving tips, the latest financial trends and the hottest promotions every week, right into your inbox. This is one mailer you don't want to miss.
Sign up today to receive our exclusive free investing guide for beginners!
---
Read these next:
A Keen Investor's Guide To Cryptocurrency (2021)
5 Ways To Buy And Invest In Bitcoin In Singapore
Non-Fungible Tokens (NFT): What They Are And How People Are Making Money Off Them
What ETFs Are And Why Warren Buffett Advocates Them
Best Cash Management Accounts In Singapore To Soup Up Your Savings (2022)