---
Big C Supermarket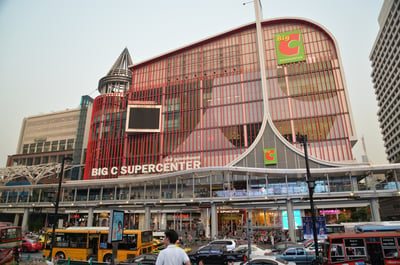 Big C Supermarket is the largest hypermart chain in the country, and one of the top must-visit places on every Singaporean's Bangkok itinerary (us, included).
The outlet that Singaporeans frequent the most would be the massive Rajdamri (Ratchadamri) outlet called Big C Supercentre, which is located directly opposite Central World in Pathumwan.
What's available at Big C Supercentre Ratchadamri
You can get pretty much everything at Big C, including snacks, toiletries, clothes, home appliances and more. There is even a food court on the fourth floor that sells affordable and delicious food, as well as a pharmacy.
Big C Bangkok – how to get there
It's pretty simple to get there via public transport. Alight at the nearest train station, Chit Lom BTS and follow the 'R Walk'. There are clear signages and directions to Big C along the covered walkway/skybridge.
Our recommendations: Dedicate at least an entire day to shopping in the area. A 10-minute walk from Big C Supercentre is Pratunam Market, which is famous for selling clothes, shoes, and fashion accessories at wholesale prices.
Big C Supercentre is also very close to luxury shopping malls such as Siam Paragon and CentralWorld, so we think it is a good idea to visit all the malls and markets in one go while you're there.
As we personally find ourselves visiting the area more than once during our trip (trust us, a day there is not enough), we'd highly recommend just booking a hotel there for maximum convenience.
Big C Supercentre Ratchadamri Opening Hours and Address
Big C Supercentre Ratchadamri is located at 97/11 Ratchadamri Rd, Lumphini, Pathum Wan, Bangkok 10330, Thailand. Its opening hours are from 8am to 10pm daily.
---
Things to buy from Big C Supermarket Thailand and their prices
| | | |
| --- | --- | --- |
| Must-buy items | Price in Thailand | Price in Singapore |
| Lay's Assorted Potato Chips | 20 Baht / S$0.80 per pack | S$1.80 per pack |
| Glico Pocky Choco Banana | 12 Baht / S$0.48 per box | S$1.29 per box |
| MAMA Instant Noodles Pork Flavor (6-pack) | 63 Baht / S$2.53 for six cups | S$1.40 per cup |
| Bento Squid Snack | 19 Baht / S$0.76 per pack | S$1.80 per pack |
| Soffell Mosquito Repellent | 69 Baht / S$2.76 per 80ml bottle | S$6.90 per 80ml bottle |
| Sofy Cooling Fresh Sanitary Pads | 46 Baht / S$1.84 for 14, 23cm pads | S$6.25 for 16, 23cm pads |
| ONETOUCH condoms | 35 Baht / S$5.42 for a box of 12 condoms | S$11 to S$18 for a box of 12 condoms |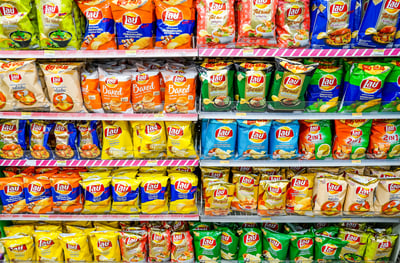 In Thailand, Lays has no limits when it comes to variety. There are all kinds of wacky flavours including but not limited to: spicy shrimp, tom yam, grilled pork, sweet basil, grilled scallops with garlic butter and more. At 20 baht (S$0.80) per pack, you don't have to worry about breaking the bank while sweeping chips off the shelves.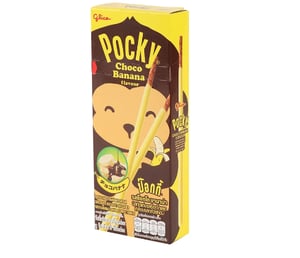 Where else can you get pocky for less than S$0.50 per box? Only in Thailand. The Pocky Choco Banana is a perfect combination of crispy chocolate biscuit sticks dipped in smooth banana cream, and it's delish, to say the least.
This is also retailing in Singapore for S$12.90 for 10 boxes at NTUC (S$1.29 per box), but who wants to pay for that?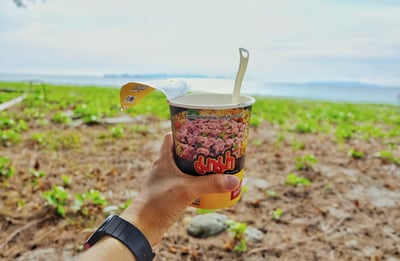 Don't think, just grab, especially when it works out to less than S$0.50 per cup.
MAMA is the most popular brand of cup noodles in Thailand, and there are so many flavours such as vegetarian tom yum, yen ta fo (pink noodles), green curry, tom saab (northern Thai spicy pork soup) to choose from.
For that price in Singapore, you can probably only get two cups of instant noodles.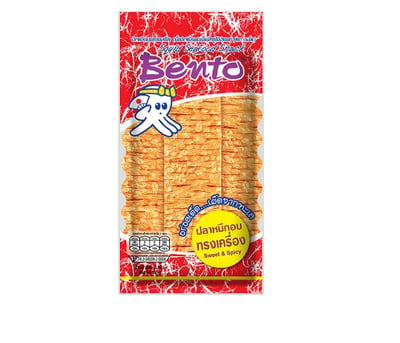 The Bento Squid Snack is ubiquitous in Singapore and almost everyone has tried this delicious snack before, so we won't go into specifics. Why buy this in Thailand? Because the price of S$1.80 per piece in Singapore just ain't worth it.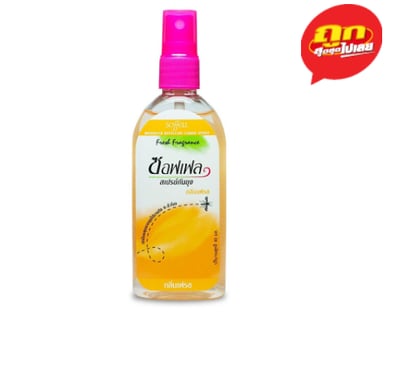 As someone who frequently gets bitten by mosquitoes, we can vouch for the effectiveness of the Soffell Mosquito Repellent. They also have the cream version in a packet meant for one-time use, which retails even cheaper at 5 Baht (S$0.20).
Tried and tested when this writer's period came unexpectedly while holidaying in Bangkok. These Sofy Cooling Fresh sanitary napkins give ladies ultimate comfort during that time of the month. Only S$1.84 for a whole pack of 14, 23cm-long napkins? Sweep.
In Singapore, you can expect to pay around S$5 to S$6 for a pack of day-use sanitary napkins. In this case, the Sofy Cooling Fresh pads here retail at S$6.25 for 16, 23cm pads. Urgh.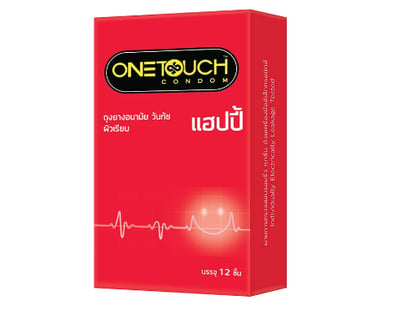 Thai-brand condom ONETOUCH was lovingly created by Thai Nippon Rubber Industry Co., Ltd, with the purpose of promoting safe sex during the '90s when AIDS was most severe in Thailand.
With one box of 12 condoms costing 135 Baht (S$5.40) and three condoms at 33 Baht (S$1.30~), this makes it effectively cheaper than buying condoms in Johor.
---
Related to this topic:
14 Things That Are Cheaper in JB, Besides Food, Groceries and Petrol
Johor Bahru Shopping Guide 2022 – Where to Shop in JB
Singapore-Malaysia Land Border Reopening: What You'll Need Before Driving to Johor Bahru
---
Thailand's 7/11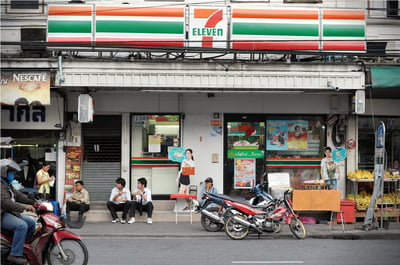 In Thailand, 7/11 can be found almost everywhere. Thailand has the third-largest number of 7/11 stores in the world, with everything available including toiletries, microwaveable meals, freshly brewed coffee and the best of Thai snacks.
Things to buy from Thailand's 7/11 and their prices
| | | |
| --- | --- | --- |
| Must-buy item | Price in Thailand | Approximate price when buying in Singapore |
| 7/11 Brand Corn Snack Milk | 20 Baht / S$0.80 per pack | - |
| Betagen | 25 Baht / S$1 for 400ml | S$2.30 for 335ml |
| Crispy Silkworm Snack | 25 Baht / S$1 per pack | - |
| Assorted Toasties | 25 Baht / S$1 per sandwich | S$3.40 to S$3.90 per sandwich |
| Assorted Sticky Rice Burgers | 4 Baht / S$0.96 per burger | S$3.50 per burger |
| DIY Thai Crispy Pancake Set | 59 Baht / S$2.37 per set | - |
| Le Pan Banana Cake | 12 Baht / S$0.48 per piece | - |
7-Eleven Brand Corn Snack Milk (20 Baht / S$0.80)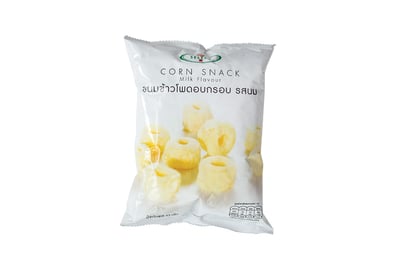 You've probably seen these corn snacks at 7/11, but gloss over them because they're house brand. But trust us when we tell you to try these the next time you're in Bangkok. For S$0.80, we think it's worth giving it a go.
According to Bangkok Asia City, "these knobbly wheels of well-flavoured corn starch pack a funky punch". They also come in two other flavours — chocolate and cheese.
Betagen (25 Baht / S$1)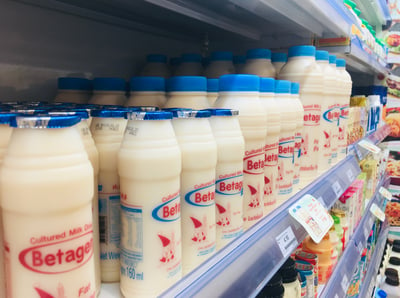 If you can't get enough probiotic drinks, here's something bigger and better — Betagen, the Thai version of Yakult.
For only 25 Baht (S$1), you get liquid gold that comes in a super big 400ml bottle. We think it makes your digestive system work really well, especially after eating all the artery-clogging Thai fried food.
Crispy Silkworm Snack (25 Baht / S$1)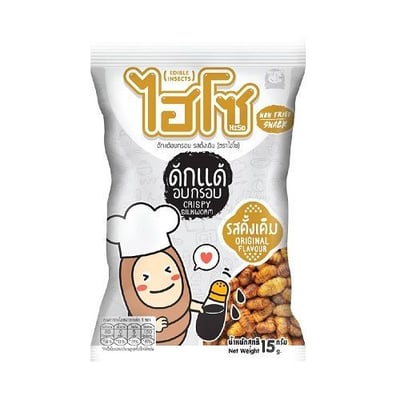 You might have seen deep-fried locusts and scorpions at Thai night markets, but lack the will to actually try them.
If you need time to muster your courage, buy these Crispy Silkworm snacks home and try them when you finally want to.
These costs 25 Baht and comes in four flavours — Original, Tom Yum, BBQ, and sesame.
The snack also makes a uniquely Thai souvenir to bring home to family and friends. If you're worried about it tasting weird, don't fret because we've tried them before. It's crispy and well-seasoned, and you wouldn't think you're eating an insect unless someone tells you that you are. We think it's best paired with beer as well.
Assorted Toasties (25 Baht / S$1)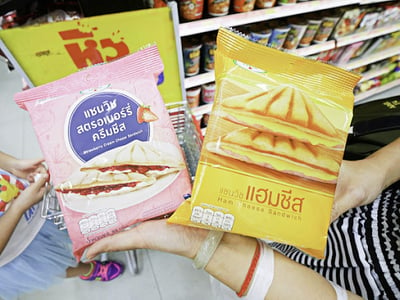 When you are overseas, you'd realise how inconvenient convenience stores are in Singapore (not to mention, expensive). 7/11 in Thailand sells the best toasties, which come in a myriad of flavours including tuna cranberry, matcha, strawberry cream cheese and not forgetting the most popular grilled ham and cheese sandwich.
Each toastie only cost S$1 and makes the perfect snack/breakfast.
Assorted Sticky Rice Burgers (24 Baht / S$0.96)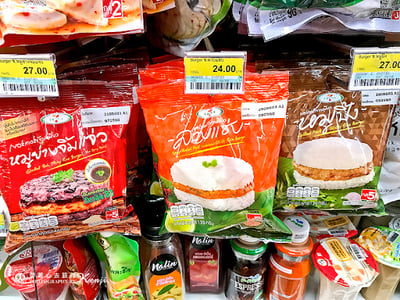 While you're grabbing a toastie, don't forget to check out another speciality of Thailand's 7/11 — the sticky rice burger.
It's like onigiri, but even bigger and better.
For the price of less than S$1, you'll get a juicy grilled patty sandwiched between two sticky rice buns that taste best when heated.
With choices like chicken, grilled pork and basil pork, there is something for everyone
DIY Thai Crispy Pancake Set (59 Baht / S$2.37)
We've all seen this being freshly made at roadside stalls in Thailand. It's called Khanom Bueng, a crispy Thai-style pancake that comes served with cream and sweet and salty toppings like coconut and egg yolk.
Everyone who loves this snack knows that it's best eaten freshly made and that the ones sold at tourist shops in nice packaging just don't taste as good.
With the introduction of this DIY Thai Crispy Pancake Set, you can now enjoy this authentic and freshly-made snack in your very own home.
Besides, famous Thai Chef Mom Luang Kwantip Tewakul is featured on the cover of the packaging, so you know it's got standard.
There are two sets available, which come in different toppings — sweet (shredded egg yolk) and savoury (sweet and salty shredded coconut). Both sets come with 12 crispy mini pancake sheets, sweet fluffy cream, and your topping of choice.
Le Pan Banana Cake (12 Baht / S$0.48)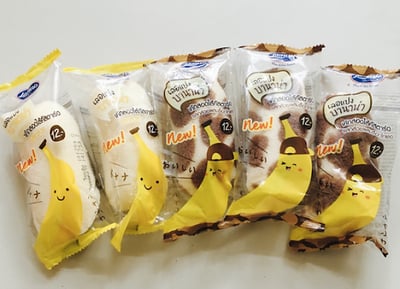 You don't have to travel to Japan for the famous Tokyo Banana, for there's a similar version at a lower cost in Thailand.
Enter Le Pan Banana Cake, which is a banana-shaped, banana-flavoured cake (duh) that is available at all 7-11 outlets in Thailand for only 12 Baht (S$0.48) each.
---
---
Magic Food Point at Suvarnabhumi Airport
Now this is a hidden gem. If you are looking for one last hurrah of good and cheap Thai food before you fly home, this is the place to go.
You can only find Magic Food Point food courts at two places in Bangkok, with one being at Don Mueang International Airport. However, it is temporarily closed according to Google at the time of writing (13 May 2022), so do check online before you go.
The other is at Suvarnabhumi Airport, which is open 24 hours. To get there, go all the way downstairs (the same level as the taxi and airport express) and find this food court near Exit 8.
How to buy food at Magic Food Point
Getting your noms here is a rather unique experience as well. First, you'll have to exchange your Baht for paper coupons at the counter. Use these coupons to pay for your meal there. When you're done, you can exchange spare coupons for cash (Baht only).
We personally love visiting this food court prior to our flight, and we'd always takeaway and hand-carry their mango sticky rice on the plane back to Singapore.
Out of all the packaged snacks we recommended just now, we feel that this item is a little bit more special to bring home to your family because it's literally fresh from Thailand.
---
Bonus
Bonus - Pork floss sticks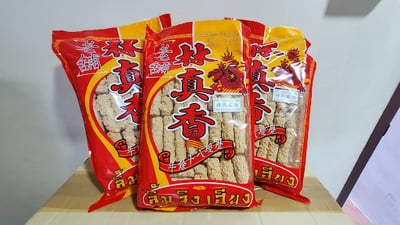 The last time we went to Bangkok, these delicious pork floss sticks were sold around the Pratunam area and one of the souvenir shops located at the top level of Platinum Mall right next to the food court.
Prices range around 250 to 300 Baht (S$10 to S$12) per packet. If you love loose pork floss, this version is a must-buy when you're in Bangkok.
Royal Chitralada Milk Candy (20 Baht / S$0.80~)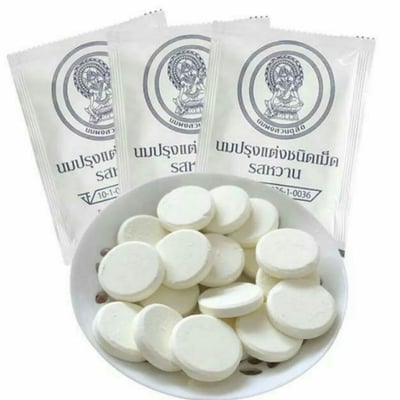 The Royal Chitralada Milk Candy is one of the most famous candies in Thailand, and almost every local knows about it.
It tastes like one of those retro milk tablets we used to have as a kid, and this sweet brings back nostalgia. It comes in two different flavors — original and chocolate — both of which taste delicious.
This candy is widely available and can usually be found near the cashier at pharmacies, convenience stores, tourist snack shops and even at the airport.
Golden Mile sells it too, but at the price of S$1.50 per packet.
---
Save more while shopping in Bangkok by charging to your credit card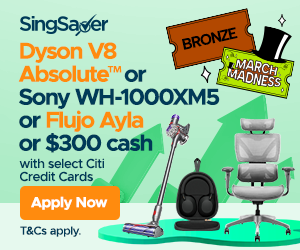 SingSaver Exclusive Offer: Receive a Dyson V8 Absolute™ (worth S$609) or Sony WH-1000XM5 (worth S$575) or Flujo Ayla Ergonomic Office Chair (worth S$1,139) or S$300 cash when you make a min. spend of S$500 within 30 days of card approval. Valid till 2 April 2023. T&Cs apply.
Plus, enjoy up to 2% cashback on all qualifying spend and up to S$646 worth of exciting gifts when you apply for the Citi Cash Back+ card and join Citi Plus. T&Cs apply.
Plus, score a BRONZE ticket (1x chance) in our March Madness Grand Lucky Draw when you apply for a chance to win your share of over S$20,000 worth of prizes! Valid till 2 April 2023. T&Cs apply.
Remember to use a credit card like the Citi Cash Back+ Mastercard to earn some cashback returns for your overseas spending! Get up to 6% cashback on dining at cafés and restaurants worldwide.