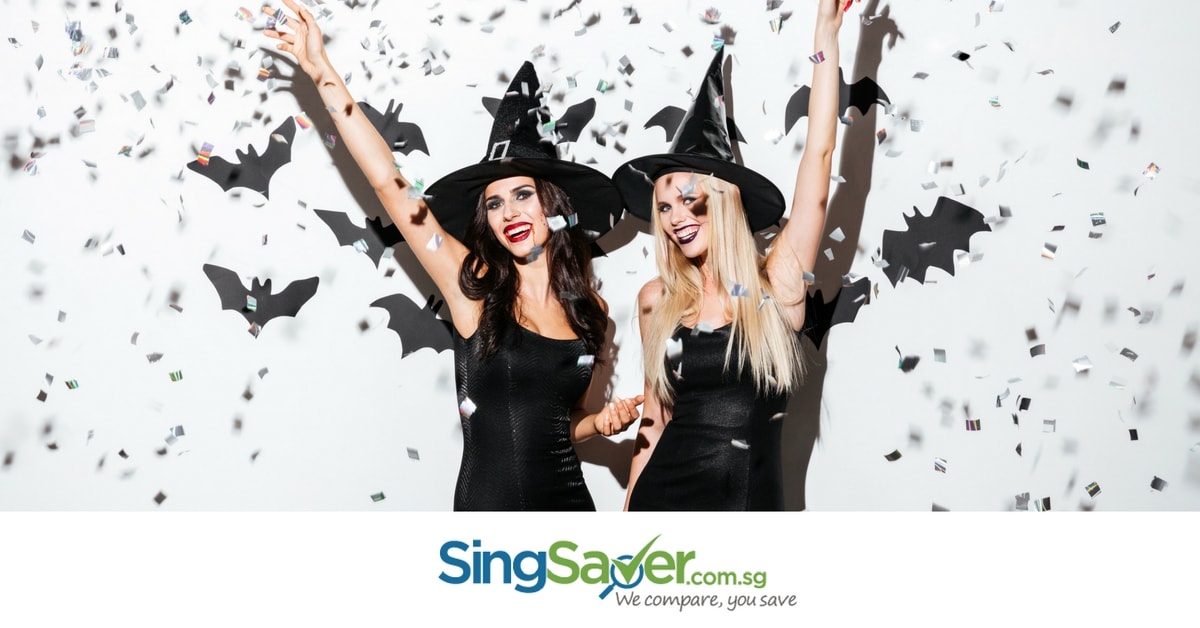 Thinking up Halloween costume ideas in Singapore doesn't have to be a fight between cheap and chic. Here's how to inspire the good kind of shivers, using clothes you might already own.
Halloween is the time of the year when you get to escape the real "scary" things of adulthood — building your career, paying mortgage, blowing out another candle on your cake — by entering a world of faux scary things like vampire costumes or haunted houses at Universal Studios. At least that's what you hope each year.
But you'll find that some people will always show up at a party like they're out to scar you for life with unspeakably bad costumes — not unlike Cady Heron's macabre corpse-bride getup that looks like it could give you a skin rash. (Say "I do… not".)
Yes, we get it, it's Halloween. But we're not 12 anymore. That said, it doesn't, and shouldn't, call for a shopping spree either — because you will end up buying something you won't wear ever again. With a little creativity and some planning, you'll be surprised what you can find in your own wardrobe. If you must shop, however, then at least buy something that can take you from Halloween to Chinese New Year.
First order of business: zero into the theme of the party. Anything that allows you to show up as your favourite character, real or fictitious — think Zelda Fitzgerald, Claire Underwood or Eleven — RSVP oui (see some of our less-than-S$100 ideas below). If it even hints at fake blood, say, no fangs.
THEME #1: Murder Mystery Dinner Party
Who To Dress Up As: Emily Thorne from Revenge
She may not be a true-blue detective, but you don't want to mess with this girl. She's highly resourceful, very dangerous and incredibly charming. But it's her wardrobe that's to kill for.
The Look: Immaculate, regal and even KateMiddleton-esque.
What You'll Need: A classic, tailored dresses in blue, red or white, a pair of heels, a clutch, perfect blonde curls and no smile. Chances are, you already have most of these in your sartorial repertoire.
THEME #2: Stranger Than Science Fiction
Who To Dress Up As: Eleven from Stranger Things
In case you haven't heard, Eleven is the new darling in the world of science fiction. She's the new heroine who doesn't say much but possesses telekinetic powers. Guess you could call her a silent killer. And, like Natalie Portman, she rocks the bald look.
The Look: Assembling random pieces from an abandoned wardrobe to create a vintage-y, effortlessly cool style.
What You'll Need: An oversized pastel pink dress with a peter pan collar, sunnies, striped sport socks and high-top white sneakers.
THEME #3: That 70s #Girlboss
Who To Dress Up As: Gloria Steinem
As much as Gloria Steinem is a fearless leader in the feminist movement, she is also a style icon. Who could forget her signature optical aviators and Bridget Bardot-esque locks? How's that for championing an important cause like a superstar?
The Look: Unmistakably Seventies. Very mod, super chic.
What You'll Need: Tinted aviators, turtle-neck top or polo tee, an A-line mini skirt or flared pants.
THEME #4: Netflix And Gimme The Chills
Who To Dress Up As: Any one of your favourite Netflix characters. We're going with Jessica Jones
We'll bet you'll receive at least one invite with a superhero theme anyway. As long as it does not involve a cape and turning underwear into outerwear, we're good. The ultimate reason: Everything Jessica Jones wears is already in your wardrobe. No shopping required, yay.
The Look: Kick-a** with a devil-may-care attitude.
What You'll Need: A black leather biker jacket, jeans, boots and a perpetual scowl.
Read This Next:
Halloween Horror Nights Promotions That Won't Scare You With Bill Shock
How to Save Money Shopping at ASOS From Singapore

---

By Alexa Fang
Alexa is a pop-culture vulture. She lives to read, write and travel, and decided long ago that life is stranger than fiction. When she's having croissant, she thinks in French. "31 Rue Cambon" is her favourite address, and she believes that money one enjoyed spending is never money wasted.
---