It's soon going to be that time of the year when school's out and the family can really spend quality time together.
December brings with it a spirit of joy for the entire family as you huddle up to eat, play, and head out for holidays with the kids. Holidays that allow the kids to learn about new cultures, absorb values, and have fun while at it.
After all, some of the best learning experiences come from outside the classroom.
So, if you're still undecided about where to take your kids this year end for a well-deserved break, look no further. We've put together the ultimate pick of 5 family-friendly destinations. Think education, fun activities, and a whole lot of memories.
1. Malaysia
So your kids love rattling off 'name, place, animals' from the word go. It might be time for a sanctuary visit. Consider a trip to Bornean Sun Bear Conservation Centre (BSBCC) in Sabah, Malaysia an educational class on environment, nature, and climate. There are bears, macaques, orangutans, and a multitude of flora and fauna to be marveled at. Malayan sun bears are the smallest bears in the world, found only in Southeast Asia and BSBCC acts as a rehabilitation centre for these gorgeous creatures. Take your kids to spend a day here to watch them in their natural habitat to instill a love and respect for nature and its inhabitants. Added bonus: BSBCC is free for kids under 12!
If planning Borneo seems tough, closer home is the Zenxin Organic Park in Johor Bahru that gives you a sneak-peek into Malaysia's largest organic public farm up close. Sign up for a guided to learn about the plants, animals, and farming methods. Home to over a 100 types of vegetables and herbs, this perfect day trip that allows kids get close to nature and have fun while at it.
2. Indonesia
If your kids are history buffs in the making, Central Java is where they can see ancient stories come alive. Head to Borobudur for a generous dose of architecture, art and culture in one of the oldest destinations in Indonesia. A UNESCO World Heritage Site, Borobudur is the world's largest Buddhist temple that shares a glimpse into 9th century architecture and is home to 504 Buddha statues. It's no surprise that over 2.5 million visitors flock to see this temple every year.
3. Thailand
Chiang Mai in Thailand has a lot to offer for kids in terms of edutainment – learning about the Lanna culture and Buddhist influences in particular, and wildlife in general. But what it also offers is an experience of the farm life at its best. Tucked away in a valley surrounded by the lush jungle and rivers of Chiang Mai, Thung Dong Farm Stay is an idyllic spot you'd want to remember forever. Perfect for kids who have a special love for animals (chicken, dogs, pigs, chickens, pink buffalo, and more). Trek to sample the cool springs and the local area or cycle around the farm bike. Don't miss the hot springs near the farm to call it a day after sweating it off in the mornings.
4. Australia
Skip Sydney and Melbourne for your next family holiday in Australia. Pick a destination that combines an educational trip on dinosaurs (yes, you read that right!) for the kids and a calm beach vacation for you and your partner. Western Australia's spectacular hidden gem, Broome has it all for everybody in the family. Located around 2,000 km north of Perth in the Kimberley region, this town is home to ancient dinosaur trails, local experiences and the famous white sands of Cable Beach. Take your kids to Gantheaume Point for some jaw-dropping moments marvelling at dinosaur footprints, go on a camel ride and unwind by the beach as the sky puts on a show at sunset. A holiday to remember? You bet!
5. Japan
Avoid cold, snowy Tokyo and take a holiday to the Okinawa prefecture, a popular family holiday destination round the year, but mostly from March-May and September-December. It's easy to see why – imagine pearly white sands, clear waters and an island landscape to beat the beauty of Hawaii. Once there, take the kids to Okinawa Churaumi Aquarium, known for being the second largest aquarium in the world after Atlanta's Georgia Aquarium. Watch the kids jump for joy walking through four floors with tanks containing deep sea creatures, sharks, coral and tropical fish with a total of 77 tanks. It's a lot like scuba diving to watch marine life unfurl without really getting underwater.
Pro-tips when travelling with children…
We understand. Travelling with kids ain't easy. Even short, day trips require some planning in the unfortunate event of children falling ill and plans derailing. Chances are you will rough it out in search of a local immersive and educational experience, whether that means taking public transport or eating at local markets.
Medical emergencies sometimes come calling as well, so it's best to have adequate cover for medical expenses. And if you'd rather leave the planning to a travel agency, it's good to be prepared for the rare event of a cancellation due to an insolvency of your travel agent. That's why we think travel insurance is a must – especially when you're travelling with the kids.
So it's worth checking out Allied World Travel Protector insurance, which has been built with families in mind. With the option to buy single trip or annual plans (we think families might prefer the convenience of an annual policy) you can benefit from:
● Ability to add an unlimited number of children aged 6 months up
● Up to a very generous $500,000 in overseas medical expenses
● Cover for day trips to Malaysia and Indonesia, so even if you don't stay overnight you're still covered
● $5,000 of home protection in case of fire or theft while you're away
● Up to 30 days of medical treatment upon your return to Singapore
● Cover for travel cancellation up to 60 days before departure, giving you enough time to make alternative arrangements
● Cover for a wide range of leisure activities such as scuba diving, trekking, bungee jumping, hang gliding, tandem parachuting and skiing
● 24 hours FREE worldwide emergency assistance
Perfectly suited for families that take multiple holidays, Allied World Travel Protector is a surefire winner. Especially when you're planning for those summer and winter school breaks, long weekends and public holidays. Get 40% off single trip plans and a lucrative 30% off on annual plans with Allied World.
SingSaver Exclusive Promotion
Purchase any Allied World travel insurance and get $10 via PayNow when applying via SingSaver!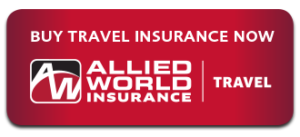 This article is written in collaboration with Allied World
Read these next:
Travel Insurance Promotions and Discounts for November 2019
10 Travel Bucket List Experiences That You Should Buy Travel Insurance For
What Does 'Complimentary Travel Insurance' by Credit Cards Cover And Is It Enough?
5 Reasons Travel Insurance is Extra Important on Cruise Ships