The ultra-rich and the nouveau riche alike have been flocking to Singapore with aims of settling down here. Ever wondered how much are they required to invest to qualify for the path towards citizenship? And how does this benefit Singaporeans?
We're all familiar with the concept of migrating to another country via employment and/or marriage. But for the wealthy, there's another route to foreign citizenship that doesn't depend on your ability to stay employed or attract a marriage partner.
That route is by investment – specifically, by meeting the investment requirements imposed by your host country. Citizenship-via-investment requirements vary from country to country, but generally speaking, as long as you have the money, and don't have any outstanding legal issues, meeting the minimum investment requirements will put you one step closer to becoming a citizen.
Singapore, too, has such a programme – the Singapore Global Investor Programme (GIP). Earlier in March, GIP requirements underwent major adjustments that massively jacked up the bar from the breezy S$2.5 million previously required.
Looks like Singapore doesn't want just anyone planting roots on our fair shores!
Although there are obvious upsides - according to the Economic Development Board (EDB), between 2011 and 2022, GIP investors created 24,699 jobs across a range of roles such as software engineers, researchers, and public relations practitioners.
---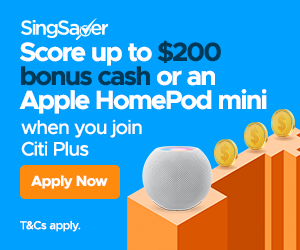 SingSaver's Exclusive Promotion: Receive S$50 cash upon opening a Citi Plus account and get another S$150 cash (total S$200) or an Apple HomePod mini (worth S$139) when you fund a min. deposit of S$15,000 within 2 months of account opening and maintain it for 4 months. Valid till 31 May 2023. T&Cs apply.
Receive your S$50 cash reward for opening a Citi Plus account in just two weeks!
Plus, enjoy up to S$450 cash and up to S$509 worth of exciting gifts when you join Citi Plus and apply for a Citi Cashback+ Mastercard. T&Cs apply.

---
Residence-by-Investment in Singapore – Overview
| | |
| --- | --- |
| 3 options under GIP | Minimum investment required |
| Option A: Invest in new or existing business in Singapore, with minimum 30 employees (half must be Singaporeans). | S$10 million |
| Option B: Invest in funds selected by the Economic Development Board (EDB) | S$25 million |
| Option C: Set up a Singapore-based Single Family Office, with mandatory investments in specified investment categories | S$200 million |
TL;DR - Migrating to Singapore as an investor will take at least S$10 million. That's not a minor amount by any definition, so let's take a closer look at what that sum gets you.
---
Singapore GIP, explained
Singapore's GIP is a fast-track programme to getting a Singapore citizenship. Once your application has been approved, you will be granted permanent resident status, which grants you the right to enter and stay in the country without restrictions or having to apply for visas.
Furthermore, GIP puts on you a 2-year path towards citizenship, although judging by past statistics, citizenship is far from guaranteed. Between 2020 and 2022, only 180 foreigners were granted citizenship through the GIP, according to a press release by the EDB.
For some, having PR status might be good enough, especially those who are unwilling to give up their original citizenship, or those earned in another country (Singapore strictly does not allow dual-citizenship).
Being a PR is sufficient for you to live, invest and do business here without restrictions (or with lessened ones, at least), while slowly working your way towards being a natural citizen by other means, such as marriage, or having stayed here for a number of years.
Next, let's take a look at what each of the three options under GIP actually entail.
---
Looking for a safe way to grow and protect your wealth? Consider a priority banking relationship, which provides you with access to a dedicated Relationship Manager to manage your wealth, and preferential interest rates for your banking needs.
SingSaver Exclusive Offer: Get S$1,500 Upsized Cash via PayNow or an Apple iPhone 14 128GB (worth S$1,311.10) or an Apple Watch Ultra GPS + Cellular 49mm (worth S$1,210.20) when you apply for a Citigold account and make a S$250,000 deposit by 31 July 2023. Valid till 31 May 2023. Receive your reward in as quickly as 2 months after fulfilling the promotion criteria by the end of Month 3. T&Cs apply.
Enjoy up to 7.51% p.a. interest on your savings when you open a Citi Wealth First account. T&Cs apply.
Also, receive a welcome booster of up to S$1,000 Cash when you join Citigold by 31 May 2023. T&Cs apply.
---
Option A (Business investor)
This route asks you to invest in a business enterprise in Singapore – either new or existing – with the explicit goal of adding jobs to the local market.
Note that you do not have to run the business yourself; you simply need to put up at least S$10 million in investment. You can appoint a business director or management team to take care of your business on your behalf, if you choose.
The business must employ at least 30 employees, half of whom must be Singaporeans, and at least 10 must be new hires, in order to qualify for a re-entry permit renewal after five years.
If you can find a suitable business to invest in, or want to start your own enterprise in Singapore, this route is actually quite attractive. You can also appoint yourself as a director of the company to draw a salary to pay for your living expenses.
Related to this topic: Dreaming of Running Your Own Business? Here's How Much Popular Franchises Cost in Singapore
SingSaver Exclusive: Get a S$25 Cash Reward when you open a Tiger Brokers account via SingSaver and fund any amount. Plus, snag a Sennheiser MOMENTUM True Wireless 2 Earpods (worth S$370) if you are one of the first 40 applicants to fund a minimum of USD 1,000. Valid till 17 June 2023. T&Cs apply.
Also, get 2.88 free stocks worth up to S$360 and 0-commission trades. Valid till 29 May 2023. T&Cs apply.
---
Option B (Fund investor)
Option B is perhaps slightly more hands-off, in the sense that you don't need to be involved with a business entity. Instead you will be asked to invest at least S$25 million in certain investment vehicles, tied to Singapore in one way or another.
You will be guided to make your investments in pre-selected qualifying funds that have been shortlisted by the EDB.
This may raise eyebrows among more wary investors who prefer not to be restricted in where they can put their money.
On the flip side, those that trust Singapore's reputation and track record as a global financial hub may be persuaded to look upon this as an opportunity to participate in some solid investment opportunities.
Still, you may want to appoint your own advisors to help you make the best picks and hammer out a strategy that suits your timeline and aspirations.
Related to this topic: 7 Popular Types Of Investment In Singapore (And Tips To Use Them For Optimal Gains)
---
Option C (Family Office)
This option caters to those who are committed to putting down roots – and treasure – in Singapore.
You can opt to set up a Single Family Office (SFO) with Assets-Under-Management (AUM) of at least S$200 million. Of this amount, at least S$50 million must be maintained in any of these four investment categories:
Companies listed on exchanges licensed by the Monetary Authority of Singapore (MAS) e.g., SGX Mainboard and Catalist;

Qualifying debt securities such as bonds, notes, commercial papers, and certificates of deposit that are listed on MAS' Qualifying Debt Securities Enquiry System;

Funds distributed by Singapore-licensed managers that are listed on MAS' Financial Institutions Directory; and

Private equity injection into non-listed, Singapore-based businesses.
Related to this topic: What are Family Office Services, and What Type of Investors are They Suited For?

---
Serious investors only please
It's true, Singapore's GIP is a lot more demanding when compared to similar programmes offered by other countries.
This, however, narrows down the pool of potential applicants to those that are serious about wanting to enter into a mutually beneficial relationship with Singapore.
After all, the purpose of offering residency-by-investment is for governments to attract top talent from around the world who can help drive a country's economy in direct and indirect ways.
In that light, Singapore raising the GIP barriers to entry to their current lofty heights can only be a good thing.
Looking to start your own investment journey? Find the best brokerage to start today!
Read these next:
Gold Investment In Singapore: The Gold Standard 2023 Guide
Rolex Buying Guide: Resale Value, Top Models, And More
Three Key Financial Moves High-Income Earners Need to Make for Better Wealth Management
Credit Suisse & SVB Collapse: Are Your Deposits and Investments Safe With Banks?
5 Types of Alternative Investments You Can Add To Your Portfolio