5. Your FA might not be truthful about his or her background and experience
You screen potential new hires, so why not for your potential financial advisor?
When we asked two ex-financial advisors about how common it was for FAs to lie about experience, both of them mentioned that it occurs more commonly than we think.
One tip is to do some homework to see if there are any problems with the advisor's license.
Simply go to this website and key in their name or representative number.
You'll be able to find out the number of years' experience they have, the company they are appointed under, regulated activities, as well as regulatory actions taken against individuals.
If you've done some digging, subtly conduct an interview with your FA the next time you meet.
If your agent is straight, they won't mind you asking these questions. But if they get defensive, it's time to find a new one.
We think that it's okay to find out as much as you can about your potential FA before hiring them. You wouldn't give just anyone control over your financial stability, would you?
6. You're not going to get sky-high investment returns
"Look at this fund, it has a 360% yearly return. It's made of disruptive tech stocks, Tesla, clean energy stocks, and more. Don't you think that is the future? I have clients who have gotten back 36% of their investment within a month. You can earn just as much, only if you let me manage it for you."
According to the FAs we spoke to, this is simply a method used to appeal to people who are FOMO risk-takers.
If you hear about investment returns that seem too good to be true, they probably are.
If you are an investment newbie and want to start, you can check out these articles:
Take This Before You Go: A Must-Read Guide For Budding Investors
Investment Guide: SingSaver's One-Stop Investment Shop
4 Investing Strategies To Navigate Singapore's Stock Market
The Ultimate Guide To Buying Stocks In Singapore (2022)
Conclusion — do your homework properly, and question your agents
There is no doubt that having a financial adviser can help you identify your needs and find a suitable financial plan for yourself.
There may be bad press about ILPs and agents hard-selling products, but not all of them are a scam — you should read and understand your policy.
If you are not clear, you can even consult another FA from a separate company about it.
Also, many not-so-investment-savvy folks may leave it up to their agent to handle their portfolio entirely.
Make sure your agent even knows what they are talking about. Ask them about market trends and make sure they present you with multiple options for funds rather than just promoting a single one.
---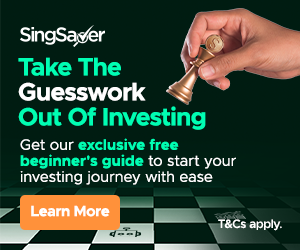 Start managing and saving money like a pro with SingSaver's weekly financial roundups! We dole out easy-to-follow money-saving tips, the latest financial trends and the hottest promotions every week, right into your inbox. This is one mailer you don't want to miss.
Sign up today to receive our exclusive free investing guide for beginners!
---