With Pay Small, American Express cardmembers can split up large purchases into 0% monthly instalments. When is it a good idea to use it?
When you need to make a big purchase without touching your emergency cash, a credit card 0% instalment plan can be a real lifesaver.
These plans split up large purchases into small, fixed monthly instalments over a period of 6 - 24 months. Doing so leaves you with enough cash to deal with daily expenses, and keeps your savings untouched in case a bigger emergency happens.
Today, American Express launched a 0% instalment plan for all Singapore-issued Amex credit cards. Called Pay Small by American Express, cardmembers who charge at least S$250 for a single purchase can break payments into monthly instalments of up to 24 months.
What is Pay Small By American Express?
Pay Small is a 0% instalment plan available for the American Express True Cashback Card, American Express Platinum Card, American Express CapitaCard, and American Express Singapore Airlines KrisFlyer Card.
With Pay Small, cardmembers can split large purchases into 6, 12, 18, or 24-month instalments. In order to participate, you must charge at least S$250 on a single purchase at partner merchants. Your account must also be in good standing, and the purchase price should be well within your credit limit.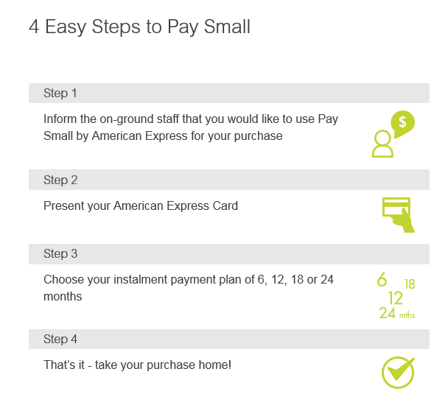 Using it is as simple as presenting your American Express credit card and letting the store know that you'd like to place your purchase on Pay Small. Then, choose your desired instalment period.
Currently, Pay Small is accepted by a number of merchants across Singapore, including Mustafa, Harvey Norman, Epicentre, and Castlery.
Should You Use Pay Small for Large Purchases?
Instalment plans make gadgets, furniture, and other major purchases more affordable, but you shouldn't use it for everything. Using Pay Small locks you into a financial commitment, and you need to make your payments faithfully and promptly throughout the plan's duration.
We've outlined some general guidelines on when to use your credit card instalment plan, and the same things apply for Pay Small. Here are other things to keep in mind:

You Won't Get Any Cashback, Miles, or Rewards Points
If you think that S$2,000 MacBook will mean 2,200 more KrisFlyer miles on Pay Small - it won't.
The one major drawback of using Pay Small is that you won't be getting cashback, air miles, and other credit card rewards for your purchase. That's because the instalment plan is the reward.
When an item is placed on Pay Small, American Express pays the merchant the full price of the item. So you're not actually paying back the merchant with your monthly instalments; you're repaying American Express. In other words, Amex is lending you money for what you bought, so there's no real need for them to add rewards on top of this.
But because Pay Small is a new service, there are a couple of welcome offers from participating merchants. Until 30 April 2017, you can enjoy the following when you Pay Small:
Get a S$50 Takashimaya voucher when you spend S$2,500 at participating merchants or more

Get a S$100 Harvey Norman voucher when you spend S$1,000 at Harvey Norman

Get a S$100 The Hour Glass voucher when you Pay Small

Get a S$20 Mustafa voucher when you spend at least S$500 on Pay Small

Get a S$100 Mustafa voucher when you spend at least S$2,000 on Pay Small
It's Only Interest-Free If You Pay Your Bill in Full and On Time
The 0% interest rate only applies if you pay your full balance on or before your statement's due date. Otherwise, the card's interest rate (approximately 24.99% p.a. compounded daily) and a S$60 late payment charge will apply.
So make sure you pay your credit card bill in full and on time.
There May Be Fees Involved
It doesn't cost anything to use Pay Small, and you are free to cancel the plan or pay it off early. However, you will be charged an administrative fee of S$100 if you accelerate your payment, cancel the plan, or cancel your card.
In case of a cancellation, you need to repay the remaining balance on top of the administrative fee.
Your Financial Situation Might Change In a Year or Two
It's tempting to choose the longest possible instalment period in exchange for the smallest monthly payment. But by doing so, you're essentially committing to an 18- or 24-month loan. It's hard to tell what the future holds, especially with an uncertain global economy, and there are serious consequences to missing your payments.
Given that, we recommend limiting Pay Small purchases to items you can comfortably afford and pay off within 12 months or less.
Don't have an Amex credit card yet? You can compare American Express credit cards at SingSaver.com.sg.
Read This Next:
Best Credit Cards for Large Purchases in Singapore
6 Things You Didn't Know About Your Credit Card's 0% Instalment Plan