You don't have to go to a spa or gym to sweat it out. Work out without working out with this list of best personal portable saunas in Singapore.
Welcome back to Phase 2 (Heightened Alert), where activities that require masks to be removed like facials and saunas are ordered to cease.
For those who regularly enjoy a sauna, don't fret. You can continue to have a relaxing sweat session in the comfort of your own home. Here, we have rounded up a variety of portable home saunas — infrared, steam saunas and more — with different price points ranging from as cheap as S$64.90 to several thousand dollars.
Last updated on 23 July 2021. Prices and availability of saunas subject to change without prior notice.
7 Best individual, portable saunas in Singapore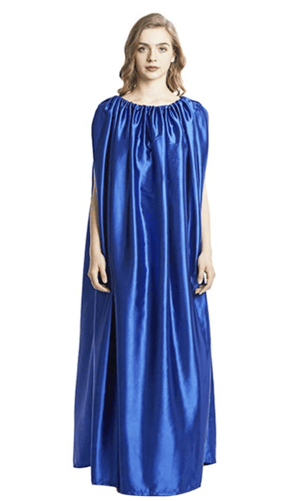 Look like a Greek goddess while steaming yourself in one of the cheapest portable saunas that you will find. It's actually meant for um, vaginal steaming, but who says you can't get creative? Doing a full-body steam with this heat-trapping, body-length gown is entirely possible — just pop a pail of hot water underneath and go to town.
Besides, cleaning up is much easier — just throw the gown into the washing machine and hang it to dry.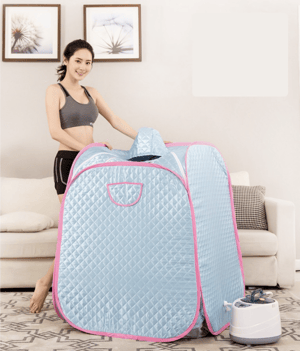 Built just like a tent, this lightweight and foldable product is easy to set up and dismantle.
Choose from three models available:
Standard Model (totally covered up)
Upgrade Model (with slots for both hands and compartment to keep devices)
Deluxe Model (more spacious with free chair)
All models come with a 2L steam generator with a large stainless steel inner pot (sufficient for 45 minutes of steaming) as well as a three-layer tent with insulation.
As this is a local seller, you can be sure that your stock arrives quickly. In addition, it also comes with a free one-month warranty. If you want to extend your warranty, they also offer six months and 12 months of extended warranty.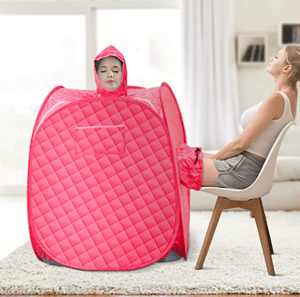 This portable sauna, just like the one above, folds into a neat circle and is perfect for storing after use. It is also equipped with a leg steam hole so that two people can enjoy the sauna at any given time. With two slots for both arms, you can read books, use your phone and more during the session.
The product comes with a 2.6L large capacity steamer and nine temperature settings, so that you can adjust the heat to your liking. For busy bees, you'll be glad to know that it only takes around 10 minutes to warm up the whole sauna.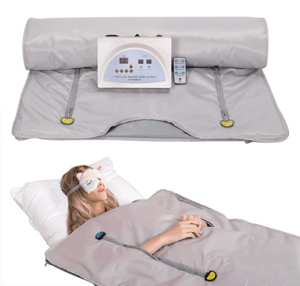 For those who prefer lying down, you can check out this infrared sauna blanket. Weighing about 4kg, this weighted blanket will feel like a warm hug, making your sauna experience extra comfortable. The blanket also comes with arm holes so you can use your phone at the same time.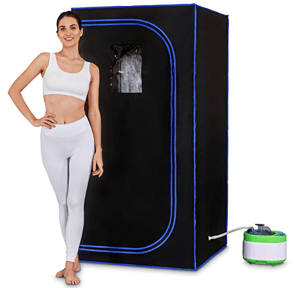 This fully-enclosed sauna tent comes with both steam and infrared sauna options, which is perfect if you can't decide between both types.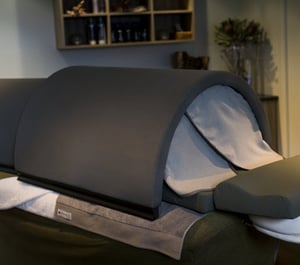 Want to splurge? Get this S$4000 futuristic-looking sauna bed for one. The Solo System sauna delivers clinical-grade far-infrared heat that will raise your core body temperature, inducing a deep, healthy sweat.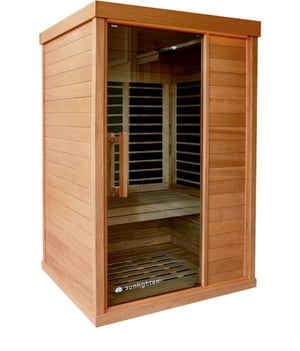 The ultimate sauna experience from the comfort of your own home. This low-EMF (ElectroMagnetic Fields) sauna features a built-in bench for you and a plus one to enjoy an infrared sauna.
This sauna can take on 36-hour long sessions and even has an audio system so you can listen to your favourite podcast while steaming.
The average price of a portable sauna
As you can see from our list of recommended saunas above, the cost of at-home saunas can vary greatly, depending on the build and functions you're looking at.
Some of the most affordable saunas would be the gown and tent-like ones, which are available on online sites such as Amazon, Lazada and Shopee, with prices ranging anywhere from S$60 to S$270.
The pricier ones can go up to thousands of dollars, but you get what you pay for — fancy tech including touchpad controls and quality entertainment features to make your steaming experience more enjoyable.
The difference between infrared saunas and steam saunas
Before you add to cart, you'll need to know what type of sauna you want to get. Basically, there are two main types of saunas: infrared saunas and steam saunas. Here are their differences:
Infrared saunas are known as dry saunas. They typically use a heating element — for example, a stove — to heat up the small space. They emit both dry heat as well as infrared heat, which is invisible to the naked eye. Infrared saunas penetrate deeper into your core, raising your internal temperature more effectively.
Steam saunas are the traditional saunas you would think of — steamy, hot and humid. These traditional saunas heat the air and not the person. Steam saunas are typically far hotter than an infrared sauna and you might spend less time in a steam sauna due to the heat.
Higher temperature ≠ better. Depending on your personal preference, you might prefer a cooler temperature that the infrared sauna provides as it means you can stay in the sauna a tad longer.
Overall, an infrared sauna might be more affordable if you are looking for an at-home personal sauna. Infrared saunas provide deeper heat penetration and you will not feel like you are suffocating. However, most portable saunas tend to be steam saunas.
Pros of owning a portable sauna
Say goodbye to gyms and spas
It doesn't matter if Singapore goes into Circuit Breaker again. You don't need to go to a gym or spa anymore now that you have your very own personal sauna. While a portable sauna is not the state-of-the art facility that you're used to, it still serves its purpose — helping you sweat.
Simple to operate
You don't need to be a genius to use this device — all you need to do is to turn it on, add steaming hot water (for some saunas), and go to town.
Affordable
A S$20 sauna gown or a gym membership that costs a couple hundred dollars a month? Take your pick.
You can use your portable sauna anywhere, anytime
With your very own portable sauna, you're free to use it in the living room, bedroom or wherever you want. Heck, you can even take it with you on your staycation!
Reap various health benefits
The regular use of saunas is said to help flush out toxins, improve your skin and overall health, as well as boost metabolism. If you're a busy bee, having sauna sessions may also help to relieve stress and ease body pains and aches.
Cons of owning a portable steam sauna
Not as long lasting as built-in saunas at the gym or spa
The portable saunas themselves are not the highest quality, so there is always the likelihood of a tear or broken zipper after frequent use.
You'll have to take extra precaution on your own
There is a possibility of getting burned by the steam if you sit too close. That's why a chair is always recommended. Your floor may also get wet, no thanks to condensation from steam. As such you should always place a towel down under the pipe or on the floor to ensure that your floor doesn't get too wet.
Extra laundry and work to clean the portable sauna
With all that steaming and sweating, you'll have to do extra laundry and cleaning up, from the chair you sit on to the towel you use and the clothes you wear inside.
Do portable saunas help you lose weight?
As saunas make you sweat, you might lose water weight. In terms of fat loss, not really.
Sauna sessions alone will not help you reach your weight goals — it should be thought of as a supplementary measure on top of a healthy diet and workout.
What to take note of before buying a sauna for your home
So you've decided to get one, but what else will you need to consider?
For one, space is an important factor. Depending on the portable sauna that you get, the more expensive saunas in the list will be better if you can set them up permanently, while the cheaper ones are mostly collapsible. So do make sure you have sufficient space to work around that.
For bigger saunas, you should also take ventilation into consideration. Ventilation ensures that stale, humid air can be constantly replenished with fresh air.
Another side consideration is how often you will be using your portable home sauna. If you plan to use it weekly, it might be worth getting a sauna in your home but if you are a monthly user, a public sauna might be the better option.
While it might be tempting to get a cheap sauna, most of them are not built the same. It is important to take note of the EMF frequencies. Exposure to high EMF frequencies, especially over an extended period of usage, can cause biological effects. So always ask the shop whether their portable sauna has low EMF frequencies.
Where can I put a sauna at home?
Most portable saunas listed above can be used just about anywhere, as long as they're close to an electricity plug. If you are using a steam sauna, it might be better to set it up in your toilet so water can be easily drained. If you are using a sauna blanket, you can do it from the comfort of your bed.
If you are lucky (and rich) enough to have a front yard, setting up your portable sauna outdoors might be a better choice — you can directly drain the sauna outdoors/onto the grass and don't have to take it down as frequently.
How to use a sauna at home — the do's and don'ts
Do's
Check with your doctor before using a sauna, especially if you have existing health conditions
Saunas may not be suitable for everyone. People with high blood pressure, diabetes, heart failure, abnormal heart rhythm or other medical conditions should check with their doctor before attempting this activity.
Drink at least one full glass of water before and after using a sauna
Drinking water will help you avoid dehydration.
If you're new to the entire sauna shebang, start slow and limit your session to no more than five to 10 minutes.
Don'ts
Don't go in your birthday suit during a sauna session
Although it is tempting to steam in your birthday suit at home, you should try to wear looser fit cotton clothing. It will help absorb excess heat and let your skin breathe. For the ladies, it is recommended to go bra-free.
Heat-conducting accessories such as necklace, earrings, rings and watches should be taken off before entering a sauna. Saunas can produce extremely high heat, causing jewellery to get hot and cause burns.
Don't use a sauna if you're not feeling well
Don't drink alcohol or eat a heavy meal before, during, or after using the sauna
Don't stay in the sauna for more than 20 minutes
Is it okay to use a sauna every day?
Generally, it is safe to use the sauna every day. However, especially if you're new, observe yourself and stop when you start to feel unwell.
Building your own sauna — cheap, but risky
If you noticed, most portable saunas mimic a camping tent, connected to a portable steam generator.
This couple from Finland did it outdoors, so it's entirely possible to build your own sauna on a budget.
But do remember that we're in Singapore. Are you really going to pitch a sauna tent at East Coast Park (and risk getting fined while doing so)?
DIY-ing your sauna might not be the best idea in Singapore. If not done correctly, you could cause a fire or accidentally inhale too much smoke from the stove, so it's best to not attempt it.
Conclusion: Is it worth investing in a portable sauna?
If you are looking for an easy-access sauna, then a portable sauna is worth it. Just think of the portable sauna as a self-care kit that you can set up in the comfort of your own home to take the weight off your shoulders.
Shopping for a personal sauna? Click here to find out which credit card can get you the best rebates on your purchase!
Read these next:
4 Reasons Why You Need Personal Accident Insurance If You're Into Sports
Affordable Foldable Bikes In Singapore: Cost, Bike Shop To Visit, Delivery Fees And More
How Much Do Health Screenings In Singapore Cost?
Best Workout Apps To Try At Home Under $30 A Month
The Real Cost Of Fitness In Singapore