We only recommend useful products we love and that we think you will, too.
When it comes to organising your home or making life easier, there are tonnes of cheap and clever products online that can help with that. But with a huge variety of nifty products available on the market, which ones should you choose?
Don't worry, for Singsaver is here to help. We've picked the best of all household gadgets for this article — the kind of stuff that'll make you wonder how you lived without them all this while.
Case in point: a diatomite floor mat. This antibacterial mat is a total game changer for every household. It is made with diatomite, a soft sedimentary rock that is highly water absorbent and desiccative. It keeps the mat mould-free and super dry within a minute, unlike traditional floor mats that get wet and mouldy. This diatomite mat is also an eco-friendly solution that requires no maintenance and is easy to store.
It doesn't matter whether you're tidying up your kitchen or dealing with mildew from the humid Singapore heat — there are loads of genius products online that can help make everyday life so much more convenient. Keep scrolling for a few of our favourites.
Pro tip: If you plan to go on an online shopping spree, make your purchases even cheaper by charging your cart to these cashback credit cards!
Last updated on 26 November 2021. Prices and availability are subject to change without prior notice.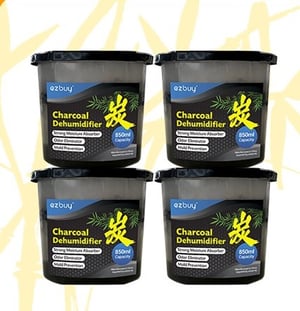 Simple and cheap, these charcoal dehumidifiers are especially effective at removing excess moisture in your living space, eliminating nauseating odours and preventing the growth of unsightly moulds. For just S$3.50, you can get four tubs of 850ml charcoal dehumidifiers, each lasting up to 25 days.
Essentially, you get 100 days' worth of dehumidifiers for just S$3.50. What a bargain!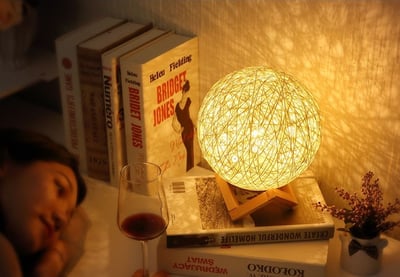 This aesthetically pleasing bedside lamp is great for those who can't sleep in complete darkness.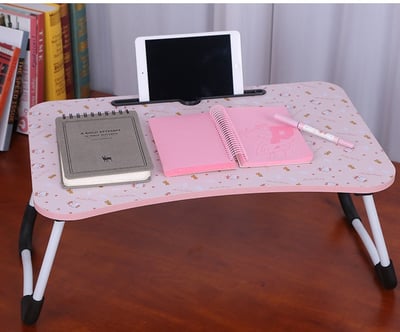 Breakfast in bed? Work in bed? Or perhaps, Netflix and chill in bed? This affordable and portable table will bring you convenience like no other.
Supported by non-slip panels, this table has a generously wide frame that will accommodate most laptops. It even has a slot that fits most tablets and phones. Furthermore, this table is compact when folded up, and can be stowed away when not in use.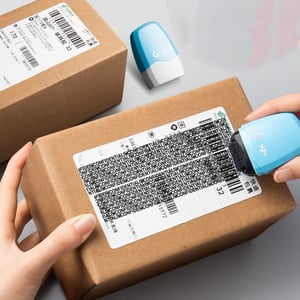 Don't go buying an expensive shredder machine just to get rid of your personal details on mails. With this seal roller, sensitive and confidential information such as bank details can be easily concealed and covered up. Finally, you can throw out that insurance mail without any worries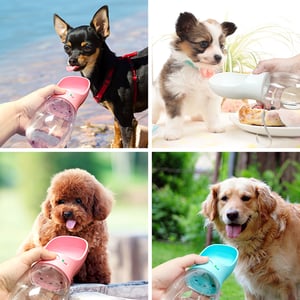 We are all well acquainted with the necessity of staying hydrated, especially when engaging in strenuous activities. Well, our pets are no exception. This convenient and portable bottle is designed to act as a water bottle and water dish, so that your furry companions can indulge in the long walks they crave without getting dehydrated.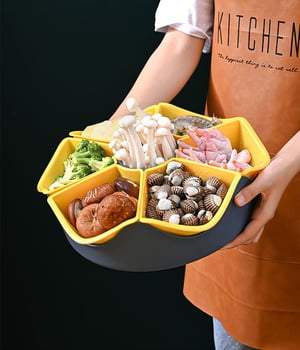 When we think of the ideal home hotpot experience, we imagine an elaborate setup that involves a large spread of ingredients. However, we often neglect the huge pile of dishes we need to clean after the feast.
This nifty product allows you to store all your hotpot ingredients in one basket, reducing the tedious washing up after. Additionally, each of its seven detachable sections has an in-built filtration element that allows easy drainage and convenient cleaning.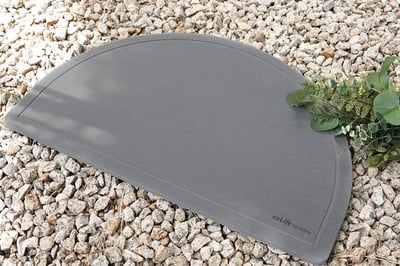 While essential, the conventional floor mat has an inherent flaw that we typically neglect — it remains drenched after extensive use, serving as a hotbed for mould and germs. Yuck.
This diatomite bath mat is a game-changer, because it immediately absorbs all the post-shower water, leaving your feet clean and as dry as stone (geddit?) within seconds. Tried and tested by us, and highly recommended.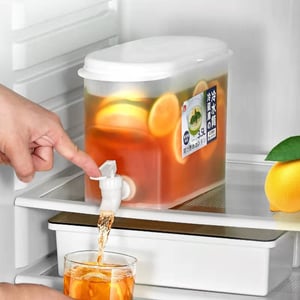 We tend to unknowingly waste precious time on menial tasks such as boiling water and refilling ice trays. Dispensing drinks is one of these mundane everyday things, so why not save time with this handy water dispenser?
This spacious water dispenser has a capacity of 3.5 litres that can easily store any drink in your fridge. Say goodbye to taking out your jug of cold water, closing the fridge, pouring it in the cup, opening the fridge, putting back the jug and closing the fridge again.
With this dispenser, simply directly refill your cup and shut the door.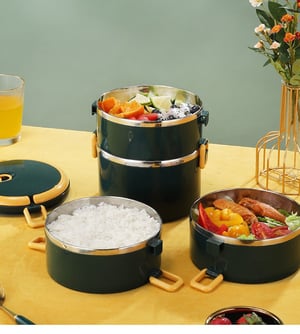 Take your home-cooked meals to a whole new level with this sleek and stylish stackable lunch box. Designed to contain various foods including soup, these stainless steel boxes are leak-proof and easy to carry.
Your colleagues will be begging you to tell them where you get it, and the satisfaction you'll get when you tell them the cost would be priceless.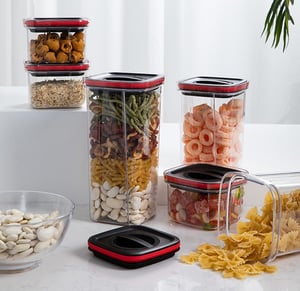 If you're a fan of home organisation TikTok, you need to get this. These sealed storage containers allow you to organise your produce in a systematic way that encourages tidiness in the kitchen.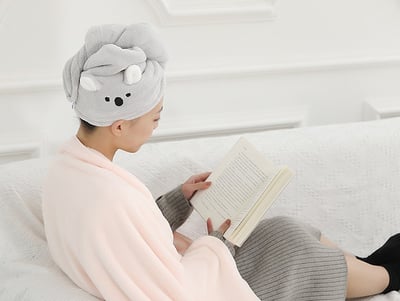 It can be extremely tedious to dry your hair after a shower — body towels are too long and heavy to pin up our hair, making the upkeep of our long and lustrous mane seem more like a punishment than a fashion statement.
For just S$2.20, dry your hair with ease when you don this adorable hair towel that holds your hair up firmly while you put on your makeup or read a book. It is also woven with an absorbent material that hastens the drying process.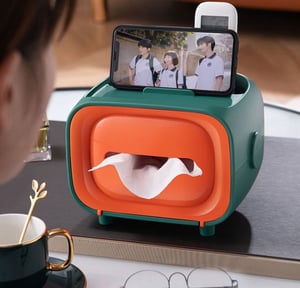 "Where's the remote?" "Where's my phone?" "Where's the tissue box?" If you find these questions familiar, you're definitely not alone. There are just so many household appliances and devices that we keep around that produce unnecessary clutter.
To solve this problem, simply get this multi-purpose storage box that allows you to store household items. Each also comes with space to store a tissue box so that you'll always have a hanky ready whenever you need one. The holder can serve as a Netflix kit to contain the TV remote control, your mobile phone, snacks, and even a personal make-up kit. The possibilities are just endless.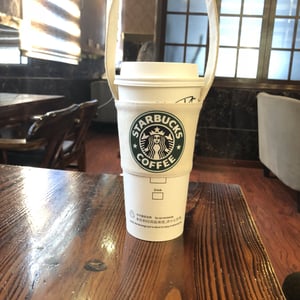 Coffee/bubble tea enthusiasts will love this. The conventional sleeve used for coffee and bubble tea takeaway cups can not only be uncomfortable to hold, but also environmentally detrimental.
Enjoy your beverage without harming our environment with this reusable cup holder, which includes a storage bag you can use for your future takeaway drinks. Time to embrace that zero-waste lifestyle!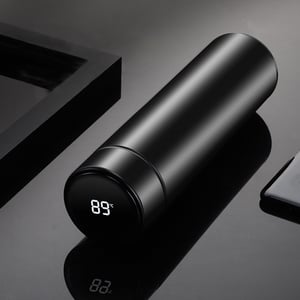 Unlike the heavy and unglamorous traditional thermal flask, this smart thermal flask is made from lightweight stainless steel, making it an excellent insulator of heat. It can also be carried around easily. Boasting long-term heat preservation as a feature, the flask even indicates the temperature of your drink through an LCD display installed on the lid.
For just S$4.60, this thermal flask is packed with features dedicated to your comfort and convenience. Truly a good buy.