With these Wi-Fi devices, you can stay connected while travelling around the world.
It is indisputable that we have grown especially reliant on the internet, accepting it as a means to fulfil our daily routines. Our internet usage has increased exponentially throughout the years as well, with an ever-expanding list of functionalities that can be found online. As such, there is always a glaring concern when we choose to travel overseas, fearing the lack of accessible connectivity that we are accustomed to.
While most local data carriers do provide global internet plans intended for travellers, they are usually exorbitant and restrictive, leaving users frustrated and uncertain. With a portable Wi-Fi router, you can easily strengthen the connectivity of these plans while extending its reach to more users. That way, you can save more money that can be better spent on things you actually enjoy.
Here, we have a comprehensive list of portable Wi-Fi options that are sure to elevate your vacation's connectivity.
How does a portable Wi-Fi work?
Portable or pocket Wi-Fis are devices that possess inherent connectivity through a virtual or physical SIM card. Just like your Wi-Fi router at home, simply connect to the assigned network with your mobile device or laptop once the portable Wi-Fi has been switched on. The data it provides is usually unlimited, however, internet speeds might drop once you have exceeded a certain amount of data.
How much does it cost?
Prices are highly dependent on the device's download and upkeep speeds. A basic pocket Wi-Fi device comes with an average download speed of 150 Mbps, usually costing less than S$100.
It also considers the compatibility of the device. The advent of 5G technologies complicates things given its novelty, with portable 5G Wi-Fi devices easily starting from S$800.
Which pocket Wi-Fi device is suitable for me?
There are four factors you'll need to consider before deciding on the best device for you.
Size
Portable routers with 5000 mAh batteries can be bulkier than their 2000 mAh counterparts. As such, you'll need to decide between convenience and durability, as lighter devices may require more maintenance via charging.
Power source
Most portable Wi-Fi devices come with a chargeable battery. However, a power supply may not be accessible when you're on the road. Devices with an average battery life may need a small supplementary power supply (power bank) to fuel a day's use.
Download Speed
The amount of data relies heavily on your chosen data plan and destination. Most limitless data plans come with a soft quota of high-speed connectivity, and they revert to slower connection speeds (typically 3G) after the quota has been reached.
If you're simply looking for one that provides access to basic internet functionalities (Google and social media), a device with a download speed of 150 Mbps may suffice. However, if you're looking to provide wide-range access to streaming services, you may need a device that can channel a download speed of 600 Mbps or more.
Number of devices
Some devices can support up to six simultaneous connections - especially suitable for families travelling together. Groups of seven and more should opt for a device with greater connective reach.
To get a pocket Wi-Fi appliance, a data SIM card or both?
Some may choose to opt for a simple data SIM card to accompany them during their travels. While this is adequate for those traveling alone, a single data SIM card will be incredibly slow (via a phone's hotspot) without a portable Wi-Fi amplifier for group travels. Here are some reasons why it is ideal to supplement your data plan with a pocket Wi-Fi device.
Cost-efficient and convenient
With a pocket Wi-Fi device, you no longer need to have multiple data plans spread across the group, concentrating the connection to one Wi-Fi port. You also do not need to rely on your phone's hotspot tool, allowing you to conserve its battery life for recreational activities.
Extensive reach
Your phone's hotspot tool does not possess a sufficiently strong connective reach to support an entire group of travellers. Download speeds may fluctuate at times as well, and a pocket Wi-Fi device provides stability and consistency to your connection speeds.
You no longer have to change SIM cards
This is especially true for phones with a single SIM card port. With a portable Wi-Fi adapter, you'll no longer need to replace your SIM card with a foreign one.
While pocket Wi-Fi appliances with a virtual SIM card may seem like the obvious choice, they have data plans that can be incredibly expensive. Some have data plans that require a commitment of a month, a prospect that is unfeasible for short-term travels. Some operators may not even have networks in your destination, requiring that you get a local SIM card for your online needs.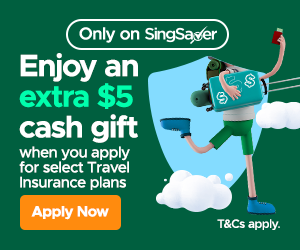 SingSaver Exclusive Travel Insurance Offer:
All successful applicants of any Starr, MSIG, Etiqa, Singlife and Allianz Travel Insurance products will be rewarded with S$5 Cash via PayNow, on top of their respective ongoing promotions. Valid till 31 December. T&Cs apply.
Compare and purchase your travel insurance through SingSaver to get the best deals and discounts for your preferred coverage!
---
Rentable Portable Wi-Fi
Unlike the conventional Wi-Fi amplifier, rentable Wi-Fi devices do not require a SIM card (with an accompanying data plan) to operate. They come with a range of regional/continental packages for you to choose from, after which you can simply activate with a click of a button. They are fuss free and intuitive to use, making them an ideal choice for short-term travels.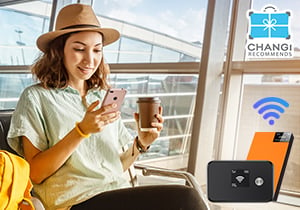 Changi Wifi has long established itself as the go-to option for travellers looking for a portable means of attaining Wi-Fi. From prices as low as S$3.70 daily, you'll get an unlimited flow of data (for selected countries) that can be used by up to five devices. That's less than 80 cents per device for limitless data!
Given that it comes with its own configured 3G/4G Wi-Fi preinstalled, you no longer must go through the hassle of getting a foreign SIM card (or cards if you're going to multiple countries) given that it has a range of very wholesome and versatile Wi-Fi packages. Travelling all over the world? Go for its Worldwide plan (or continent packages) and travel comfortably.
| | | |
| --- | --- | --- |
| Countries | Promotional Price | Promotional Code |
| South Korea, Japan, Taiwan, Hong Kong, Thailand and Vietnam | S$3.70 daily | HOORAY370 |
| Malaysia and Indonesia | S$4.50 daily (Does not include delivery charge) | HOORAYFOC1 |
| Australia, India, Sri Lanka, Cambodia, Philippines | S$7.50 | HOORAY750 |
| Europe, UK and USA | S$8.50 (minimum of 3 days) | VTLFOC1 |
| Middle East, Fiji and Maldives | S$11.30 | HOORAY1130 |
This promotion is valid until 31 December 2022, perfect for those looking to indulge in their wanderlust after a dreadfully long period of travel inactivity!
Destinations
Daily Fair Usage
Canada, Cambodia, Japan, Malaysia, Mexico, South Korea, Taiwan, U.S.A, Vietnam
Unlimited Data Usage (4G)
Australia, Brazil, China, Colombia, Egypt, Europe, Hong Kong, Indonesia, India, Laos, Macau, Middle East, Myanmar, Morocco, New Zealand, Philippines, Puerto Rico, Russia, Sri Lanka, South Africa, Thailand, United Kingdom
500 MB (3G/4G)

Network slows down after data limit has been exceeded – likely to be 3G speeds)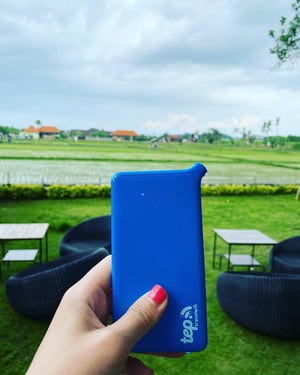 Unlimited data, 12 hours of battery life and an intuitive device – Yogofi's travel Wi-Fi packages are rather self-explanatory, effectively achieving the efficiency and convenience travellers are looking for seamlessly. Additionally, they have especially affordable packages, with unlimited data day passes beginning from S$2.90 per day.
| | |
| --- | --- |
| Destinations | Price |
| South Korea, Malaysia, Indonesia, Thailand, Vietnam, Philippines | S$2.90 per day |
| Brunei, United Kingdom, Spain, Denmark, Italy, Netherlands, Germany, Australia, France, Qatar, UAE, Saudi Arabia, Finland, Sweden | S$6.90 per day |
| United States and Canada | SS9.90 per day |
Yogofi does not limit itself to travellers though, with volume-based and unlimited broadband plans for local users. Get 50GB of data for just S$10 per month, or S$25 per month for unlimited data (though high-speed connections are limited on a quota)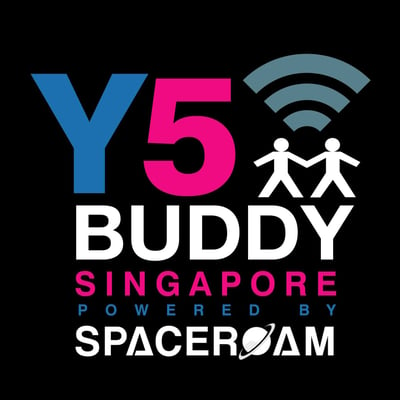 Changi Wi-Fi and Yogofi are indisputably amazing travel options to consider. However, they do not have connective options for travellers looking to travel to more exotic locations like Nepal, Turkey as well as the continent of South America.
Y5buddy has a more comprehensive list of connective networks, providing a means for intrepid travellers to attain portable Wi-Fi. You can find Y5buddy's exhaustive series of connection points here. Do note that a S$50 deposit will be charged upon checkout.
| | |
| --- | --- |
| Exotic Destinations | Price |
| Nepal | S$15 |
| Turkey | S$12 |
| South America - Argentina, Brazil, Chile, Colombia, Costa Rica, El Salvador, Guam, Guatemala, Honduras, Jamaica, Mexico, Nicaragua, Panama, Peru, Puerto Rico, Paraguay, Uruguay and Venezuela | S$12 |
| Israel | S$12 |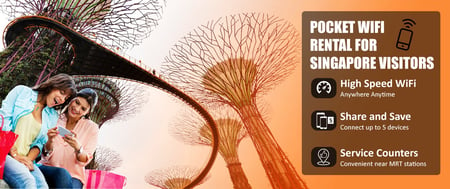 If you need portable Wi-Fi temporarily, Traveler-Wifi has an amazing 4G adaptable hotspot device that has download speeds of up to 300Mbps. With the ability to connect to up to 5 devices, it also has a durable battery that allows up to 15 hours of undisturbed internet access.
Its packages involve access to an international range of networks, including regions as far as the Caribbean and Latin America.
Do note that there will be a S$200 refundable deposit to be paid when you collect your device.
Price: From S$10 per day
Read more here:
The Latest VTL Travel Requirements You Need To Know Before You Take Off
Mobile Data Roaming: What Are Your Cheapest Options When Travelling?
Purchasable portable Wi-Fi appliances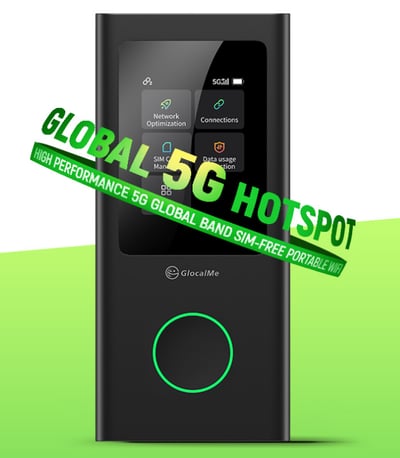 GlocalMe epitomises connective globalisation, with coverage in over 140 countries across Asia, Europe, America, Oceania and Africa. Its newly released device Numen Air is one but a few portable devices with global 5G capabilities. Able to support up to 16 devices simultaneously, it comes with an intuitive touch-screen display that allows you to easily customise the device to suit your connective needs.
It comes with multi-purpose functionalities and doubles as a 5400 mAh battery that can be used as a power bank. It also has an extra nano SIM card slot (if you desire to use your existing mobile data plan) and a Type C port for data transferring and sharing.
Additionally, GlocalMe comes with its series of data plans for worldly travellers. Its global 90-days data plan comes with 15GB of high-speed data that can be used almost anywhere in the world.
Price: S$349.99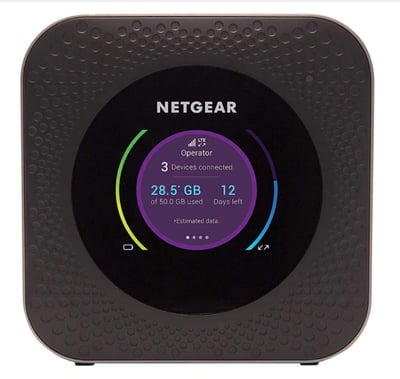 Boasting download speeds of up to 1Gbps, this portable router has connective capabilities that ensure seamless internet access to up to 20 devices. Stream videos of pristine quality with your friends uninterrupted with its 5040 mAh battery, allowing your gang to enjoy the moment uninterrupted the entire day.
It also comes with an ethernet port that connects you to a local WiFi or ethernet network, amplifying its frequency range and strength.
Price: S$399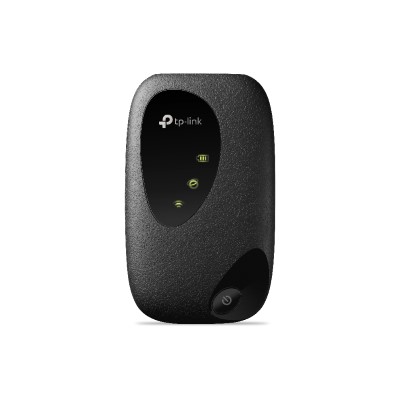 This uncomplicated Wi-Fi tool supports the latest 3G and 4G network technologies, such as FDD/TDD - LTE networks. By just simply inserting your SIM card, you can have this simple device operational in less than a minute, with its tpMiFi phone application allowing you to access and customise your desired settings.
Its 2000 mAh battery provides you with eight hours of lag-free wireless connectivity that can be shared across up to 10 devices. This device can also upkeep a decent download speed of 300 Mbps, allowing you to engage in most online activities seamlessly. This is perfect for anyone looking for affordable and simple Wi-Fi portability that complements an existing local data plan.
Price: S$99 (S$69 for ValueClub members)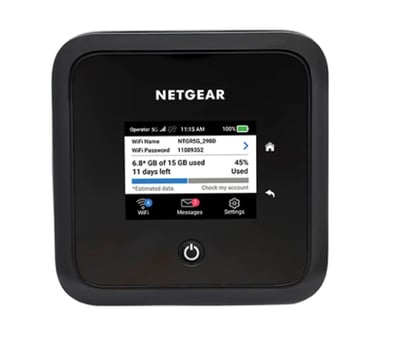 This variant of Netgear's Nighthawk series finally incorporates 5G functionalities, ensuring unparalleled download speeds, frequency reach and novel compatibility (such as with Wi-Fi 6). The winner of 2020's CAS Innovation award, the M5 boasts up to 1.8 Gbps with Wi-Fi 6, its power further augmented by the Qualcomm Snapdragon X55.
Suited to accommodate both local data plans (through SIM cards) and internet connectivity, you can switch seamlessly between the two, depending on your preferred choice. Keep it at home to extend the frequency of your home's internet network, or bring it with you for connection on the go, M5 is one of the most well-rounded and portable Wi-Fi routers you can find on the market.
Price: S$1199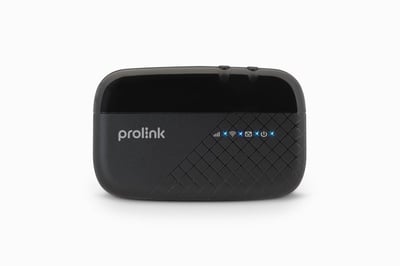 If you're looking for an affordable and well-optimised travel Wi-Fi, Prolink's mobile router may be perfect for you. Though it has speeds of only up to 300 Mbps (with a high-speed Wi-Fi connection), it works with data sim cards across the world with a battery duration of 10 hours on a single charge. You can share it with over 11 users simultaneously alongside a 64GB microSD card.
With the generous array of Shopee promotions to utilise, you can get this at a huge bargain. At this point of writing, you can this device for only half the price (even more with additional promotional codes) at S$79.80
Price: S$159 (promotional price: S$79.80)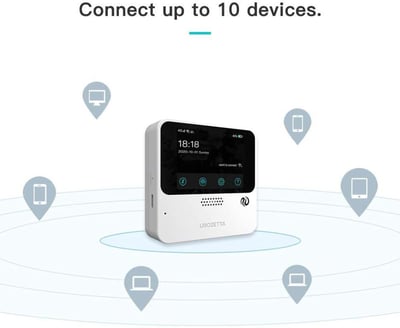 Travelling to the US anytime soon? Urozetta's mobile Wi-Fi comes with 5GB worth of US high-speed data, with the ability for you to pick up additional data through its UROCOMM phone application. Operating on a virtual sim card, you can choose and activate a plan that fits your connective needs, all through an intuitive application interface. In fact, they have plans that cover over 150 countries and regions.
Simply connect the device to your application's account and you're set to go! It also comes with a 5000 mAh rechargeable battery that provides you up to a day's worth of access, alongside the ability to connect to up to 10 devices.
The only downside of this router is its limited strength, with an average download speed of 150 Mbps.
Price: S$50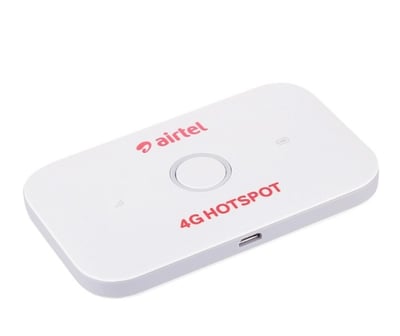 With a simple one-button design approach, simply turn it on to access uninhibited internet access. With a download speed of 150 Mbps (4G), this portable router carries a 1500 mAh battery that can last up to six hours. Its SIM slot is compatible with most local data carriers, with the likes of Circles.Life, TPG and giga!.
With a network hardware that can connect up to 16 users, this mobile router is an easy-to-use device that does the job effectively.
Ensure you're well informed of Shopee's current promotions to reap the most savings!
Price: S$69.45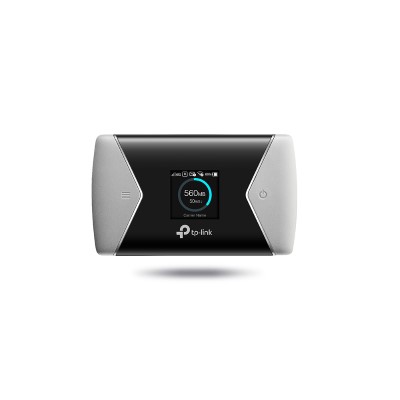 This variant of portable Wi-Fi carries an impressive download speed of 600Mbps, with a dual-band Wi-Fi functionality that works with both 2.4Ghz and 5GHz frequencies. Capable of connecting to 32 devices simultaneously, this mobile router can work effortlessly for up to 15 hours at full capacity.
If TP-Link M7200 4G LTE Mobile Wi-Fi's download speed of 300 Mbps isn't sufficient, this upgrade is definitely worth considering. ValueClub members get credits worth S$4.98 in addition to a promotional price of S$249.
Price: S$259 (S$249 for ValueClub members)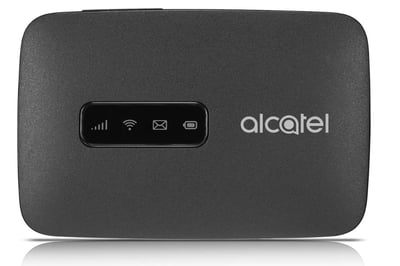 Supporting up to 14 connections, Alcatel's mobile Wi-Fi has download speeds of 150 Mbps and an upload speed of up to 50 Mbps that can cater to most basic internet functionalities. Its 1800 mAh battery allows seven hours of seamless connectivity that can be managed through the LINK phone application.
Price: S$87.98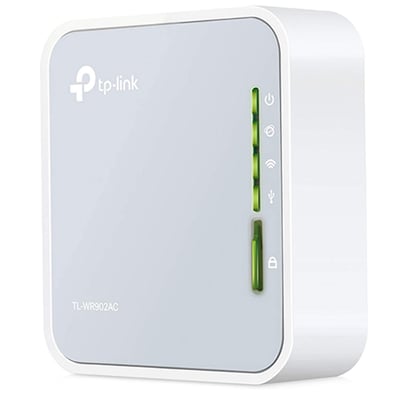 Unlike most of the options in this list, this travel router is built for lightless convenience and multi-functionality, serving as a power bank and a file-sharing port alongside its connective properties.
With a potential download speed of 750 Mbps, this device augments existing connections by maximising network coverage and eliminating dead zones. Create your own access point and hotspot by creating a private Wi-Fi network to be used at your discretion. It even comes with an ethernet port which will be useful during your travels.
However, do note this particular router requires an existing internet connection, functioning more as an amplifier than a provider.
Price: S$53
Before flying off, be sure to purchase your travel insurance to protect your belongings during your travels and in case of emergencies.