SaxoTraderGO is perfect for active traders looking to monitor their investment portfolios on the go.
Saxo Markets is a top-tier investment brokerage firm that offers world-class trading and investment products. Saxo's cutting-edge technology and exceptional customer service make it the perfect choice for someone looking to invest in the stock market. With Saxo, you'll have access to everything you need to make informed investment decisions and grow your portfolio.
What is Saxo Markets and what are its services?
Saxo Markets is a Denmark-based international investment broker that has been in operation since 1992. It provides brokerage, trading, and advisory services to individual retail, institutional and high-net-worth investors across Europe, Asia Pacific and the Americas. It has three main platforms through which you can invest.
SaxoTraderGO
The company offers SaxoTraderGO for mobile traders with an intuitive user interface that includes news feeds from financial media houses, charts of stocks, ETFs, commodities and forex markets, portfolio holdings, account information, watch list, stock alerts, etc.
Products: FX, FX Options, CFDs, stocks, ETFs, futures, listed options, bonds, mutual funds, commodities
SaxoTraderPRO
Saxo also provides SaxoTraderPRO. It has features like advanced trade ticket, depth trader, time and sales data, and algorithmic orders that help modify orders without cancelling them. SaxoTraderPro requires a minimum of S$3,000 to set up an account.
Products: FX, FX Options, CFDs, stocks, ETFs, futures, listed options, bonds, mutual funds, commodities
SaxoInvestor
SaxoInvestor only provides cash products, and offers insights for beginner investors. It's designed to give regular folk an idea of what trends are happening in the market so we can make better decisions when investing our money into different products or themes.
It offers financial tips through its informative catalogues, which showcase various types of investments — from electric vehicles and robotics to minimalist furniture collections — to inspire novice investors looking to become more knowledgeable before making any commitments.
Products: Cash products, stocks, ETFs, bonds, mutual funds
Saxo Markets offers a regular savings plan to invest in managed ETF portfolios provided by asset managers BlackRock and Lion Global. It allows for long-term savings with the initial minimum investment at just S$2,000 per year (plus any additional contributions). The service fee ranges from 0.25% to a maximum of 0.75%.
It has a very active social channel on Facebook, Twitter and YouTube. Its website is also very well laid out and easy to navigate, with lots of information about the different financial instruments being traded at Saxo Markets and types of accounts available. Its educational centre has a series of videos explaining how different financial products work and why you might choose one over another.
Saxo Markets is licensed and regulated by some of the most respected financial authorities in the world, such as the Danish Financial Supervisory Authority (FSA), the UK's Financial Conduct Authority (FCA), and the Australian Securities and Investments Commission (ASIC).
Commission and trading fees
Here's the types of fees and funding methods you can expect from Saxo Markets.
| | |
| --- | --- |
| Minimum commission fee (SG stocks) | S$1 |
| Minimum commission fee (US stocks) | US$0.25 |
| Inactivity fee | None |
| Payment method | FAST, PayNow, MEPS, internet bank transfer or credit/debit card |
| Minimum funding amount | S$3,000 (Bronze) / S$0 (Silver, Gold, Platinum, Diamond) |
| Stock Holding Type | Custodian |
| Trading products | Stocks, ETFs, bonds, commodities, options, futures, funds, FX and CFDs |
And here's what it costs to trade stocks on various markets with the Diamond plan:
| | |
| --- | --- |
| SGX Trading Fee | 0.03% with minimum of S$1 |
| New York Stock Exchange Trading Fee | 0.02% with minimum of US$1 |
| Hong Kong Exchange | 0.10% with minimum of HK$60 |
| Australian Securities Exchange Trading Fee | 0.05% with minimum of AU$6 |
| Tokyo Stock Exchange Trading Fee | 0.10% with minimum of ¥1,000 |
| Forex fees | 0.5 pips for EUR/USD, 1.6 pips for USD/SGD |
Pros of Saxo Markets
There are many pros of using Saxo Markets for your investment needs. Here are some of the highlights:
Excellent trading platforms: SaxoTraderGO is a world-class trading platform that offers an intuitive user interface, advanced charting tools, news feeds from leading financial media houses, and more. It's perfect for both novice and experienced traders.
Comprehensive product offerings: Saxo Markets offer a wide range of products, including stocks, ETFs, commodities, forex, and more. You can find the investment you're looking for with ease.
Exceptional customer service: Saxo Markets offer top-notch customer service that is always available to help you with any questions or concerns you may have.
Wide range of account types: Saxo Markets offer a variety of account types to suit your needs, including individual, joint, corporate, trust, and more.
Demo account: The demo mode of Saxo Markets is a great way for traders who want to experiment with the trading features and functionality.
Cons of Saxo Markets
While Saxo Markets is a great investment broker, it does have some downsides:
Limited availability: Saxo Markets is only available in select countries. If you're not located in one of these countries, you will not be able to use their services.
Pricing: Saxo Markets charges a pretty hefty commission. This is something that may turn off some investors looking to execute smaller trades, but larger investors will find it fairly affordable.
Complexity: There is a learning curve associated with using SaxoTraderGO, as the app is more complex than your standard forex trading platform. However, Saxo provides ample resources to help you learn how to use the app and become a proficient trader.
SaxoTraderGO – detailed review
SaxoTraderGO is a state-of-the-art trading platform that provides features and tools for every type of trader, no matter what their experience level may be. It offers access to an impressive range of markets, including stocks, forex, commodities, and more. It also incorporates news feeds from leading financial media houses for real-time market information.
SaxoTraderGO is available as a desktop app or a mobile app so that you can trade on the go. It's free to download and use.
You can also connect SaxoTraderGO to your brokerage account so that you can trade with ease. Overall, it's an excellent trading platform that offers advanced features and tools for all traders.
Key features
Here's a list of some of the other tools that you can find on SaxoTraderGO:
Market information: SaxoTraderGO incorporates news feeds from leading financial media houses like Reuters and CNBC so that you can stay up to date on market events.
Watchlist: You can add trading targets into your watchlist with ease, then compare them against the current market prices in real-time.
News and research: SaxoTraderGO offers access to a wide range of news and research content to help you make informed investment decisions.
Trading platform: SaxoTraderGO offers a variety of advanced trading features and tools to help you execute trades smoothly and efficiently. You can use your technical indicators to execute trades or try the SaxoTraderGO Sentiment Index.
Portfolio management: You can manage a range of trading and investment portfolios, either as a personal portfolio or as a managed account for clients.
Financial calculators: Use financial calculators to compute margin requirements, trade sizes, and more.
Fees and charges: There are no inactivity fees associated with SaxoTraderGO – you only pay for the products you trade. It also provides various trading tools and research to help you make informed investment decisions.
How does it work?
Saxo's account opening process is fast and easy. All you need to do is sign up using My Info, which will get your details stored in SingPass. You can transfer funds immediately after being approved, by bank transfer, credit card or debit card. The steps are summarised below:
1. Download the app – SaxoTraderGO is available for use via the App Store or Google Play, depending on your device of choice.
2. Sign up to get started – open a Saxo Markets account online by filling out some basic information.
3. Saxo makes trading easy – if you've used other platforms, you'll notice that the layout is very easy to use for buying and selling stocks, commodities, indices, etc. You can also choose between a black or white theme in the settings to suit your preference.
4. There are technical indicators – the charting tools allow you to plot up to three different indicators on top of the price action, like Bollinger Bands, RSI, and MACD (with Histogram). You can also choose between bar or candlestick charts.
5. You can do it all from your phone – whether you're on the go or just want to trade from the comfort of your own home, SaxoTraderGO provides an intuitive mobile app that gives you access to global markets.
Who should use this service and why?
Whether you're a full-time or occasional investor, you'll find SaxoTraderGO provides all the tools and research you need to execute trades and manage your funds.
The Saxo trading platform is a great option for both new and experienced traders. If you're not sure whether SaxoTraderGO is the right platform for you, there's no need to worry – Saxo offers a free demo account, so you can try out all the features of the app before you decide to open an account.
---
Find out more about investing options through our comprehensive comparison of online brokerage accounts. Apply through SingSaver for deals and exclusive offers.
---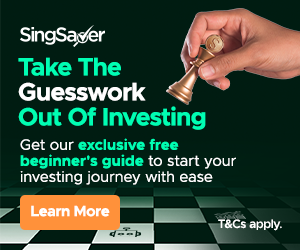 Start managing and saving money like a pro with SingSaver's weekly financial roundups! We dole out easy-to-follow money-saving tips, the latest financial trends and the hottest promotions every week, right into your inbox. This is one mailer you don't want to miss.
Sign up today to receive our exclusive free investing guide for beginners!
---
Read these next:
Uniquely Singaporean Things We Do To Accumulate Wealth
Top Credit Card Promotions And Deals On SingSaver (January 2022)
CPF Special Account (SA) Shielding: How You Can Perform This Retirement 'Cheat Code'
Where to Donate and How to Help Charities During COVID-19
A Complete Guide To CPF In Singapore (2021)