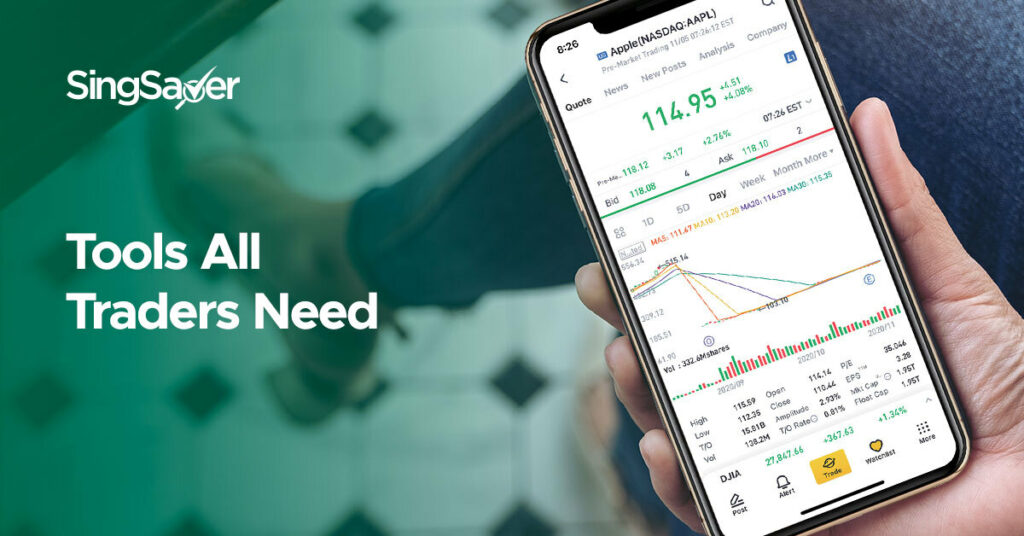 A poor workman blames his tools. However, the right tools in trading can help to make a better investor. Here are some useful features trading apps can offer traders and investors.
Zero commission trades. Easy access to global markets. Free shares and cash rewards. With the advent of DIY investing platforms, financial markets have been seeing a surge in popularity in recent years, as seen from the increase in people trading and investing, both in Singapore and abroad.
The journey of excitement (read: volatility) begins with a brokerage account and the app that comes along with it. Here are the tools traders and investors alike could find useful in a trading app.
#1 Watchlist
The first tool every trader needs is the function to create a watchlist of stocks to keep an eye on.
With thousands of stocks, Exchange Traded Funds (ETFs), indexes and other securities on the stock market, it's difficult (not to mention tedious) for any trader — professional or not — to search for the same few stocks every day.
This is where a watchlist can come in handy, much like the 'Favourites' tab on your internet browser for the sites you frequently visit. A watchlist helps you see the current trading price and percentage change of the stock at a glance.
Watchlists can differ from trader to trader. You can create multiple watchlists for different purposes. For example, you can have a watchlist categorised by the market the stock is trading in:
Watchlist 1: US stocks
Watchlist 2: SG stocks
Watchlist 3: HK stocks
Alternatively, you can also have watchlists based on how keen you are to trade the stock.
Watchlist 1: Stocks to trade
Watchlist 2: Stocks to keep-in-view
Watchlist 3: Stocks you would like to add when the price is right
#2 Stock Screener
Tesla, NIO, Beyond Meat, Tencent or Alibaba — which are today's hottest, most traded stocks?
Whether you're tuned in to the active stocks on the market or not, it's difficult to find the stock you're looking for in the sea of securities available. This is where a stock screener comes into play, helping you filter the stocks based on your preferences.
Criteria for your filters can include:
Percentage change in price
Trading volume
Market Cap
P/E ratio
P/B ratio
ROE
Your trading app can also have the option for you to customise filters based on your needs.
Of course, you could also do your own 'screening', specifically searching for stocks you know well. These could be the ones that you transact with on a daily basis — such as DBS, Sheng Siong and CapitaLand. It could also be the parent company of items and products you love using — the likes of Facebook, Apple, Netflix, Spotify and more.
#3 Trade ideas
Fun fact: Based on Tiger Broker's records, it seems that the most traded stocks by Gen Z in Singapore in Q3 2020 were Tesla, Apple, NIO and MedTech International.
Do those stocks ring a bell? If you're always looking at the same few stocks, why not make the most of the trade ideas your trading app provides?
For example, if you're a user of Tiger Brokers, you can keep an eye out for market opportunities by watching the 'Hot Stocks'.
You can also check out the heat map to find the industries that have highest volume trades and price changes. If you'd prefer to have more diversification to the securities you trade, you can consider trading the in-trend ETFs by viewing the 'Popular ETF'. It also goes one step further to provide investment strategies via Tiger Lab.

#4 Indicators
For your trading app to be an all-in-one app, it has to provide you with the tools for you to do a thorough analysis before you execute your trade.
This means having the indicators available for you to spot opportunities, trends and also for you to find your entry and exit points. Ultimately, for you to make a better trade decision.
Some of the commonly used indicators include:
MACD (Moving Average Convergence Divergence)
EMA (Exponential Moving Average)
RSI (Relative Strength Index)
BOLL (Bollinger Bands)
#5 Drawing tools
You don't need to be an artist to use the drawing tools on your trading app. The tools (completely digital) are fairly straightforward to use and are meant to help you make more accurate trading decisions.
Drawing tools allow you to plot trend lines and spot market opportunities. More importantly, they can help you to determine your entry price, stop-loss price, price to take profit and more. This is especially important for those that rely on technical analysis to make their trades.
Here are some of the drawing tools you can expect to find in your trading app:
Lines (horizontal, vertical, straight lines for trends)
Parallel lines
Fib Retracement
Arrows
Elliott Wave
Head and Shoulders
#6 Fundamentals of the stock
Mid to long term investors might prefer to rely on the fundamentals of the stock to make a decision.
Trading platforms can include key information on the company's fundamentals, such as:
Dividend
Dividend yield
Earnings per share (EPS)
Net asset value (NAV)
Price to earnings ratio (PE)
Price-to-book ratio (PB)
Return on equity (ROE)
It could also include statistics on price history such as the 52-week high and 52-week low, which provides a good gauge of the stock's highs and lows over the past year.
For ETFs, fundamentals could include the Assets Under Management (AUM), Total Expense Ratio (TER), Net Asset Value (NAV) and more.
#7 Newsroom
While seemingly trivial, a newsroom helps traders to stay up to date with the latest market news and advancements. News (or even tweets — like former US President Trump's) can often be a driver behind sudden market action and knowing the latest updates can help to position your trades and adjust the risks you take accordingly.
An example is the recent surge in the stock price of Signal Advance, an entirely different company from Signal — the encrypted-messaging platform. This was fueled by a tweet from Tesla's CEO Elon Musk recommending people to use Signal.
But you can't possibly read every single piece of news, can you?
Trading apps can go one step further to help you narrow down your scope, flitering the news that matter to you. You can opt to read the related news that affects the stock you're currently trading or looking at.
For example, with Tiger Brokers, you can read the news that affects companies in your watchlist.
---
A trading app that has it all: Tiger Brokers
With so many brokerage apps available on the market, how do you find one that strikes your fancy?
Your favourite trading app would ultimately be dependent on your user experience: how easy it is for you to set up an account, find a good opportunity, to make trades and keep watch over your gains and losses.
It should also allow you to deposit your funds with speed, to ensure that you don't have to wait a few working days for your funds to show up in your account — easily a trade opportunity missed.
A good trading app is also one that offers the tools above and more.
Taking the space by storm in 2020, Tiger Brokers is an online brokerage platform that has seen a 108% growth in the number of new investors in Q4 2020 as compared to Q3 2020, with trading volume also increasing by 215%.
A new-age trading app, Tiger Brokers has seen an increase in Gen Z investors on the platform since February 2020, making up 30% of Tiger's Singapore customer base.
Here's a quick overview of what you'll get when using the Tiger Brokers:
Desktop and mobile app that is aesthetically pleasing and user friendly
Watchlist function sorted by markets
Stock screener with customisable filters
Newsroom (sorted based on your watchlist stocks and more)
Trade ideas that includes investment strategies
Fund Mall: One-stop shop for investing in global mutual funds
Kickstarting your trading journey with a Tiger Brokers account is made easy with their Direct Debit Authorization (DDA) feature that allows Tiger users to deposit funds with them instantly — this means buying the stock that caught your eye the very next day.
If you're considering to open a Tiger Broker's account this new year, now's the time to tap on their attractive sign-up promotions:
Five commission-free trades
Free Level 2 market data for US stocks
Stock vouchers of up to $100

SingSaver Exclusive Promotion: Enjoy 3x chances to win your share of up to S$200,000 in prizes in our epic 101! Milestone Giveaway, including S$5,000 bonus cash each week on top of ongoing promotions. Valid till 20 December 2023. T&Cs apply. Click here to check out our past Lucky Draw winners!
Receive S$120 cash via PayNow or S$140 Capitaland Vouchers when you open a Tiger Brokers account and fund any amount. Fund a min. of USD 1,000 on your account to get S$180 Cash via PayNow or S$190 Capitaland Vouchers. Valid till 20 December 2023. T&Cs apply.
Also, get up to USD 888 worth of prizes and an 8% p.a. interest bonus from Tiger Brokers when you deposit and trade with your Tiger Brokers account. Valid till 22 November 2023. T&Cs apply.

This article is written in partnership with Tiger Brokers.
---
Disclaimer: This article has not been reviewed by the Monetary Authority of Singapore.
Any views shared with Prospective Clients ("Prospects") are suggestive in nature and on a sample basis only. This may also be predicated on assumptions that are made by Tiger Brokers (Singapore) Pte Ltd about the Prospects' investment objectives and risk profile. Our suggestive and sample views extended to Prospects are not to be considered as recommendations made by the Company. Suggestions provided are also based on information that may be shared by the Prospects, the accuracy and comprehensiveness of which Tiger Brokers is not in a position to verify.
Tiger Brokers (Singapore) Pte Ltd (herein "Tiger Brokers") may, to the extent permitted by law, participate or invest in other transactions with the issuer of the products referred to herein, perform services or solicit business from such issuers, and/or have a position or effect transactions in the securities or options thereof. The information herein is for recipient's information only and not an offer to sell or a solicitation to buy. Any date or price information is indicative only and may be changed without prior notice. All opinions expressed and facts referred to herein are subject to change without notice. The information herein was obtained and derived from sources that we believe are reliable, but while reasonable care has been taken to ensure that stated facts are accurate and opinions are fair and reasonable, Tiger Brokers does not represent that it is accurate or complete and it should not be relied upon as such. The information expressed herein is current and does not constitute an offer, recommendation or solicitation, nor does it constitute any prediction of likely future stock performance. Investment involves risk. The price of investment instruments can and do fluctuate, and any individual instrument may experience upward or downward movements, and under certain circumstances may even become valueless. Past performance is not a guarantee of future results. In preparing this information, we did not take into account the investment objectives, financial situation or particular needs of any person or affiliated companies. Before making an investment decision, you should speak to a financial adviser to consider whether this information is appropriate to your needs, objectives and circumstances. Tiger Brokers assumes no fiduciary responsibility or liability for any consequences financial or otherwise arising from trading in securities if opinions and information in this document may be relied upon.
---
Read these next:
Tiger Brokers Review: New Kid On The Block With Low Commissions
Best Brokerage Accounts To Start Your Investment Journey In Singapore
Investing In Exchange Traded Funds (ETFs): A Newbie's Guide To Getting Started
Guide To Real Estate Investment Trusts (REITs), And Whether You're Ready For It
Robo-Investing vs DIY Investing: Which One Should You Choose?