Which credit card is best for your travels: Amex, Visa or MasterCard?
When Singaporeans make purchases on a credit card overseas, there is a currency exchange rate to consider. These rates differ based on the credit cards you use. The differences are small but add up over time. And besides cash, you have to consider other factors like convenience.
So if you were comparing the best credit cards in Singapore to take with you abroad, which one should you choose: Amex, Visa, or MasterCard?


Table of contents:
---
What's the difference between Amex, Visa, and MasterCard?
Visa and MasterCard are intermediaries. They connect merchants with banks, a service for which both parties pay for. Visa and MasterCard process transactions when you pay with their credit cards, but they do not forward you the credit you are using (that money comes from your issuing bank).
American Express (Amex) however, is different. It is both an intermediary as well as a credit card issuer.
All you need to know is that, due to these differences, the available services and costs differ between Visa, MasterCard and American Express.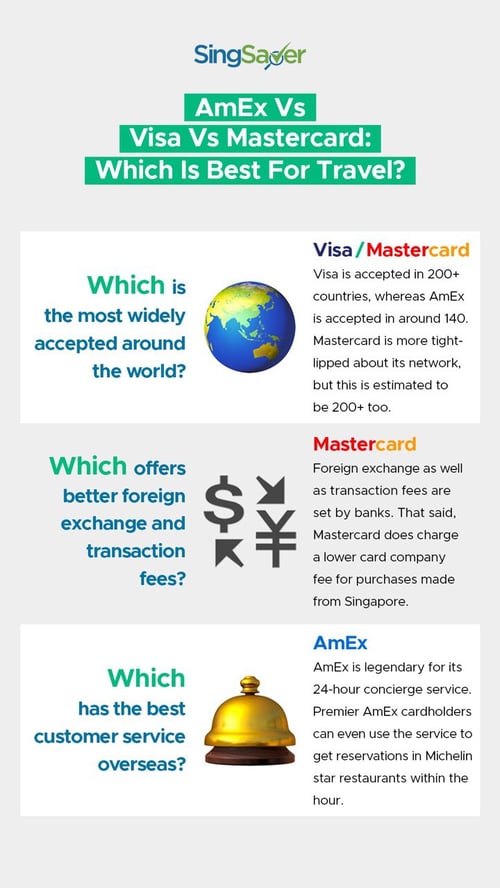 ---
Amex, Visa, and Mastercard: Foreign exchange fees and transaction fees
When you swipe your credit card overseas, several things happen.
Your transaction is converted into Singapore dollars
Your bank (e.g DBS) charges you a fee for facilitating the transaction
Your card issuer (e.g Visa) charges you a fee for facilitating the transaction
This means there are three "fees" in play here:
Cross-Border Transaction Fee
Foreign Exchange Fee or Currency Conversion Fee
Card Company Fee
The card company fees are fixed regardless of the bank. Visa and MasterCard both charge a fee of 1% when you convert currency and make purchases abroad.
However, one difference is that MasterCard has a lower fee (0.2%) if you convert currency, but make the purchase in Singapore. An example is when you purchase something on Amazon.com.
The other two fees – the cross-border transaction fee and foreign exchange fee – change based on the bank. Below is a table of foreign transaction fees you can expect from different card issuers:
Foreign Transaction Fees for Singapore Credit Cards

Credit Card Issuer

Visa

MasterCard

American Express

American Express

-

-

2.95%

CIMB *

3%

3%

-

Citibank

3% - 3.3%

3% - 3.3%

3.3%

DBS

3%

3%

3%

HSBC

2.8%

2.8%

2.5%

Maybank

3.25%

3.25%

-

Maybank Visa Infinite, Visa Diamante, and World MasterCard

3.5%

3.5%

-

POSB

3% - 3.25%

3% - 3.25%

3%

Standard Chartered

2.6% - 2.8%

2.6% - 2.8%

-

UOB

2.8% - 3.25%

2.8% - 3.25%

-
*Note that Visa, MasterCard, and American Express's transaction fee typically ranges from 1 to 1.8%, and the card issuing bank adds another 1.5% to 2.5%. For example in the case of CIMB, Visa and MasterCard each levy a 1% for all transactions made in foreign currency, or made in Singapore dollars while overseas, while the bank itself levies its own 2% administrative fee for transactions made in foreign currencies. This results in the eventual 3% fee reflected here. In some cases where purchases are made out of your currency, there is typically an additional 0.8% to 1% currency conversion fee, sometimes known as the dynamic currency conversion fee.
This means that when you are bringing a card abroad, there's a better chance of getting a good rate from either Visa, MasterCard, or American Express credit cards.


---
Which is the most widely accepted: Amex, Visa, or MasterCard?
How many merchants will accept the card you're carrying? Visa is accepted in over 200 countries, whereas Amex is accepted in around 140 countries. MasterCard is a little tight-lipped about its network, but it's estimated to be accepted in over 210 countries, making it the most versatile option of the three.
Always a good idea to check ahead if your card is widely accepted in your overseas destination. There's no point having a credit card that can only be used in your hotel.
WINNER: VISA


---
Who has the best customer service: Amex, Visa, or MasterCard?
Amex is legendary for its concierge services. The premier Amex cards are undoubtedly the best for overseas use, and its concierge service (at platinum level and above) can reportedly even get reservations in Michelin star restaurants within the hour.
If you're lucky enough to have a premier Amex cards, that's the one you bring with you overseas. It's almost a no-brainer. But even regular Amex cards have a 24-hour hotline if you need help overseas, or if your card gets lost or stolen.
Visa and MasterCard are close in terms of customer service. Visa may be slightly ahead, due to its capability to replace your lost credit card within one business day. The new card can be mailed to your location.
WINNER: AMEX


---
Take note of Dynamic Currency Conversion
Dynamic Currency Conversion is a service that overseas merchants use to convert credit card transactions into Singapore Dollars on your behalf.
For example, if you're shopping in Seoul and swipe your card at a department store, you may see a prompt asking if you'd like to process the transaction in SGD, or in KRW.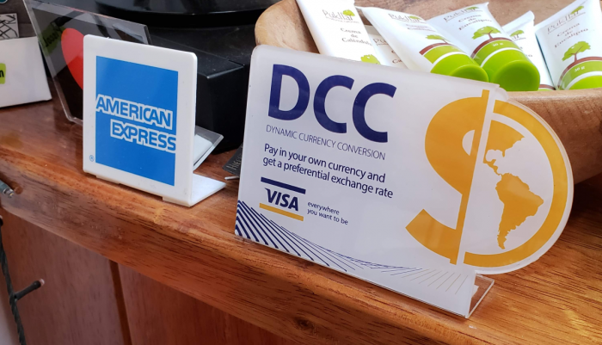 Select KRW, and your payment will go through like any regular overseas transaction. Your bank will determine the conversion rate.
Select SGD, and your transaction will be dynamically converted into SGD at the point of charging. The merchant will determine the conversion rate.
To sum it up: DCC happens anytime you're charged in SGD for a payment that is processed outside of Singapore.
In a nutshell, never ever pay in Singapore dollars when you're overseas, because you end up being charged a higher amount.


---
Conclusion: It's more about the issuing bank than the credit card company
As you can tell, competition between credit card companies is tight. Amex is arguably the best choice if you qualify for their range of premiere cards, MasterCard seems to have slightly wider acceptance, and Visa is quicker on card replacement.
These are good to know, but they're not game changers. That comes down to what other benefits and features your credit card bank issuer (such as rewards, annual fee, interest rate, customer service, and ease of mobile banking) and whether your specific credit card matches your spending habits (for example travel, cashback, dining or shopping).
Consider instead your card's miles earning rate for overseas spend. The UOB PRVI Miles Visa Card, for example, boasts one of the highest overseas earn rates of S$1 = 2.4 miles.
---
Read these next:
6 Credit Cards That Give Free Access To Airport Lounges
5 Best Credit Cards for Overseas Dining
Should You Get An Annual Travel Insurance Plan?
When Does It Make Sense To Pay Your Credit Card Annual Fee?
The Best Miles Cards… May Be Rewards Cards
---