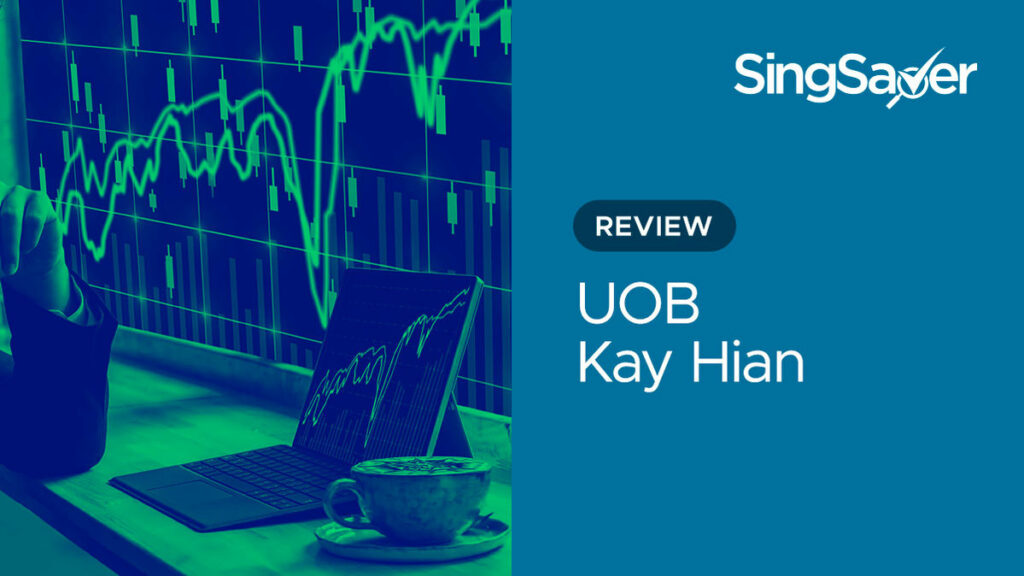 A trusted broker focused on Singapore, Hong Kong, Malaysia and the United States markets.
For its status as the largest broker in Singapore, UOB Kay Hian trades in surprisingly few stock markets. Only four markets are offered: Singapore, Malaysia, Hong Kong and the United States.
Although that may dampen the enthusiasm of investors looking for wider market access, the broker offers varying investment instruments and asset classes, including stocks, bonds, unit trusts, ETFs, forex (FX) and CFDs. That would cater to a variety of trading and investment goals.
Here's what you'll learn about UOB Kay Hian in this article.
Overview of UOB Kay Hian
Product summary
What you can invest in: Stocks, Bonds, Unit Trusts, ETFs, CFDs and FX
Minimum balance required: $3,000 for CFDs account, min. $5,000 for FX account
Deposit fees: None
Withdrawal fees: None
Withdrawal limits: None
Commission: Min. $10 to $25 (SG stocks & stocks CFDs, depending on account type), Min. US$20 (US stocks & stock CFDs), Min. $2.14 (SG corporate bond), $0 sales charge and fees (unit trusts)
Inactivity fee: None
Licence: Authorised by Monetary Authority of Singapore (MAS)
| | |
| --- | --- |
| Pros | Cons |
| Assurance of largest broker in Singapore backed by reputable bank | Relatively high minimum commission charges for stocks and stock CFDs |
| Wide selection of investment instruments: UTs, ETFs, Bonds, CFDs and FX | Additional charges for value-added services |
| Several account types available | Only Mastercard Credit Card accepted for funding Stock CFDs account, with 3% transfer fee |
| More bang for buck: Rewards points, regular promotions | Relatively limited markets available for stocks: SG, HK, MY and US only |
| Current market news and updates, regular webinars for in-depth learning | |
Why should you trade with UOB Kay Hian?
#1: Singapore's largest broker backed by reputable bank
If assurance is high on your list, then UOB Kay Hian's status as the largest, well-regulated broker in Singapore should be attractive to you.
While available share markets are limited only to four territories (Singapore, Hong Kong, Malaysia and the United States), there are many other investment instruments on offer.
These include stalwarts like unit trusts, ETFs, bonds, as well as more volatile choices like CFDs and leveraged FX.
The broad selection of different instruments will suit investors seeking to build a diversified portfolio under the trusted UOB brand.
#2: Variety of account types to better manage investment charges
One criticism frequently levelled against UOB Kay Hian is the relatively high commission charges for stocks and stock CFDs. However, the broker provides a variety of different account types, which helps investors avoid high fees.
For example, if you're interested in trading stocks and stock CFDs, you can benefit from lower commission fees with pre-funded UTRADE Edge or Plus accounts, compared to cash or margin accounts.
Similarly, if you're interested only in unit trusts, you can open a zero-charge account specific to the asset class and execute your trades from there.
#3: Loyalty rewards, regular promotions
The longer the trade with UOB Kay Hian, the more rewarding you'll find it. The broker offers rewards points (1 point per dollar spent on brokerage charges) that you can accumulate and redeem for various perks and benefits.
There are also regular promotions and lucky draws that can help stretch your dollar and make investing with UOB Kay Hian that little bit more rewarding.
#4: Educational resources aimed at fostering long-term success
Investors with UOB Kay Hian enjoy access to a steady diet of market news and investment insights via the 'Research' portal, which features a mix of country highlights, daily commentary and special reports.
They can also sign up for a series of investment-themed webinars that aim to increase investor skills and knowledge through advisories, explainers and forecasts.
Rather than controversial and speculative news, UOB Kay Hian's research takes a grounded approach that prioritises skill-building and long-term success.
Additionally, investors can choose to sign up for value-added services to boost their learning and chances of success, but these are paid services that don't exactly come cheap.
For whom is UOB Kay Hian best suited?
Investors seeking to build a diversified portfolio across stocks, bonds, ETFs, unit trusts, CFDs and FX, with a focus on Singapore, Hong Kong and the United States, and who want a stable and trustworthy platform that rewards long-term relationships.
What charges or fees should you look out for?
If you're trading mainly SG and US stocks and stock CFDs, you should take note of the commission fees, especially their minimums – they are significantly higher than other brokers. However, commissions for other instruments are generally quite competitive.
This is somewhat compounded by the restriction to only Mastercard credit cards when funding your stock CFD account, as you'll be charged 3% of the transfer amount as a fee.
Watch out for a $2.14 monthly fee if you're choosing to stick with paper statements after 1 April 2021, which can be waived if you switch to e-statements instead. Other than that, there are no fees involved for account opening and maintenance.
What are the promotions available for UOB Kay Hian?
If you're thinking of signing up for a UOB Kay Hian investment account, don't forget to take advantage of the following promotions:

Get up to $200 when you transfer your unit trusts
Earn $20 trust monies (capped at $200 per account) for every $10,000 worth of unit trusts you transfer to UOB Kay Hian
Transferred unit trust must be held for at least 3 consecutive months to qualify
Promo valid till 30 June 2021
Switch to e-statement and be rewarded with $25 trade rebate
Opt for paperless e-statement and earn $25 trade rebate
Promo valid till 20 March 2021
Check out the full list of promos here.
How do you open and fund your UOB Kay Hian account?
Opening your UOB Kay Hian account
Click this link to go to the account opening page.
Click on "Online Account Opening" and follow the on-screen prompts.
If your application is successful, you'll receive your login details via email.
Take note that you will need to prepare the following when applying for your account:
Singaporeans and PRs: NRIC (pink or blue)
Foreigners: Valid passport, work permit or employment pass, proof of residential address
Supporting documents including latest income slip, last 3 months' bank statements, CDP account, bank account information
Funding your UOB Kay Hian account
There are several ways you can fund your UOB Kay Hian account, as follows:
| | | |
| --- | --- | --- |
| Funding method | Crediting lead time | Fees |
| PayNow | Almost instant | None |
| GIRO | Same business day | None |
| Internet Banking | Same business day | None |
| ATM | Same business day | None |
| Trust account with UOB Kay Hian | Same business day | None |
| Cheque | 2 to 3 business days | Clearing fees may apply |
| MasterCard credit cards (Stock CFD or Leveraged accounts) | 3 business days | 3% of transfer amount |
At-a-glance comparison: UOB Kay Hian vs Other popular brokers


Commission fee
Minimum deposit
Maintenance fee
UOB Kay Hian
SG stocks & stocks CFDs - min $10 to $25
US stocks & stock CFDs - min US$20,
SG corporate bonds - min $2.14
$3,000 for CFDs, $5,000 for FX
N/A
Maybank Kim Eng
SG stocks - min $10 - $25
US stocks - min USD20
N/A
N/A
Oanda
Daily rates and charges according to market conditions

N/A
Inactivity fee of $10 per month applies after 12 months without trading activity
IG
$10 minimum for equity CFDs per open/close
N/A
N/A
City Index
0.08% or $10 minimum for Singapore CFDs
$150
N/A
Tiger Brokers
SGX stocks: 0.08%, min. $2.88 per order (currently waived)
US stocks: USD$0.01, min. USD$1.99 per trade
N/A
N/A
Interactive Brokers (IBKR)
SGX stocks: 0.08% of trade value, min. $2.50 per order
US stocks: USD$0.005 per share, min. USD$1 per order
N/A
Up to USD$10 per month (less commission paid that month)
TD Ameritrade
$0 (for US exchange-listed stocks, ETFs and option trades)
N/A
N/A
Read these next:
Best Wealth Management Services For The Affluent Ones Among Us
Maybank Kim Eng Review: Multi-market Brokerage Offering Investment In Popular Instruments
Best Brokerage Accounts To Start Your Investment Journey In Singapore
Online Brokerage Comparison: IBKR vs Tiger Brokers vs TD Ameritrade
Best UOB Credit Cards In Singapore (2021)