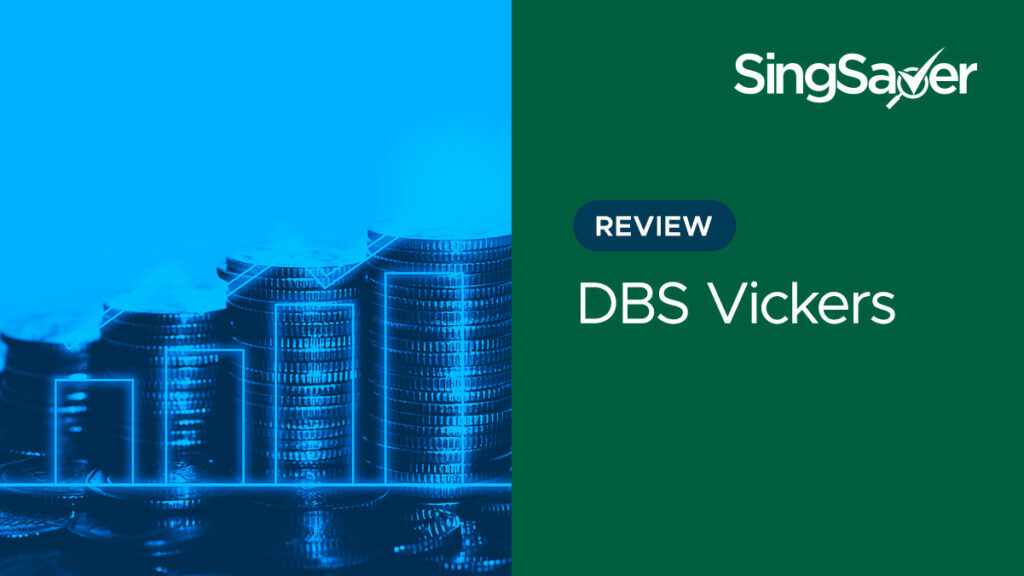 A leading brokerage with plenty to offer both newbies and veterans, but high minimum commission fees may give some traders pause.
As the leading bank in Singapore, DBS is known for customer service that focuses on empowering the customer to do what they want to do.
This philosophy extends to its investment brokerage arm, DBS Vickers, which offers the same friendly and welcoming stance to customers new to investing. You'll find detailed guides online that will walk you through every step of the way, and you'll be making your very first trade before you know it.
At the same time, the brokerage offers a wide selection of investment instruments and access to seven leading global markets, which should prove attractive to experienced traders.
Here's what you'll learn about DBS Vickers in this article.
Overview of DBS Vickers
What you can invest in: Stocks, ETFs, REITs, Fixed Income Securities, Structured Warrants
Minimum balance required: None
Deposit fees: S$0
Withdrawal fees: S$0
Withdrawal limits: None
Commission: SG stocks – 0.28% or minimum S$25, US stocks – 0.18% or minimum US$25
Inactivity fee: None
Licence: Authorised by Monetary Authority of Singapore (MAS)
| | |
| --- | --- |
| Pros | Cons |
| Large variety of investment products across multiple markets | High minimum commission fees |
| Convenient and secure account funding via Multi-currency Account | Rather basic suite of research tools |
| Detailed guides to walk beginners through | |
| Can invest using CPF and SRS funds | |
| Rich library of research and educational content | |
Why should you trade with DBS Vickers?
#1: Large variety of investment products and access to multiple markets
DBS Vickers has plenty to offer whether you're a beginner investor or a seasoned trader.
It offers a wide selection of investment products ranging from the basic ones like stocks, exchange-traded funds (ETFs) and real estate investment trusts (REITs), to more advanced stuff like structured warrants and callable contracts.
Investors can also enjoy a robust trading environment, with access to seven key markets: United States, United Kingdom, Canada, Japan, Hong Kong, Australia and Singapore.
#2: Beginner-friendly and convenient
Those who are new to investing will find plenty of help and guidance here. From detailed sign-up instructions to clear and transparent fees schedules, you can easily find and learn about essential information so you can quickly build your confidence while steering clear of inadvertent mistakes.
Signing up for DBS Vickers is also a convenient and seamless process that is integrated with your existing banking services.
#3: Can invest with CPF and SRS funds as alternatives
DBS Vickers gives you the option of using your CPF and SRS funds to invest.
This gives you an alternative way of investing for your future, while maintaining a free cashflow to meet other financial needs.
#4: Rich research and educational content
The DBS Vickers research team maintains a rich library of research and educational content, ranging from market insights and explainers to economic news, allowing investors and traders to develop a good overview of macroeconomic trends and understanding of market conditions.
Also provided are a selection of investing tools such as analysis tools, charting instruments and price alerts to help beginner investors manage their trades.
However, more experienced traders may find the selection to be too basic and somewhat lacking.
For whom is DBS Vickers best suited?
DBS Vickers is one of the most beginner-friendly brokerages in the market, making it extremely hassle-free.
Another strong point is the close integration of DBS Vickers with its core banking services. For instance, if you already have a Multi-Currency Account (MCA), you can link it to your investment account and start trading in minutes.
This seamless integration makes it easy and convenient for existing customers to begin their investment journey without the hassle of registering at a new brokerage or portal.
What charges or fees should you look out for?
WIth DBS Vickers, the only thing you need to note in terms of fees are the minimums for online trades, which are charged in the currency the trade is made.
Trades in SGD are subject to a minimum of S$25 each, while USD trades have a minimum of US$25. This can quickly eat into your funds if you're in the habit of making smaller trades.
However, percentage wise, DBS Vickers actually offers pretty competitive trading commissions. SGD trades start at 0.28%, and can go down to as low as 0.18% as the value of your trade increases.
Besides that, there aren't many other fees charged on your account, and DBS even offers a free waiver of the fall-below fee for the MCA linked to your investment account.
What are the promotions available for DBS Vickers?
Commission rebate (new accounts)
Enjoy 100% commission rebates on your first five trades
Rebates applicable on online trades only
Promotion valid till 30 September 2021
Only new accounts are eligible
Commission rebate (all accounts)
Enjoy 10% commission rebates for all trades across seven markets (SG, US, HK. CA, UK, AU, JP)
No cap on commission rebates
Rebates on online trades only
Promotion valid till 30 September 2021
How do you open and fund your DBS Vickers account?
Opening your DBS Vickers account
Follow these steps to open your DBS Vickers account
Hover your mouse over the red lock icon on the right-hand side of the screen
Click "Open a DBSV Account"
Follow the on-screen prompts
Download the step-by-step guide for detailed instructions
Funding your DBS Vickers account
You may fund your account using any of the following methods:
| | | |
| --- | --- | --- |
| Funding method | Crediting lead time | Fees |
| DBS Multi-currency Account (MCA) | 2 business days | None |
| GIRO | 1 to 2 business days | None |
| Electronic Payment of Shares (EPS) | 1 to 2 business days | None |
At-a-glance comparison: DBS Vickers vs other popular brokers


Commission fee
Minimum deposit
Maintenance fee
DBS Vickers
SGD trades: 0.28% or min. S$25
USD trades: 0.18% or min. US$25
None
None
OCBC Securities (iOCBC)
SGX: Min. S$25 (online) or S$40 (broker-assisted).
US exchanges: Min. US$20 (online) or US$30 (broker-assisted).
S$1,000 (for 18 to 20 years old)
None for all others
None
TD Ameritrade
S$0 for US-listed stocks and ETF
US$7.44 for online trades of over-the-counter stocks
US$0.70 per options contract
US$2.41 per futures contract


No min. for account opening
Min. US$500 required to receive real time data
Min. US$2,000 for margin capability
Min. US$5,000 to sell options naked
Min. US$25,000 to actively day-trade



N/A
Saxo Markets
Mutual funds and SGX stocks: S$0
US ETFs, CFDs and Stocks: min. S$3
US bonds: min. 0.05%
Bonds, commodities, futures and options: min. S$1.25
S$2,000 for regular savings plan
S$3,000 for SaxoTraderGo platform
N/A
UOB Kay Hian
SG stocks & stocks CFDs: min. S$10 to S$25
US stocks & stock CFDs: min. USS$20,
SG corporate bonds: min. S$2.14
S$3,000 for CFDs
S$5,000 for FX
N/A
Maybank Kim Eng
SG stocks: min. S$10 to S$25
US stocks: min. US$20
N/A
N/A
Oanda
Daily rates and charges according to market conditions

N/A
Inactivity fee of S$10 per month applies after 12 months without trading activity
IG
S$10 minimum for equity CFDs per open/close
N/A
N/A
City Index
0.08% or S$10 minimum for Singapore CFDs
S$150
N/A
Tiger Brokers
SGX stocks: 0.08%, min. S$2.88 per order (currently waived)
US stocks: US$0.01, min. US$1.99 per trade
N/A
N/A
Interactive Brokers (IBKR)
SGX stocks: 0.08% of trade value, min. S$2.50 per order
US stocks: US$0.005 per share, min. US$1 per order
N/A
Up to USDS$10 per month (less commission paid that month)
Read these next:
Best Brokerage Accounts To Start Your Investment Journey In Singapore
Best Investment Sign-up Promotions In Singapore (2021)
Interactive Brokers (IBKR) Review: Pros, Cons and Why They're So Popular
Comparing The Returns & Fees Of The Top Robo-Advisors In Singapore (2021)
7 Popular Types Of Investment In Singapore (And Tips To Use Them For Optimal Gains)
By Alevin Chan
An ex-Financial Planner with a curiosity about what makes people tick, Alevin's mission is to help readers understand the psychology of money. He's also on an ongoing quest to optimise happiness and enjoyment in his life.