Take a drive down the PIE now, and close to the airport, you'll see a rather sad sight — row after row of parked jets, waiting for the worst of the COVID-19 outbreak to pass.
But you know what else is sitting idly? Your miles balance. With multiple countries on lockdown, borders closed and countless flights cancelled, it's a safe bet that none of us will be flying anywhere soon.
That begs the question — what good are airline miles when there are no flights to redeem? Is that stash, that you worked so hard to accumulate, effectively useless now?
Using miles on the ground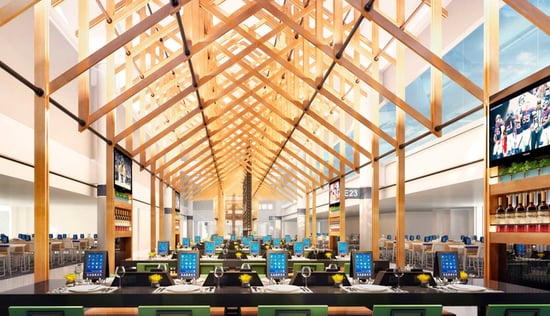 Good thing is, contrary to popular belief, airline miles aren't just for flying. That may have been the case back when frequent flyer programs first launched, but airlines have since moved to diversify the redemption options available.
Today, some frequent flyer programs allow you to use your miles for hotels, rental cars, gift cards, Broadway shows, lounge access, cruises, newspaper subscriptions, dining at the airport and much more. With every additional option added, your miles become more liquid, almost like a de facto form of currency.
There's one major caveat, though. With limited exceptions, spending airline miles on the ground yields poorer value than redeeming them for flights. The general rule is to expect 2-5 cents per mile when redeeming them for flights. For ground redemptions, the value will usually be south of 1 cent each. In other words, airline miles were made to fly.
What else can you do with KrisFlyer miles?
Comparatively speaking, KrisFlyer has relatively fewer options for redemptions on the ground. However, that doesn't mean they don't exist.
Aside from redeeming or paying for flights, your KrisFlyer miles can be used for:
Conversions into Shangri-La Golden Circle
Booking hotels and rental cars on KrisFlyer vRooms
Buying merchandise on KrisShop
Conversions into PAssion TapForMore points
Spending at offline merchants via KrisPay
*KrisFlyer miles can also be converted to Virgin Australia Velocity points, but we'll ignore that option since we're looking specifically at on-the-ground redemptions.
Shangri-La Golden Circle (1.5 cents/mile)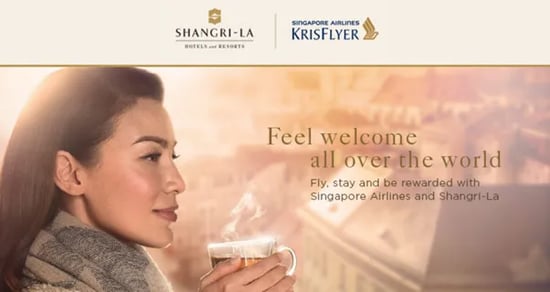 In September 2016, Singapore Airlines and hotel group Shangri-La launched a partnership called Infinite Journeys. This partnership provides for mutual recognition of elite benefits, as well as points conversions between the two programs.

A minimum of 20,000 KrisFlyer miles can be converted into Shangri-La Golden Circle points at a ratio of 12:1.
Now, I doubt anyone needs to book an overseas hotel room at the moment. However, if you were so inclined, you could book a staycation at the Hotel Jen Orchardgateway or Hotel Jen Tanglin (3,500 points/42,000 miles per night), Shangri-La Sentosa (5,000 points/60,000 miles per night), or the Shangri-La Hotel (6,500 points/78,000 miles per night).
Needless to say, I don't think that represents good value. 78,000 miles is enough for a round-trip Business Class ticket to Perth, and I certainly wouldn't blow them on a night at a hotel, no matter how nice.
A slightly more feasible option may be to use your points for dining. Shangri-La Golden Circle points can be used for dining at a rate of 10 points to US$1-1.25, depending on your status in the program.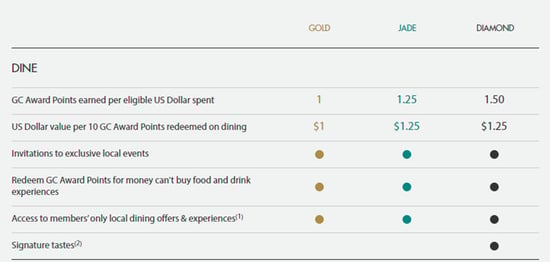 There are 18 restaurants you can choose from in Singapore, including well-known ones like The Line, Shang Palace, Origin Grill, and Nami.
Assuming the higher redemption rate of 10 points (120 miles) to US$1.25 (S$1.78), you'll be getting roughly 1.5 cents per mile. It's nowhere as good as flight redemptions, but also not the worst option imaginable.
KrisFlyer vRooms (0.8 cents/mile)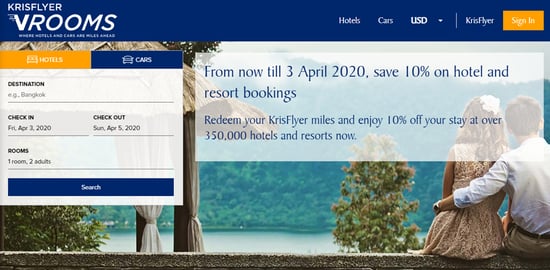 KrisFlyer vRooms is an online travel portal that lets you spend your miles on hotel and rental car bookings.
If you're thinking of a staycation, you can use your miles to pay for hotel rooms at a rate of ~0.8 cents per mile. Based on current prices, a night at the Mandarin Orchard would cost 29,500 miles, and a night at the Regent Singapore 38,000 miles.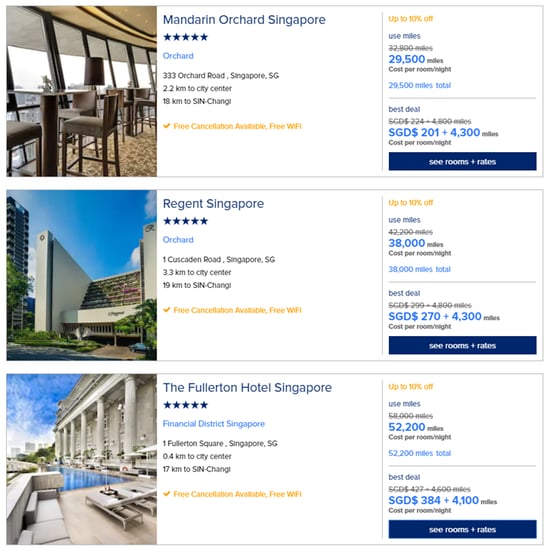 It's also possible to use a combination of miles and cash to pay for the room, if that's your preference.
That said, you'd probably get much better value by booking hotels through an OTA like Expedia or Hotels.com, and stacking it with a cashback site like ShopBack. Many hotels in Singapore are also offering special staycation rates for direct bookings. By spending your KrisFlyer miles on vRooms, you not only get poor value but you may also be paying higher rates than you have to.
Buy merchandise on KrisShop (0.8 cents/mile)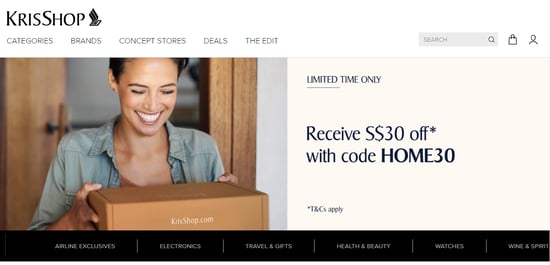 KrisShop is Singapore Airlines' duty free store, offering a wide range of electronics, watches, cosmetics and alcohol. KrisFlyer members can use their miles to pay for merchandise at a rate of 0.8 cents each.

As tempting as it may seem, I'd advise against it. Not only is 0.8 cents a poor valuation of miles, many of the items on KrisShop could be procured cheaper elsewhere. Always be sure to comparison shop on sites like Qoo10, Lazada or Amazon Singapore to check that you're not paying over the odds.
PAssion TapForMore points (0.73 cents/mile)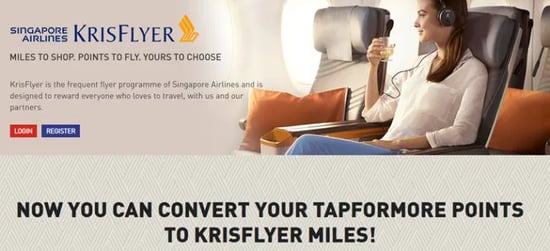 KrisFlyer has a partnership with PAssion card, which allows KrisFlyer miles to be converted into TapForMore points at a rate of 1 mile to 1.1 TapForMore points.
TapForMore points can be redeemed at Dairy Farm Group merchants (Cold Storage, Giant, Guardian, Jason's) at a rate of 150 points = S$1.

Based on this, you're getting about 0.73 cents per mile. It may seem useful if you're going grocery shopping, but there's really no point earning miles in the first place if you're going to cash them out at such a low value. You'd be better off using a flat 1.6% cashback card from the start like the Citi Cash Back + or Maybank FC Barcelona Visa Signature.
---
The newest kid on the block, Citi's Cash Back+ offers a competitive 1.6% cashback on all spend. No minimum monthly spend or cap and the cashback you earn doesn't expire! Apply for one at the link below and you could get rewarded with cash or attractive sign-up gifts.
*Rewards change periodically and applies to successful applicants of selected credit cards only. Terms and conditions apply.
---
KrisPay (0.66 cents/mile)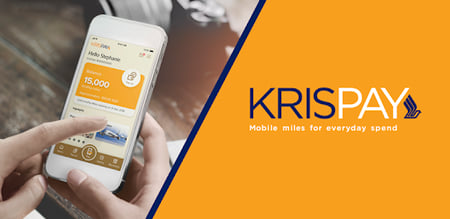 Back in 2018, Singapore Airlines launched its digital blockchain wallet KrisPay, which allows KrisFlyer members to spend their miles at selected offline merchants.
At last count, there are now 77 merchants on the platform, including Challenger, Harvey Norman, and Esso. That said, adoption isn't anywhere as widespread as other mobile wallets like GrabPay or FavePay.
But even if you were able to find a merchant you prefer, the more fundamental question is whether spending miles this way makes sense. That's because KrisPay offers a poor rate of 150 miles = S$1, or just 0.66 cents per mile.
From time to time, KrisPay runs "milesback" promotions which give you a rebate on your spending. This increases the value per mile somewhat, but it's still not what I'd call a great deal.
KrisPay's main use case is for people to spend small (and, I mean, really small) amounts of soon-to-expire miles. Anything else is, likely, a waste of your hard-earned balance.
The table below summarises the value you'll get by redeeming your KrisFlyer miles on the ground. As you can see, they're a far cry from the value you'd get from flight redemptions.
| | |
| --- | --- |
| Option | Value Per Mile |
| Flight redemptions | 2-6 cents |
| Shangri-La Golden Circle | 1.5 cents (if redeemed for F&B) |
| KrisShop | 0.8 cents |
| KrisFlyer vRooms | 0.8 cents |
| TapForMore | 0.73 cents |
| KrisPay | 0.66 cents |
So, where does that leave you? If your miles aren't expiring any time soon, you shouldn't feel pressured to spend them now. Sooner or later, things will return to normal, and you'll be able to extract maximum value by redeeming flights once more.
If your miles are due to expire, see if any of these options work for you. If these don't, try to make the best of a disadvantageous situation by working down the list above, starting with the higher value options before moving to the lower value ones.
In the end, I strongly believe that airline miles were made for flying. So, here's hoping that we get to do that soon again.
Read these next:
If I Get COVID-19, What Will I Need To Pay?
8 Essential Shops Open During COVID-19 Circuit Breaker (7 April-4 May 2020)
Changi Terminal 2 Closure: What Can Travellers Expect?
Food Delivery Promo Codes 2020: GrabFood, Deliveroo, Foodpanda, WhyQ
Love In The Time Of Coronavirus: 6 Activities For Your Date Nights At Home
---
---