Have no plans to travel anytime soon? Don't let your miles go to waste — consider redeeming air miles for cash and more.
Most miles chasers strategise and do what they do for the sake of bagging free award flights to fascinating destinations around the world.
While that's the best use case (in my opinion), sometimes, travel is just not on top of people's to-do list.
If travel isn't a priority for you at this moment, what can you do to avoid forfeiting your hard-earned pool of miles? Well, there are plenty of ways one can redeem airline miles without travelling. Redeeming air miles for cash is one such example.
Best ways to redeem airline miles without travelling
#1 Redeem air miles for cash - purchases
You can easily turn your air miles into cash to offset purchases.
For example, KrisFlyer miles can be used to offset your purchases on KrisShop.com. If you wish, you can mix miles and cash too. The cash component will continue earning 1.5 KrisFlyer miles for every S$1 paid with your credit or debit card.
You can also mix miles and cash to pay for hotel stays and car rentals via KrisFlyer vRooms.
With DBS Points In-Store, you can use your DBS Points to offset purchases at participating merchants instantly.
On the other hand, with Citi Shop with Points, you can use your Rewards Points or Citi Miles at checkout on Amazon.com, shop for Apple® products and more.
#2 Redeem air miles for cash - offset credit card bills
You can offset your credit card bill simply by redeeming your air miles (or rewards points) for cash.
Case in point, Citi lets customers redeem their Citi Miles and Citi Rewards Points instantly via Pay with Points. Similarly, DBS allows customers to redeem their DBS Points via DBS PayLah!, digibank, DBS Rewards website and more.
#3 Redeem air miles for staycations & hotel stays
Did you know you can redeem your miles for staycations and hotel stays right here in Singapore? Simply transfer to a partnering hotel loyalty programme to make this happen.
For example, suppose you've amassed a tidy sum of KrisFlyer miles in your KrisFlyer account but don't foresee yourself travelling anytime soon.
In that case, you can consider converting your KrisFlyer miles to GC Award Points, Shangri-La's Golden Circle loyalty points.
By doing so, you can redeem the GC Award Points for free rooms and upgrades at any Shangri-La hotel and resort worldwide. If you want, you can even redeem your miles for dining and spa vouchers too.
Not sure what to do with your Citi Rewards Points? Consider redeeming them for a 2D1N stay at The Capitol Kempinski Hotel Singapore or 2D1N stay at InterContinental Singapore.
#4 Redeem air miles for gifts and vouchers
If you appreciate gifts and vouchers, you'll be pleased to know your credit card rewards points and miles can be redeemed for those as well.
To put things into perspective, Citi lets you redeem S$20 NEXvoucher with 6,720 Rewards Points or 2,620 Citi Miles, or S$50 Best Denki voucher with 15,940 Rewards Points.
The sky's the limit with the range of merchandise and vouchers available for redemption.
Have DBS Points in your stash? Pick from S$10 NTUC FairPrice Voucher (690 DBS Points), S$20 TANGS Gift Card (1,200 DBS Points), S$10 Toys "R" Us Voucher (700 DBS Points), S$40 Esso Synergy Fuel Voucher (2,600 DBS Points) and more.
#5 Redeem air miles for special events and experiences
Why pay with cash when you can do it with miles? You can use your KrisFlyer miles for a wide range of experiences and activities on Pelago, Singapore Airlines' travel experiences platform.
From food & beverages and arts & culture to sports and adventure, your options for adding extra doses of fun to your life are endless!

Emirates also lets you use your Skywards miles towards exclusive events and experiences, including tickets to major sporting events. Although the programme is temporarily suspended due to global COVID-19 restrictions, it's definitely something worth considering in the future.
#6 Charitable donations
Last but not least, you can do some good with your miles by donating them to a charity close to your heart.
Reward programs like Citi ThankYou, Amex Membership Rewards and DBS Rewards allow you to donate your miles toward causes that support frontline health workers, cancer research, education and more.
How to redeem airline miles?
Most credit cards are flexible and allow you to transfer your miles or rewards points to a frequent flyer programme or hotel loyalty programme of your choice.
To redeem, you'll first have to transfer your rewards points or miles to one of their partner frequent flyer programmes before you can redeem the actual air miles for flights.
You can do so easily on the bank's rewards portal after logging in or directly on your digibank app.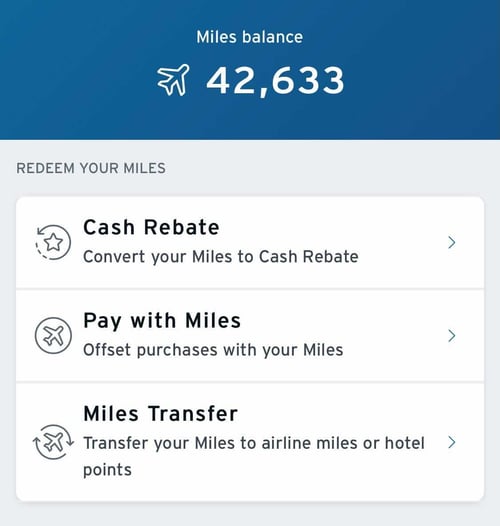 Do note that a conversion fee (approximately S$25 for each conversion) will apply when you transfer your rewards points or miles to a frequent flyer programme.
How to redeem KrisFlyer miles?
If you're holding a credit card that automatically accrues KrisFlyer miles in your KrisFlyer account, you don't have to worry about paying the miles transfer fee.
However, take note that miles in the KrisFlyer account are only valid for three years before they expire.
You do enjoy quite a bit of flexibility with your KrisFlyer miles. Here are your options:
Redeem for award flights
Offset flight ticket prices
Use your miles for hotel stays and car rentals
Redeem miles to pay KrisShop purchases partially or in full
Transfer to Kris+ app to offset everyday spend and adventures at Kris+ partners
Convert KrisFlyer miles to other rewards points
Convert KrisFlyer miles to Esso Smiles Points
Convert KrisFlyer miles to CapitaStar Points
Can KrisFlyer miles be transferred?
| | |
| --- | --- |
| Yes | No |
| Transfer KrisFlyer milesfrom your child's KrisFlyer account to yours after Parental Link has been set up | Transfer KrisFlyer miles to other KrisFlyer members |
| Transfer KrisFlyer miles from your KrisFlyer account to partner loyalty programmes under your name | |
Keep in mind that KrisFlyer membership is strictly personal and can only used by the registered member.
It cannot be transferred, sold or bartered. This is why you aren't allowed to transfer your miles to another KrisFlyer member.
The only exception is where a parent is looking to transfer miles from their child's account to theirs. Therefore, rewards redemption for award tickets and KrisShop purchases can be attained quicker than before.
KrisFlyer miles conversion
1 Citi Mile = 1 KrisFlyer Mile
1 DBS Point = 2 KrisFlyer Miles
1 UOB UNI$ = 2 KrisFlyer Miles
1 Amex Membership Rewards Point = 1 KrisFlyer Mile
2.5 OCBC$ = 1 KrisFlyer Mile
1 OCBC VOYAGE Mile = 1 KrisFlyer Mile
2.5 HSBC Reward PointS = 1 KrisFlyer Mile
2.5 Maybank TREATS Point = 1 KrisFlyer Mile
2.5 Standard Chartered Rewards Point = 1 KrisFlyer Mile
Try to utilise your miles (or rewards points) before they expire
Whether you'll be redeeming your miles or rewards points for actual flights, exclusive experiences or using them to offset your bills and purchases, it pays to stay on top of your credit card game.
The most important takeaway? Use your credit card points and rewards before they expire to avoid any forfeiture! After all, you'd want to enjoy the fruits of your labour instead of letting them vanish into thin air.
Read these next:
Top Credit Card Promotions And Deals On SingSaver
How To Ask For Credit Card Annual Fee Waivers
5 Credit Cards That Will Help You Save The Most Money in 2022
Should You and Your S.O. Get A Couple's Credit Card?
5 Reasons Why You Should Read Your Credit Card Fine Print