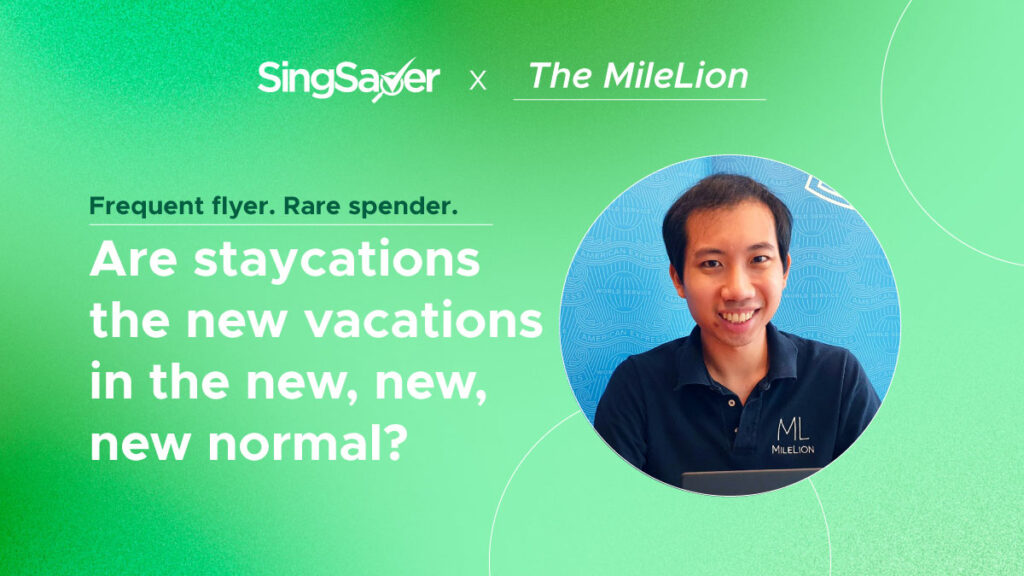 The Vaccinated Travel Lanes (VTLs) have paved the way for leisure travel once again and it feels like it's just like the good old days. But is it, really?
Ever since Singapore took the unprecedented step of closing its borders back in March 2020, the question on many Singaporean's minds has been: when can we travel again?
For a long time, there was no answer in sight. Talk was rife of travel corridors with Australia, Taiwan, even Batam and Bintan, but nothing concrete ever materialised. The Hong Kong ATB proved to be a damp squib, as the inaugural flight was aborted with less than 24 hours to departure, and subsequent editions fizzled out.
But, finally, there's some light at the end of the tunnel. The Vaccinated Travel Lanes (VTLs) have paved the way for the resumption of leisure travel, and at the time of writing, fully vaccinated Singaporeans can visit 10 countries with no quarantine on either side. It's just like the good old days.
Or, is it? While things are certainly much brighter than they were a year ago, there remain formidable obstacles to the resumption of travel in earnest. In fact, for a good number of Singaporeans, leisure travel is likely to be off the cards for another six to 12 months at least.
The problem with VTLs
When the VTL with Germany was first announced in August, it seemed as though prayers had been answered. After 18 months of trading Paris dreams for Pasir Ris reality, here was finally an opportunity for two-way quarantine-free travel.
On closer inspection, however, the picture was more sobering.
First of all, the VTL wouldn't be travel-as-usual. A total of four COVID-19 PCR tests would be required in lieu of an SHN, at a list price of almost S$500 (the price has since come down with the elimination of the Day 3 and Day 7 tests, but certain destinations like South Korea still require travellers to do up to five tests). Multiply that by a family, and you could be looking at a four-digit expense before you so much as purchased a plane ticket.
Second, there's a big wild card in the equation: VTL travellers have to undergo a pre-departure test before returning to Singapore. What happens if that test comes back positive? Under ICA rules, travellers are required to remain overseas for at least 14 days following a positive test, which means 14 more days of hotel and food expenditure - not to mention the implications for your employment back home.
This could be particularly problematic for those travelling with unvaccinated children.
The CAAS recently announced that unvaccinated children 12 and below would be able to accompany their vaccinated parents on VTL flights (from 19 October), but if they test positive, they'll be subject to the same 14 day rule, possibly missing the resumption of school should the trip take place at the end of December.
Third, it's no secret that numerous public and private sector entities have enacted de facto bans on non-essential overseas travel. One individual shared with me the hoops he had to jump through to get approval for a VTL holiday, even signing an agreement with his HR department which stated (in so many words) that they reserved the right to terminate his employment should he be stranded overseas.
Another shared that although his company officially permits VTL travel, his immediate superior sent out a supplementary email saying "but we strongly advise you not to…"
With this kind of mixed messaging, it's no wonder people have reservations about dusting off their passport. Let's not even talk about long-term pass holders, for whom travelling out of Singapore comes with no guarantee of return (although to be fair, VTL travel is much more palatable for this group insofar as they can apply for re-entry approval without their employer's involvement)
If you think about who's best suited to travel on the VTL now, the ideal profile would be someone:
Able to not just work from home, but from a completely different time zone
With Singapore Citizen/Permanent Resident status, so he/she can re-enter Singapore at any time without prior approval
That removes a significant chunk of the addressable population, and that's before we've even taken into account those willing to navigate the vagaries of post-COVID travel in the first place.
For travel to take off in any meaningful way:
Travellers must be allowed to board flights to Singapore as soon as they can present a negative PCR result, regardless of how much time has passed since a positive result
Long-term pass holders must be able to return to Singapore without requiring prior approval
Employers will need to lift their 'soft bans' on non-essential travel, allowing more remote working and not deducting annual leave for time spent on SHN
PCR test prices must come down even further, or else cheaper ART swabs will need to gain wider acceptance
While the recent addition of eight more VTL countries in Europe and North America is certainly promising, one can't help but sense that the primary audience is business travellers - those for whom testing costs are just another claimable expense, and those travelling under the auspices of their HR departments.
Staycations: the new vacations?
For these reasons, staycations aren't likely to go away anytime soon.
If you've already done your share and fatigue is starting to set in (yes, it's quite the First World problem), the good news is that hotels are trying to shake things up by rolling out themed staycations.
For example, the Shangri-La Singapore is offering a Haagen-Dazs staycation, with limited edition merchandise and enough ice cream to give you Type II diabetes. Andaz Singapore is hamming it up with a Halloween-themed staycation package, complete with gimmicks like a specially decorated room, a couple's tarot reading, a best-dressed competition and more.
And if you hate Mondays, then Garfield awaits at the Carlton Hotel, with caps, towels, mugs, stickers and cushions (though the absence of lasagna is shocking).
There's also no sign of staycation deals abating anytime soon. Platforms like Trip.com, Traveloka and Klook continue to roll out special promotions every weekend, and virtually every hotel not doing SHN is aggressively pushing staycation packages.
There are particularly good deals for those who pay with SingapoRediscovers Vouchers (SRV). My advice is not to blow your entire balance at one go, because many deals require you to spend at least S$10 of your balance.
Moreover, thanks to COVID we've seen some deals that would have been unthinkable in the past, such as 1-for-1 nights at the Raffles Hotel, Pan Pacific Hotels offering 100% of the room rate back in dining credits, or the Andaz Presidential Suite for a mere S$760 (S$610 if you had an AMEX card!)
Conclusion
While the expansion of the VTL scheme is a major step in the right direction, high testing costs, the possibility of getting stranded overseas, and the hard/soft bans some employers have imposed on non-essential travel pose formidable barriers to all but the most determined of travellers.
That's why, in my opinion, staycations won't be going away anytime soon. They're certainly no substitute for grabbing your passport and hopping on a plane, but they get the job done in a pinch.
Read these next:
Singapore-Germany Vaccinated Travel Lane (VTL): 7 Things To Know Before You Go
Cruise To Nowhere: Is It Worth Your Money And Time?
5 Reasons Travel Insurance Is Extra Important On Cruise Ships
8 Best Kid-Friendly Family Staycations In Singapore
Affordable Chalet Staycations From $120 A Night