We often turn to movies and TV shows as a form of fun distraction from reality.
However, many of these shows subconsciously teach us some valuable life lessons — especially when it comes to managing our personal finances. From the importance of having emergency savings to the disastrous effects of being too trusting, there's a plethora of movies and drama series with powerful financial lessons. Here are five of our favourites.
The Queen's Gambit (2020 Netflix miniseries)
Synopsis: During the Cold War era, a young orphan named Elizabeth Harmon reveals an astonishing talent for chess and begins an unlikely journey to stardom while grappling with alcohol and drug addiction.
Lesson: Set goals, have the right strategies, be frugal and invest in yourself.
From a young age, Elizabeth knew exactly what she wanted: to be a world renown chess player.
She is focused on her goals, and works hard to achieve them. Despite staying in an orphanage with no income and family support, she tries ways and means to become good at the game first taught to her by the building's custodian, Mr. Shaibel.
Soon, she enters a chess tournament and wins despite having no prior experience in competitive chess. As her tournament winnings grow, she becomes financially independent.
She invests in herself by buying chess books, a travel chess set, and magazines to improve her skills. Despite having some cash, Elizabeth continues to be frugal, continuously checking her expenses while she travels overseas for competitions.
Everyone who has watched this show (or is planning to) can learn a thing or two from Elizabeth when it comes to growing your savings.
Just like how chess players often anticipate a few moves ahead, you should also plan your finances in advance. This starts with having an emergency fund of at least six months, in case anything unexpected happens such as sudden retrenchment or urgent medical care.
Build up your emergency fund with these Best Savings Accounts in Singapore.
Gossip Girl (2007 - 2012 TV series)
Synopsis: Gossip Girl is the Original Blogger who follows the fabulous lives and reveals the dirty secrets of Upper East Side's super rich and famous. Witty bon mots and fashion steal the show.
Lesson: You don't need to be rich to be stylish; you just need to know where to shop.
The Serena van der Woodsens and Blair Waldorfs of the world may have the designer wardrobes of your dream, we wouldn't recommend that you annihilate your year-end bonus on a Stella McCartney suit or a Chanel bag. Style inspiration abounds if you turn your attention to the Brooklynites — Jenny, Juliette and Charlie Rhodes. One word: High Street. And when you tire of them, make money off the clothes in your closet.
Find this interesting? Here are more Netflix movies that will save you from financial ruin.
Squid Game (2021 Netflix series)
Synopsis: Hundreds of cash-strapped contestants accept an invitation to compete in children's games for a tempting prize of 45.6 billion Korean won (approximately SS$51.9 million), but the stakes are deadly — quite literally.
Lesson 1:
Gambling, like any vice, should be moderated. It should not cripple your financial capabilities.
We cannot discuss Korean dramas without a mention of the universally-hyped Squid Game. This thriller exposes the many deeply-entrenched dilemmas that exist in the world, most of which are worth reflecting upon. However, there is also much that this series inspires, such as the power of an indomitable will and meticulous financial planning.
One of the main drivers of the show is Seong Gi-Hun's gambling vice, for it is this obsession that led him to this desperate survival game. If anything, Squid Game serves as a cautionary tale of the dangers of gambling, for it can lead you down the path of overwhelming debt.
Lessons 2: Invest in insurance policies to protect you and your loved ones financially against uncertainty.
It is also important to always stay one step ahead of our finances. Gi-Hun learnt this the hard way. Insurance is a great way to protect your finances, if managed properly. Given the unpredictability of life and rising costs, we can't go wrong with protecting ourselves and our loved ones against the unknown. Surely you don't want to be the next Gi-Hun.
For more money lessons we've learnt while binge watching Korean dramas, click here.
Frozen (2013 animated movie)
Synopsis: Anna, the princess of Arendelle, sets out on a journey with an iceman Olaf, Kristoff, and his reindeer Sven in order to find her sister, Elsa, who has the power to transform any object or person into ice.
Lesson: Beware of fraudsters
Just like any other Disney movie, Princess Anna falls for dashing Prince Hans only to discover that he's a conman who's pretending to be interested in her only for her money.
Obviously, not all scammers are handsome princes named Hans. Some claim to be a prince from Nigeria, while others slide into the same thread as your official bank SMSes threatening to close your account if you do not verify your ID. Remember not to click on any links in your SMSes, and do remember to be alert at all times.
Up (2009 animated film)
Synopsis: Carl, an old widower, goes off on an adventure in his flying house in search of Paradise Falls, his wife's dream destination.
Lesson: Have an emergency fund
Oh, the saddest of all the Disney/Pixar movies. Through all the tears and heartbreak, there are also some money lessons you can learn from this wholesome movie.
Every time the old couple puts away some savings for their adventure of a lifetime, a trip to Paradise Falls, something bad happens — their car needs new tires, Carl breaks his leg, and they need to repair their roof after a storm. Hence, the old couple is constantly forced to spend their money on more urgent needs.
Always remember to have your emergency savings at hand to handle all sorts of unexpected situations. Separately, have another account where you save for your dream vacation. This allows you to compartmentalise your finances so that you don't have to dig into the same pool for urgent situations.
---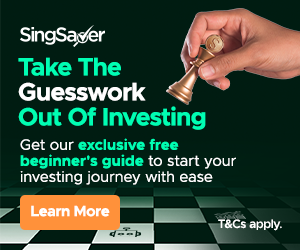 Start managing and saving money like a pro with SingSaver's weekly financial roundups! We dole out easy-to-follow money-saving tips, the latest financial trends and the hottest promotions every week, right into your inbox. This is one mailer you don't want to miss.
Sign up today to receive our exclusive free investing guide for beginners!
---
Read these next:
These Netflix Movies Will Save You From Financial Ruin
Money Lessons We've Learnt While Binge Watching Korean Dramas
5 Tips For Millennials To Start Adulting Financially
5 Netflix Shows That Will Change Your View About Money
9 Crucial Things You Should Not Be Spending Money On