Of course, some beauty investments are necessary, but that doesn't mean you have to splurge on skincare for that K-drama glow. Here are the best sheet masks available in Singapore and where you can get them for cheap.
With new types of sheet face masks popping up every single day, there's little wonder why people get confused about which ones to use.
There's literally a sheet mask for every skin concern you can think of, whether it's a hydrating, acne-targeted, glow-boosting, or brightening mask.
Tips on where and how to get your sheet masks at a cheaper price
Always check in with Guardian, Watsons and Sephora so that you know when your favourite masks are on sale!
If you're a VIP Innisfree member, do take note of several perks such as birthday specials where you can receive several sample products and masks on your birthday month every year.
For cheaper masks, compare against all sellers including those on Shopee and Carousell. They might sell masks cheaper than other big retailers. But there is a risk that the products might not be authentic so read the reviews and exercise sound judgement before purchasing!
Here's a round-up of the best beauty sheet face masks, including one-minute masks and bubble masks, that make you feel like you're floating on cloud nine — as well as where to get them at cheaper prices.
Last updated on 25 February 2021. Prices subject to change.
Masks, prices and where to get them
Pores… If we could get rid of them forever, we would. But sadly, it's impossible due to ageing and Singapore's humid weather.
However, you can minimise the size of your pores with Dr.Jart+'s Bubbling Charcoal Sheet Mask. It's designed for all skin types, but it's especially effective on combination and oily skin types.
The cool microbubbles that appear shortly after applying the mask not only makes for a hilarious selfie, but it also good for you. This mask will cleanse, unclog and shrink your pores, but also balance out the natural oils in the skin!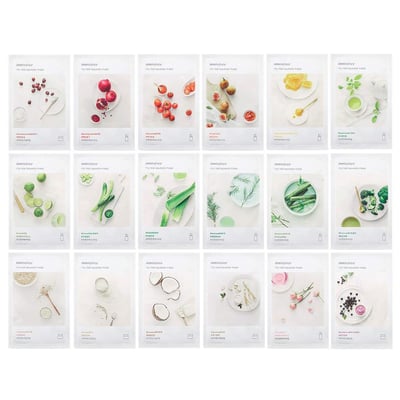 What's your skin craving today? With a wide variety of masks to choose from, there's sure to be a mask for your skin type, whether you choose to moisturise, maintain elasticity, or calm down inflammation during a break out.
This affordable line comes in three different textures and consistencies: water, essence and cream.
Water: Bamboo, Green Tea, Tea Tree, Lime, Rose
Essence: Cucumber, Aloe, Manuka Honey, Pomegranate, Fig
Cream: Acai Berry, Rice, Coconut, Ginseng
This one's for all the lazy girls out there. This special face mask gives you 3-in-1 performance from cleansing, skincare, and make-up primer.
It contains 10 different moisturising ingredients, including hyaluronic acid (HA), honey, apple acid, collagen, orange oil, grapefruit fruit peel oil, and other fruity essences.
The best part? You only have to leave it on for one minute each day for your skin to absorb all the goodness. At $21.90 for 32 sheets, this is a pretty good bargain — it only costs around $0.68 per sheet!
Do your skin and the environment good by opting for this product instead of choosing the usual individually-packed masks.
These seven masks are packaged together in a single bag with a resealable opening so that you can take one out and toss the entire thing back in the fridge for future use. It's also great for travelling once COVID-19 clears up.
There may be a slight alcoholic smell to the mask, because after all, its ingredients are infused with sake. If you like the smell of sake, good for you.
But if not, just remember that this mask is filled with sacchrides and amino acids that will leaves your skin healthier, plumper and less prone to irritation.
Expect visible brightening results with just one mask, as promised by the folks from Senka.
Perfect for uneven and irritated skin, this sheet contains Silk Cocoon Essence infused with the brand's unique brightening formula, leaving you with a dewy, glowing complexion.
The mask also claims to give you deep moisture that lasts up to 24 hours, and it includes aloe vera to soothe and calm your skin.
For people with sensitive skin, it is notable that this mask is fragrance-free, Coloruant-free, alcohol-free, and allergy-tested.
This H20 Jelly Mask is clear and has a smooth, gelatinous texture — the result of a rich, proprietary blend of aloe vera, acerola cherry, and carrageenan, a natural ingredient extracted from red seaweed.
Infused with ingredients that have diverse properties, such as anti-oxidizing and boosting collagen production, this ultra-moisturizing mask releases its lush essence upon contact with skin temperature, leaving your skin feeling hydrated and soft.
This mask also doubles up as a body moisturiser — all you have to do is to melt your used mask into a warm bath or water, and apply the essence all over your body.
Read these next:
Beauty Deals: Facials Under $100 In Singapore
Best Massage Places In Singapore for Low, Mid And High Budgets
Cheap Toiletries Singapore 2020: 12 Places To Shop
Things To Do In Singapore That Get You The Most Bang For Your Buck (February 2021)
Cheap Hair Salons In Singapore For A Guilt-Free Makeover Starting At $3