Small local businesses in Singapore need as much support as they can get from customers like you and me. Find out how they're coping and what's in store for us.
In a bid to support local businesses in every way possible, American Express has taken the liberty to run its Shop Small campaign to help small local businesses gain more visibility, and hopefully, more customers, young and old.
Apart from showcasing what these local businesses and brands are, American Express Cardmembers can look forward to extra perks when they patronise these Shop Small businesses. There are more than 3,000 participating businesses this year.
Here's a quick look at how small local businesses in Singapore are coping amidst the uncertain environment.
#1 59% of small local businesses are in survival mode
According to the second second Shop Small Business Recovery Research for Singapore conducted with 300 local business leaders between July and August this year, close to six in 10 small local businesses are in survival mode right now despite the ongoing challenges brought about by COVID-19.
Just how difficult is the business environment exactly? Well, a whopping 41% of the group of business leaders surveyed had considered shutting their businesses from January to August 2021 due to COVID-19 volatility.
#2 Local businesses need local shoppers and diners to thrive
Considering that Singapore has had little to no tourists for an extended period of time, it is unsurprising that local businesses have become extremely reliant on local customers to stay afloat. In fact, 63% of local businesses cited that their biggest supporters have been their regular and new customers.
67% of local businesses are optimistic — albeit cautiously — that 2021's annual sales will exceed 2019's pre-pandemic annual sales! The top reasons for their optimism stem from:
An increase in revenue from taking their businesses online (46%)
Support from new customers (44%)
Support from regular customers (40%)
Adore online shopping but not sure which credit card to use to maximise each hard-earned dollar of yours? Here are the best online shopping credit cards in Singapore.
#3 Exclusive offer for AMEX Cardmembers
After registering your card for the limited-time offer, American Express Cardmembers can look forward to getting S$3 back for every S$10 spent at participating businesses, up to five times, from 5 October to 5 November 2021. In case you're wondering, Shop Small complements other promotions available throughout the year.
New to American Express? Here are the best American Express Credit Cards in Singapore. Take your time to pick the right one that best suits your needs and lifestyle. The cherry on top would be the American Express Mobile app which allows customers to enjoy some of the best digibank experiences there are.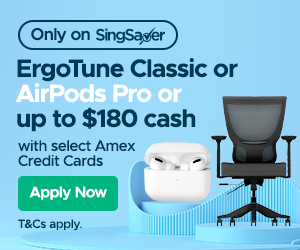 #4 Key takeaways for small local businesses
To not only survive but thrive, small local businesses need to adapt as quickly as they possibly can to the rapidly changing business environment in the new normal. Here are the top things on small businesses' to-do list:

Focus more on e-commerce
Communicate more with customers via social media platforms (e.g. weekly live sessions on Instagram Stories)
Develop a more agile business strategy that responds quicker to changes instead of focusing on long-term planning.
Apart from taking actionable steps to stay relevant and profitable in the new normal, businesses can definitely start looking at business credit cards, if they don't already have one, to maximise each dollar spent on their business. Business credit cards come with business expense tools, perks and privileges in addition to letting you earn cashback, rewards points or miles.
Read these next:
Best American Express Credit Cards In Singapore (2021)
​​Best SME Business Loans In Singapore (2021)
Best Personal Loans To Ease Your Cash Flow In Singapore (2021)
Green Loans: Why Businesses Should Care About Them
7 Sources Of Capital For Business Owners In Singapore