A coffee expert tells us which coffee machines in Singapore make the best espresso for the least amount of money.
You don't have to be a finance nerd to know that making your own coffee will cost less than S$1 per cup. But is it really worth trying to replicate the cafe experience at home by buying coffee machines in Singapore?
We've illustrated why all hobbies are equally expensive, and becoming a home barista no exception. With Nespresso machines costing several hundred dollars, and "prosumer" espresso machines reaching the thousands, you want to know what you're doing before spending this much on coffee equipment.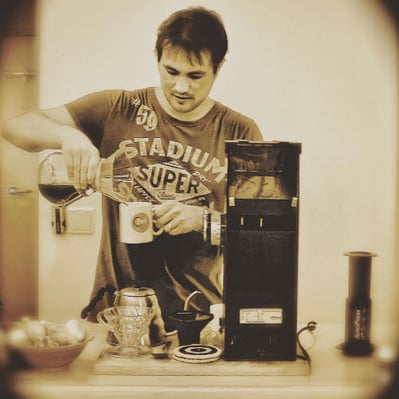 Only a true coffee expert can demystify espresso machines for us casual drinkers, so we sought the help of Paul Berthelsen, Founder of coffee delivery service Perk Coffee. Here's what you need to know before splurging on a coffee machine - and how to avoid wasting money when you do.
First, Know Why You Want One
Before anything else, you need to have realistic reasons for wanting an espresso machine. Are you buying one to take your barista skills to the next level, or do you simply want to impress your friends?
Pricey kitchen appliances are often purchased as status symbols, to imply expertise and sophistication around guests. However, you need to spend more than money to master complex coffee equipment.
"Your espresso journey will only give you as much as you're willing to put into it," Paul says." I'm not necessarily talking about money, but more so, your willingness to learn your machine and perfect your barista skills."
The good news is that you can still make heavenly espresso despite time and money constraints. "There's a plethora of different machines out there, suitable for every budget and requirement," Paul says. "But an espresso machine is undoubtedly going to be an investment compared to any other coffee brewing method."

Compare the Different Espresso Machines in Singapore
Before talking about more affordable brew methods, let's get to the heart of the matter. Which espresso machine should you buy, and how much will it cost?
Comparing your options is the first step to finding the right machine for your budget and commitment levels. Paul runs us through the four broad categories of espresso machines, from the least to most expensive:
Types of Consumer Espresso Machines in Singapore

Fully Manual Domestic Machines

Semi Automatic Machines

Super Automatic Machines

Semi Commercial Machines

What It Is

Gives you complete control over the entire brewing process

Automates the temperature and extraction. All you need to do is grind the beans and tamp the espresso.

Creates espresso and specialty drinks like lattes or cappuccinos at the push of a button. Designed for office use rather than home use.

Has built-in water tanks and sophisticated technology to ensure consistency in temperature and pressure. Produces cafe-quality coffee.

Examples

Saeco Via Venzia or Rancilio Silvia

Breville Infuser or DeLonghi machines

Jura or high-end DeLonghi machines

Rocket Giotto or Simonelli Musica

Price

Less than S$1,000

S$500 - S$1,500

S$1,500 - S$3,000

S$3,000 and above
1. Fully Manual Domestic Machines (Less Than S$1,000)
Also known as lever espresso machines, manual machines give you full control over the entire brewing process, from the heating cycle to tamping the espresso. Unlike their automatic or semi-automatic counterparts, manual espresso machines won't compensate for your mistakes. You need to know what you're doing and how to control the variables that go into the brewing process.
"These take time to figure out, but if you're willing to experiment, manual machines can make great espresso at an affordable price," Paul explains. "Don't look at anything other than Italian-made for this category as the Italians have mastered it, just like fast cars."
Examples: Saeco Via Vanezia or the Rancilio Silvia
2. Semi-Automatic Machines (S$500 - S$1,500)
Most espresso machines marketed to Singaporeans fall under the semi-automatic category. While you still need to grind your beans and tamp them, the machine comes with automated temperature controls and an automated pump. During the extraction process, all you need to do is to decide how long it takes by switching the pump on or off. Some Nespresso machines also fall under this category.
"These machines basically produce espresso at a touch of button but milk is manually frothed. But they don't make very good quality espresso," Paul says. "If you're after convenience, speed and a very average espresso, then this might work for you."
Examples: Breville Infuser or DeLonghi machines
3. Super-Automatic Machines (S$1,500 - S$3,000)
As the name implies, super-automatic machines take care of every single aspect of the brewing process. Many of these machines even automate milk frothing, and can serve cappuccinos and lattes with a touch of the button.
Paul explains that these are designed for office use, not home use. "For the price you pay, the quality of espresso is lousy, and you're much better off buying a semi-commercial machine like a Rocket."
Examples: Jura and high-end DeLonghis
4. Semi-Commercial Machines (S$3,000+)
A semi-commercial device, together with a semi-commercial grinder (which costs around S$600 upwards), brings true espresso excellence to your kitchen.
"My favourite is the Rocket - the Lamborghini of the home espresso world," Paul says. "It's got built in water tanks (so no plumbing like your commercial cafe types), awesome design and unique technology that ensures consistent water pressure and temperature. This will give you cafe quality espresso with a bit of practise!"
Examples: Rocket Giotto or Simonelli Musica

Manual Espresso Machines Deliver the Most Value For Money
If you're after an espresso machine for home use, Paul recommends staying away from the semi- or fully-automatic machines.
"While convenient and pretty cheap, these machines don't match up in terms of quality - considering you're going through all that trouble to make espresso at home," Paul explains. "In this case, I think you're better off sticking to buying your daily cuppa from your local cafe."
Truly dedicated espresso drinkers will find manual machines worthwhile, especially if they want to learn how to control every facet of the brewing process.
"In my opinion, the Rancilio Silvia is the best value-for-money machine in terms of quality versus price," Paul says. "Couple it with a good burr grinder (grinders are a whole other story!), this will set you back about S$1,000 including, the grinder. Anything cheaper, and the trade off in espresso quality is drastic. However, if you've got the dosh and the desire, then I'd go the full hog and get that Rocket!"
Espresso machines can be found at appliances stores like Courts and Harvey Norman. If you want to go this route, we suggest using the right credit card so you can earn air miles, cashback, or split payments into an easy instalment plan.
The Rocket and Rancilio machines aren't typically sold at malls, so Paul recommends going to their agents in Singapore, Papa Palheta and Spinelli Coffee.
"As for other coffee equipment, I'm a fan of Hario grinders," Paul says. "You can get their equipment direct from their distributor, Heap Seng. Perk Coffee is also launching an online Brew Shop where we intend to sell a range of home brew equipment at very affordable and competitive prices."

You Can Make Espresso at Home For Less Than S$100
For casual coffee drinkers who have neither the money nor patience to use an espresso machine, cafe-quality coffee is still within reach.
Paul recommends the moka pot as an affordable alternative the espresso machine. "Every Italian has this in his kitchen," he says. "The moka pot uses water pressure to push hot water from a lower chamber through a basket of coffee grounds into an upper chamber. If you get it right, the result is absolutely delicious! You'll get something between an espresso shot and a filter coffee. It will be rich, full-bodied, and quite possibly contain a small layer of crema if your grind is fine enough."
"I love brewing on my Bialetti moka pot when I'm in the mood for a rich and intense cup," he adds. "A good moka pot will only set you back S$50 - S$80. That's a lot cheaper than an espresso machine."

Choose the Right Coffee Machine For You
However you decide to prepare your coffee, consider your personality, budget, and lifestyle before making your decision. Are you in it to perfect the ancient art of making espresso from scratch? Or do you have cash to burn on a machine that does all the work for you?
By making the right choice, having cafe-quality espresso in your kitchen will enrich your mornings, and save you a bit of money.
Pro tip: buy your coffee machine with a credit card so you can earn points or air miles from your purchase! You can compare the best credit cards in Singapore at SingSaver.com.sg.
Read This Next:
5 Best Credit Cards for Large Purchases in Singapore
How to Afford the Latest Designer Bag Every Year