Prepare yourself and your wallet! Take advantage of the massive 11/11 sale and save on your Christmas shopping.
Christmas is coming — but it's still more than a month away. So why are we writing an article about Christmas shopping this early?
The answer is simple: we want to help you save money. The earlier you shop, the more you save by taking advantage of pre-Christmas sales.
If the US has its Black Friday and Cyber Monday sales, Asia has its Online Revolution or Singles Day sales on 11 November. You'll find massive discounts on your favourite Asian online stores like Taobao, Lazada and Zalora.
How to Get Ready for the 11 November Sales
Prepare a shopping list so you focus on buying what you need, not what catches your eye during a sale. When it comes to massive discounts, it's hard to exercise willpower and purchase only the things you need. A shopping list keeps your head in the game.
Arm yourself with a cashback credit card to save even more money with your purchases. For example, the Standard Chartered SingPost Platinum Visa Card gives you 7% cashback for all online purchases.
So if you were to spend S$400 on Amazon, you'll get S$28 in cashback—this is S$28 that you can offset in your next credit card bill. And this card also gives you 30% off on delivery charges from vPost, which means you can ship your goods for cheaper!
Here Are the Sales to Watch Out For:
Alibaba's Double 11 Singles Day—More than 50% Off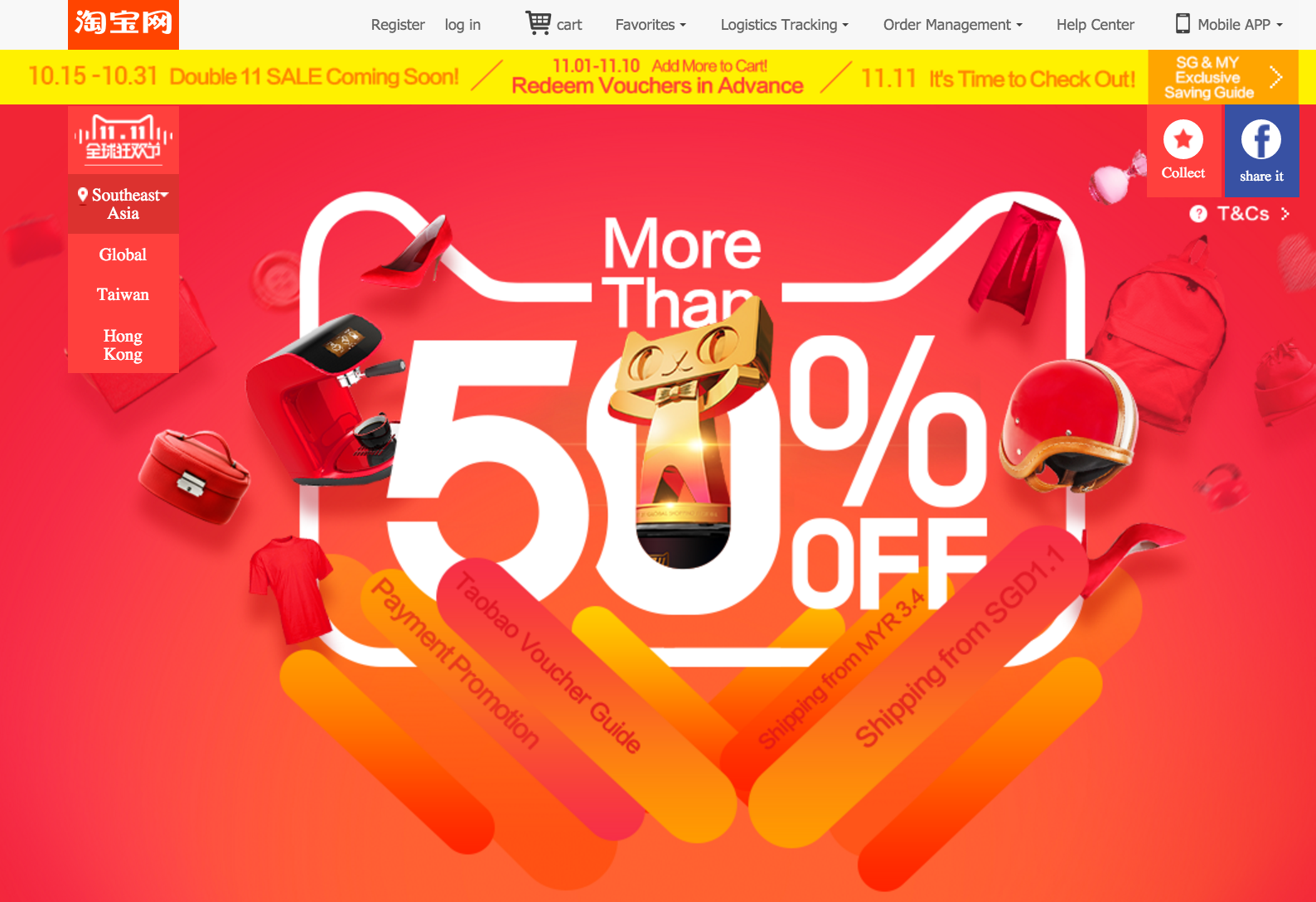 Starting out as a holiday for singles in China, it is now the largest online sales phenomenon in the world. In 2014 alone, the revenue generated from Singles day was more than twice the revenue generated from Black Friday and Cyber Monday combined.
Pros:
On a normal day, you can easily find extremely cheap items on Alibaba's sites Taobao and Tmall, such as dresses that cost less than S$10 or baking trays that cost S$2 a pop. Singles Day would undoubtedly cut these prices by half or more. You'll be paying next to nothing for your Christmas presents.
You can find nearly anything on Taobao and Tmall combined; so you wouldn't have to shop at different places to check everything off your Christmas shopping list. And phew, you can avoid queueing altogether.
Cons:
Taobao and Tmall aren't famous for its quality, especially when you buy from sellers with lower (or false) ratings. You might even receive items that are far more inferior to their images on the site.
Because your items are shipped from China, it might take weeks before they finally reach you. This might be dependent on the seller you're buying from or the product that you've chosen to purchase.
Tips:
It's fastest fingers first! So on top of preparing a shopping list, start searching for the items you want to buy and bookmark them. This will help you increase your speed in getting what you want before it sells out.
Check the ratings of the sellers before purchasing anything from them. When in doubt, look at the reviews of the product and pictures other users have posted to get a better idea of how the item looks.
If you would rather have help purchasing and shipping your items from Alibaba's sites, you might want to look into affordable agents such as 65Daigou (which would also have its own Singles Day sales) and Peeka.
---
Related Article: 3 Best Credit Cards for Online Shopping in Singapore
---
Lazada's Online Revolution—the Biggest Online Sale of the Year
Lazada calls its Online Revolution the "Biggest Online Sale of the Year". While you might not agree entirely with this statement, we urge you to take full advantage of this day.
Unlike Double 11 Singles Day, the Online Revolution begins with a storewide sale of up to 90% off on 11th November. The week after is the Fashion sale, followed by the Beauty and Family sale, the Tech sale and the Lifestyle sale. This will lead up to another three day storewide sale, from 10 to 12 December, in the event that you missed 11/11. And you get free shipping too!
Pros:
If you're going to buy electronics, this is the right time for you to buy them. You can save hundreds of dollars with the Online Revolution. There will also be flash sales going on at the same time, so if you can catch those, you can save even more money! And you'll pay no costs for shipping.
Cons:
As with every online retail site, what you see might not be what you get. Lazada might have made a name for itself as the go-to electronics online reseller in Asia, but there are products shipped from overseas that differs from your expectations. Always read the reviews on the site before making a purchase.
Tips:
When you know what you want, shop around to get a rough estimation of how much the item costs elsewhere. Say, you want to get a Kindle. Check Amazon and other resellers before buying off Lazada. The sales during the Online Revolution might not be as much as you think.
If you don't have a credit card, you can choose the option "Cash on Delivery", which allows you to pay when your goods are delivered.
Zalora's Singles Day—Over 50% Drop in Prices
Zalora is also part of the 11/11 sale madness. It might not be as crazy as Alibaba's or with sweet offers like free shipping like Lazada's, but Zalora's Singles Day Sale is definitely one you want to check out.
Pros:
With more than 50% off brands it carries, Zalora's Singles Day is a great opportunity for you to get the present you need for your sister, mother or friend.
And you have a few options of delivery to choose from—ship your purchases to your home, a POPstation or a 7-11 branch.
If you're not satisfied with an item, you can get a refund or an exchange. It doesn't cost you a single cent for returns since Zalora covers the costs itself.
Cons:
You'll need to spend a minimum of S$40 before you qualify for free shipping.
Tips:
Sign up for Zalora's newsletter to get firsthand updates Singles Day sales.
You Might Also Want to Read:
5 Dining Deals in November Foodies Can't Miss
5 Marketing Tricks That Make You Spend More
---
By Jehanne Teo
Starting out as a lifestyle writer, Jehanne currently writes for SingSaver.com.sg about saving money in everyday situations.
---