Despite half a year more till the end of 2022, June still feels like one of the best months to let loose, have fun and spend plenty of time with your entire family and little ones. Here are 11 June school holiday activities that families should not miss out on!
With so much that has gone on these past two years, it is finally time for you to let loose and relax. This June holiday 2022 is perfect for both you and your family, with a load of experiential experiences for you to explore!
Go on that long-awaited trip to Johor Bahru, or pick up a new sport; this is the perfect moment for your family to connect, enjoy and just live!
1. Impromptu road trip to Johor Bahru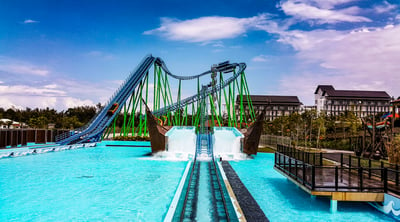 There is no better place to have a short getaway than in Johor Bahru, Malaysia.
There are so many things you can see, play and eat with the entire family in JB without breaking the bank.
For starters, we'd recommend these cheap family activities that'll guarantee you a whale of a time: Legoland (S$35~ per pax), Desaru Fruit Farm (S$20~ for fruit farm tour, ATV and a free box of fruits), Go-Kart Permas Jaya (S$11~ per person), Adventure Waterpark Desaru Coast (from S$20~ per pax) and Pasar Karat JB (night market).
You also can get decent hotels for around S$50 per night, or book an entire Airbnb for less than S$100 a night. An hour's worth of foot massage is around S$18. Food? Don't bother looking at the price — just eat.
Your entire family will be satisfied with JB — mums can get their shopping done at AEON Tebrau (our personal favourite!), dads can get their cars washed at KSL (S$6 or less) and the kids can unleash all their energy at the many theme and water parks available.
Not sure where to start? We have prepared everything you'll need to know, need to see and need to do in Johor Bahru!
Johor Bahru Shopping Guide 2022 – Where to Shop in JB
Driving to Malaysia in 2022: The Ultimate One-Stop Guide
Singapore-Malaysia Land Border Reopening: What You'll Need Before Driving to Johor Bahru
14 Things That Are Cheaper in JB, Besides Food, Groceries and Petrol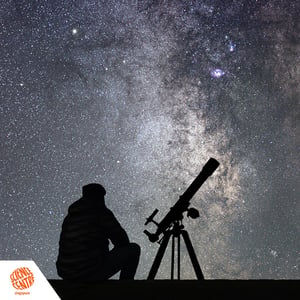 An exemplification of "edutainment'', Singapore's Science Centre has several inventive and mind-blowing programmes that are sure to keep you and your kids busy the entire day.
If you're looking for a way to move your kids away from those addictive screens, Science Centre Singapore guarantees a showcase of electrifyingly scientific displays that will leave them eager for more.
Slug and Slime
This workshop will stir both your and your kid's intrigue of slime, especially if you've caught them watching slime ASMR videos on Tiktok. Through the activity, you'll get to explore the many uses of slime, including a chance to create a bunch of edible goop and your very own slime painting.
Date: 7 June 2022 and 8 June 2022
Price: S$65 per child participant
Time: 9.30 am to 12pm
Night Stargazing & Digital Planetarium Live Show
Ever wondered what else lies beyond the distant unknowns? Perhaps they may be an undiscovered planet. Or even enigmatic aliens looking to traverse the milky way. While we may not have all the answers right now, you'll get to enjoy a panoramic scope of the universe at the Science Centre's Planetarium Live shows!
Witness the glorious spectacle of illustrious stars and a comforting night sky from a beautiful observatory. Do not miss this rare glimpse of the realm that hides behind the clouds.
You can find its booking schedule here.

Price: S$17 per child participant
Time: 7pm to 10pm
Jo's Night Out
Elevate the typical staycation with a once-in-a-lifetime camping experience at Singapore's very own Science Centre.
This package comes with a comprehensive study of STEAM through child-friendly experiments, and everyone will get to learn about survival skills through loads of parent-child activities.
The camp is also packed with arts and crafts opportunities and play sessions that bring you all around the centre.
Highlights
Hands-on STEAM activities
Challenges that promote parent-child bonding
An exclusive free play session
Meals including dinner, supper and breakfast
Shower amenities
Individual tents pitched around KidsSTOP™ for each family
Date: 24 June 2022 to 25 June 2022
Price: S$430 for an adult and a child participant
Time: 3pm to 11am
Waterworks exhibition
As all of us know, Singapore's humidity can be incredibly unbearable at times. Well, Singapore's Science Centre feels the same way! Its Waterworks exhibition has finally reopened after a long hiatus, with thematic aquatic facilities that promise scientific insights (with its Water Clock Tower) and a whole field of water jets and aquatic attractions.
Access is included with every purchased ticket so make sure to bring swimming attire before your trip here!
Price: Access is complimentary with every purchased ticket
Time: 10am to 12.30pm | 2pm to 4.30pm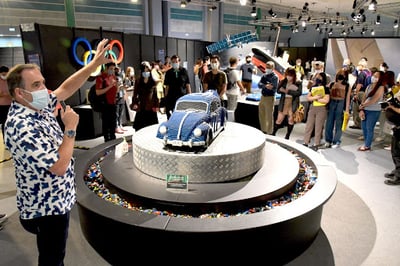 After its massive success at the Singapore Zoo, Brickman is back again with a newly inspired LEGO series at Singapore's Science Centre. With over 50 amazing caricatures of the world's most beautiful landmarks, you and your family get to witness the simplicity of LEGO bricks and recreations of mankind's most riveting and pivotal achievements, such as the ill-fated RHS Titanic and the charming Flying Scotsman.
For only S$23, get access to this exhibition and the Science Centre (which includes attractions like Waterworks), promising days of fun at a huge bargain!
Use the promotional code: LEGO20OFF to enjoy a 20% discount off a minimum purchase of four tickets, and a 15% discount off a minimum purchase of two tickets.
Date: Until 3 July 2022
Price: S$17.50 for a standard admission ticket
Time: 10am to 8pm on Fridays to Sundays
Crash Course Astronomy and Astronaut Experience
For a more intimate understanding of the stars, consider elevating your stargazing experience with Science Centre's crash course astronomy or its Astronaut Experience.
Its crash course imparts technical skills essential for astronomical exploration, with telescope basics, setup and even your very own paper sundial and planisphere.
Those looking to emulate the life of an astronaut can venture into a VR-induced realm that replicates the mind-blowing Apollo 11 mission. You'll also gain access to a digital planetarium show inside the Omni Theatre as well as a private stargazing session at the Observatory.
You can find its booking schedule here.
Price: S$80
Time: 7pm to 10pm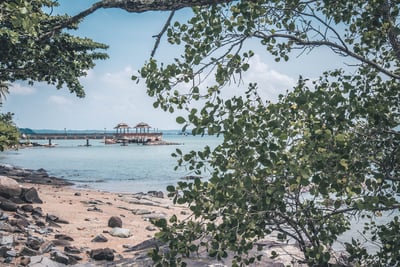 Unknown to many, Singapore actually comprises of several flourishing islands, with the likes of Coney Island, Pulau Ubin and St John's Island that serve as bastions for our more rural heritage. Live the life of an islander as you explore tropical outposts and preserved architecture that shines light on Singapore's more primitive origins.
Coney Island
Alternately known as Pulau Serangoon, Coney Island boasts over 80 species of exotic birds and a rich myriad of fauna. With a 2.5km stretched path, this is also an ideal path to take for a family cycling trip, serving as a connector to Punggol and an extension, Waterway Point. Nature enthusiasts looking to tour the island's rich biodiversity can opt for its two-hour guided walks, or engage in recreational bird-watching.
Opening hours: 7am to 7pm
Pulau Ubin
An island located North-East of Singapore, Pulau Ubin encapsulates the charm and simplicity of the fishing village that is now synonymous with Singapore's origins. With quaint fishing huts and kampong-inspired infrastructure, walking around Pulau Ubin is akin to a trip down a time capsule.
If you're looking for a more in-depth understanding of Pualu Ubin's significance, and the life of its current inhabitants, opt for one of its many tours in June that bring you to historical landmarks and preserved cultural buildings.
Boat rides to Pulau Ubin are only S$4 per trip, with an additional S$2 fee if you intend on bringing a bicycle (which we highly recommend).
Kusu and St John's Island
Reputed for its pristine temples and shrines, this island is a beautiful ode that commemorates Singapore's religious liberty that has seen its fair share of evolutions through the years. Venture into an improvised pilgrimage to this island as you pay your respects to our ancestors. Make sure to pack some food as this is also the perfect spot for a family picnic.
After which, you have to drop by St John's Island! Best described as a non-commercialised variant of Sentosa Island, the island has amazing beaches and holiday chalets that just accentuate the holiday mood!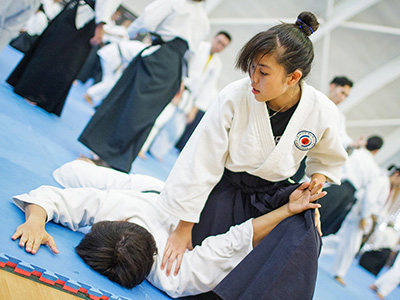 With the prevalence of video games and fantasy adventure films, it is easy to imagine yourself as a hero (or super villain) with impressive strength, dexterity and even a bit of magical charm. ActiveSG has a great diversity of activities that will let you indulge in your hero-like fantasies, with sports like archery and combat saber training that will elevate your normal exercise routine.
Archery
Adopt the agility and grace of an archer with these sessions. There are even sessions that allow for both an adult and child accompaniment to take part, serving as the perfect opportunities for family bonding.
Combat saber training
May the force be with you - literally with combat sabre sessions that engage your core muscles as you wield a blazing lightsaber.
Aikido for Kids
Have your kids channel their inner fighting spirit as they learn the nuances of martial arts. A historically renowned Japanese martial art form, Aikido imparts fundamental self-defence techniques that require refined balance, unparalleled deftness and controlled strength.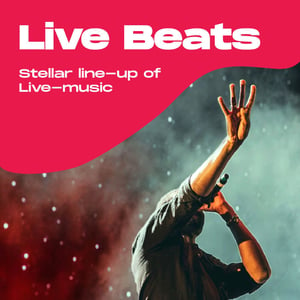 Celebrate your passion for the culinary arts at GastroBeats, where Singapore's most acclaimed chefs gather to showcase contemporary interpretations of traditional favourites. You can also expect charming bespoke menus that fuse the expertise and passion of international chefs, with unique collaborations that each last a week.
The ambience is further amplified by a whole series of local musical artists playing electrifying hits. The event features the likes of Dru Chen, Rangga Jones and Daniel Sid.
We cannot neglect the most important bit — bouncy castles! With over eight food-themed bouncy houses, you and your children can bounce the night away at its bubble tea bouncy caricature, or a whimsical taco truck.
Date: Until 26 June 2022
Address: 2 Bayfront Ave, Marina Bay Sands, Singapore 018972
Price: Starting from S$9
Time: 4pm to 10.30pm
7. Free sports lessons by Decathlon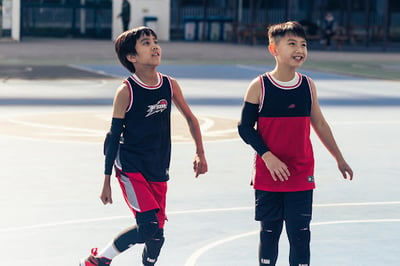 Decathlon has a series of complimentary lessons that are sure to help improve both your and your kid's games. Looking to try out a new sport, or augment your skills in the field? Opt for one of its free classes for athletic insights! You can find its schedule here.
Basketball lessons
Aptly named Basketball IQ, this series of theoretical lessons seek to impart crucial essentials such as boxing out, pivoting and drop stepping, which are key skills in basketball. With a focus on one's offensive and defensive capabilities, these classes will allow you and your kid to have a stronger understanding of their role on the court, and how they can amplify their strengths to turn the tide.
Soccer trials
Kids looking to be the next Ronaldo can finally emulate the profession's competitive thrill at one of Decathlon's free soccer trials. Here, you'll get personalised coaching by local professional players who know exactly what it takes to excel in the field.
Introductory cycling lessons
Teaching a child to cycle is a huge milestone in parenting. However, it is understandable that you may be worried that your child may hurt himself during the learning process. Well, fret no more for Decathlon has free introductory cycling lessons for both children and adults. Professionals will impart imperative safety skills that ensure your kid's cycling journey is both fun, and harm-free.
8. Staycation? How about a Playcation instead?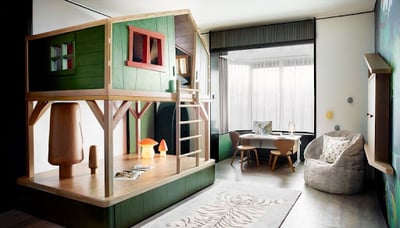 Staycations, a beloved modern recreation may not be as interesting to kids as it would for an adult. Parents can understand fully well the struggles of bringing kids to a staycation, having to book an entire itinerary outside of the hotel.
Well, with playcations, you may finally be able to enjoy the best of both worlds! Specifically curated for kids, playcations have child-oriented facilities meant to provide hours of fun for the family.
Shangri-La hotel currently has an amazing playcation package, with S$100 dining credits, playtime at Buds by Shangri-La and Splash and exclusive child-themed welcome amenities. Add on S$88 and get a personalised picnic basket, filled with sinfully fruity sweet tarts, that will be sent specially to your room.
Looking for more kid-friendly hotels? Check out these 8 Best Kid-Friendly Family Staycations In Singapore.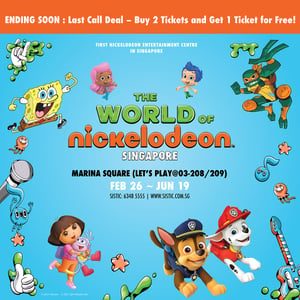 Are you ready kids? Spongebob Squarepants definitely is! Nickelodeon has recreated the magic of its child-like favourites with the first-ever thematic entertainment centre in Singapore! Go on a Jellyfish Hunt with our favourite sponge, join the Adventure Bay Fire Rescue or challenge yourself with the Ninja Vertical Challenge with the Ninja Turtles.
Recharge at the one-of-a-kind Slime Lounge, before hitting the Bikini Bottom Bubble Bash or a final Mutant Mission!
Stand by with your cameras and look out for opportunities to meet your favourite Nickelodeon characters. Who knows, they might ask you to join them in their silly shenanigans
Promotions:
10% Discount for PAssion Card
10% Discount for DBS Card Members
10% NTUC Discount
10% off bundle of four tickets
Buy two get one free ticket
DBS/POSB Credit Card Welcome Gift: Receive S$250 cashback or up to 60,000 miles when you apply for select DBS credit cards and fulfil the relevant promotion criteria. T&Cs apply.
Date: Until 19 June 2022
Address: 6 Raffles Blvd, #03-208, Singapore 039594
Price: Starting from S$36
Time: 10am to 10pm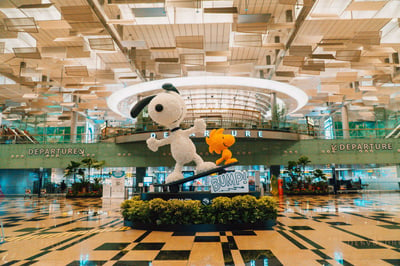 Who says there is no winter in Singapore?
This June holiday, Snoopy and friends are taking over Changi Airport Terminal 3 with real snow and a myriad of snow activities inside a double-storey snow house.
Activities include thrilling snow luge rides, snow slides and snow pits where the entire family can build trenches, make snow angels, slide down a snow slide and play with a mechanical snow digger.
Grab photo opportunities with the life-sized snow sculptures of Charlie Brown, Snoopy and his kennel.
With sub-zero temperatures in the snow house, long pants and socks are necessary for entry. Alternatively, you can choose to purchase socks at S$2.50 a pair. Winter jackets and boots are free to rent.
Entrance fees can go as low as S$5 per head with every S$30 spent on a single receipt (S$50 for supermarkets, excluding receipts from Jewel Changi Airport). You may redeem up to two tickets per receipt.
If you pay with a Mastercard, you will also be qualified to purchase an additional ticket.
If you're unable to hit the minimum spend, a direct purchase is available at S$18 per pass.
For families who don't wish to splurge, you can still have fun. Across Terminal 3, you'll find tons of other activities including five adorable Peanuts-themed photo spots, a play area with an acrylic rub and colouring station, and meet-and-greet sessions on selected dates in June.
Date: 27 May - 26 June | 1 July - 3 July | 8 July - 11 July 2022
Price: From S$5
Time: 11am to 10pm daily (each session lasts 50 minutes, inclusive of registration, preparation and 20 to 25 mins of playtime)
Location: Terminal 3 Departure Hall, Area next to Skytrain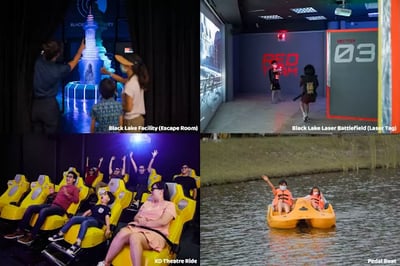 Bored of the typical staycation packages? Consider going on a "camp-cation" at Camp 1N instead, hosted by Singapore Discovery Center (SDC).
Back by popular demand, Camp 1N promises a slew of exciting experiential activities that incorporate primitive natural elements that pair perfectly with SDC's own lineup of attractions.
The itinerary kicks off with an "Army Days" experience, where your family learns the nuances of conventional wildlife camping. Everyone will be taught the fundamentals of tent pitching, field cooking and much more!
This will be followed by all-exclusive access to SDC's attractions, where participants have full reign to curate their own individualised experience. Engage in a legendary battle of laser tag as you battle it out for total domination, decrypt enigmatic puzzles in the puzzle room, or seek solace in your natural surroundings on your very own pedal boat — there is just so much to do with only a finite amount of time!
The night slows down with a relaxing night trial that ends with a mini-barbeque by the lake where both guides and guests share riveting tales and delicious food under the night sky. That's not all, for there is an eco-sustainability tour and workshop that awaits your family the next day!
Do not fret about the sleeping accommodations, as you'll be assigned a cosy tent that comes with air pillows, sleeping bags and even foam beds if you opt for its Chio package.
Make sure to book as soon as you can, as spots are very high in demand (as indicated by its December camp, which was fully booked out)
Date: Until 24 June 2022
Address: 510 Upper Jurong Rd, Singapore 638365
Price: Starting from S$599
Additional Notes: Participants must be above five years old of age, a tent can comfortably fit four participants (or more depending on your chosen package)