If your annual salary is around S$120,000, you're probably aware you've been pre-qualified for a premium credit card. Offered by most banks and tagged with adjectives like Infinite, Ascend, Voyage and Prestige, premium credit cards are designed to complement the fast-paced life of a business executive.
And because so much time is spent in the air or in transit, be it for leisure or work, these credit cards focus on travel perks like air miles, airport lounge access, limo transfers and travel insurance. In fact, premium credit cards offer among some of the highest air miles earn rates, making them among the best credit cards for miles in Singapore.
One card to rule them all?
While each one of these premium cards are attractive in their own right, is there one that's truly a cut above?
To find out, we compared three of the most popular premium credit cards in Singapore: the HSBC Visa Infinite Credit Card, Standard Chartered Visa Infinite Credit Card and the Citi Prestige Card. We compared them across four categories: welcome bonuses, travel perks, complimentary travel insurance and miles per dollar earn rates.
Here's how they stack up: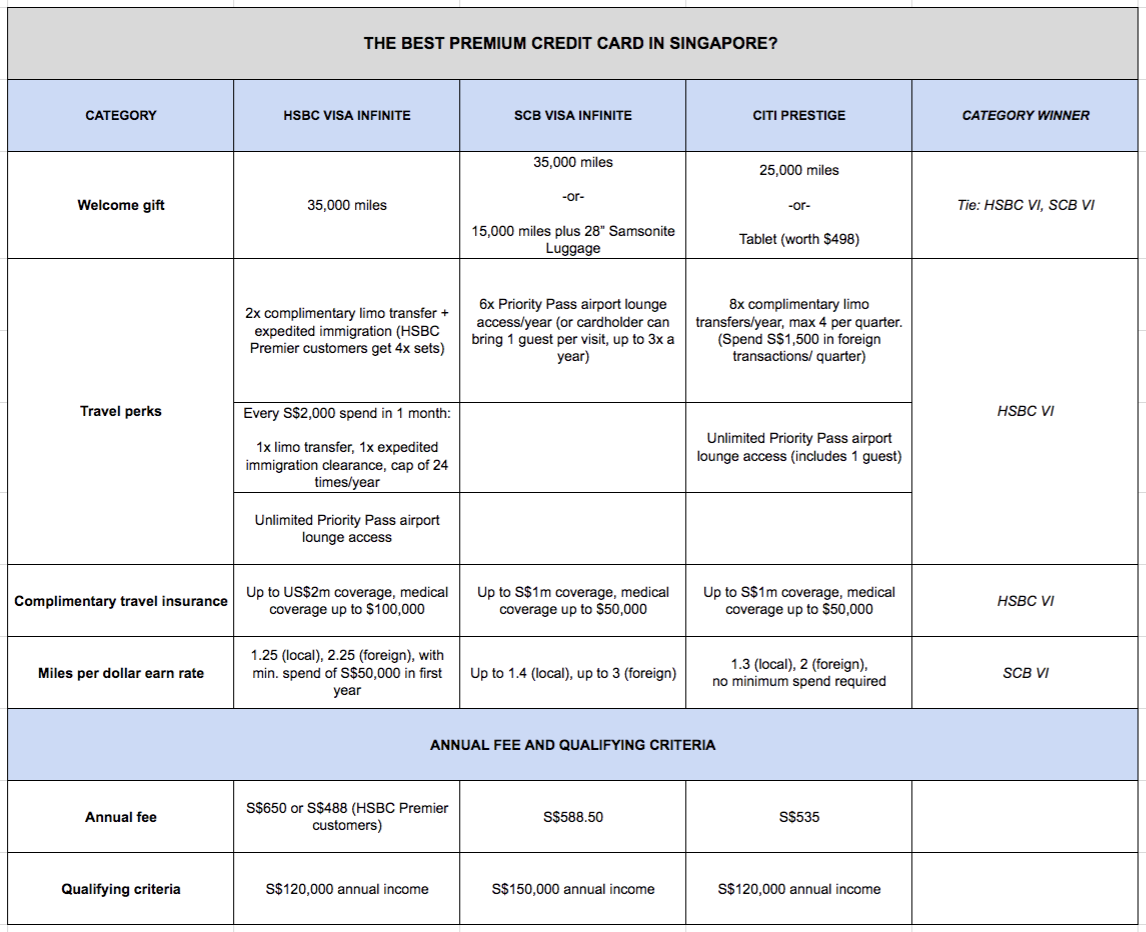 Best welcome gift: HSBC Visa Infinite or SCB Visa Infinite (tie)
Here, the HSBC Visa Infinite Credit Card stands out with a generous bonus of 35,000 air miles (equivalent of SIA economy class return trip to Hong Kong or Taiwan).
The Standard Chartered Visa Infinite Credit Card offers the same welcome gift or the choice of 15,000 miles + a Samsonite 28" spinner luggage.
Meanwhile Citi Prestige cardholders can choose 25,000 welcome miles, or a computer tablet.
Best travel perks: HSBC Visa Infinite
This is where the HSBC Visa Infinite Credit Card really starts to shine.
Frequent travellers swear by limo transfers and airport lounge access. Relying on these services to save time and help them stay fresh while on-the-go. The HSBC Visa Infinite outdoes the competition by providing up to 24 airport limo transfers and unlimited lounge visits per year. Supplementary card holders also get their own Priority Pass membership for unlimited access.
But arguably the most useful (and satisfying) feature of this card is the expedited immigration clearance, which allows the cardholder and one guest to join a special immigration and customs queue. A staff member will be at hand to guide them through this process.
Best of all, upon card approval, you receive 2x complimentary passes (limo + expedited clearance), with no spend required. You'll continue to receive these 2 complimentary services at the start of each year (HSBC Premier customers receive 4 of these complimentary services).
Thereafter, every $2,000 spend per month qualifies you for 1x limo transfer and 1x expedited immigration clearance, subject to a cap of 24 times per year.
In runner-up position is the Citi Prestige card, which provides up to 8 limo transfers per year. But you'll at least get unlimited lounge access.
In contrast, the Standard Chartered Visa Infinite Credit Card offers only 6 airport lounge visits a year.
Best complimentary travel insurance: HSBC Visa Infinite
One of the most compelling reasons to use an air miles credit card is for the complimentary travel insurance. Simply charge your trip to the card to qualify (this applies to both premium and mass market air miles cards.)
Here, the HSBC Visa Infinite again takes the crown by providing complimentary travel insurance coverage of up to US$2 million for the cardholder and family. Additionally, it comes with S$100,000 worth of medical coverage for emergency treatments and/or hospitalisation.
The Standard Chartered Visa Infinite Credit Card and Citi Prestige card also both offer life insurance coverage of $1 million.
Best miles per dollar earn rate: SCB Visa Infinite
All three credit cards offer air miles earn rates on par or above those offered by mass market air mile cards. The notable exception is the UOB PRVI Miles card, which offers a base earn rate of 1.4 miles per dollar on local spend.
Here, the winner is the Standard Chartered Visa Infinite Credit Card, with the highest possible air miles earn rate. Note that you'll need to spend minimum of $2,000 per month to qualify for the 1.4 miles per dollar rate (failing which you earn 1 mile per dollar).
If you don't want to worry about hitting the minimum spend per month, then the Citi Prestige card might be a better fit for you. There's no minimum spend required to earn miles.
Overall winner: HSBC Visa Infinite
When regular travel is part of your lifestyle, seamless point-to-point transit helps minimise the stress of travelling. The HSBC Visa Infinite does exactly that, distinguishing itself with perks that help frequent travellers do away with arguably the most tedious parts of flying.
A point to note is all this comes at a price. The annual fee of S$650 (for new customers, S$488 for existing HSBC Premier Customers) for the HSBC Visa Infinite is the highest among the three cards.
But having felt what it's like to breeze through immigration, the time and stressed saved in transit makes it all worth it.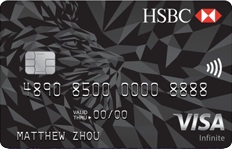 This article was developed in collaboration with HSBC.
Read this next:
Credit Cards With the Best Sign-Up Bonuses
6 Credit Cards Which Give Free Access to Airport Lounges
Amex, Mastercard or Visa: Which is Better for Travel?